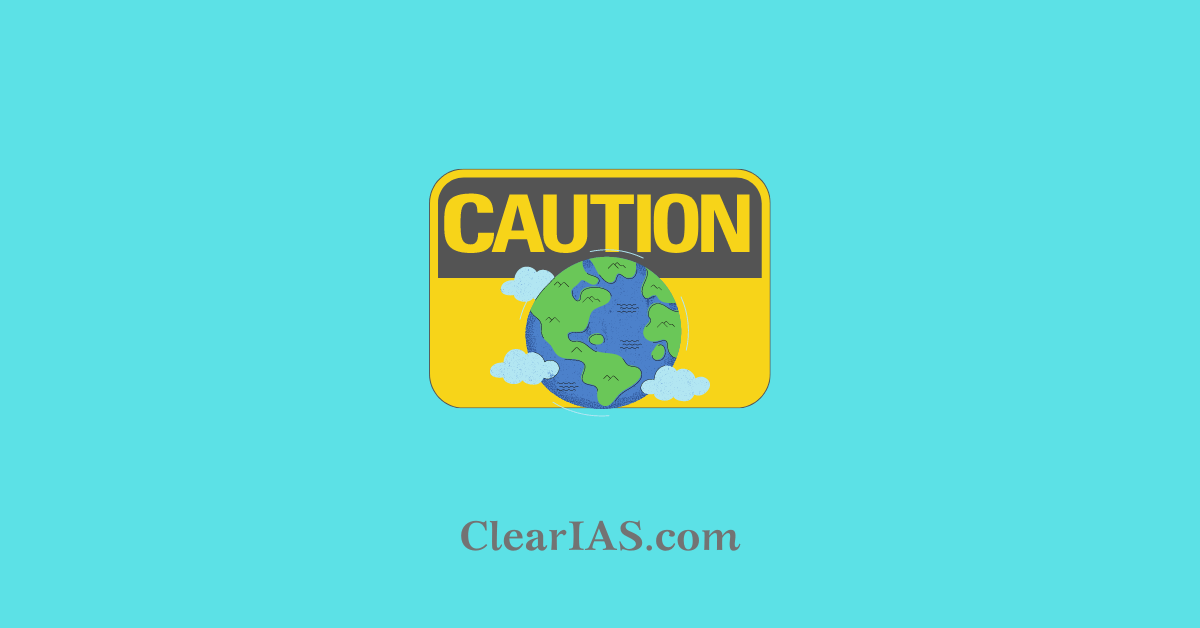 According to NITI Aayog, because of climate change, over 600 million Indians will experience "serious water shortages" in the upcoming years.
India ranks fifth globally in terms of climate change vulnerability. Due to climate change, India suffered losses of almost 37 billion dollars in 2018 (almost twice what it lost between 1998-2017).
According to MIT, 78 out of India's 89 urban regions will experience a considerable increase in flash floods if preindustrial temperatures are increased by 2° Celsius.
Sea level rise and stronger cyclones have already been brought on by an increase in sea surface temperature.
What Is Climate Change?
Climate change means a long-term shift in temperature and weather patterns that may be natural such as through variations in the solar cycle or a result of anthropogenic activities such as carbon emission.
Since the 1800s, human activities, primarily the combustion of fossil fuels like coal, oil, and gas have been the primary cause of climate change.
Fossil fuel combustion produces greenhouse gas emissions that serve as a blanket around the earth, trapping heat from the sun and increasing temperatures.
Carbon dioxide and methane are two prominent greenhouse gas emissions that are contributing to climate change. These are produced, for instance, by burning coal or gasoline. Carbon dioxide can also be released during forest and land clearing and Methane is emitted primarily by waste landfills. Among all, the major emitters are energy, industry, transportation, buildings, agriculture, and land use.
Key Findings related to Climate
China is the largest emitter of carbon dioxide which comprises 30.60% of the CO2 emission worldwide. China is followed by USA and India.
The Earth is now about 1.1°C warmer than it was in the 1800s. The commitment made under Paris Agreement may not be met.
By the end of the century, the temperature might rise by as much as 4.4°C if carbon dioxide emissions continue on their current course.
The levels of greenhouse gases rose to a new height in 2019. The amount of carbon dioxide was 148% of preindustrial levels.
While sea ice, the Greenland ice sheet, and glaciers have decreased over the same time period and permafrost temperatures have climbed, the Arctic has warmed at least twice as fast as the global average.
Between 2020 and 2030, the world's production of fossil fuels must drop by around 6% in order to maintain a 1.5°C trajectory.
Also read: Planetary Boundaries
Causes of Climate Change
Several anthropogenic activities induce harm to the environment. A few important of them are-
Power Generation
Burning fossil fuels to provide power and heat accounts for a sizable portion of world emissions. Burning coal, oil, or gas releases carbon dioxide and nitrous oxide, which are still used to produce the majority of power.
Only a little over a quarter of the world's electricity is generated by renewable energy sources including wind, solar, and other natural resources.
Manufacturing and Industrial goods
The manufacturing/industrial sector is one of the leading global producers of greenhouse gas emissions.
Emissions from manufacturing and industry are mostly the result of burning fossil fuels to create energy for the production of items like textiles, electronics, plastics, cement, iron, and steel.
Gases are also released during mining and other industrial activities, as well as during construction.
Some products are also manufactured from chemicals derived from fossil fuels i.e., plastic products.
Deforestation
A percent of the world's greenhouse gas emissions is caused by deforestation, along with agriculture and other changes in land use.
As per an estimation, nearly 12 million hectares of forests are burned annually. Cutting down forests to make way for farms, pastures, or for other purposes also increases emissions.
Forests absorb carbon dioxide, hence cutting or destroying forests reduces nature's capacity to absorb emissions.
Transportation
Fossil fuels are typically used to power transportation machines. As a result, emissions of greenhouse gases, particularly carbon dioxide, are greatly influenced by the transportation sector.
In addition, statistics suggest that over the next few years, energy use for transportation will rise significantly.
Food Production
In addition to deforestation and clearing land for agriculture and grazing, digestion by cows and sheep, production and use of fertilizers and manure, and the use of energy to run farm machinery or fishing boats, typically with fossil fuels, all contribute to the production of food.
Powering Buildings
Over half of all electricity used worldwide is consumed by residential and commercial structures.
Energy-related carbon dioxide emissions from buildings have increased over the past few years as a result of rising energy demand for heating and cooling, rising air conditioner ownership, and increased electricity use for lighting, appliances, and connected devices.
Effects of Climate Change
Climate change has devastating impacts on us and the environment. The major effects are-
Increase in Temperature
The global surface temperature rises together with greenhouse gas concentrations. The most recent ten years, 2011 to 2020, have been the warmest on record.
Higher temperatures worsen heat-related illnesses and make it more challenging to work outside. When the weather is hotter, wildfires start more easily and spread more quickly.
More Severe Storms
In many areas, destructive storms have increased in intensity and frequency. More moisture evaporates as temperatures rise, aggravating extremely heavy rains and flooding and resulting in more severe storms.
The warming ocean has an impact on both the intensity and frequency of tropical storms. Warm ocean surface waters are the primary source of cyclones, hurricanes, and typhoons.
Frequent Drought
Water availability is changing due to climate change, becoming more scarce in many places. In already water-stressed areas, global warming makes water shortages worse. It also increases the danger of ecological and agricultural droughts, which can harm crops and make ecosystems more vulnerable.
Warming and Rising Ocean
The ocean absorbs carbon dioxide, keeping it out of the atmosphere. However, additional carbon dioxide causes the water to become more acidic, endangering coral reefs and marine life.
It is the property of water that it expands when becomes warmer, therefore as the ocean warms, its volume will rise. Sea levels increase as a result of ice sheet melting, endangering coastal and island communities.
Loss of Species
Both animals on land and in the ocean are at risk from climate change. As the temperatures rise, these risks rise as well.
The rate of extinction on the planet is 1,000 times higher now than it has ever been in recorded human history. Within the next few decades, one million species face extinction.
Threats from climate change include invasive pests and illnesses, forest fires, and harsh weather.
Food Scarcity
Global hunger and poor nutrition are on the rise for a variety of reasons, including climate change and an increase in extreme weather occurrences. Crops, animals, and fisheries might all be lost or become less effective.
Marine resources that provide food for billions of people are in danger as a result of the ocean's increasing acidity.
Food sources from herding, hunting, and fishing have been hampered in several Arctic regions due to changes in the snow and ice cover.
Heat stress can reduce available water and grazing areas, which can lower crop output and have an impact on cattle.
Health Hazards
The single greatest hazard to human health is climate change. Air pollution, sickness, harsh weather, forced relocation, stress on mental health, increasing hunger and inadequate nutrition in areas where people cannot grow or get enough food are only a few of the health effects of climate change.
13 million individuals every year are killed by environmental conditions. Extreme weather events increase fatalities and make it challenging for healthcare systems to keep up with the growing number of diseases caused by changing weather patterns.
Deepen Poverty and Displacement
Climate change makes it easier for people to fall into and stay in poverty.
Floods have the potential to devastate homes and livelihoods in urban slums. Outdoor jobs may be challenging to perform in the heat. Crops may be impacted by water scarcity.
Weather-related disasters have uprooted an estimated 23.1 million people annually on average over the previous ten years (2010-2019), leaving millions more at risk of poverty.
The majority of refugees are from countries that are least able and prepared to adjust to the effects of climate change.
Every increase in global warming matters
Numerous UN assessments were endorsed by hundreds of experts and government reviewers who concluded that keeping the increase in global temperature to 1.5°C will help us escape the worst climatic effects and maintain a habitable climate. However, according to current national climate plans, the average global warming by the end of the century will reach about 3.2°C.
Across the world, emissions that contribute to climate change are produced, yet some countries produce significantly more than others. 3 percent of global emissions are produced by the 100 countries with the lowest emissions. 68% of the contribution comes from the ten countries with the highest emissions. Everyone must act to combat climate change, but those who contribute most to the issue must be the countries with a larger obligation to do so first.
Article Written By: Priti Raj