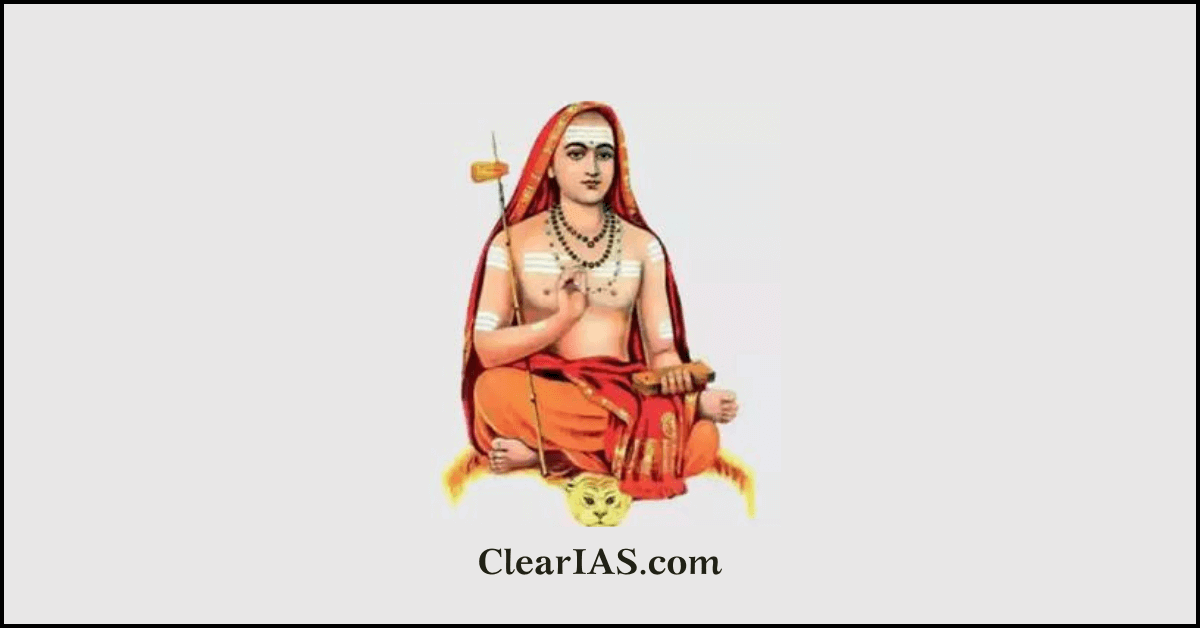 The Adi Shankaracharya story is a remarkable saga of travel and adventure, philosophical inquiry, and conflicts in faith. Know more about him.
Adi Shankaracharya is most known for his systematic reviews and commentaries on ancient Indian texts.
What are his philosophies and contributions? All of this will be discussed in this article.
Who was Adi Shankaracharya?
He was an Indian philosopher and theologian, Sankara (Jagatguru), and was a firm believer in ancient Hinduism.
Adi Shankaracharya is considered an incarnation of Lord Shiva.
He took guidance from guru GovindaBhagavatpada under whom he studied 'GaudapadiyaKarika', 'Brahmasutra', Vedas, and Upanishads.
Shankara propagated 'Advaita Vedanta' and 'Dashanami Sampradaya.He came to be known as Shankaracharya among his disciples.
Why in news?
Adi Shankaracharya's birthplace Kaladi in Ernakulam, Kerala is likely be declared a national monument.
More about news
The significance of Adi Shankaracharya's birthplace comes from mythology that claims Sankaracharya was captured by a crocodile, which would not release him until his mother permitted him to take Sanyas (renunciation).
This location is called Crocodile Ghat and holds religious values.
The area is blessed with significant temples honouring Sri Ramakrishna, Sri Krishna, Sarada Devi, and Sri Sankara.
About Adi Shankaracharya's philosophy:
Advaita Vedanta
It is a version of Vedanta translated as non-dualism.

According to it, the world exists because of Brahman's creative energy (my), which is the ultimate, transcendent, and immanent God of the later Vedas.

 The world has no separate existence apart from Brahman.

The transcendental self of the universe (tman) and the experiencing self (jva) are both identical in truth (both are Brahman), but the individual self appears to be different in the same way that space inside a container appears to be different from space as a whole.

 These cardinal doctrines are represented in the verse "Brahma satyamjaganmithya; jīvobrahmaivanaaparah"

(Brahman is alone True, and this world of plurality is an error; the individual self is not different from Brahman).

 Because of erroneous judgments (mithya) and ignorance, there is a plurality (avidya).

These mistakes are eliminated through understanding Brahman, which also results in freedom from the cycle of reincarnation and worldly servitude.
Do you know the major schools of Vedic philosophy?
There are six major schools of Vedic philosophy—Nyaya, Vaisheshika, Samkhya, Yoga, Mīmāṃsā, and Vedanta, and five major heterodox (sramanic) schools—Jain, Buddhist, Ajivika, Ajñana, and Charvaka.
Disciples Of Adi Shankaracharya
Students began referring to Shankara as Shankaracharya. Despite having several pupils, four of them became the most significant Shankaracharya adherents and rose to fame. They were also in charge of the four monasteries founded by Shankaracharya. The following are Shankara's four closest disciples:
His 4 main disciples were:
Padmapada,

Totakacharya,

Hasta Malaka,

Sureshvara.
Padmapada
Padmapada, one of Adi Shankaracharya's most ardent students, was born there. Sanandana, according to historical accounts, was drying his master's garments on the Ganges River's banks.
Sanandana began to cross the mighty Ganges while Shankaracharya begged for his clothes, holding his master's attire close to his bosom.
Totakacharya
He was born in Giri and was an Adi Shankaracharya follower. The other Shankaracharya pupils thought Giri was a fool since he was completely devoted to his master's mission and showed no interest in academics.
Padmapada persuaded his teacher to begin teaching him while Shankaracharya waited for Giri because he believed it would be a waste of time. Then Shankaracharya decided to honor Giri's devotion by giving him access to all of his knowledge.
Giri earned the moniker Totakacharya for his poetry "Totakashtakam." The Vadakke Modam monastery, today known as the Vadakke Madom temple, was built in Thrissur by Totakacharya.
Hasta Malaka
A Brahmin called Prabhakara met Shankaracharya with his little son at a village close to Kollur (Karnataka). Prabhakara, the father's son, warned him that his father's child is a psychopath with no redeeming qualities.
When Shankaracharya saw his child, he inquired as to what the child was doing. The small child responded by explaining Advaita philosophy in detail.
He was given the name Hasta Malaka by Shankaracharya and accepted as a student. 
Sureshwara 
Sureshvara first lived the life of a typical homeowner. Misra, the foremost practitioner of Nirakara Mimamsa, was close to Shankaracharya. At some point, Mandana Misra was met by Shankaracharya and challenged to a discussion.
After months of debate, Mandana Misra finally conceded and consented to become Shankaracharya's pupil. He built the "Naduvil Matham" at Thrissur, under the name Sureshvara.
Contributions of Adi Shankaracharya
Philosophical contributions
Created the "Shanmata" system of six sects of worship, which highlighted the five principal gods: Vishnu, Siva, Shakti, Muruka, Ganesha, and Surya.

Restored the dasanami structure (Dashanami Sampradaya), in which monks were arranged under ten titles, and strengthened the sannyasa tradition.
Literary contributions
Composed 72 devotional and meditative hymns like Soundarya Lahari, Sivananda Lahari, Nirvana Shalkam, etc.

He authored books on the fundamentals of Advaita Vedanta including VivekaChudamani, AtmaBodha, VaakyaVritti, and UpadesaSahasri.

Wrote 18 commentaries on the major scriptural texts including the Brahma Sutras, the Bhagavad Gita, and 12 major Upanishads.

His review of 'Brahma Sutra' is known as 'Brahmasutrabhasya', and it is the oldest surviving commentary on 'Brahma Sutra'.
Healing of a religion
By the time Shankara was born, Hinduism was in retreat and was paralyzed by its rigid practice of orthodoxy, ritualism, and formality.

The ascetic Mahavira Jaina (c. 599 BCE-527 BCE) and Gautama Buddha (c. 563 BCE-483 BCE), whose adherents split off into new religions that were independent of Mimamsa Brahminism, which was practiced by the majority of Hindus, presented a threat to it.

Adi Shankara's Advaita Vedanta, which combined various ideas and Hindu practices into a philosophy based on the Vedic maxim "One Truth, Many Expositions," was the theoretically robust response to that period of chaos.
Four ashrams
 He established 4 ashrams in four corners of India.
JyotirMatha in Badrinath, Uttarakhand – It advocates 'Ayamatma Brahma' (This Atman is Brahman) and was formed based on Atharva Veda. Totakacharya was the head of this matha
Govardhana Matha in Puri, Odisha -part of the famous Jagannath temple, it advocates 'Prajnanam Brahma' (Consciousness is Brahman). It was formed based on Rig Veda. Padmapada was made the head of this monastery.
Karnataka's Sringeri Matha is located there. It was founded on the principles of the Yajur Veda and is situated along the Tunga River's banks. Its motto is "AhamBrahmasmi" (I Am Brahman). This matha's leader was appointed as Sureshvara.
The Sarada Matha in Dwarka, Gujarat, was founded on the principles of the Sama Veda and promotes the idea of "Tattvamasi" (That thou art). The leader of this matha was appointed Totakacharya.
Relevance of Adi Shankaracharya in Today's world
It is necessary for this spiritual knowledge to diffuse from the mountainsides into the towns, cities, and villages—but most importantly, into the hearts and minds of people.

It is past time to revive this culture, this piety, and this attitude of humility, which has benefited us greatly. We must learn to lower ourselves.

This has been our strength, our path, the process and method of our development and realization.

He constructed "Chaturamnaya peethas," or monastic institutions, in each of India's four directions. And he may have been the first person to employ a structural and institutional framework to unify our entire nation, much before the British.

In addition to codifying their powers and responsibilities, he created intricate selection processes for spiritual leaders to fill these pontifical offices, which are still used today.

Few philosophers have created institutions and ensured their long-term sustainability without the aid of political or military backers. This is possibly Shankara's most impressive accomplishment.
According to Adi Shankaracharya, the nirguna brahman can be defined in any way and is identical to the most aggressive personality, God.
He became well-known as one of the best Vedic teachers in the short time of his 32-year existence.
Only by using spirituality and a thorough comprehension of the universe was he able to accomplish this achievement. Shankara, Lord Shiva's manifestation, is highly regarded.
More than any other spiritual leader, Adi Shankaracharya is considered a philosopher and preacher who had a significant impact on Hinduism.
In the course of his  life, he is credited for bringing together the various Hindu religious factions, founding organizations in all four corners of the nation, penning all significant religious treatises, and establishing Sanatan Dharma practices through discourse.
Read more about other social reformer Sree Narayana Guru, click here
Article Written by: Remya