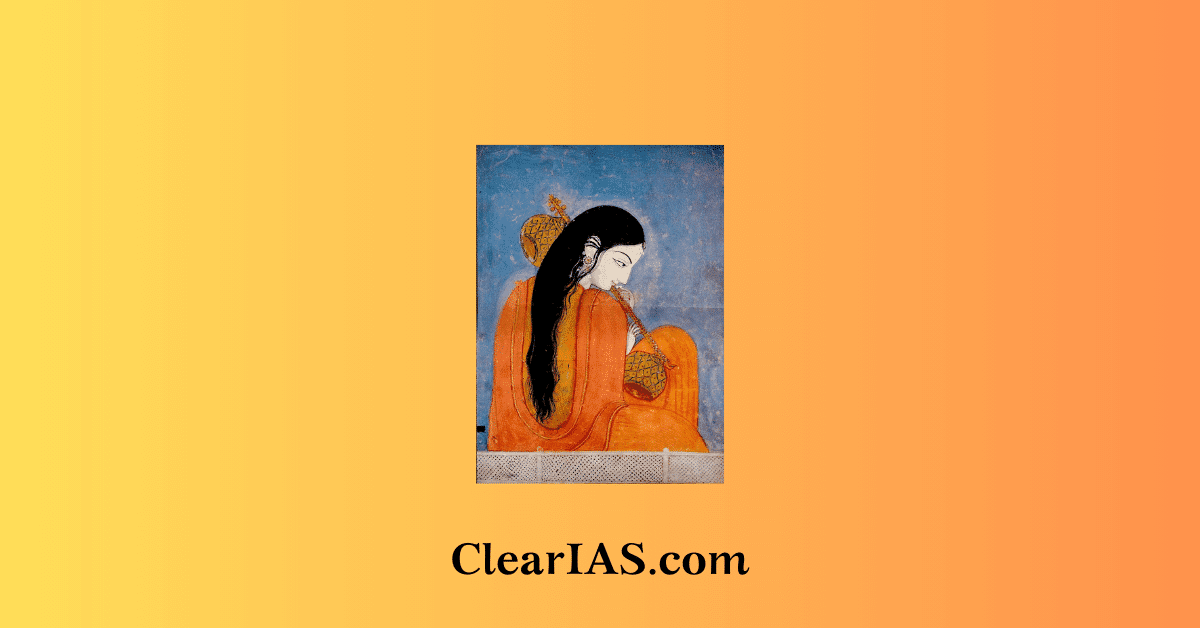 The Bhakti movement is often associated with male saints and poets, but there were also notable women of the Bhakti movement who contributed significantly to the Bhakti literary tradition. These women poets expressed their devotion and spiritual experiences through their verses. Read further to know about the Women of Bhakti movement.
The Bhakti movement, which spanned several centuries in India, gave rise to a rich tradition of devotional poetry.
The movement, which emerged in medieval India, was a significant social and religious reform movement that emphasized devotion (bhakti) to a personal god or goddess as a means of achieving spiritual realization.
It attracted followers from various strata of society, including women, who played a crucial role in this movement.
Society during the Bhakti movement
The movement's influence was widespread across various regions of India, and it had a profound impact on society during its course.
One of the most transformative aspects of the Bhakti movement was its emphasis on the equality of all individuals in the eyes of God.
Bhakti saints and poets advocated that devotion and sincerity were more important than caste or social status.
This challenged the rigid caste system and encouraged social mobility.
The Bhakti movement cut across caste and class boundaries, making it accessible to people from all walks of life.
It attracted followers from diverse backgrounds, including Brahmins, non-Brahmins, and even people from marginalized communities.
The Bhakti movement provided a platform for women to express their spiritual aspirations and contribute to religious discourse. Several prominent female saints and poets, such as Meera Bai and Andal, emerged during this period.
Bhakti saints emphasized the universality of the divine and often spoke against religious orthodoxy and ritualism.
The movement inspired social reforms by challenging oppressive practices within society, such as the treatment of women, the untouchability of certain communities, and other forms of discrimination.
The Bhakti movement was not centralized but had regional variations, with different poet-saints composing devotional songs and verses in their native languages. This led to a rich and diverse body of Bhakti literature.
The movement played a significant role in the development of regional literature, music, and art. Bhakti poetry and songs remain an integral part of Indian cultural heritage.
It fostered a sense of community among its followers. Devotees often gathered in congregations to sing devotional songs, share spiritual experiences, and seek guidance from their chosen saints.
The Bhakti movement promoted the idea that devotion and love for the divine could lead to spiritual realization. This approach contrasted with traditional rituals and priestly intermediaries.
The Bhakti movement had a lasting impact on the socio-religious landscape of India and influenced subsequent reform movements, including the Sikh Gurus and the Sant Mat tradition.
Women of Bhakti movement
Bhakti movements to some extent challenged the societal norms of the age and that broadened women's horizons to some measure.
The female poet-saints emerged to play a crucial role in the otherwise male-dominated movement.
Gender prejudice did not concern the new class of men and women that emerged from the flourishing Bhakti movements of the medieval era.
Their decision to become nomadic bhaktas, free from houses and spouses, was a common way for them to defy social conventions and customary duties for women.
They occasionally grouped with other poet-saints to create communities. Absolute adoration and devotion to their Divine Husbands became their new emphasis.
Here are a few well-known women of the bhakti movement:
Andal: Andal, also known as Nachiyar, was a 9th-century Tamil poet-saint from the Bhakti tradition of South India. She is known for her devotional hymns to Lord Vishnu, particularly the Thiruppavai and Nachiyar Thirumozhi. Andal's poems express her deep love and devotion to Lord Krishna.
Akka Mahadevi: Akka Mahadevi was a 12th-century Kannada poet-saint from the Veerashaiva tradition. She is known for her Vachanas (verses) that express her devotion to Lord Shiva. Akka Mahadevi is one of the earliest female poets in the Kannada language.
Mira Bai: Mira Bai, also known as Meera, was a 16th-century Rajput princess and devotee of Lord Krishna. Her bhajans (devotional songs) express her intense love and unwavering devotion to Lord Krishna. Mira Bai's poetry is widely celebrated for its emotional and spiritual depth.
Sakkubai: Sakkubai was a 15th-century Marathi saint-poet who composed abhangas (devotional songs) dedicated to Lord Vithoba, a form of Lord Krishna. Her devotional hymns continue to be sung by devotees of Vithoba.
Bahinabai Chaudhari: Bahinabai Chaudhari was a 17th-century Marathi saint-poetess who composed devotional abhangas in the Varkari tradition, expressing her love for Lord Vithoba. Her writings reflect her deep spirituality and devotion.
Lal Ded: Lal Ded, also known as Lalla Arifa, was a 14th-century Kashmiri saint-poetess. She followed the Shaivite tradition and her vakh (verses) emphasize the inner spiritual journey and the unity of the self with Lord Shiva.
Janabai: Janabai, a 13th-century Marathi saint-poet, was a devotee of Lord Vithoba. She expressed her devotion through abhangas, and her poetry reflects her simplicity and devotion.
Many male poets like Surdas were known for their devotional compositions to Lord Krishna and Radha. He was known to have been inspired by Mira Bai, and his poetry often focuses on the divine love of Radha and Krishna.
Conclusion
The Bhakti movement was not a singular phenomenon but a collection of regional and linguistic movements with a common emphasis on devotion and love for the divine. It played a pivotal role in shaping the cultural and religious diversity of India and remains relevant in contemporary Indian society.
The women of Bhakti movement, along with numerous others, contributed significantly to the Bhakti movement, challenging societal norms and advocating for a more personal and direct relationship with the divine. Their poetry and devotional hymns continue to be revered and inspire devotees to this day. They are celebrated for their unwavering devotion and the messages of love, equality, and spirituality they conveyed through their works.
-Article by Swathi Satish