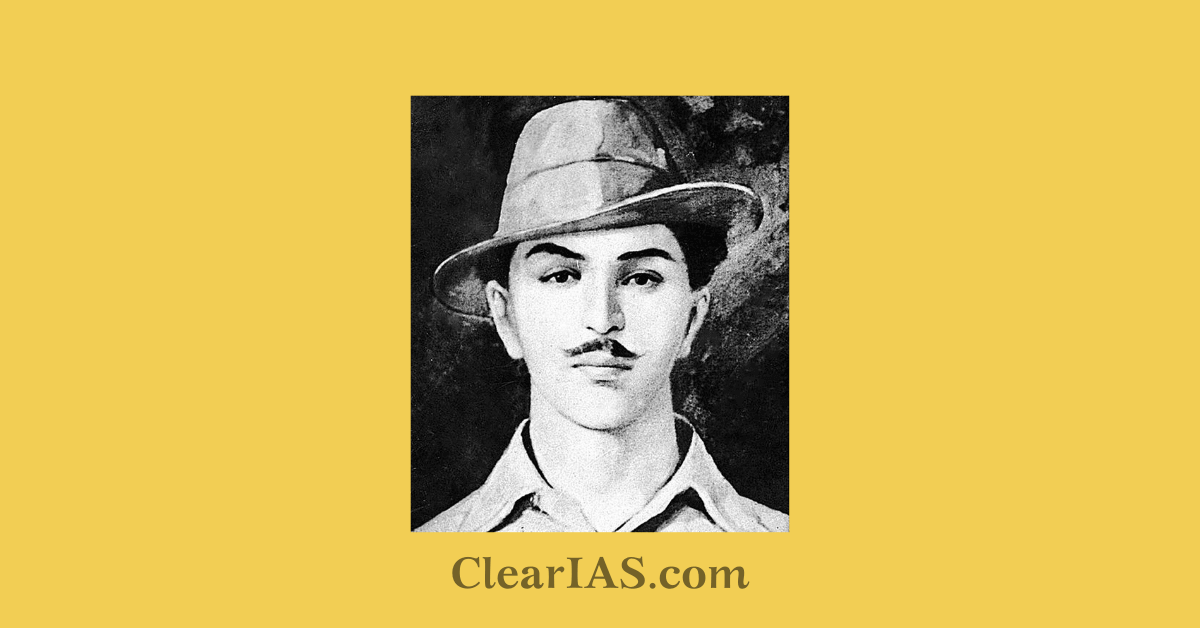 Bhagat Singh was a charismatic revolutionary freedom fighter who was known for his courage. Read here to know more about his short but significant life.
Bhagat Singh was a revolutionary leader who was executed by the British at the age of 23 for his activities in Indian freedom movement.
Early life of Bhagat Singh
Bhagat Singh was born on September 27, 1907, in Lyallpur, western Punjab, India (now in Pakistan).
Bhagat Singh attended Dayanand Anglo Vedic High School, which was operated by Arya Samaj (a reform sect of modern Hinduism), and then National College, both located in Lahore.
His family members were involved in the freedom struggle and he was drawn to the Indian independence movement from a very young age. His father and his uncle Ajit Singh were active in progressive politics, taking part in the agitation around the Canal Colonization Bill in 1907, and later the Ghadar Movement of 1914–1915.
In 1923, he joined the National College in Lahore, founded two years earlier by Lala Lajpat Rai in response to Mahatma Gandhi's non-cooperation movement, which urged Indian students to shun schools and colleges subsidized by the British Indian government.
Bhagat Singh's foray into the freedom movement
His family's relation with the freedom struggle propelled Bhagat Singh into the activities from a young age. Initially, he supported Mahatma Gandhi and the Non-Cooperation Movement. However, when Gandhi withdrew the movement in the wake of the Chauri Chaura incident, Bhagat Singh turned to revolutionary nationalism.
Bhagat singh was deeply affected by the Jallianwala Bagh massacre (1919) and the violence against unarmed Akali protestors at Nankana Sahib (1921).
In 1924 in Kanpur, he became a member of the Hindustan Republican Association, started by Sachindranath Sanyal a year earlier. The main organizer of the Association was Chandra Shekhar Azad and Bhagat Singh became very close to him.
In 1926, he founded the Naujawan Bharat Sabha, an organization that aimed to encourage revolution against British rule by rallying the peasants and workers.
He made contact with the 'Workers and Peasants Party' which brought out the monthly magazine Kirti in Punjabi. For the next year, Bhagat Singh worked on the editorial board of Kirti.
In 1928, he established the Hindustan Socialist Republican Association (HSRA) along with Sukhdev, Chandrashekhar Azad, and others.
HSRA collapsed after Chandrashekar Azad was shot dead in 1930.
Bhagat Singh's Revolutionary activities
His association with revolutionaries began with HSRA. He was introduced to the philosophy of bombs and the importance of the armed revolution.
In 1927, he was first arrested on charges of association with the Kakori Case accused of an article written under the pseudonym Vidrohi (Rebel).
He was also accused of being responsible for a bomb explosion at Lahore during the Dussehra fair.
The Saunders Case/ Lahore Conspiracy case:
In 1928, Lala Lajpat rai died due to injuries sustained during a protest against the Simon Commission in Lahore. The lathi-charge was ordered by the superintendent of police James Scott.
Bhagat Singh and his revolutionary friends decided to avenge the death of the dear leader. However, in a case of mistaken identity, they assassinated another police official J P Saunders. This was known as the Lahore Conspiracy Case.
After this incident, Bhagat Singh fled from Lahore and made changed his appearance to avoid arrest.
The murder was condemned as a retrograde action by Mahatma Gandhi, but Jawaharlal Nehru later wrote:
"Bhagat Singh did not become popular because of his act of terrorism but because he seemed to vindicate, for the moment, the honor of Lala Lajpat Rai, and through him of the nation. He became a symbol, the act was forgotten, the symbol remained, and within a few months each town and village of Punjab, and to a lesser extent in the rest of northern India, resounded with his name. Innumerable songs grew about him and the popularity that the man achieved was something amazing."
Central assembly bombing case:
On 8th April 1929, Bhagat Singh and Batukeshwar Dutt threw a bomb in the Central Assembly at Delhi, from the Visitors' Gallery. They also threw pamphlets and raised pro-revolutionary slogans.
Both the revolutionaries did not resist arrest since they wanted to spread their message of revolution and anti-imperialism and wanted to use the trial as a platform for it.
They shouted slogans of "Inquilab Zindabad" during the whole arrest. The slogan became quite popular among the youth and many freedom fighters.
There were no causalities in the incident as it was never their intention to cause physical harm to anyone. Their aim was 'to make the deaf hear'.
Bhagat Singh was the mastermind behind the incident and was inspired by Auguste Vaillant, a French anarchist, who was executed by France for a similar incident in Paris.
In the trial for the incident, both Singh and Dutt were sentenced to imprisonment for life.
By this time Bhagat Singh was also linked to the JP Saunder's murder incident. He, along with Rajguru and Sukhdev was charged with the murder of Saunders.
The trial and death of Bhagat Singh
The trial started in July 1929 and was published in daily newspapers.
The young revolutionaries started a hunger strike in Lahore prison demanding better conditions for political prisoners who were also treated as criminals.
They were met by many leaders including Jawaharlal Nehru while they fasted for 116 days which only ended after repeated requests from family and congress leaders.
But the trial was a one-sided affair and Bhagat Singh, Sukhdev, and Rajguru were sentenced to death. The verdict was met with large criticism and many national leaders requested to reduce the sentence but in vain.
The three were ordered to be hanged on 24 March 1931 but the sentence was carried out a day earlier at the Lahore Jail. After the hanging, their mortal remains were cremated in secret.
The executions were reported widely by the press, especially as they took place on the eve of the annual convention of the Congress party in Karachi. Gandhi faced black flag demonstrations by angry youths who shouted: "Down with Gandhi".
Individual Heroism vs Mass Movement
Bhagat Singh initially believed in individual heroism to achieve the goal.
However, he later realised that individual heroism stood no chance against the brute force of the British empire and the only way to a successful revolution was to unleash a popular broad-based movement.
Legacy of Bhagat Singh
Every year, March 23 is observed as Martyrs' Day as a tribute to freedom fighters Bhagat Singh, Sukhdev Thapar, and Shivaram Rajguru. The day is also known as Shaheed Diwas or Sarvodaya Day.
During the centenary of his birth, a group of intellectuals sets up an institution named Bhagat Singh Sansthan to commemorate him and his ideals.
He was an atheist and ardent reader- his book "Why I am an Athiest" is quite popular.
Few of his famous quotes were-
They may kill me but they cannot kill my ideas. They can crush my body, but they will not be able to crush my spirit.
Bombs and pistols do not make a revolution. The sword of revolution is sharpened on the whetting stone of ideas.
May the sun in his course visit no land freer, happier, more lovely, than this our own country.
But mere faith and blind faith is dangerous: it dulls the brain and makes a man reactionary.
Revolution is an inalienable right of mankind. Freedom is an imperishable birthright of all. Labour is the real sustainer of society.
The youth of India still gain inspiration in his life- a young revolutionary with fire in his blood and calm in his heart.