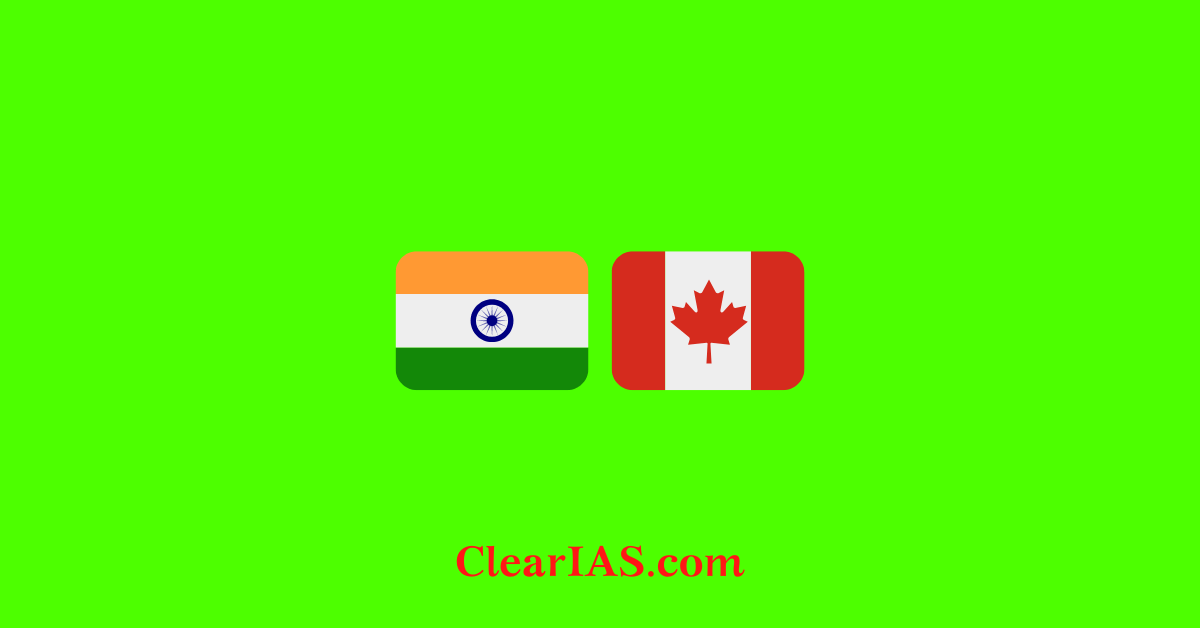 What is Canada's Indo-Pacific strategy? What are the objectives Indo-Pacific strategy? What are the significance of Indo-Pacific Policy? What is India's Policy for Indo-pacific strategy? What forces are causing the world to turn to the Indo-pacific strategy? Read further to know more.
Indo-Pacific Policy is an important strategical partnership between India and Canada.
Geographically, Indo-Pacific area is a theatre made up of the Pacific, Indian, and neighbouring land masses. With 60% of Canada's international students hailing from outside the country and 1 in 5 Canadians having familial ties to the Indo-Pacific area, this region has the greatest diaspora in the country.
The final G7 country to embrace the Indo-Pacific paradigm is Canada, which has 20% of its people born in the region.
What is Canada's Indo-Pacific Policy?
The Indo-Pacific is a replacement for the formerly dominating "Asia-Pacific", which denoted the eastward shift of global processes from the Euro-Atlantic component.
Canada just unveiled a new Indo-Pacific policy that prioritises ASEAN, China, India, and the North Pacific (Japan and Korea).
While expressing support for India's shared legacy of democracy and pluralism, the strategy is stern about China's threats to human rights and the international system of laws.
However, Canada also admits its reliance on China as its top export market and the necessity of collaboration with China on matters like the environment and public health.
By its strategy, Canada will invest $1.7 billion over five years in infrastructure improvements, a stronger military, and more involvement in regional military drills.
What are the objectives Indo-pacific strategy?
Five objectives outlined by the strategy:
Promote peace, resilience and security.
Expand trade, investment and supply chain resilience.
Invest in and connect people.
Build a sustainable and green future.
Be an active and engaged partner to the Indo-Pacific.
Canada aims to actively participate in taking advantage of the region's many potentials and contributing to the solution of current and future strategic issues.
The strategy of Indo Pacific Policy
Such geopolitical and geoeconomic linkages appear to be reflected in Canada's new Indo-Pacific Strategy. Canada, through this plan, has designated four regions to focus on China, India, the North Pacific (Japan and Korea), and ASEAN. It refers to the
Indo-Pacific, to which it also belongs, is "a new horizon of opportunity."
In addition, it recognises that the largest diaspora in Canada is made up of "people of Indo-Pacific origin" (it has named 40 nations). 60% of Canada's overseas students live there, and "1 in 5 Canadians have family ties to the area."
The United States, the European Union, Germany, France, and the United Kingdom have all boosted or are considering growing their presence in the region, and several of Canada's "closest allies" have done the same.
The Indo-Pacific region is quickly becoming as the worldwide hub for economic dynamism and strategic difficulty.
$1.7 billion in investment over five years, allocated to infrastructure projects through the US-led G7 Partnership for Global
Infrastructure and Investment, $403 million for a third frigate in the Indian Ocean, and increased involvement in regional military drills.
Significance of Indo-Pacific Policy
Following points describe the significance of the 'Indo-Pacific strategy'.
Choosing "Asia Pacific" over "Indo-Pacific" in Indo-pacific strategy:
The final G7 country to embrace the Indo-Pacific paradigm is Canada, which has 20% of its people born in the region.
With "Asia Pacific," it was earlier more comfortable.
Change in Canada's China policy:
A sequence of actions from the previous year indicated a shift in Canada's stance on China, including a dramatic tightening of investment regulations to stop Chinese state businesses from seizing control of its crucial minerals and mines sector.
A motion to label China's treatment of its Uighur minority as "genocide" was approved by the Canadian Parliament.
Also prohibited was Huawei 5G.
India-Canada ties after a freeze between 2020-2022 over several issues
Joly's (Canadian Foreign Minister) visit is particularly significant because she was scheduled to visit Delhi again next month for the G-20 Foreign Minister's meeting and the G-20 summit later this year,
but she opted to travel to India instead for a stand-alone visit that is anticipated to pave the way for a continued thawing of ties between India and Canada after a freeze between 2020 and 2022 over several issues including attacks on people and establishments of Indian ancestry by Kha
The visit, which was primarily centred on Canada's recently unveiled Indo-Pacific policy, which names India as an important country, is considered as an effort by both sides to get bilateral relations back on track after several tumultuous years.
Notably, the MEA press statement made no mention of the current hostilities resulting from alleged pro-Khalistani graffiti in Canada.
Prime Minister Narendra Modi met with Canadian PM Justin Trudeau in June last year and is scheduled to welcome him for the G-20 conference in Delhi in September this year as well.
2023- the year of India-Canada reset
Given the convergence of Indo-Pacific strategies, ongoing trade negotiations that could result in an Early Progress Trade Agreement (EPTA), and a series of high-level meetings this year, 2023 might turn out to be the year of India and Canada's reset.
Before a Comprehensive Economic Partnership Agreement, India is also negotiating the EPTA in addition to attracting investment from Canadian capital (CEPA).
There is a market for Canadian products and services in India, from clean technology to essential minerals and educational initiatives.
Opportunities available for India to contribute to strengthening the region's various sectors
India can effectively participate in the regions growing dynamism through its contributions in many areas.
Energy and Environment by Indo-pacific strategy:
Utilizing cutting-edge technology like green hydrogen and focusing on areas like the blue economy where pre-existing frameworks and processes may be used to foster tighter economic cooperation are two ways to drive growth in the Indo-Pacific region.
Economy and Trade Linkages:
An important area of concern for the Indo-Pacific region is trade and economics. India's primary assets are its approach to regional finance and credit, supply chain resilience, and the soft power it derives from its extensive diaspora network.
Security of Indo-pacific strategy:
The security domain forms the basis of the Indo-Pacific. Investigating the Indo-human, Pacific's marine and cyber security issues provides a multifaceted understanding of the problems there.
Science and Technology:
In the Indo-Pacific area, where countries have a variety of capabilities, the technological exchange is crucial. India can make a contribution to international cooperation on data, digitization, and earth observation satellites by making use of its current technology infrastructure.
India's Policy for Indo-pacific strategy
A free, open, inclusive region.
A common rules-based order for the region
Equal access to common spaces on sea and in the air, as a right under international law
Circumventing power rivalries through partnerships
India aims to be a Net Security Provider, offer humanitarian assistance and acquire a solid and comprehensive strategic situational awareness of developments in the IOR.
What forces are causing the world to turn to the Indo-pacific strategy?
Vast Natural Resources
China as a factor
Non- Traditional Threats– piracy, illegal fishing, human trafficking, terrorism, and environmental dangers.
The region makes up:

65% of the global population,
44% of the planet's surface area,
2% of global GDP,
46% of global trade in goods.
Conclusion
It is impossible to overstate the significance of the Indo-Pacific area in India's foreign policy. The profusion of bilateral and multilateral initiatives in the Indo-Pacific, in which India is increasingly taking part, shows a rising convergence of world powers there. Both nations appear to be aware that Canada's vote-bank constraints and India's security worries must be overcome to try a bilateral relationship reset. India's strategic significance was emphasised in Canada's Indo-Pacific strategy.
Based on a shared mistrust of China, it provides a larger staging area for the two to interact while attempting to strengthen economic ties and invest in supply chain resilience. China's escalating rivalry and provocations highlight the need for India to define a practical and strategic role for itself in the Indo-Pacific. The Indo-Pacific is currently the most crucial region in terms of geopolitics, and the moment is opportune to refocus on regional geopolitics.
Article written by Aseem Muhammed