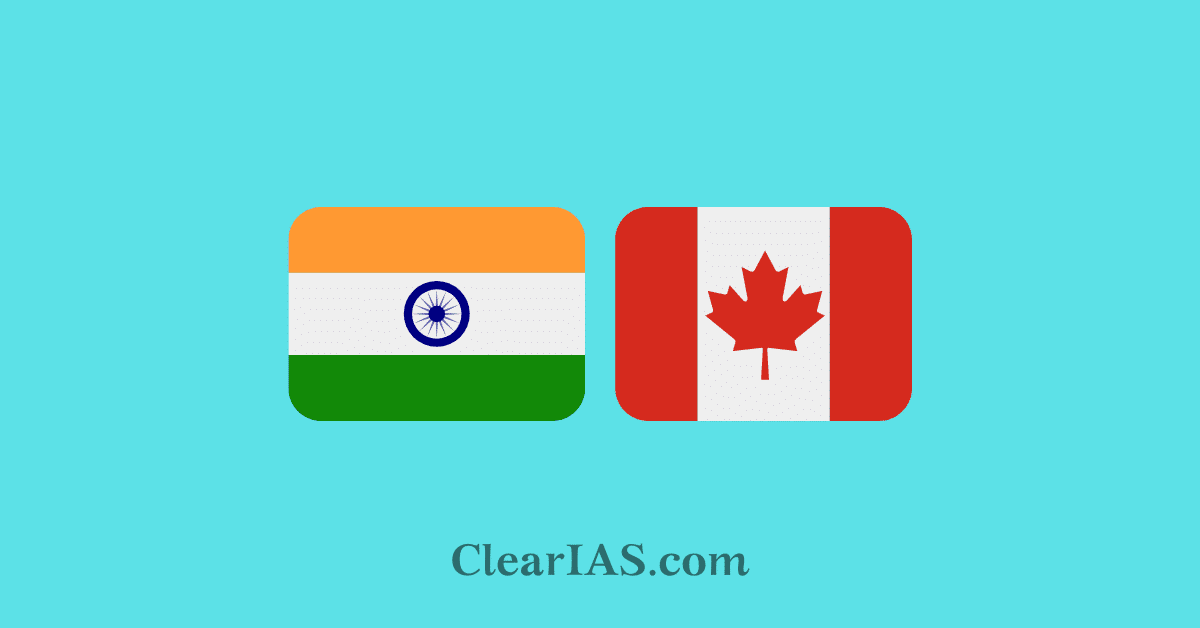 India-Canada bilateral ties are based on the shared values of democracy. Read here to know more about the history of the bilateral ties.
India established diplomatic relations with Canada in 1947. India and Canada have a longstanding bilateral relationship based on shared democratic values, the multi-cultural, multi-ethnic, and multi-religious nature of the two societies, and strong people-to-people contacts. In recent years, both countries have been working to enhance bilateral cooperation in several areas of mutual importance.
History of India-Canada relations
India-Canada diplomatic relations were established in 1947, which developed well when Prime Minister Jawaharlal Nehru visited Canada in 1949.
Canada's aid program to India began in 1951 and grew substantially under the Colombo Plan. Canada provided food aid, project financing, and technical assistance to India. In the past five decades, India has been one of the largest recipients of Canadian bilateral aid.
1974 saw the deterioration of India-Canada relations due to India's Smiling Buddha nuclear test.
The Canadian government severed bilateral nuclear cooperation with both India and Pakistan in 1976 after claims that the fissionable material used to construct India's first nuclear device had been obtained from the Canadian-supplied CIRUS nuclear research reactor.
After this Canada only engaged in nuclear cooperation only with countries that signed the Treaty on the Non-Proliferation of Nuclear Weapons (NPT) and the Comprehensive Nuclear-Test-Ban Treaty (CTBT), and which instituted full-scope safeguards on their nuclear energy programs under the supervision of the International Atomic Energy Agency (IAEA).
India and Pakistan are two nations that have consistently refused to sign the NPT and voted against UN General Assembly Resolutions.
1985: The bombing by Sikh separatists of Air India Flight 182 resulted in Canada and India maintaining a bilateral dialogue on anti-terrorism, including an annual meeting of the Canada-India Strategic Dialogue, as well as regular meetings of the aforementioned Canada-India Working Group on Counter-Terrorism.
Over the years, events like the liberalization of the Indian economy have attracted the Canadian business class and government, thus establishing a continuous relationship.
India-Canada bilateral relations
Canada is home to one of the largest communities of Indian origin, with approximately 4% of Canadians being of Indian heritage (1.4 million people).
The deep cultural and political ties between Canada and India are strengthened by a growing network of official dialogues, agreements, memoranda of understanding, and working groups.
At the Ministerial level, Canada and India enjoy a strategic partnership underpinned by Ministerial Dialogues on foreign policy, trade and investment, finance, and energy.
At the official level, there are regular working groups that focus on counter-terrorism, security, agriculture, education, science, technology, etc.
Trade relations
In 2021, India was Canada's 14th largest export market and 13th largest trading partner overall.
India is a key partner as Canada strengthens its economic links to the Indo-Pacific under a new, comprehensive strategy for the region.
Canada and India are working toward a Comprehensive Economic Partnership Agreement and a Foreign Investment Promotion and Protection Agreement (FIPA), and are committed to regularly holding Ministerial Dialogue on Trade and Investment to explore ways to deepen the commercial relationship.
Major Items of Indian Exports are:
Medicines, Garments, diamonds, chemicals, gems and jewelry, petroleum oils, made-up, seafood, engineering goods, marble and granite, knitted garments, rice, electric equipment, plastic products, etc.
Major items of Canada's export to India are:
Pulses, fertilizers, newsprint, aircraft & aviation equipment, diamonds, copper ores, and concentrates, bituminous coal, wood pulp, nickel, unwrought aluminum, asbestos, god, cameras, lumber, ferrous waste, etc.
Cultural relations
The Year of India 2011 was organized in different cities of Canada which included multi-sectoral events such as cultural shows, Writers festivals, film festivals, food festivals, trade shows, Education Summit, Innovation Summit, PBD-Canada, LKA's Moderns Exhibition, Eminent lecture series, installation of Gandhi statues, Tagore anniversary, etc.
In the Education field, the Shastri Indo-Canadian Institute (SICI) was founded in 1968 to promote academic relations mainly through funding research and linking academic institutions in the two countries.
To develop effective responses to today's most pressing global challenges, Canada and India work closely in multilateral fora, such as:
International Civil Aviation Organization (ICAO)
Pacific Alliance
United Nations (UN)
United Nations Educational, Scientific and Cultural Organization (UNESCO)
World Trade Organization (WTO)
Also, as both countries are members of the Commonwealth of Nations, Canada and India exchange high commissioners rather than ambassadors.
Key sectors supported in India by Global Affairs Canada through multilateral funding include sustainable economic development, treatment of infectious diseases, and nutrition.
The International Development Research Centre (IDRC) continues to have an active presence in India with projects focusing on:
the links between climate change and migration
the reduction of violence against vulnerable populations
women's rights, security, and access to justice
economic opportunities for Indian workers, especially women; and
improving food security
Science and Technology
Indo-Canadian Science and Technology cooperation has been primarily focused on promoting Industrial Research and Development which has potential for application through the development of new Intellectual property processes, prototypes, or products.
Department of Biotechnology under the IC-IMPACTS program implements joint research projects in health care, agri-biotech, and waste management.
IC-IMPACTS (the India-Canada Centre for Innovative Multidisciplinary Partnerships to Accelerate Community Transformation and Sustainability) is the first, and only, Canada-India Research Centre of Excellence established through the Canadian Networks of Centres of Excellence (NCE) as a Centre dedicated to the development of research collaborations between Canada and India.
Department of Earth Science and Polar Canada has started a program for the exchange of knowledge and scientific research on Cold Climate (Arctic) Studies.
Recent news on bilateral relations
Recently, two memorandums of understanding (MoUs) were renewed at the 7th India-Canada Joint Science and Technology Cooperation Committee (JSTCC) meeting.
The MoUs were signed by the Indian Ministry of Science and Technology with the Natural Sciences and Engineering Research Council of Canada (NSERC) and National Research Council Canada (NRC), respectively, under the 2005 Agreement for Scientific and Technological Cooperation.
India and Canada also held the fifth Ministerial Dialogue on Trade & Investment (MDTI), where Ministers agreed to formally re-launch the negotiations for India-Canada Comprehensive Economic Partnership Agreement (CEPA) and consider an Interim Agreement or Early Progress Trade Agreement (EPTA) that could bring early commercial gains to both the countries.
Way forward
The growing economy of India offers immense opportunities to the consumer population of Canada. The G-7 country has an advanced and resource-rich economy which will be a good relationship for India to uphold.
India-Canada cooperation in the energy sector is something that should be explored further. India's energy needs are increasing day by day, and Canada can serve as a reliable energy source.
India's 'smart cities' initiative creates opportunities for Canadian firms, to undertake infrastructure projects in various Indian cities Also, Canada's experience in developing environment-friendly urban infrastructure can prove beneficial for India.