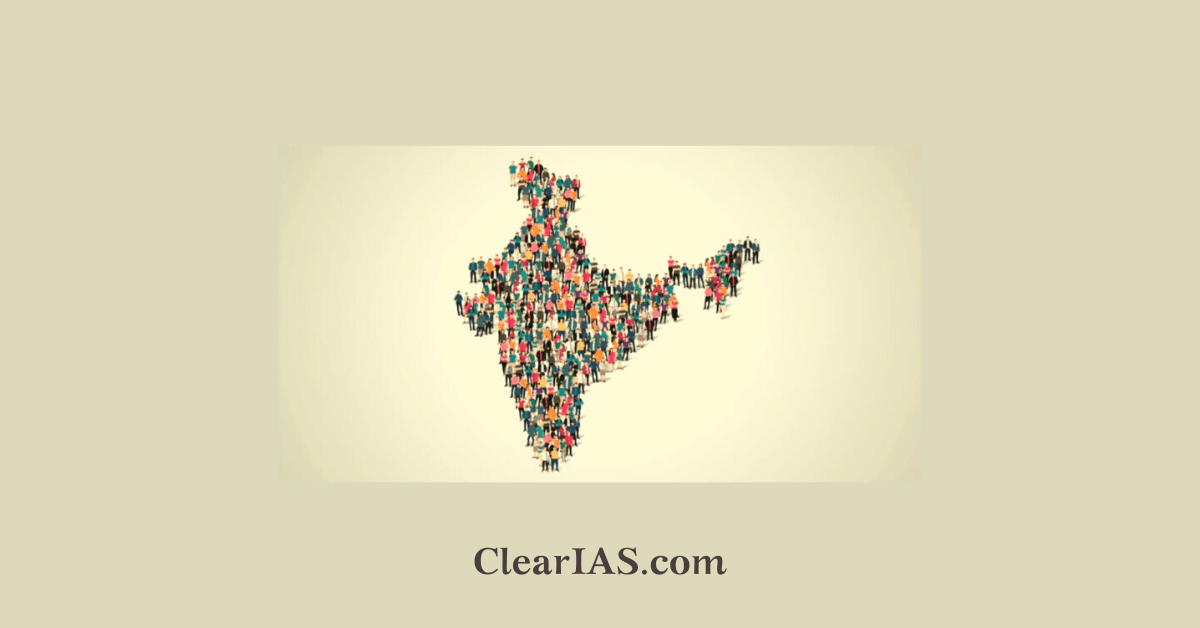 What is Census? What makes the Census significant? Why was the Census of 2021 delayed indefinitely? Read further to know more about Census in India.
A crucial source of statistics on a variety of factors of the nation is called the census.
The hallmark of a civilised state and state of affairs has traditionally been the capacity to conduct a census without coercion.
What is Census?
The entire process of collecting, compiling, evaluating, and disseminating demographic, economic, and social data regarding, at a specific time, all people in a country or a clearly defined region of a country is known as a population census.
It provides information as of a specific date and includes demographic, social, and economic statistics.
The Indian Census is one of the world's largest administrative activities.
The Ministry of Home Affairs Office of the Registrar General and Census Commissioner is in charge of conducting the census every ten years.
Until 1951, the Census Organization was formed ad hoc for each Census.
The Census Act of 1948 ensures confidentiality for census data.
The information recorded for the population census is so private that even the legal system cannot access it.
For non-compliance with or violations of any Act provision, the legislation sets penalties for both public officials and census officials.
Constitutional Support for Census
The Census Act of 1948's provisions governs how the census is carried out.
According to Article 246 of the Indian Constitution, The census of the population is a Union subject.
It is stated in the Seventh Schedule of the constitution.
What is the Purpose of the Census?
To collect information for the Central and State Governments' planning and policy making.
It aids in the government's decision-making about the allocation of cash and assistance to cities and states.
Numerous national and international organisations, academics, businesspeople, manufacturers, and others make extensive use of census data.
Also read: Census on Water Bodies in India
What makes the Census significant?
Conducting periodic census is significant for the following reasons:
Provides the Most Reliable Source of Information
Information on Scheduled Castes and Scheduled Tribes, Language, Religion, Migration, Disability, Economic Activity, Literacy, Housing & Household Amenities, Urbanization, Fertility and Mortality, and many other socio-cultural and demographic data are provided by this most reliable information source.
Constituency Reservation and Delimitation
The delimitation and reservation of Parliamentary, Assembly, Panchayat, and other local bodies' constituencies are also done in accordance with the demographic information provided by the Census.
Administration Purpose
The census serves as the foundation for evaluating the nation's progress over the previous ten years and keeping track of the Government's continuing Schemes.
Effective Governance
The government uses census data for management, planning, and policy-making, as well as for managing and evaluating a variety of programmes.
Detailed Accounts
Even the best sample surveys can't compete with a census since it promises to count every Indian. When the state links to every person during a census, it will find it difficult to evade or avoid the data.
Grants
Based on population figures obtained from the Census data, the Finance Commission awards grants to the states.
Welfare Schemes
Census is the key to building identification and confirming it over time by identifying the actual beneficiaries. Census statistics provide for easy, cross-temporal comparison.
Improved Access for Businesses
Business houses and industries can utilise the census data to develop and strengthen their operations so that they can expand into previously untapped markets.
Census in India so far
In India, census activities were first conducted under The Maurya dynasty, which was long ago.
It was organised from 1865 to 1872, but it has been running continuously since 1881, making it a reliable source of information.
From 1881 until 2011, India consistently conducted decadal censuses despite epidemics, wars, Partition, and other unrest, with COVID-19 being the sole exception.
The 2011 Census is the country's fifteenth national census.
According to the census, the Total Fertility Rate (TFR) is rapidly declining and is headed toward stabilisation.
The 2011 Census also disproved the idea that divorce rates in urban and rural India differed. The divorce rate in urban areas (0.89%) is approximately the same as that in rural areas (0.82%).
Why was the Census of 2021 Delayed Indefinitely?
Because of the Covid-19 pandemic outbreak, the census 2021 has been delayed.
However, it will be the first digital Census and will include a self-enumeration option.
Impact of Delay in Census 2021
Following are the impacts of a delay in Census 2021:
Affects the Public distribution system
According to the National Food Security Act of 2013, 75% of rural residents are eligible to receive subsidised food grains through Public Distribution System.
India has roughly 121 crore inhabitants according to the 2011 Census, hence PDS covered about 80 crore people.
More than 10 crore people would continue to be denied access to subsidised food benefits if we used the projected population of 137 crores. The greatest gaps would be in Uttar Pradesh and Bihar, with 2.8 crores and 1.8 crore predicted exclusions, respectively.
Huge lag in Migration data
It was discovered from Covid-19 lockdowns that the numbers, reasons, and migration patterns could not be determined using the current 2011 Census data.
The D-tables on migration from the 2011 Census was only made public in 2019, hence they were already out of date when they were published.
In actuality, migration data is not used all that much in larger economic policy and planning.
Welfare Schemes
Despite the Government's intention to employ SECC data, the projected expansion's budgetary allocation was unsuccessful.
Although most schemes do not use census data to determine their beneficiaries, planning, budgeting, and execution of policies depend on it.
The disaggregated age and fertility indicators must be used by a number of programmes to evaluate their efficacy as demographics change over time.
Key findings of 2011 Census
Following are the key findings of the 2011 Census:
Population
India's population increased by 17.7% between 2001 and 2011, compared to a 21.5 percent increase in the prior decade.
India now has a Total population of 1.21 billion, an increase of 17.7% over the previous ten years. Female population growth outpaced male growth.
The growth rate of girls was 18.3%, which was higher than the growth rate of males, which was 17.1%.
Bihar has experienced the largest decadal population growth among the main states (25.4%), while 14 other states and union territories have experienced growth rates above 20%.
Rural and Urban Population
The urban population increased from 17.3% in 1951 to 31.2% in 2011.
In NCT Delhi, the proportion of urban residents is the highest (97.5 per cent).
The top five states in terms of the percentage of people living in cities are Goa (62.2%), Mizoram (52.1%), Tamil Nadu (48.4%), Kerala (47.7%), and Maharashtra (45.2 per cent).
Literacy
The literacy rate in India has improved from 64.8% in 2001 to 73% in 2011, an increase of 8%.
The literacy rate for men currently stands at 80.9%, up 5.6% from the previous census, while the rate for women currently stands at 64.6%, up 10.9% from 2001.
The largest gain occurred in Dadra and Nagar Haveli, rising 18.6 points (from 57.6 to 76.2%), followed by Bihar (14.8 points (from 47.0 to 61.8%) and Tripura (14.0 points) (from 73.2 per cent to 87.2 per cent)
Density
From 325 in 2001 to 382 in 2011, the country's population density grew.
With a density of 1106, Bihar surpasses West Bengal, which held the top spot among the main states in 2001, to take the top spot.
According to the 2001 and 2011 Censuses, Delhi (11,320) and Chandigarh (9,258) are the two states and UTs with the densest populations.
In Arunachal Pradesh, the minimum population density (17) holds true for both the 2001 and 2011 Censuses.
Sex Ratio
In 2011, there were 940 females against 1000 males in the country, which is 10% more than in the previous census, when there were 933 females against 1,000 males.
Haryana has 879 girls for every 1000 males as of 2011, followed by Jammu & Kashmir (889 females) and Punjab (895 females).
Bihar (912 females) and Uttar Pradesh (912 females) are the other two states that fare poorly in terms of skewed sex ratio (918 females).
Kerala (1,084 females), Tamil Nadu (996), Andhra Pradesh (993), Chhattisgarh (991), and Odisha were the top five states in terms of sex ratio (979).
Child Population
There has been a 0.4% increase in the number of children aged 0 to 6 years.
The sex ratio for children aged 0 to 6 has decreased by 8%. Compared to 927 females in 2001, the kid sex ratio (0–6) in 2011 is 919 females to 1000 males.
During the years 2001 to 2011, the number of male children (0 to 6) increased while that of female children fell.
The states that do the poorest in terms of the sex ratio for children aged 0 to 6 are Gujarat (888), Jammu and Kashmir (888), Haryana (834 females), Punjab (846), and Jammu and Kashmir (862). (890).
Chhattisgarh (969), Kerala (964), Assam (962), West Bengal (956) Jharkhand (948) and Karnataka are the top-performing states (948).
SC/ST data
Scheduled Castes and Scheduled Tribes are informed in 31 states, including UTs, and 30 states, respectively, according to the Census. There are 1,241 distinct ethnic groups that have been designated as SCs overall. There are 705 distinct ethnic groups that have been designated as STs.
The list of SCs/STs in states and UTs has seen some revisions during the past ten years.
The number of SC people in India has increased by 20% since the last census, to 201.4 million. In 2011, there were 104.3 million ST people, which is a 23.7% increase from 2001.
Religious Demographics
On August 25, 2015, the Indian government made available the religious data from the 2011 census.
Hindus make up 79.8% (966.3 million) of the population, while Muslims make up 14.23% (172.2 million).
In the 2011 census, a "No religion" category was added for the first time. In India, 2.87 million people were counted in the "No Religion" category in the 2011 census. – 0.24% of the 1.21 billion people in India.
Socio-Economic and Caste Census (SECC)
For the first time since 1931, the Socio-Economic and Caste Census (SECC) was carried out in 2011.
It aims to survey every Indian household in India, both urban and rural, and inquire about:
To enable Central/State authorities to develop a range of deprivation indicators that each authority might use to designate a poor or deprived person.
To enable the government to reassess whether caste groupings are more and less economically advantaged.
Significance of SECC Census
SECC has the potential to enable the mapping of inequalities at a higher level.
Establishing statistical support for the continuation of caste-based affirmative action programmes or welfare programmes will be helpful.
It is also legally necessary since the courts demand "quantifiable data" to back up the current levels of reservation.
The Indian Constitution also supports the idea of holding a caste census.
According to Article 340, a commission must be established to look into the circumstances of socially and educationally disadvantaged groups and recommend appropriate actions that governments should take.
Concerns Related to SECC Sensus
A caste census will have political and social ramifications since caste has an emotional component.
Caste counting has raised questions about whether it contributes to or hardens identities.
In India, caste has never served as a stand-in for class or deprived status; instead, it represents a unique form of ingrained discrimination that frequently goes beyond class.
Conclusion
The census is essential and priceless because it serves as a repository for all available information about the nation and is a social benefit because it is conducted publicly, voluntarily, and with the aid of public funds.
The breadth of the observed migration trends toward smaller two-tier communities outside of the major metropolitan centre is likely to be captured by the new Census.
It might provide insight into the types of healthcare and social services that are most needed and where they exist.
Fundamentally, though, it's a method for the state to show that it wants to engage with the citizens who will ultimately make up the country by knocking on all their doors.
For more Reference Click here
Article written by: Aryadevi E S