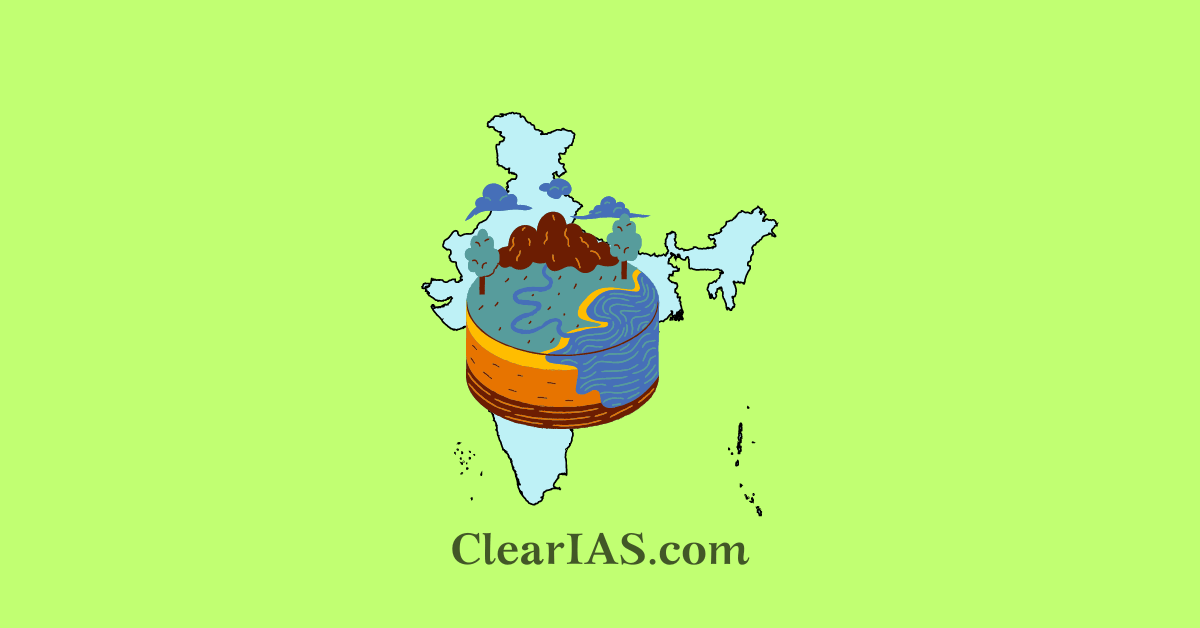 For the first time in the history of the country, the Ministry of Jal Shakti has conducted the first-ever census of water bodies in India. The census provides a comprehensive inventory of India's water resources, including natural and man-made water bodies like ponds, tanks, lakes, and more, and collects data on the encroachment of water bodies. Read here to know the findings of the report.
The census was launched under the centrally sponsored scheme, "Irrigation Census" in convergence with the 6th Minor Irrigation Census to have a comprehensive national database of all water bodies.
It covered all the water bodies located in rural as well as urban areas that are in use or not in use.
The census also took into account all types of uses of water bodies like irrigation, industry, pisciculture, domestic/ drinking, recreation, religion, groundwater recharge, etc.
Census has been completed and the All India and State-wise reports have been published.
Also read: Census
Census on water bodies in India
The objective of the Census of Water Bodies is to develop a national database for all water bodies by collecting information on all important aspects of the subject including their size, condition, the status of encroachments, use, storage capacity, the status of filling up of storage, etc.
The Census also highlights disparities between rural and urban areas and varying levels of encroachment and revealed crucial insights into the country's water resources.
Key Features/findings of the Census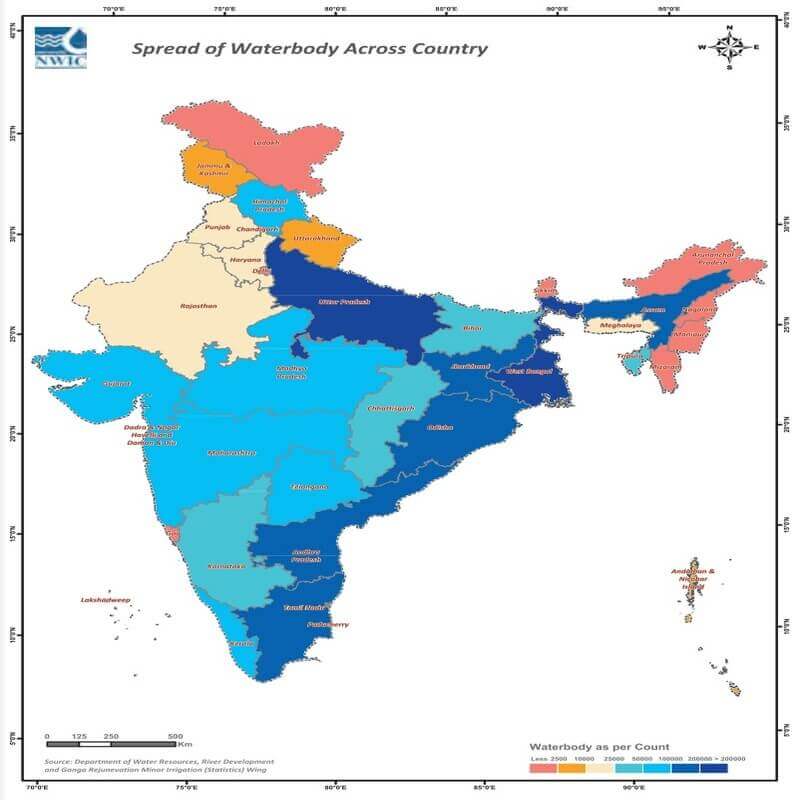 West Bengal has the highest number of ponds & reservoirs, whereas Andhra Pradesh has the highest number of tanks, Tamil Nadu has the highest number of lakes and Maharashtra is the leading state for water conservation schemes.
Out of all the water bodies enumerated, 97.1% are in rural areas and only 2.9% are in urban areas.
The top 5 States in terms of the number of water bodies are West Bengal, Uttar Pradesh, Andhra Pradesh, Odisha, and Assam which constitute around 63% of the total water bodies in the country.
The top 5 States in terms of the number of water bodies in urban areas are West Bengal, Tamil Nadu, Kerala, Uttar Pradesh, and Tripura.
In rural areas, the top 5 States are West Bengal, Uttar Pradesh, Andhra Pradesh, Odisha, and Assam.
Out of all 'in use' water bodies, major water bodies are reported to be used in pisciculture followed by Irrigation.
The top 5 States wherein major use of water bodies is in pisciculture are West Bengal, Assam, Odisha, Uttar Pradesh, and Andhra Pradesh;
The top 5 States wherein the major use of water bodies is in irrigation are Jharkhand, Andhra Pradesh, Telangana, West Bengal, and Gujarat.
States/UTs with the least water bodies: Sikkim, Chandigarh, Delhi
78% of water bodies are man-made water bodies whereas 22% are natural water bodies.
1.6% water bodies out of all the enumerated water bodies are reported to have been encroached out of which 95.4% are in rural areas and the remaining 4.6% in urban areas.
The census excludes the following types of water bodies-
Ocean, lagoons
Rivers, Stream, springs, waterfalls, canals, etc which are free-flowing without any bounded storage of water
Swimming Pool
A covered Water tank created for a specific purpose by any individual family or household for their sole consumption
Water tank constructed by any factory owner for consumption of water as raw material or consumable
Temporary water bodies are created by digging for mining, brick kilns, and construction activities. These may get filled up during the rainy season
Pucca open water tank created only for drinking for cattle.
Need for Water Bodies Census
The need for conducting a separate census of water bodies was pointed out by the Parliamentary Standing Committee on Water Resources on the subject "Repair, Renovation and Restoration of Water Bodies-Encroachment on water bodies and steps required to remove the encroachment and restore the water bodies".
The census data on water bodies can be utilized for various purposes-
The data will serve as an authentic dataset for the estimation of the recharge of groundwater.
Under Atal Bhujal Yojana, these data can be used for the assessment of Gram Panchayat-wise water budgets, preparation of realistic water security Plans, and planning various supply/ demand side measures through the convergence of ongoing schemes.
The information can be used for spatial analysis of the distribution of abstraction structures Coordinates (Longitude and Latitude) and assessment of groundwater draft.
There are several instances of water from bore wells being sold and bought at the farm level, but specific reports are not available. The census may provide an opportunity to get ground information on this aspect.
The data will be immensely useful to the Department of Fisheries for planning and executing Pradhan Mantri Matsya Sampada Yojana (PMMSY).
Significance of Census on water bodies
India is endowed with diverse and distinct water bodies.
Water is an important aspect of development that is linked with every Sustainable Development Goal.
It is essential and fundamental for life itself, and it is a recyclable resource but its availability is limited and the gap between supply and demand is widening over time.
Therefore, concerted efforts are needed to conserve and preserve water bodies.
The Ministry of Jal Shakti is the nodal ministry responsible for laying down policy guidelines and programs for the development, conservation, and management of water as a national resource.
India had an abundant supply of water resources.
However, from being a water-abundant country India is gradually progressing towards water scarcity due to increasing population pressure and urbanization.
At present, it is sustaining 18 percent of the world's population with only 4 percent of global water resources.
Therefore, the management of water resources has assumed great importance.
Today the availability of water resources is a major issue and a big challenge facing our country.
In the landscape of India, traditionally, these water bodies have played an important role in the supply of drinking water, for domestic use and agriculture purposes, etc.
They have been the major source of the Minor Irrigation (MI) system for agriculture in India.
Through the ages, these water bodies, either natural or manmade such as lakes, tanks, ponds, and similar structures have sustained Indian agriculture.
In urban areas also water bodies play an important role as a source of drinking water, absorption of flood water, and a conduit for groundwater recharge.
Therefore, it is essential to assess where freshwater resources exist, how they are used, and how climate, technology, policy, and people can play important roles in the conservation/restoration of these water bodies for healthy and sustainable development.
Government Initiatives for Water Conservation
Atal Bhujal Yojana
Pradhan Mantri Sinchayee Yojana (PMKSY)
Unified Building Bye Laws (UBBL) of Delhi, 2016,
Model Building Bye Laws (MBBL), 2016,
Urban and Regional Development Plan Formulation and Implementation (URDPFI) Guidelines, 2014
Jal Shakti Abhiyan – Catch the Rain
Traditional methods of water conservation and rainwater harvesting in the country vary from area to area depending on the topography, climatic conditions, soil structure, etc. The government of India encourages the best practices on traditional methods of conservation of water and disseminates them to bring awareness and replication in other areas.
What is a water body?
All natural or man-made units bounded on all sides with some or no masonry work used for storing water for irrigation or other purposes (e.g. industrial, pisciculture, domestic/drinking, recreation, religious, groundwater recharge, etc.) will be treated as water bodies in this Census.
These are usually of various types known by different names like tanks, reservoirs, ponds, etc.
A structure where water from ice melt, streams, springs, rain, or drainage of water from residential or other areas is accumulated or water is stored by diversion from a stream, nala or river will also be treated as a water body.
Ponds: A small body of water usually earthen though masonry dykes are also included and shallow made through excavations which represent a restricted environment. Ponds usually describe small bodies of water generally no one would require a boat to cross.
Lakes: A lake is a large area filled with water that is surrounded by land. Lakes lie on land and are not part of the ocean and therefore are distinct from lagoons, and are also larger and deeper than ponds.
Tanks: A shallow water unit usually larger than a pond created by constructing earthen or masonry barricades which receives water either from tube wells or rains.
Reservoirs: A large man-made impoundment of varying magnitude created by erecting, bunds, dams, barrages, or other hydraulic structures across streams or rivers serving one or more purposes such as irrigation, power generation, flood control, or other water resource development projects.
­-Article written by Swathi Satish