What is Chandrayaan 2 mission? How is it different from Chandrayaan 1? What are the components of Chandrayaan 2? Read further to know more.
Chandrayaan 2 is the 1st space mission by any country to conduct a soft landing on the Moon's south polar region.
Chandrayaan 2 mission was launched on 22 July 2019 and is expected to land on the moon on Sep 7, 2019.
The mission life of Orbiter will be one year whereas the mission life of lander (Vikram) and rover (Pragyan) will be one Lunar day which is equal to fourteen earth days.
Chandrayaan 2 – India's second Lunar Mission
Chandrayaan 2 is an Indian lunar mission that will explore the Moon's south polar region. No country has ever gone there before.
The launch vehicle will be carrying an orbiter, a rover named Pragyan and a lander named Vikram.
Chandrayaan Program – India's Lunar Mission
Indian Lunar Exploration Programme is called Chandrayaan. In Sanskrit, it means "Moon craft". It is the brainchild of the Indian Space Research Organisation (ISRO).
Chandrayaan is a multiple mission programme – planned to be conducted in three phases – Chandrayaan 1, Chandrayaan 2, and Chandrayaan 3.
The Chandrayaan 1 (2008) was planned as an orbiter/impactor, Chandrayan 2 (2019) contains soft landers/rovers, while Chandrayan 3 (2024) is intended for in situ sampling.
Chandrayaan 1 vs Chandrayaan 2
The Chandrayaan 1 mission was launched in October 2008 and was active in operations until August 2009. The mission included a lunar orbiter and an impactor. The Chandrayaan 1 mission was launched using the PSLV-XL rocket, serial number C11 from the Satish Dhawan Space Centre located in Sriharikota.
Chandrayaan 2 mission was launched from Sriharikota Space Center on 22 July 2019 to the Moon by a Geosynchronous Satellite Launch Vehicle Mark III (GSLV Mk III). It includes a lunar orbiter, lander and rover, all developed domestically. The main scientific objective is to map the location and abundance of lunar water.
Unlike Chandrayaan-1, Chandrayaan-2 will attempt to soft-land its Vikram module on the lunar surface and deploy a six-wheeled Rover, Pragyaan on the Moon to carry out several scientific experiments. The lift-off mass of Chandrayaan-1 was 1380 kg while Chandrayaan-2 weighs 3850 kg.
Chandrayaan 2 Components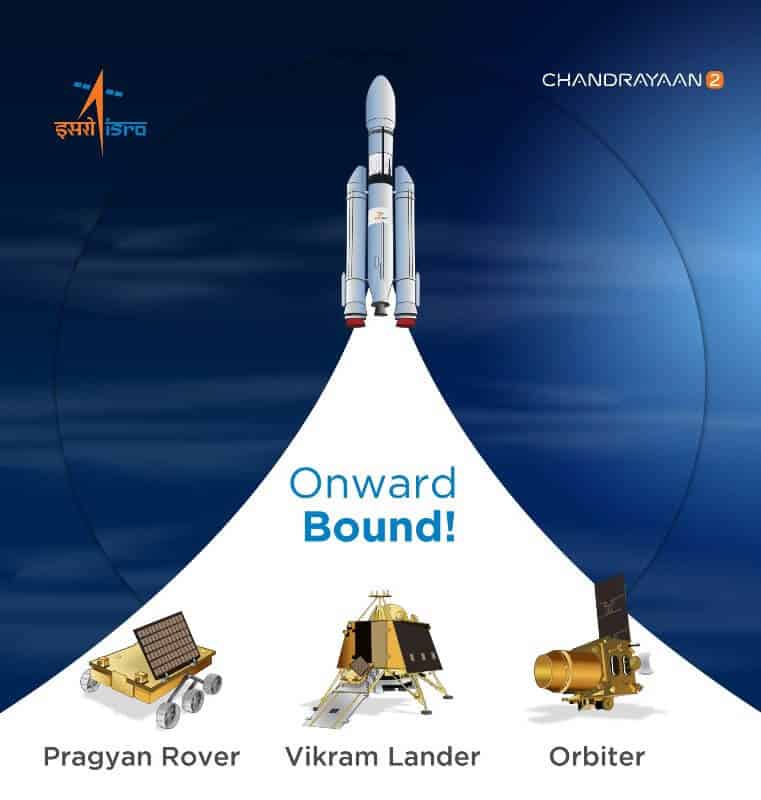 Launcher – The GSLV Mk-III is India's most powerful launcher to date and has been completely designed and fabricated from within the country.
Orbiter – The Orbiter will observe the lunar surface and relay communication between Earth and Chandrayaan 2's Lander — Vikram.
Lander – The lander called 'Vikram' is designed to execute India's first soft landing on the lunar surface. 'Vikram' is named after the space luminary, Dr Vikram A Sarabhai, who spearheaded India's nascent space programme.
Rover – The rover is a 6-wheeled, AI-powered vehicle named Pragyan, which translates to 'wisdom' in Sanskrit. The Rover can travel up to 500 meters (half a kilometre) from the landing spot on the moon.
Chandrayaan 2 landing site
Chandrayaan 2 will be making an attempt at landing a lander and the moon rover in a high plain situated between two craters called as Manzinus C and Simpelius N. The location has a latitude of about 70-degrees south.
The lunar South Pole is especially interesting because of the lunar surface area here that remains in shadow is much larger than that at the North Pole. There is a possibility of the presence of water in permanently shadowed areas around it. In addition, the South Pole region has craters that are cold traps and contain a fossil record of the early Solar System.
Did you know?
The Chandrayaan 2 mission was initially supposed to launch on the moon on July 15, 2019, but was called off because of lack of pressure in the helium tanks onboard the GSLV Mk III launch vehicle.
Importance of Chandrayaan 2 Mission
1st space mission to conduct a soft landing on the Moon's south polar region.
1st Indian expedition to attempt a soft landing on the lunar surface with home-grown technology.
1st Indian mission to explore the lunar terrain with home-grown technology.
4th country ever to soft-land on the lunar surface, after USA, Russia, and China.
Through this effort, the aim is to improve our understanding of the Moon – discoveries that will benefit India and humanity as a whole.
The insights and experiences from this lunar expedition may propel further voyages into the farthest frontiers.
Conclusion
The Chandrayaan 2 mission endevours to create a huge scientific breakthrough not only for India , but to the world as a whole.