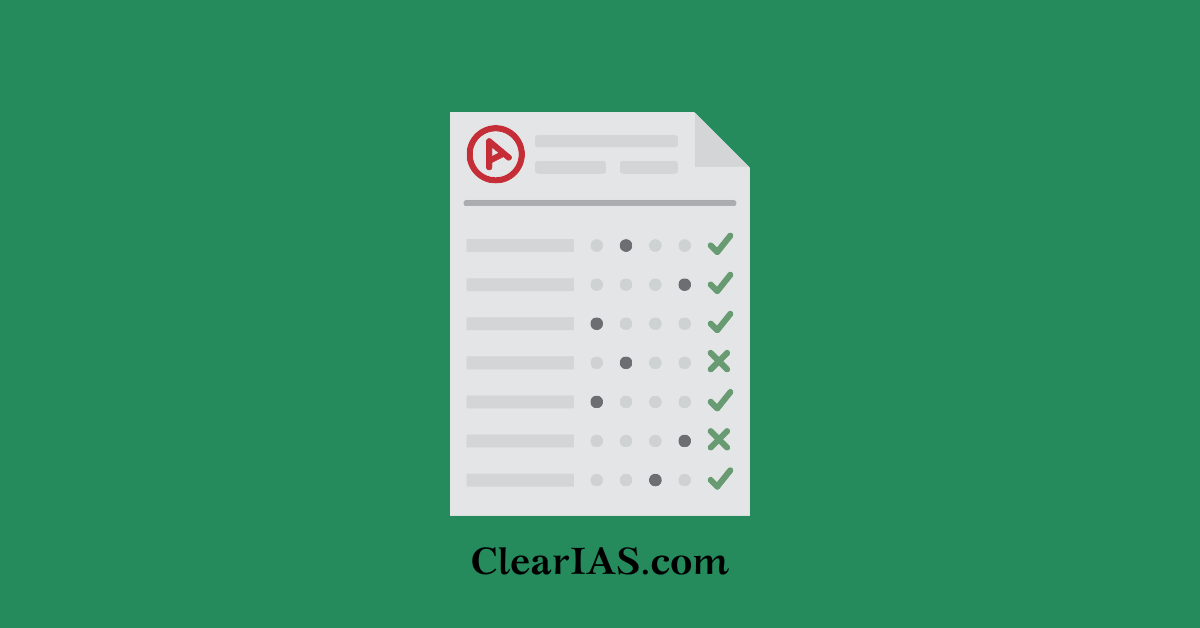 The wait is over! ClearIAS Team has come up with a detailed answer key for UPSC Civil Services Preliminary Exam 2017. The UPSC Civil Services Answer key 2017 is available for all sets of question booklets (Versions – A, B, C and D) provided in the Preliminary exam.
Submit your answers online and our system will automatically calculate your scores!
Just like what we provided in 2015 and 2016, we have provided automatic calculation of your marks this year too.
This would avoid manual errors and will give you the most accurate results with detailed solutions.
You just need to submit your preliminary exam answers in our test engine.
Our software will automatically calculate your preliminary exam score based on our key after deducting negative marks.
The facility is free and it hardly takes 10 minutes to get your prelims score! Excited?
How to know the UPSC Prelims 2017 cut-off score and relative performance?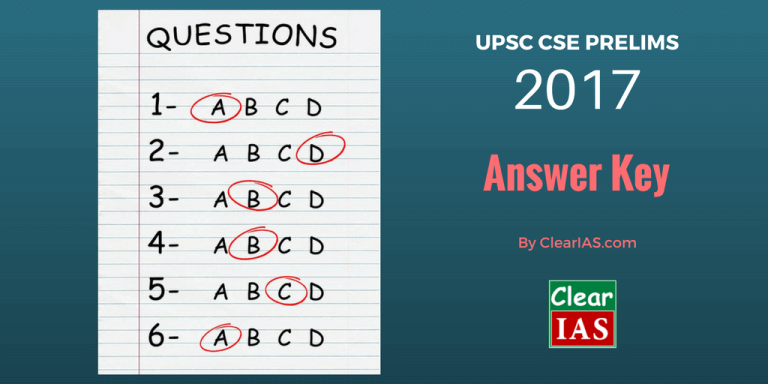 If you have already registered in ClearIAS mock test platform (more than 100000 aspirants have already registered for mock tests so far), just login. If not, aspirants need to register first and login to mark the answers in the test-link. This will increase the reliability of the data. Please be ethical and honest while marking your answers. The more aspirants enter their scores (bigger sample size), the more accurate will be the cut-off score.
We don't need your roll number or phone number!
You can use nicknames to remain anonymous if you wish.
There is no need to enter the phone number or any personally identifiable information.
We don't need even your official name or UPSC roll number as we don't have any plan to claim your success or results unless you share with us.
This facility is a free service which will be open only for a few weeks.
Prelims 2017 Cut-off score extrapolation and Guidance

ClearIAS Team won't declare/predict any cut-off score for UPSC CSE Prelims. The whole purpose of this initiative is to guide candidates who are unsure what to do next – whether prepare for Mains 2017 or do a thorough preparation for UPSC CSE 2018.
We will provide all India relative performance data. This would be updated every time a new user takes the exam and mark his/her answers.
We hope that these charts and graphs would help aspirants to get a better perspective.
All India rank, the average mark of aspirants and relative percentile will be available.
In 2014, the median of ClearIAS polls was the official cut off score (206/385).
In 2015, we migrated the cut-off graphs to our mock test platform – where user registration was made mandatory. This has resulted in more accuracy. More the entries, the more accurate wil be graph results.
Check ClearIAS rank-list!
Our rank-list is automatically updated whenever a candidate enters their score.

Check the latest rank-list here

.
Note: Though we claim no accurate prediction, in 2015 and 2016, the cut-off percentile happened to be the mark of candidates around the 85th percentile range. (despite the fact that UPSC will select only the top 3% candidates, this value has turned out as roughly around top 15-20% with respect to the smart internet population).
Note: The previous year data is available in PDF format from ClearIAS Telegram channel.
Those who are at the top…
Considering our sample size and internet population, we consider the top 15% candidates in ClearIAS mock test platform when the total entries touch 1000+ to have high chance to clear Prelims 2017. But Candidates in the top 20% may remain hopeful for a mains call and start working on GS Topics as well as Optional Subject.
Those who are at the bottom…
Those who are on the bottom of the graph may start preparing for UPSC CSE 2018. There is nothing to feel bad. Most of the today's toppers were unsuccessful yesterday. What matters in UPSC CSE exam is perseverance and hard work.
If you need to make your basics strong, you may join ClearIAS Prelims Test Series 2018 to get an early advantage and learn concepts well. If you are a veteran, then you may devote time to finishing specific areas in Mains like World History, Internal Security, Ethics, India Since Independence etc. Also, whether beginner or veteran it's the time to finish your optional subject.
Enroll to ClearIAS Prelims Test Series 2018 Early
ClearIAS Prelims Test Series 2018 will have more than 33 tests with different combinations of most probable questions for Prelims 2018. If you are attempting Prelims 2018, enroll now for ClearIAS Prelims Test Series 2018 to get an early advantage.
About ClearIAS Answer Keys
As one of the most reputed unofficial answer keys, we have taken a lot of time to prepare the key this year too, but still, there can be 3-5% difference with the official UPSC key. We will update our answer key when the official key is published, but normally it takes a year to come.
Guidance: What's you feedback on the exam difficulty?
Post your marks and feel free to ask guidance in the comment section. Our team or seniors in the platform will help freshers.