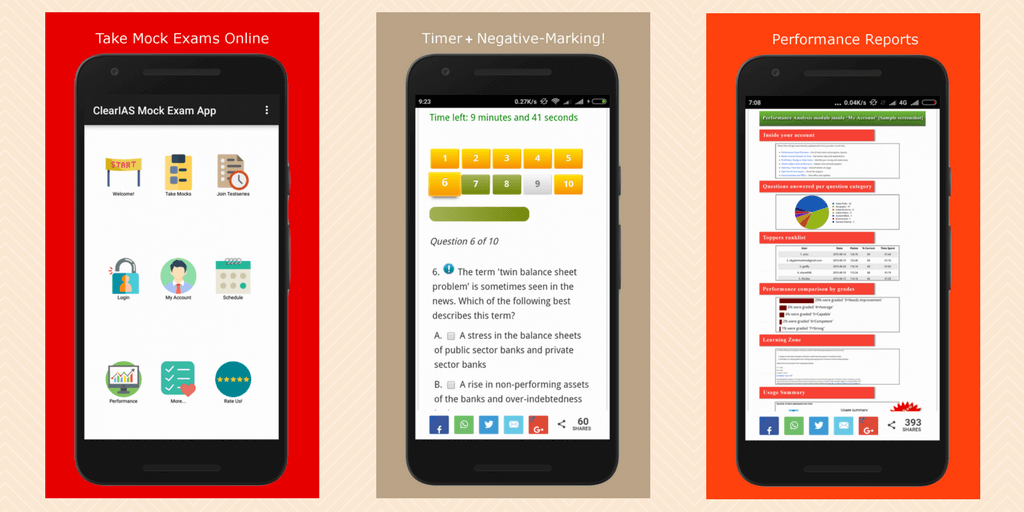 Dear IAS aspirants, your UPSC Civil Services Exam preparation is going to be much faster and interesting! We announce the release of one more app from the ClearIAS family – a dedicated app for UPSC Prelims Mock Exams!
ClearIAS Mock Exams App – Be One of The First Users to Try it
You can download and install the ClearIAS Mock Exams Android app from Google Play Store.
About ClearIAS Mock Exams App
"ClearIAS Mock Exams App" is our dedicated app for IAS aspirants to take UPSC prelims model exams.
At a time, when the Official ClearIAS App has crossed 5,00,000 downloads, we have come up with another innovative app, which makes the life of UPSC aspirants easy. All users are advised to use the latest versions of both apps:
Built by the ClearIAS Team, the app provides a user-friendly interface to practice mock exams for UPSC Civil Services Preliminary Exam.
Rate us 5-stars if you like it!
The app is just released, and we need your valuable support, feedback, and of-course 5-star ratings!
As serious aspirants, you should be knowing the effort, hard work, and time needed to come up with a user-friendly app like ClearIAS. Please install the new ClearIAS Mock Exams app, and be one of our first proud users!
Thanks in advance for your ratings!
Regards, ClearIAS Team.
Update: We have taken out the mock exam app from Google Play Store, as we have streamlined all our services (including mock exams) now in the ClearIAS Self-Study app. We thank all early users of ClearIAS Mock Exam App. ClearIAS Mock Exam App has been trending among the top 5 positions on Education in Google Play Store, thanks to the enthusiasm of supporters like you. The first time users who downloaded the app from Play Store can continue to use the app. Thank you.