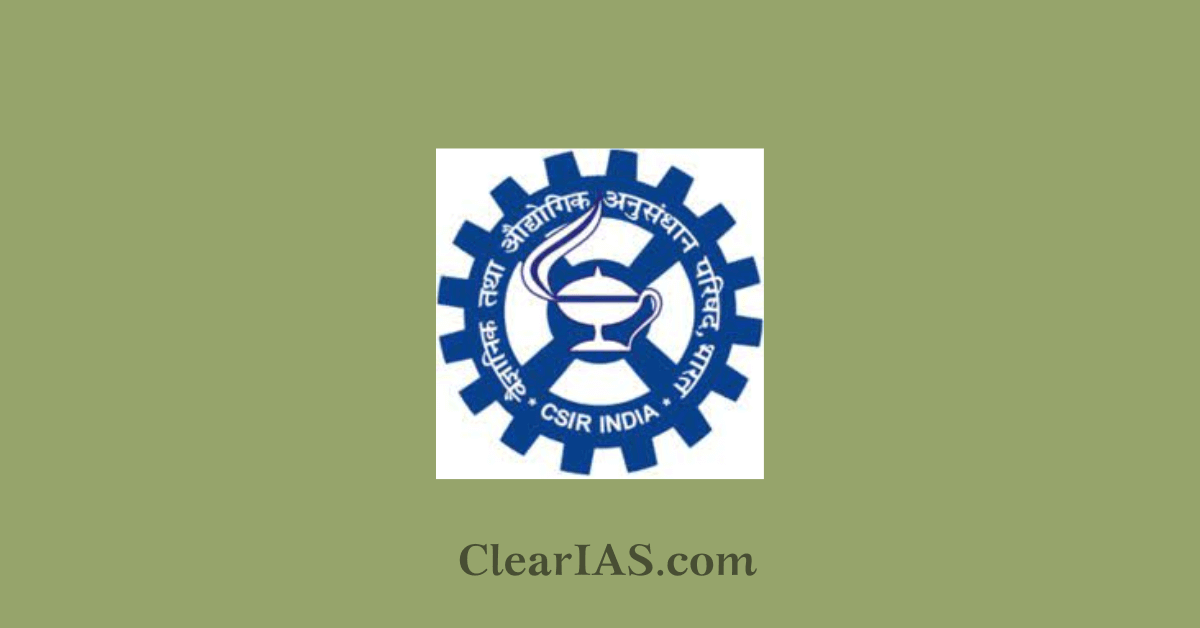 The Council of Scientific & Industrial Research (CSIR) is the leading R&D organization in India. Read here to know more about it.
CSIR is known for its cutting-edge R&D knowledge base in diverse Science and Technology areas. It is India's largest R&D organization.
CSIR has a dynamic network of 37 national laboratories, 39 outreach centers, 3 Innovation Complexes, and five units with a pan-India presence. CSIR's R&D expertise and experience are embodied in about 3460 active scientists supported by about 4350 scientific and technical personnel as of June 2021.
CSIR is funded by the Ministry of Science and Technology and it operates as an autonomous body through the Societies Registration Act, 1860.
History of Council of Scientific & Industrial Research (CSIR)
In the 1930s, India's need for establishing research organizations for the development of natural resources was noticed.
Eminent personalities like CV Raman and JC Ghosh proposed the establishment of an advisory board of scientific research.
But the ideas never took off as the British government rejected the need for establishing a scientific facility in India.
Later, Arcot Ramaswamy Mudaliar became the most instrumental in the creation of CSIR in India. As a member of the Viceroy's executive council, and also of Commerce, he recommended that a Board of Scientific and Industrial Research, endowed with greater resources and wider objectives should be established.
It was by this persistence that the Board of Scientific and Industrial Research (BSIR) was created on 1 April 1940 for two years.
The constitution of the Council of Scientific and Industrial Research (CSIR) as an autonomous body was prepared under Mudaliar and Dr. Bhatnagar.
Thus, CSIR came into operation on 26 September 1942.
In 1943 the governing body of CSIR approved the proposal of Dr. Bhatnagar to establish five national laboratories:
National Chemical Laboratory
National Physical Laboratory,
Fuel Research Station
Glass & Ceramics Research Institute
National Metallurgical Laboratory
The organizational structure of CSIR
President: Prime Minister (Ex-Officio)
Vice President: Minister of Science & Technology, India (Ex-Officio)
Governing Body: The Director General is the head of the governing body.
The other ex-officio member is the finance secretary (expenditures). Other members' terms are three years.
CSIR Advisory Board: 15-member body composed of prominent members from respective fields of science and technology.
Its function is to provide S&T inputs to the governing body. Member terms are three years.
Focus areas of the Council of Scientific & Industrial Research (CSIR)
CSIR covers a wide spectrum of science and technology like
Oceanography
geophysics
chemicals
drugs
genomics
mining
aeronautics
instrumentation
environmental engineering and
information technology
It provides significant technological intervention in many areas concerning societal efforts, which include environment, health, drinking water, food, housing, energy, and farm, and non-farm sectors.
Further, CSIR's role in science and technology for human resource development is noteworthy.
Objectives of the Council of Scientific & Industrial Research (CSIR)
The objectives of the Council are scientific, industrial, and applied research of national importance:
Promotion, guidance, and coordination of scientific and industrial research in India including the institution and the financing of specific researchers.
Establishment and assistance to special institutions or departments of existing institutions for the scientific study of problems affecting particular industries and trade.
Establishment and award of research studentships and fellowships.
Utilization of the results of the research conducted under the auspices of the Council towards the development of industries in the country.
Establishment, maintenance, and management of laboratories, workshops, institutes, and organizations to further scientific and industrial research.
Collection and dissemination of information in regard not only to research but to industrial matters generally.
Publication of scientific papers and a journal of industrial research and development.
Vision of CSIR
The changed R&D scenario has inspired CSIR towards:
Science and Engineering leadership;
Innovative technology solutions;
Open innovation and crowdsourcing;
Nurturing talent in transdisciplinary areas;
Science-based entrepreneurship; and
Socio-economic transformation through S&T intervention
Shanti Swarup Bhatnagar (SSB) Prize for Science and Technology is named after the founder Director of the CSIR, the late Dr. Shanti Swarup Bhatnagar.
It was instituted in 1957 as the most coveted and revered prize in the field of science and technology in the country.
Contribution to IPR promotion
Pioneer of India's intellectual property movement, the Council of Scientific & Industrial Research today is strengthening its patent portfolio to carve out global niches for the country in select technology domains.
CSIR filed about 225 Indian patents and 250 foreign patents per year during 2015-20.
CSIR has a patent portfolio of 1,132 unique patents in force, out of which 140 patents have been commercialized.
CSIR also has 2,587 in-force patents granted abroad in multiple countries.
Amongst its peers in publicly funded research organizations globally, CSIR is a leader in filing and securing patents worldwide.
Notable achievements of CSIR over the years
Developed India's first synthetic drug, methaqualone in 1950.
In 1952, the Indelible ink used to mark the fingernail of a voter during elections was developed.
Developed Optical Glass for defense purposes.
Developed the first Indian tractor Swaraj in 1967 completely based on indigenous know-how.
First to analyze the genetic diversity of the indigenous Andamanese tribes and to establish their origin out of Africa 60,000 years ago.
Developed the first transgenic Drosophila model for drug screening for cancer in humans.
Invented, once a week non-steroidal family planning pill Saheli and a non-steroidal herbal pill for asthma called Asmon.
Designed India's first ever parallel processing computer, Flosolver.
Rejuvenated India's one-hundred-year-old refinery at Digboi using the most modern molecular distillation technology.
With TCS, developed a versatile portable PC-based software 'Bio-Suite' for bioinformatics'
Design of 14 seater plane 'SARAS'.
Established first ever in the world the Traditional Knowledge Digital Library is accessible in five international languages, English, German, French, Japanese and Spanish.
Successfully challenged the grant of patent in the US for use of Haldi (turmeric) for wound healing and neem as an insecticide
In 2009, completed the sequencing of the Human Genome.
In 2011, successfully tested India's 1st indigenous civilian aircraft, NAL NM5 made in association with National Aerospace Laboratories and Mahindra Aerospace.
In 2020, initiated clinical trials to evaluate Sepsivac's efficacy to reduce the mortality rate in COVID-19 patients.
Ksheer-scanner is a new technological invention by CSIR-Central Electronics Engineering Research Institute (CEERI) to detect the level of milk adulteration and adulterants in 45 seconds at the cost of 10 paise, thereby putting adulterators in the milk trade on notice.