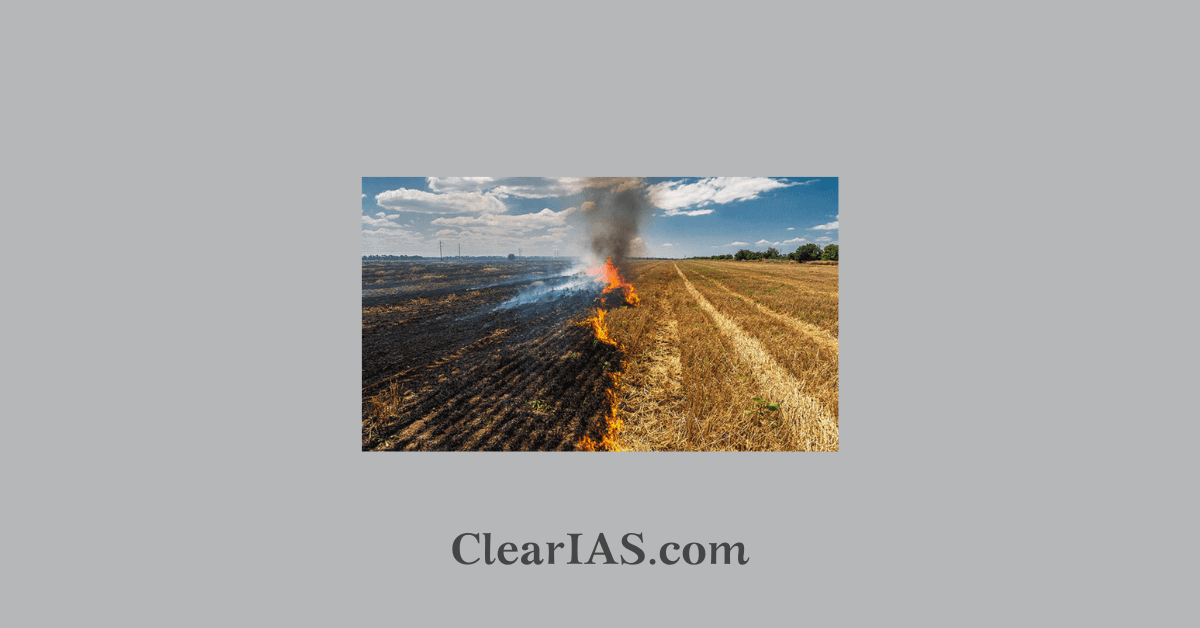 The government has revised the crop residue management guidelines to enable efficient ex-situ management of paddy straw generated. The benefits of crop residue management and the adverse effect of residue burning on soil quality are being given due attention now. Read here to learn more.
According to the government, it has updated the criteria for crop residue management, enabling effective ex-situ management of the paddy straw produced in Punjab, Haryana, Uttar Pradesh, and Delhi.
According to the updated rules, bilateral agreements between the beneficiary/aggregator and enterprises using paddy straw will build techno-commercial pilot projects for the supply chain of paddy straw, according to a statement from the agricultural ministry.
The beneficiaries/aggregator are Farmers, rural entrepreneurs, Cooperative Societies of Farmers, Farmer Producer Organizations (FPOs), and Panchayats.
Crop Residue Management
Harvesting of various crops generates a large volume of residues both on and off-farm. Ministry of New and Renewable Energy estimated that about 500 Mt of crop residues are generated annually.
Crop residues are primarily used as bedding material for animals, livestock feed, soil mulching, bio-gas generation, bio-manure/compost, thatching for rural homes, mushroom cultivation, biomass energy production, fuel for domestic and industrial use, etc.
However, a large portion of crop residue is burnt 'on-farm' primarily to clean the field for sowing the next crop.
The problem of 'on-farm' burning of crop residues is intensifying in recent years due to a shortage of human labor, the high cost of removing the crop residue from the field, and the mechanized harvesting of crops.
As per available estimates, the burning of crop residues is predominant in four states, namely, Haryana, Punjab, Uttar Pradesh & West Bengal.
The National Green Tribunal in 2015, directed and prohibited agricultural residue burning in any part of the NCT of Delhi, State of Rajasthan, State of Punjab, State of Uttar Pradesh, and State of Haryana.
Paddy Stubble burning is mainly practiced in Indo-Gangetic plains of the States of Punjab, Haryana, and Uttar Pradesh to clear the fields for Rabi Crop sowing.
In-situ Crop residue management
In-situ crop residue management is the practice of leaving crop residue in its natural state on the field. While lowering the danger of pests and diseases, in-situ management techniques can assist maintain the health and fertility of the soil.
Several of the techniques used to manage in-situ crop residues are listed below:
Mulching is the practice of leaving crop residue on the soil surface to protect the soil from erosion and retain moisture. Mulching also helps to suppress weeds and provides nutrients to the soil.
No-till farming involves planting crops without disturbing the soil. Crop residue is left on the soil surface, and seeds are planted through it. This method helps to conserve soil moisture and reduce soil erosion.
Strip-till farming is similar to no-till farming but involves tilling only a narrow strip of soil where the seeds will be planted. Crop residue is left on the soil surface in between the tilled strips. This method helps to conserve soil moisture and reduce soil erosion while also providing a suitable environment for seed germination.
Cover crops are planted in between cash crops to provide ground cover and add nutrients to the soil. Cover crops can also be left on the soil surface as a form of mulch.
Crop rotation involves alternating the type of crops grown on a field each season. This method can help to reduce soil erosion and nutrient depletion while also improving soil health.
Crop residue ex-situ management
Ex-situ management of crop residue refers to the removal of agricultural waste from the field for use as compost, firewood, or animal feed.
Ex-situ management techniques offer a natural source of nutrients for the soil and can assist lower air pollution brought on by burning agricultural leftovers. These ex-situ crop residue management techniques are frequently employed:
Biomass power generation: Crop residues can be used as a source of fuel for biomass power generation. This method involves burning crop residues to produce electricity or heat.
Animal feed: Crop residues can be used as a source of animal feed, particularly for livestock such as cattle, sheep, and goats. Crop residues can be baled and stored for use as animal feed during the dry season when forage is scarce.
Composting: Crop residues can be composted to produce a nutrient-rich soil amendment. This method involves collecting the crop residues and mixing them with other organic materials such as manure, leaves, and grass clippings. The compost can then be used to improve soil fertility and structure.
Biochar production: Biochar is a type of charcoal that is produced by heating crop residues in the absence of oxygen. Biochar can be used as a soil amendment to improve soil fertility, water retention, and crop productivity.
Industrial uses: Crop residues can be used in various industrial processes, such as the production of paper, textiles, and building materials.
Adverse effects of crop residue burning
Loss of nutrients: It is estimated that the burning of one tonne of rice straw accounts for the loss of 5.5 kg of Nitrogen, 2.3 kg of phosphorus, 25 kg of potassium, and 1.2 kg of sulfur besides, organic carbon.
Generally, crop residues of different crops contain 80% of Nitrogen (N), 25% of Phosphorus (P), 50% of Sulphur (S), and 20% of Potassium(K). If the crop residue is incorporated or retained in the soil itself, it gets enriched, particularly with organic C and N.
Impact on soil properties: Heat from burning residues elevates soil temperature causing the death of beneficial soil organisms.
Frequent residue burning leads to complete loss of microbial population and reduces levels of N and C in the top 0-15 cm soil profile, which is important for crop root development.
Emission of greenhouse and other gases: Crop residues burning is a potential source of Green House Gases (GHGs) and other chemically and radiative important trace gases and aerosols such as CH4, CO, N2O, NOX, and other hydrocarbons.
Crop Residue Management guidelines
According to the updated rules, bilateral agreements between the beneficiary/aggregator and enterprises using paddy straw will build techno-commercial pilot projects for the supply chain of paddy straw, according to a statement from the agricultural ministry.
Govt shall provide financial assistance on the capital cost of machinery and equipment.
The required working capital may be financed either by the Industry and Beneficiary jointly or utilizing the Agriculture Infrastructure Fund (AIF), NABARD Financial, or Financing from the Financial Institutions by the beneficiary.
The land for storage of the collected paddy straw will be arranged and prepared by the beneficiary as may be guided by the end-use industry.
Project proposal-based financial assistance will be extended for machines and equipment such as Higher HP Tractor, Cutters, Tedder, Medium to Large Balers, Rakers, Loaders, Grabbers, and Telehandlers which are essentially required for the establishment of a paddy straw supply chain.
State Governments shall approve these projects through a project sanctioning committee.
Financial support break-up:
The government (jointly by Central and State Governments) will provide financial support of 65% of the project cost
Industry as the primary promoter of the project will contribute 25% and will act as the Primary consumer of the feedstock collected
Farmers or groups of Farmers Rural Entrepreneurs Cooperative Societies of Farmers or Farmers Producer Organizations (FPOs), or Panchayats will be the direct Beneficiary of the project and will contribute the balance 10%.
The Outcomes of the above interventions are:
The initiative will supplement the efforts of paddy straw management through in-situ options
During the three-year tenure of the interventions, 1.5 million metric tonnes of surplus paddy straw are expected to be collected which would otherwise have been burnt in fields.
About 333 biomass collection depots of capacity 4500 MT will be built in the States of Punjab, Haryana, Uttar Pradesh, and Madhya Pradesh.
Air pollution caused by stubble burning will be considerably reduced.
It would generate employment opportunities of about 9,00,000-man days.
The interventions will encourage a robust supply chain management of paddy straw which shall further help in making paddy straw available for various end uses i.e., power generation, heat generation, bio-CNG, etc. by Power/bio-CNG/bio-ethanol producers
The establishment of a supply chain would result in new investments in Biomass in the biofuel and energy sectors.
Also read: Genetically Modified Crops and Regulations in India
Other government initiatives
In 2018, a new Central Sector Scheme on 'Promotion of Agricultural Mechanization for In-Situ Management of Crop Residue' in the States of Punjab, Haryana, Uttar Pradesh, and NCT of Delhi was launched.
National Policy for Management of Crop Residue (NPMCR)
Control of burning of crop residue to prevent environmental degradation and loss of soil nutrients and minerals by promotion of in-situ management (incorporation in soil, mulching, baling/binding for use as domestic/industrial fuel, fodder) of crop residue.
Diversified use of crop residue for various purposes like charcoal gasification, power generation, as industrial raw material for the production of bio-ethanol, packing material, paper/board/panel industry, composting and mushroom cultivation, etc.
Capacity building and awareness about the ill effects of crop residue burning and its effective utilization and management.
Formulation and implementation of suitable laws and legislative/policy measures to curb the burning of crop residue.
Way forward
Crop residue management through conservation agriculture can improve soil productivity and crop production by maintaining soil organic matter levels.
Reduced soil carbon sequestration with increased crop residue management is a practical method for reducing agriculture's environmental impact.
Crop residue management techniques should ideally be chosen to maximize agricultural yields with a minimum negative impact on the environment.
Various effects of crop residue management practices on harvested yield have been found, according to the findings of numerous tests.
Multiple intricate interactions including residue quality, soil-related variables, the health of the preceding crop, the possible vulnerability of the next crop, and management choices like cultivar selection, crop rotation, and planting date lead to contradictory results.
The findings imply that no crop residue management solution is preferable in every situation.
Therefore, farmers must make management choices that would maximize agricultural yields and reduce adverse effects on the environment.
Designing the best site-specific solutions for crop residue management practices to increase agricultural production and sustainability while reducing environmental impacts requires multidisciplinary and coordinated efforts by a range of scientists.
Food security and environmental improvement depend on soil carbon, a valuable resource, that can be sustainable in agroecosystems through improved, cost-effective crop residue management.
-Article by Swathi Satish