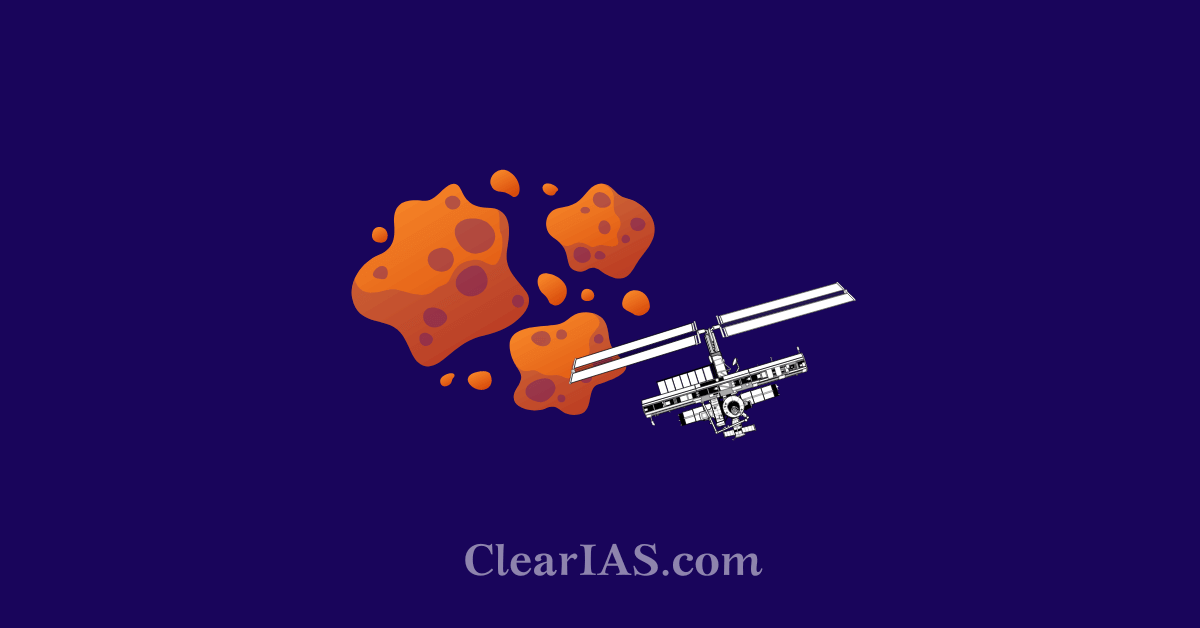 DART Mission was launched by NASA to study the case of any asteroid heading towards Earth in the future. It will be studying the collision with the asteroid Dimorphos. Read here to know the details of the mission.
The National Aeronautics and Space Administration (NASA) launched its Double Asteroid Redirection Test (DART) mission in November 2021. On September 26th, 2022 the DART impact is predicted.
DART is a spacecraft designed to impact an asteroid as a test of the technology.
DART's target asteroid is NOT a threat to Earth. This asteroid system is a perfect testing ground to see if intentionally crashing a spacecraft into an asteroid is an effective way to change its course, should an Earth-threatening asteroid be discovered in the future.
DART is a NASA-funded technology demonstration of a kinetic impactor technology that could be used to mitigate the threat of a hazardous asteroid.
The DART project will demonstrate that a spacecraft can navigate itself to a successful impact on the target, and will measure the effect of that impact on the natural asteroid.
The investigation will help NASA better prepare for asteroids that might one day pose a danger to the inhabitants of Earth, and demonstrate other technologies which have applications for future missions as well.
DART mission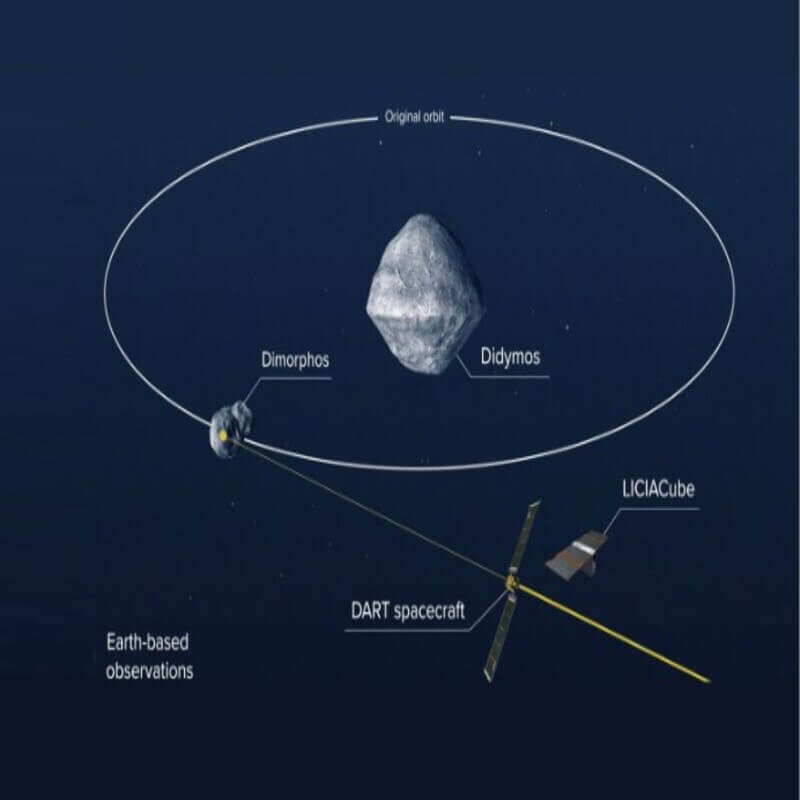 DART is the first-ever mission dedicated to investigating and demonstrating one method of asteroid deflection by changing an asteroid's motion in space through kinetic impact.
This method will have DART deliberately collide with a target asteroid (which poses no threat to Earth) to change its speed and path.
DART's target is the binary, near-Earth asteroid system Didymos, composed of the roughly 780-meter (2,560-foot) in diameter "Didymos" and the smaller, approximately 160-meter (530-foot) in size "Dimorphos," which orbits Didymos.
DART will impact Dimorphos to change its orbit within the binary system, and the DART Investigation Team will compare the results of DART's kinetic impact with Dimorphos to highly detailed computer simulations of kinetic impacts on asteroids.
Doing so will evaluate the effectiveness of this mitigation approach and assess how best to apply it to future planetary defense scenarios, as well as how accurate the computer simulations are and how well they reflect the behavior of a real asteroid.
Objectives of DART mission
Demonstrate a kinetic impact with Dimorphos.
Change the binary orbital period of Dimorphos.
Use ground-based telescope observations to measure Dimorphos' period change before and after impact.
Measure the effects of the impact and resulting ejecta on Dimorphos.
DART impactor spacecraft
DART is a low-cost spacecraft.
The spacecraft has two very large solar arrays that when fully deployed are each 8.5 meters (27.9 feet) long.
DART will navigate to crash itself into Dimorphos at a speed of approximately 6.1 kilometers (3.8 miles) per second.
The total mass of the DART spacecraft was approximately 1,345 pounds (610 kilograms) at launch and will be roughly 1260 pounds (570 kilograms) at impact.
DART carries both hydrazine propellant for spacecraft maneuvers and attitude control, and xenon to operate the ion propulsion technology demonstration engine.
The DART payload consists of a single instrument, the Didymos Reconnaissance and Asteroid Camera for Optical navigation (DRACO).
DRACO is a high-resolution imager derived from the New Horizons LORRI camera to support navigation and targeting, measure the size and shape of the asteroid target, and determine the impact site and geologic context.
DART will also carry a CubeSat contributed by Agenzia Spaziale Italiana (ASI), named LICIACube (Light Italian CubeSat for Imaging of Asteroids).
The DART spacecraft deployed LICIACube 15 days before the DART impact on Dimorphos.
LICIACube will capture images of the DART impact, the resulting ejecta cloud, and potentially a glimpse of the impact crater on the surface of Dimorphos.
What Is Planetary Defense?
Planetary defense encompasses all the capabilities needed to detect and warn of a potential asteroid or comet impact with Earth, and then either prevent them or mitigate their possible effects.
Near-Earth objects (NEOs) are asteroids and comets that orbit the Sun like the planets, but with orbits that bring them into or through a zone between approximately 91 million and 121 million miles (195 million kilometers) from the Sun.
Meaning that they can pass within about 30 million miles (50 million kilometers) of Earth's orbit.
Planetary defense is "applied planetary science" to address the NEO impact hazard.
DART is one part of NASA's larger planetary defense strategy. The DART mission addresses the "mitigate" component of the overall planetary defense efforts, demonstrating a potential technology for deflecting an asteroid off a predicted impact course with Earth if such action was warranted.
Details of DART impact
On Sept. 26, 2022, at 7:14 pm EDT, DART intentionally crashed into Dimorphos, the asteroid moonlet in the double-asteroid system of Didymos.
Two of NASA's Observatories, the James Webb Space Telescope and the Hubble Space Telescope, have captured views of the NASA experiment designed to intentionally smash a spacecraft into a small asteroid in the world's first-ever in-space test for planetary defense.
These observations of NASA's Double Asteroid Redirection Test (DART) impact mark the first time that Webb and Hubble simultaneously observed the same celestial target.
Observations from Webb and Hubble together will allow scientists to gain knowledge about the nature of the surface of Dimorphos, how much material was ejected by the collision, and how fast it was ejected.
Additionally, Webb and Hubble captured the impact in different wavelengths of light – Webb in infrared and Hubble in visible.
Observing the impact across a wide array of wavelengths will reveal the distribution of particle sizes in the expanding dust cloud, helping to determine whether it threw off lots of big chunks or mostly fine dust.
Combining this information, along with ground-based telescope observations, will help scientists to understand how effectively a kinetic impact can modify an asteroid's orbit.
-Article written by Swathi Satish