What is the Deep Ocean Mission? What are the features and the significance of the mission? Read all about it here.
The Ministry of Earth Sciences (MoES) has launched India's first manned ocean mission "Samudrayaan" in Chennai.
This Unique Ocean Mission has catapulted India into the elite club of nations such as the US, Russia, France, Japan, and China.
Deep Ocean Mission:
The Samudrayaan project is a part of the deep-sea ocean mission under MoES approved in 2021.
It is India's first unique manned ocean mission that aims to send men into the deep sea in a submersible vehicle for deep-sea ocean exploration and mining of rare minerals.
Resources such as polymetallic manganese nodules, Gas hydrates, hydrothermal sulfides, and cobalt crusts will be explored which are usually located at a depth between 1000 to 5500 meters.
The project is undertaken by the National Institute of Ocean Technology (NIOT), under MoES.
India has been allocated a site of 75,000sq km in the Central Indian Ocean Basin by the International Sea Bed Authority (ISA) for the exploration of polymetallic nodules from the seabed in a 15-year contract.
The estimated resource potential of polymetallic nodules is 380 million tonnes through preliminary studies.

Major components in these nodules are manganese, nickel, copper, and cobalt.

The six components of the mission are-
Development of technologies for deep-sea mining and manned submersible.
Development of ocean climate change advisory services.
Technological innovations for sustainable use of marine bio-resources.
Deep ocean survey and exploration
Energy production from the ocean and offshore based desalination
Advanced marine station for ocean biology.
Deep-sea vehicle Matsya:
Matsya 6000 is the deep-sea vehicle under the Samudrayaan project.
It will carry three persons underwater for the deep-sea exploration to a depth of 6000 meters.
It is an indigenously developed manned submersible vehicle by ISRO in collaboration with NIOT.
It is a titanium alloy personnel sphere of 2.1-meter diameter with an endurance of 12 hours and more for emergencies.
It will undergo a shallow water test phase (500metres) by 2022-23 and will be ready for qualification trials by 2024.
It also underwent an initial usage test for man-rated operation in sea trial using Ocean Research Vessel Sagar Nidhi in the Bay of Bengal.
The underwater vehicle is essential for subsea activities like high-resolution bathymetry, biodiversity assessment, geoscientific observation, salvage operation, engineering support, etc.
Recently China's Fendouzhe manned submersible has touched 11000 m in 2020.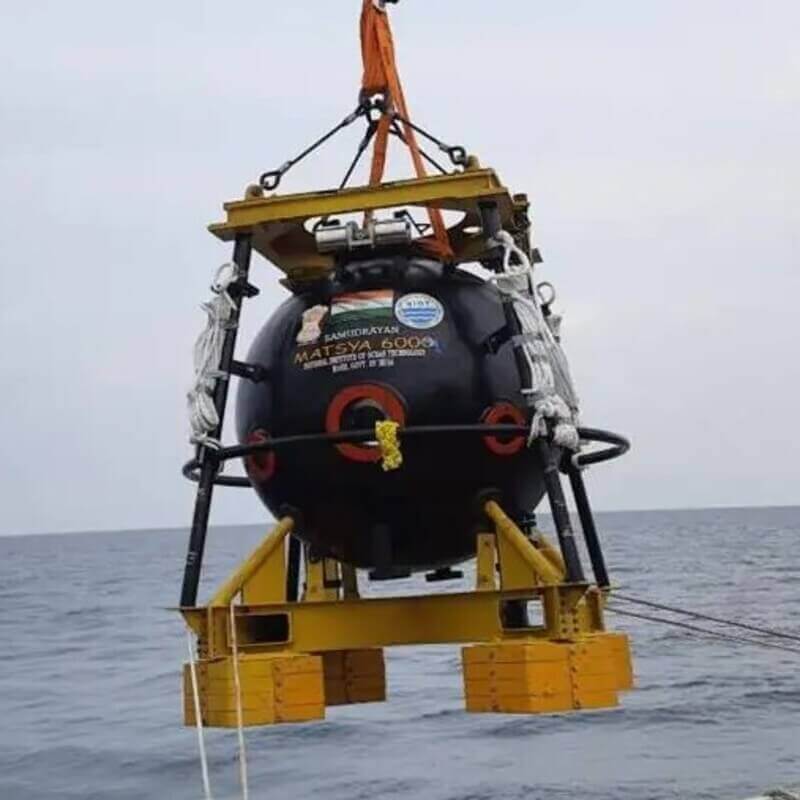 Significance of Deep Ocean Mission:
This mission will prompt more growth in exploration and usage of ocean resources for clean energy, drinking water, and subsequently blue economy.
The Mission is a multi-ministerial, multi-disciplinary program that highlights the developing deep-sea technology, including the development of manned submersible, the acquisition of a research vessel for exploring the ocean, and capacity building in Marine Biology.
Developed countries have already carried out similar ocean missions and the success of Samudrayaan will make India could the first country among the developing nations to carry out a deep ocean mission.