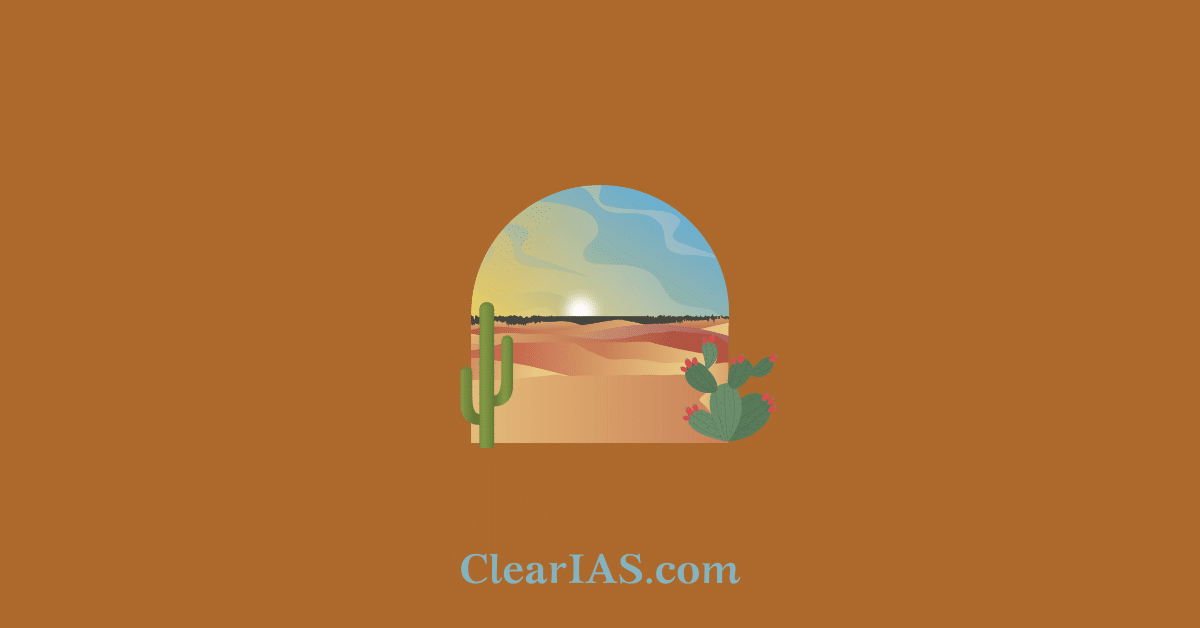 What is a Desert? What kinds of desserts are there? How is Desert Climate Differentiated? Which are the World's Major Deserts? Read further to know more.
The word "desert" is derived from the Latin "deserts," meaning "abandoned or lying in waste." This can refer to a vast, arid region devoid of flora.
A desert is a desolate region of the landscape with minimal precipitation, making living circumstances unfriendly for both plant and animal life.
What is a Desert?
A desert is a location or a landscape that receives less than 250 mm of precipitation annually (about ten inches).
Deserts make up about one-third of the planet's land area.
Based on their dryness, deserts can be classified into one of five categories:

subtropical deserts,
coastal deserts,
rain shadow deserts
interior deserts and
polar deserts,
Types of Deserts
There are five different types of deserts in the world: subtropical, coastal, interior, rain shadow, and polar Deserts are divided into these types according to the causes of their dryness.
Subtropical Deserts
The patterns of air mass circulation are what lead to subtropical deserts.
Between 15 and 30 degrees north or south of the equator, they can be found along the Tropic of Cancer or the Tropic of Capricorn, respectively.
Near the equator, hot, humid air rises into the atmosphere. Heavy tropical rains form as the air cools and releases its moisture as it rises. As a result, an air mass that is cooler and drier flows away from the Equator. The air lowers and warms up once again as it gets closer to the tropics.
The air is dropping, which prevents clouds from forming and causes relatively little rain to fall on the ground below.
The Sahara, the largest and hottest desert in the world, is located in northern Africa. Almost the whole continental United States is contained within the Sahara Desert.
The Tanami Desert in northern Australia and the Kalahari Desert in southern Africa are two other subtropical deserts.
Coastal Deserts
Deserts along the coast are a result of cold ocean currents. A layer of fog is created when cold water contacts wind that is blowing toward shore. Onto land it drifts, this dense fog.
Despite the high humidity, there are no atmospheric shifts that would ordinarily result in rain. A coastal desert may be nearly entirely dry but foggy.
On Chile's Pacific coast, there is a coastal desert called the Atacama Desert. The Atacama frequently has fog covering some of its terrains. However, years may pass in this area with little rain. The driest area on Earth is, in reality, the Atacama Desert. In the Atacama, some weather stations have never recorded any rain.
Rain Shadow Deserts
Deserts in the rain shadow can be found close to the leeward slopes of various mountain ranges. Slopes on a leeward side are windward.
Air with moisture is forced to climb when it encounters a mountain range. After cooling, the air condenses to form clouds that release precipitation onto windward slopes. When the air crosses the peak and starts to descend the leeward slopes, there isn't much moisture remaining. It becomes challenging for clouds to develop when the air descends due to warming.
A rain shadow desert, Death Valley is located in the American states of California and Nevada.
The Sierra Nevada mountains' rain shadow is where you'll find Death Valley, which is also the lowest and driest region in North America.
Interior Deserts
Because no moist winds can reach interior deserts, which are found in the centre of continents, they nevertheless remain. Air masses from coastal regions have completely lost all of their moisture by the time they reach the inland. Inland deserts are another name for interior deserts.
Located in China and Mongolia, the Gobi Desert is hundreds of kilometres from the sea. The moisture in the winds by the time they reach the Gobi is long gone. The Himalayan mountains to the south cast a rain shadow over the Gobi as well.
Polar Deserts
Deserts are a category that includes parts of the Arctic and Antarctic. There is a lot of water in these arctic deserts, but the majority of it is permanently frozen in glaciers and ice sheets. So, even though there are millions of litres of water present, there isn't much that plants and animals can use.
The world's largest desert is also the coldest. The majority of the Antarctic continent is a polar desert with little precipitation. Few living things can survive Antarctica's icy, arid climate.
The climate of Deserts of the world
Desert evenings are often frigid because there isn't much moisture in the air to absorb and hold onto the heat produced by the high daytime temperatures.
The desert biome is an extremely difficult land mass to live in due to the combination of high-temperature variations and exceedingly limited water availability.
Due to the lack of moisture in the atmosphere to screen off the sun's beams, temperatures are extremely high during the day.
This indicates that the energy from the sun is absorbed by the ground.
The air around the ground then becomes warmer.
The exact reverse occurs as night falls.
The heat collected during the day is radiated back to the atmosphere by the heated ground and hot air, causing a sharp drop in temperature.
At night, temperatures can fall to 0 degrees Celsius.
Precipitation of Deserts
The amount of precipitation in hot, deserts differs greatly from the amount of precipitation in cold deserts.
Deserts that are both hot and cold often only get 15 cm of rain on average annually.
In contrast, cold deserts receive an average of 15–26 cm of rain in the spring and encounter heavy snowfall.
Seasons of Deserts
Desert biomes experience significant seasonal climate variations.
Temperatures in the summertime range from 30 to 49 degrees Celsius. Precipitation levels are low or nonexistent throughout the summer.
Additionally, precipitation usually occurs at a faster pace than evaporation.
Temperatures in the winter range from 10 to 20 degrees Celsius. During these summer months, there is a lot of precipitation.
Natural Vegetation of Deserts of the world
The very little rainfall experienced in desert biomes, as well as extreme daily temperature fluctuations, makes life difficult for plants.
Despite these challenges, a wide range of plants grows in this biome.
Cacti, tiny shrubs, succulents, and grasses are the most typical plants that flourish in desert biomes.
Desert plants have evolved special adaptations to survive in these challenging environmental circumstances.
To reduce water loss, common adaptations include storing water in stems and leaves, coating leaves with wax, and dropping leaves.
Some plants have grown long tap roots so they can access water tables.
While others go dormant until the rains come again.
Particularly the cactus plant, which may grow up to 20 feet tall and live for over 200 years since it has successfully adapted to the extreme climatic conditions of desert biomes.
Because of its shallow roots, the Giant Saguaro cactus in particular has survived in this hostile habitat by soaking up rain and dew before it evaporates. Additionally, it has a pliable inside that can expand and store a lot of water. The cactus' modest growth rate is another adaptation that helps it conserve energy.
Another plant adapted to survive in desert biomes is the magma tree. It is made up of tiny leaves that grow peculiarly upwards and serve as a funnel during rain.
Rainwater is directed by the funnel-shaped leaves to the tree's base, where shallow roots suck it up. In general, this adaptation ensures that the tree will receive a significant amount of water when it rains. Brittle Bush, Desert Ironwood, Chainfruit Cholla, Joshua Tree, Palo Verde, Jumping Cholla, Ocotillo, Pancake Prickly Pear Cactus, Soaptree Yucca, and Mojave Aster are more plants found in the desert habitat.
Animal Life of Deserts of the world
Despite the harsh climatic conditions in the desert biome, many animals live here.
These animals have developed unique adaptations to help them keep cool and use less water.
For example, a recognizable desert animal like the Camel can get by for days without food and water due to the fat stored in its hump. It also has thick fur and underwool to protect it from the harshest of winter. Its nostrils can be closed to keep out blowing sand. A camel has two rows of eyelashes to shield its eyes from the sun and blowing winds and broad hooves to prevent it from sinking in the sand.
Foxes survive here due to their burrowing and nocturnal lifestyles. This burrowing ensures they escape the intense heat during the day. They also have large ears to aid in the dissipation of excess body heat during hot days. Their thick, sandy fur helps protect them from cold nights in the desert. The thick, sandy fur also helps reflect heat and camouflage.
Animals in deserts of the world have also developed adaptations such as panting to minimize heat, seasonal migration, and long periods of dormancy that lasts until triggered by moisture and temperature conditions.
Other animals in the desert biome include Bobcats, Coyotes, Javelina, Desert Tortoise, Cactus Wren, Desert Kangaroo Rat, Sonoran Desert Toads, Thorny Devils, Desert Bighorn Ship, Armadillo Lizards, Sonoran Pronghorn Antelope, so on.
The Largest Deserts in the world
The polar regions are home to the two biggest deserts on Earth.
About 5.5 million square kilometres of the Antarctic continent are covered by the Polar Desert.
The Arctic Polar Desert is the second-largest desert.
Parts of Alaska, Canada, Greenland, Iceland, Norway, Sweden, Finland, and Russia are included in its territory. There are roughly 5.4 million square miles of surface area.
Non-Polar Deserts of the world
Outside of the polar regions are the last deserts on earth.
The Sahara Desert, a subtropical desert in northern Africa, is the biggest.
About 3.5 million square miles of the surface area make up its perimeter.
Some Major Deserts of the world are tables below,
Major Deserts of the World
Name
Type of Desert
Surface Area
Location
Antarctic
Polar
5.5 million mi²
Antarctica
Arctic
Polar
5.4 million mi²
Alaska, Canada, Greenland, Iceland, Norway, Sweden, Finland, Russia
Sahara
Subtropical
3.5 million mi²
Northern Africa
Arabian
Subtropical
1 million mi²
Arabian Peninsula
Gobi
Cold Winter
500,000 mi²
China and Mongolia
Patagonian
Cold Winter
260,000 mi²
Argentina
Great Victoria
Subtropical
250,000 mi²
Australia
Kalahari
Subtropical
220,000 mi²
South Africa, Botswana, Namibia
Great Basin
Cold Winter
190,000 mi²
United States
Syrian
Subtropical
190,000 mi²
Syria, Iraq, Jordan, Saudi Arabia
Chihuahuan
Subtropical
175,000 mi²
Mexico
Great Sandy
Subtropical
150,000 mi²
Australia
Kara-Kum
Cold Winter
135,000 mi²
Uzbekistan, Turkmenistan
Colorado Plateau
Cold Winter
130,000 mi²
United States
Gibson
Subtropical
120,000 mi²
Australia
Sonoran
Subtropical
120,000 mi²
United States, Mexico
Kyzyl-Kum
Cold Winter
115,000 mi²
Uzbekistan, Turkmenistan, Kazakhstan
Taklamakan
Cold Winter
105,000 mi²
China
Iranian
Cold Winter
100,000 mi²
Iran
Thar
Subtropical
75,000 mi²
India, Pakistan
Simpson
Subtropical
56,000 mi²
Australia
Mojave
Subtropical
54,000 mi²
United States
Atacama
Cool Coastal
54,000 mi²
Chile
Namib
Cool Coastal
13,000 mi²
Angola, Namibia, South Africa
Thar Desert
Thus, the collective noun for the area's sand ridges, is where the name Thar originates.
It is split between Punjab and Sindh provinces in eastern Pakistan and Rajasthan state in northern India.
Over 2,000 000 square kilometres of the Thar Desert are covered by dry terrain.
It creates a natural barrier along the Pakistan-India border.
The desert has an undulating topography with low barren hills, or bakers, that abruptly emerge from the surrounding plains and high and low dunes divided by sandy plains.
The dunes are constantly shifting, changing in size and shape. A crescent-shaped dune called a barkhan is created by wind that blows primarily in one direction. It is one of the most prevalent kinds of the dune, and it may be found worldwide in sandy deserts.
The irrigated Indus River plain, the Punjab Plain, the Aravalli Range, and the Rann of Kachchh all about the Thar Desert on its western, northern, and northeastern sides, respectively.
Due to the persistently high pressure and subsidence at that latitude, the Thar Desert has a subtropical desert climate.
The Thar is typically avoided by the dominant southwest monsoon winds, which bring rain to much of the subcontinent in summer.
Conclusion
A type of biome known as a desert is characterised by extremely high temperatures and very little precipitation (25 cm or less in a year). It is a significant kind of ecosystem that sustains a population of unique plants and animals. Deserts make up about 30% of the planet's total land area.
Since the beginning of time, there have been natural causes for desert creation; it is the manmade causes that are of concern. The UN convention to combat desertification must be followed by an action plan to counteract it (UNCCD).
Article written by Aseem Muhammed