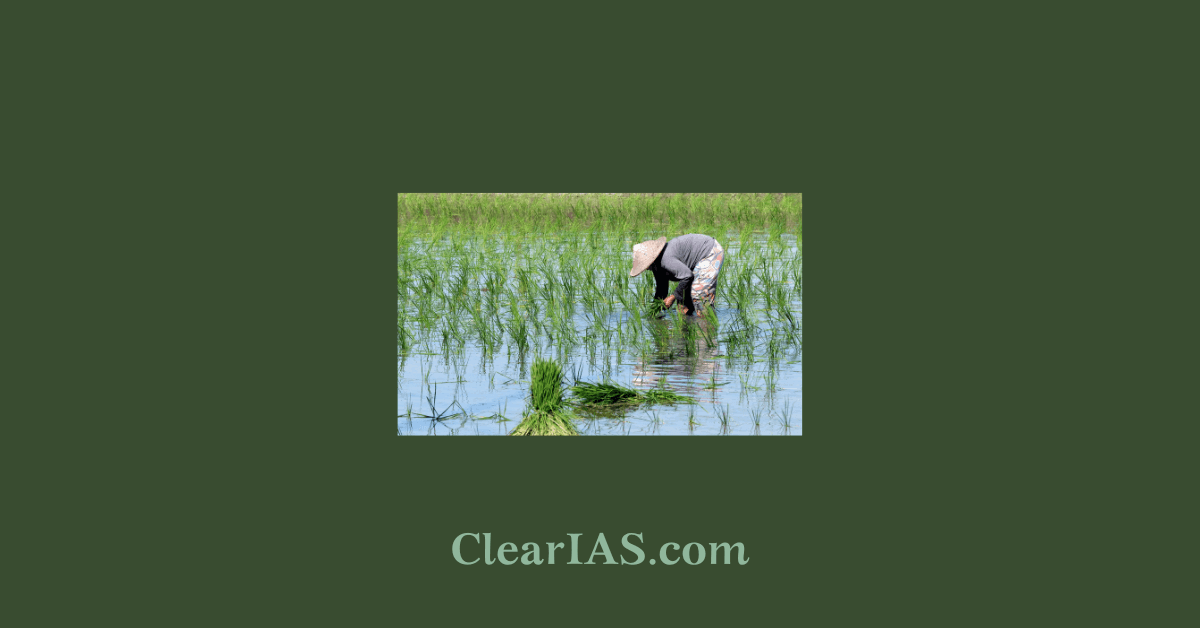 Farmers in many States of rice production are switching to the direct-seeding of rice (DSR) method due to the rains being delayed and the difficulty in finding labor. The method has seen both success and failure around the country. Read here to learn more about DSR.
The majority of the rice grown in the North-Western Indo-Gangetic Plains is transplanted.
When transplanting, a lot of water is needed for the puddling process, which develops a thick clay layer in the subsoil to stop seepage losses.
To achieve production levels, the crop also has to use intensive irrigation, the right variety, and the necessary amount of fertilizer.
Paddy farming in the area typically uses 40% of all irrigation water. An estimated 10% of the world's methane emissions are thought to come from flooded rice fields.
Additionally, paddy production, which is a source of nitrous oxide emissions, is frequently characterized by the careless application of nitrogenous fertilizers. The existing practice of overusing groundwater has resulted in a deterioration in the standard of available natural resources.
Direct Seeding of Rice
Due to its minimal input requirements, direct-seeded rice (DSR), perhaps the oldest form of crop establishment, is becoming more and more common.
Instead of transplanting seedlings from a nursery, DSR refers to the process of starting a rice crop from seeds sowed in the field.
Since the 1950s, it has been acknowledged as the primary way of growing rice in developing nations.
Pre-germinated seed can be sown directly into the ground using one of three methods: wet seeding, water seeding, or dry planting onto a prepared seedbed.
Farmers were urged to switch from the conventional system of transplanting to DSR culture by improved short-duration and high-producing cultivars, nutrient management techniques, and weed management methods.
Direct seeding has certain benefits, including reduced greenhouse gas emissions, greater development of successive crops, and savings on labor, energy, time, and irrigation water.
Mechanized DSR is less labor-intensive and free of drudgery, making it more appealing to young people and female farmers. It also opens up new job opportunities.
Although direct seeding is commonly used in the US and South America, productivity issues have prevented it from being widely used in Asia, where 90% of the world's rice is grown and eaten.
This highlights the need for a comprehensive and scientific strategy to make direct-seeded rice ecologically and socioeconomically viable.
Benefits of Direct Seeding of Rice
It has certain benefits, including reduced labor requirements, water requirements, and labor-intensiveness, early crop maturity, cheap production costs, improved soil physical conditions for succeeding crops, reduced methane emission, and greater options for being the best match in various cropping systems.
No discernible decrease in production under ideal circumstances
12–35% of irrigation water might be saved using effective water management techniques.
eliminates the need to remove and transplant seedlings, therefore reducing labor and misery.
reduces the cost, time, and energy of growing
Plants are not impacted by transplanting.
faster crop maturation
lower emissions of GHG
Youth job prospects are provided by mechanized DSR through the service-providing business model.
decreases the cost of farming, increasing overall profitability.
The performance of different types of direct seeding methods of rice (DSR) is better than conventional puddled transplanted rice based on the following criteria:
Grain yield
Irrigation water applied and water use efficiency
Labor use
Greenhouse gas (GHG) emissions
Economics
Effect on succeeding crops
Constraints
The technique comes with its share of disadvantages as well:
Higher seed rates
Seeds exposed to birds and pests
Weed management
Higher risk of lodging
Risk of poor or non-uniform crop establishment
Development of Herbicide Resistance
Increase in soil-borne pathogens such as nematodes
Although direct seeding can help in reducing CH4 emissions, aerobic soil conditions can also increase N2O emissions.
Nutrient disorders, especially N and micronutrients
Way forward
In states where rice is grown using rainwater, like Chhattisgarh, direct seeding is more common. There is room to advance technology in both the rainfed rice growing regions of Odisha and Andhra Pradesh as well as the north-western Indo-Gangetic plains to encourage greater water use efficiency.
Possible ways to mitigate the current constraints of DSR may be applied:
Integral weed control
software for continuously monitoring weeds
The use of biocides for nematode control is preferable to nitrification inhibitors, split N applications, and slow-release N fertilizers.
Hill seeding, cultivars that are resistant to lodging, the ideal N dose, seeding rates, depth, and manner can all assist to prevent lodging.
Tools for seed priming to enhance stand establishment
Insect, pest, and disease problems may be solved using integrated management techniques as well as biotechnological and genetic methods.
-Article written by Swathi Satish