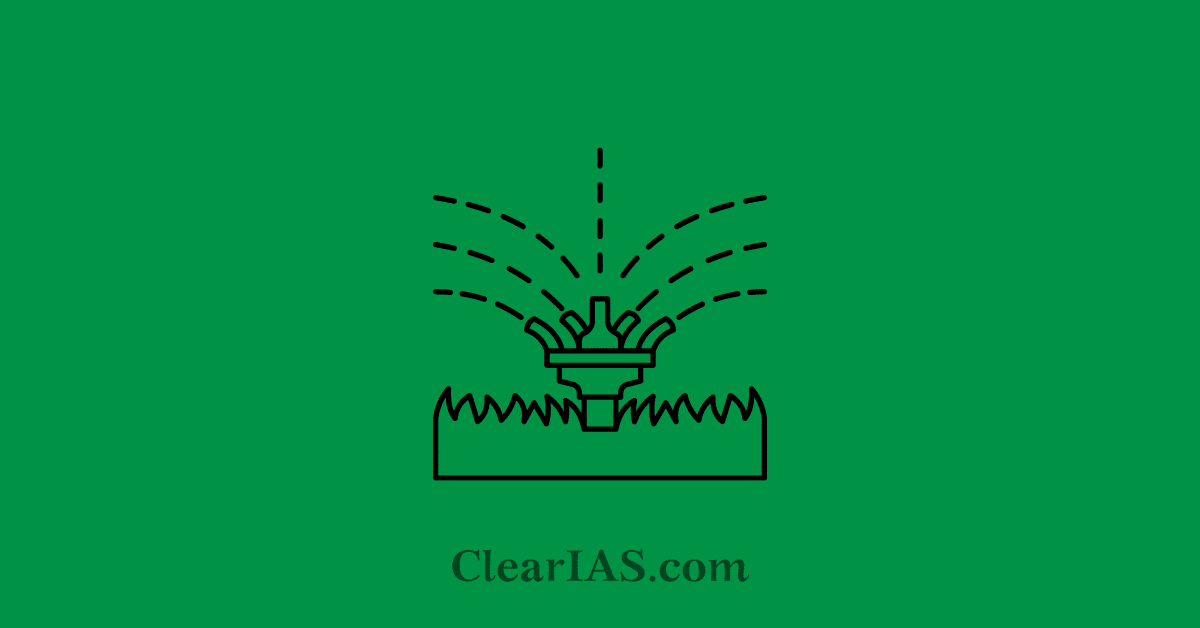 Irrigation systems are an integral part of agriculture. There are numerous types of irrigation systems aiding the growth of agriculture. Read here to know more.
Agriculture is the key to the development of human civilization and the nerve of the economic well-being of any country. Irrigation systems are a major process aiding agriculture for centuries.
Ancient civilizations in many parts of the world practiced irrigation. Civilization would probably not be possible without some form of irrigation.
The earliest form of irrigation probably involved people carrying buckets of water from wells or rivers to pour on their crops. As better techniques developed, societies in Egypt and China built irrigation canals, dams, dikes, and water storage facilities.
Ancient Rome built structures called aqueducts to carry water from snowmelt in the Alps to cities and towns in the valleys below. This water was used for drinking, washing, and irrigation.
Irrigation system
Irrigation is the artificial application of water to the soil or agricultural field. It is like supplementing rainwater with another source of water. It is mostly used in dry areas and during periods of insufficient rainfall.
The main idea behind these systems is to assist in the growth of crops and plants by maintaining the minimum amount of water required, suppressing weed growth in fields, and preventing soil consolidation.
It is considered a basic infrastructure and vital input required for agricultural production. The major aim is to maintain the agricultural output with a minimum amount of water, maintenance of landscapes, and re-vegetation of disturbed soils.
These systems are also used for dust repression, removal of sewage, and mining. Irrigation is often studied together with drainage, which is the natural or artificial removal of surface and sub-surface water from a given region.
It also has effects on crop production, which include:
Protecting plants against frost
Suppressing weed growth in a grain field
Preventing soil consolidation.
for dust suppression,
Disposal of sewage, and mining.
Types:
The three basic and broad classifications of irrigation methods are:
Surface
Sprinkler
Sub-surface
Surface irrigation
In this technique, water flows and spreads over the surface of the land. Varied quantities of water are allowed on the fields at different times.
Surface irrigation technique is broadly classified as basin irrigation; border irrigation; furrow irrigation and uncontrolled flooding.
Basin Irrigation:
The Basin system is suitable for many field crops. Paddy rice grows best when its roots are submerged in water, so basin irrigation is the best method for this crop.
It is generally not suited to crops that cannot stand in wet or waterlogged conditions for periods longer than 24 hours.
These are usually root and tuber crops such as potatoes, cassava, beet, and carrots which require loose, well-drained soils.
Furrow irrigation:
In the furrow technique, trenches or "furrows" are dug between crop rows in a field.
Farmers flow water down the furrows (often using only gravity) and it seeps vertically and horizontally to refill the soil reservoir. Flow to each furrow is individually controlled.
The Furrow technique is suitable for row crops, and tree crops, and because water does not directly contact the plants, crops that would be damaged by direct inundation by water such as tomatoes, vegetables, potatoes, and beans.
It is one of the oldest systems of irrigation.
Border irrigation
Border irrigation is a type of surface irrigation where the field is divided into strips separated by border ridges running down the gradient of the field.
The area between the ridges is flooded during irrigation.
It can be viewed as an extension of basin irrigation to include long rectangular or contoured field shapes.
Uncontrolled flooding
In uncontrolled flooding, the water is spread or flooded into the field without control of water and preparation of land.
It is also called wild flooding.
The efficiency of this method depends upon the depth of flooding, the size of the stream, the rate of intake of water into the soil, and the topography of the field.
This method is suitable for inundation irrigation systems, pastures & forage crops and is inexpensive.
Sprinkler Irrigation
In this method, water is sprayed into the air and allowed to fall on the ground surface somewhat resembling rainfall.
The flow of water develops the spray under pressure through small orifices or nozzles.
The sprinkler irrigation system is a very suitable method for irrigation on uneven lands and shallow soils.
Nearly all crops are suitable for sprinkler irrigation systems except crops like paddy, jute, etc. The dry crops, vegetables, flowering crops, orchards, and plantation crops like tea, and coffee are all suitable and can be irrigated through sprinklers.
Well and tube
Well, and Tube Well irrigation is the most popular irrigation system in India.
The first tube well was dug in 1930 in Uttar Pradesh. Today more than 50 lakh tube wells are operating in different parts of India.
It has contributed substantially to the success of the Green Revolution in India. Uttar Pradesh has the largest area under good irrigation.
It is followed by Rajasthan, Madhya Pradesh, Punjab, Gujarat, Maharashtra, and Bihar.
There are various types of wells – shallow wells, deep wells, tube wells, artesian wells, etc. From the shallow wells water is not always available as the level of water goes down during the dry months.
Deep wells are more suitable for irrigation as water from them is available throughout the year.
Canal irrigation
Canal irrigation is one of the most important sources of irrigation. It accounts for about 24% of the total irrigation in the nation.
It is an effective source of irrigation in low-level relief, deep fertile soil, and perennial river areas which are mostly found in the northern plains.
There are two types of canal systems: Inundation and Perennial canals.
Inundation canals are taken out from the rivers without any regulating system and provide irrigation mainly in the rainy season when the river is in flood and there is excess water.
Perennial Canals are those which are taken off from perennial rivers by constructing a barrage across the river. Most of the canals in India are perennial.
Most of the canals provide perennial irrigation and supply water as and when required. This saves the crops from drought conditions and helps in increasing farm production.
Tank
A tank acts as an irrigation storage system which is developed by constructing a small bund of earth or stones built across a stream.
The rainwater can also be collected in these tank reservoirs for irrigation usage.
It is an important source of irrigation in Karnataka, Madhya Pradesh, Maharashtra, Odisha, Kerala, the Bundelkhand area, Rajasthan, and Gujarat.
Drip irrigation
It is a type of micro-irrigation system or localized irrigation system which is the most efficient water and nutrient delivery system for growing crops.
It delivers water and nutrients directly to the plant's roots zone, in the right amounts, at the right time, so each plant gets exactly what it needs, when it needs it, to grow optimally.
Water is applied near the plant root through emitters or drippers, on or below the soil surface, at a low rate varying from 2-20 liters per hour.
This irrigation system lessens soil erosion and weed growth while increasing water application efficiency.
The initial cost and maintenance are high for this system.
Surge irrigation
Surge Irrigation is an alternative to furrow irrigation where the water supply is pulsed on and off in planned periods.
The wetting and drying cycles reduce infiltration rates resulting in faster advance rates and higher uniformities than constant flow.
Ditch irrigation
Ditch Irrigation is a type of traditional method, where ditches are dug out and seedlings are planted in rows.
The plantings are watered by placing canals or furrows in between the rows of plants.
Siphon tubes are used to move the water from the main ditch to the canals.
Sub-irrigation
Also known as seepage irrigation is a system where water is allowed to the plant root zone from below the soil surface and absorbed upwards. The excess may be collected for reuse.
Sub-irrigation is used in growing field crops such as tomatoes, peppers, and sugar cane in areas with high water tables.
The major benefits of this system are water and nutrient conservation, and labor-saving.
The outfitting cost is comparatively high and the main problems include the possibility of the increased presence of disease-causing organisms in recycled water.
Challenges faced by agriculture
Agriculture is subject to variations in monsoon in the country. As per World Bank, only 35% of India's agricultural land is irrigated. The remaining 65% of farming is rain-dependent, most of which takes place over just a few summer months.
The problem of land degradation in rain-fed or dry-land areas is expected to increase in the coming years.
The arable or cultivable land is being converted for non-agricultural purposes adding to the food crisis while the population keeps increasing.
Another major issue is the overexploitation of groundwater, which is a major concern in the states of Haryana, Delhi, Punjab, Tamil Nadu, Rajasthan, etc. Alarmingly, the groundwater level has been going down in almost all parts of the country.
The increasing desertification of India's soil is a threat to every agricultural development in the country.
Government initiatives for irrigation system
Pradhan Mantri Krishi Sinchayee Yojana:
Launched in 2015 with the motto of "Har Khet Ko Paani", the scheme aims to provide end-to-end solutions in the irrigation supply chain (water sources, distribution network, and, farm-level applications).
The scheme focuses on creating sources for assured irrigation and protective irrigation by harnessing rainwater at the micro-level through 'Jal Sanchay' and 'Jal Sinchan'.
One of the most crucial components of the initiative is "Per Drop More Crop". It focuses on micro-irrigation systems (sprinkler, drip, pivots, rain guns, etc.) to promote precision farming by making water available in a targeted manner to the root zone of crops.
Micro Irrigation Fund:
The Government has created a dedicated Micro Irrigation Fund with NABARD.
This fund aims to facilitate the States to mobilize the resources for expanding coverage of Micro Irrigation in the country.
Rainfed Area Development Programme (RADP):
Rainfed Area Development Programme (RADP) is an initiative that aims to increase the agricultural productivity of rain-fed areas sustainably by adopting appropriate farming system-based approaches.
Way forward
The lack of irrigated land for agriculture is a major issue that needs to be addressed more aggressively. The farmers should be made aware of the numerous options available to them when it comes to irrigation and be educated about it.
Various alternative methods of irrigation and farming like vertical farming, zero budget natural farming, urban agriculture, agroforestry, etc, should be encouraged.