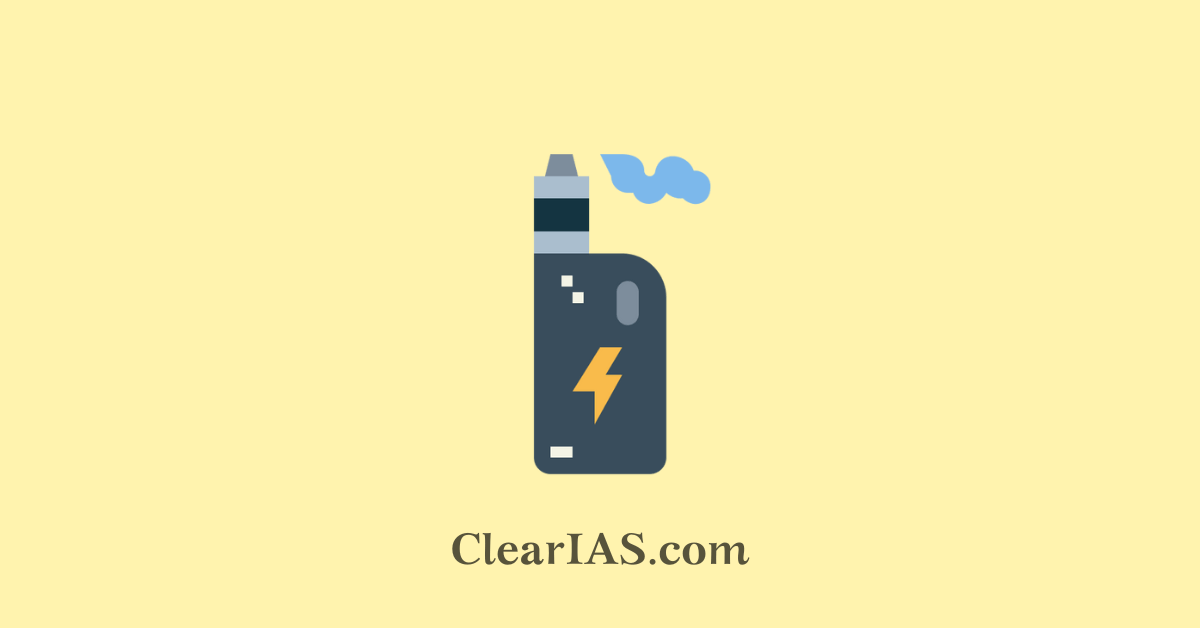 E-cigarettes are easily available online and at tobacco shops despite a ban. The health ministry is aiming for stronger execution of the Act which forbids the manufacturing, sale, and marketing of electronic cigarettes. Why are e-cigarettes or vaping considered unsafe? Read here to know more.
The Union Ministry of Health has instructed OTT platforms to show anti-tobacco health spots and warnings, declaring the updated rules under the Cigarettes and Other Tobacco Products Act, 2004, on World No Tobacco Day, when nations are under pressure to participate.
The restriction does not apply to e-cigarettes, vaporizers, or vapes that contain nicotine, an extract of tobacco.
In India, the Union Government prohibited the import, production, and sale of vapes in 2019.
This decision was made in response to growing health and safety concerns. Despite this, a lot of throwaways, single-use, and refillable products produced in China enter the country via the underground market and go through a third nation.
E-cigarettes
An electronic cigarette is a gadget that mimics smoking tobacco. It is made up of an atomizer, a battery or other form of power source, and a cartridge or other type of container.
The person using it breathes in vapor, not smoke. Thus, using an e-cigarette is sometimes referred to as "vaping".
The atomizer is a heating component that evaporates an e-liquid solution into a fine mist of vapor and air that soon cools.
E-cigarettes can be started by inhaling or by pushing a button. Some of them resemble conventional cigarettes, and the majority are reusable.
Propylene glycol and/or glycerin, typically combined with nicotine and flavoring, make up the majority of the vapor.
Its precise makeup fluctuates and is influenced by several factors, including user behavior.
There are many different types of e-cigarettes in use, also known as electronic nicotine delivery systems (ENDS) and sometimes electronic non-nicotine delivery systems (ENNDS).
These so-called e-liquids may or may not contain nicotine (but not tobacco) but also typically contain additives, flavors, and chemicals that can be toxic to people's health.
Nicotine is highly addictive and some evidence suggests that never-smoker minors who use ENDS can double their chance of starting to smoke tobacco cigarettes later in life.
Evidence reveals that these products are harmful to health and are not safe.
Some recent studies suggest that ENDS use can increase the risk of heart disease and lung disorders. Nicotine exposure in pregnant women can have similar consequences for the brain development of the fetus.
ENDS use can also expose non-smokers and bystanders to nicotine and other harmful chemicals.
Electronic delivery systems have also been linked to several physical injuries, including burns from explosions or malfunctions, when the products are not of the expected standard or are tampered with by users.
Accidental exposure of children to ENDS e-liquids poses serious risks as devices may leak, or children may swallow the poisonous e-liquid.
Both tobacco products and ENDS pose health risks.
Regulations of E-cigarettes
ENDS are currently banned in over 30 countries worldwide. In others, they are regulated as consumer products, pharmaceutical products, tobacco products, other categories, or unregulated.
Where they are not banned, WHO recommends that ENDS be regulated with objectives:
Preventing initiation of ENDS use by non-smokers and children, such as by preventing or restricting advertising, promotion, and sponsorship, and restricting flavors that appeal to children
Minimizing as far as possible potential health and/or risks to ENDS users, such as by regulating product characteristics
Protecting non-users from exposure to their emissions, such as by prohibiting ENDS use in indoor spaces where smoking is not permitted
Preventing unproven health claims
Protecting public health policies from commercial and other vested interests
Regulation in India
The Union Health Ministry has issued a public notice for stricter implementation of the Act which prohibits the manufacture, sale, and advertisements of electronic cigarettes.
The Prohibition of Electronic Cigarettes (Production, Manufacture, Import, Export, Transport, Sale, Distribution, Storage, and Advertisement) Act came into force in 2019.
The act prohibits the production, manufacture, import, export, transport, sale, distribution, and advertisement of e-cigarettes in India.
Under the act, no person is allowed to use any place for the storage of any stock of e-cigarettes. If any person stores any stock of e-cigarettes, he will be punished with imprisonment of up to six months or a fine of up to Rs 50,000 or both.
Criticism of the e-cigarette Ban
India has chosen to be stricter than the US by outright banning the product, but strangely, regular cigarettes, which are demonstrably many times more hazardous, are not subject to any further regulations.
The market always finds a way around bans in India, whether it is on single-use plastic or alcohol.
For all of these things that the government has outlawed, there are thriving underground or black markets, and the same is true with e-cigarettes.
According to a survey, people may readily purchase e-cigarettes online from a variety of websites.
Sending such products underground has the drawback of removing any governmental oversight over the goods.
The buyer's age would not make a difference if the vendor is already selling an unlawful item.
Way forward
Keeping in view the criticism against the blanket ban, a regulatory approach can be taken by the government-
The regulatory strategy may involve imposing the proper taxes, issuing public usage directives, disseminating product information, enforcing a minimum age for purchasing, and imposing specific product limits regarding nicotine content and taste options in e-cigarette products.
Larger public health objectives may be met much more successfully in this way.
On the other hand, the levels of risk associated with using ENDS or tobacco products are likely to depend on a range of factors, some relating to the products used and some to the individual user.
There is growing evidence that ENDS could be associated with lung injuries and in recent times e-cigarettes and vaping have been linked to an outbreak of lung injury in the USA.
The age-old addiction to tobacco needs to be eradicated rather than being replaced by nicotine addiction, in this respect the ban is the right direction to take.
Related posts
-Article written by Swathi Satish