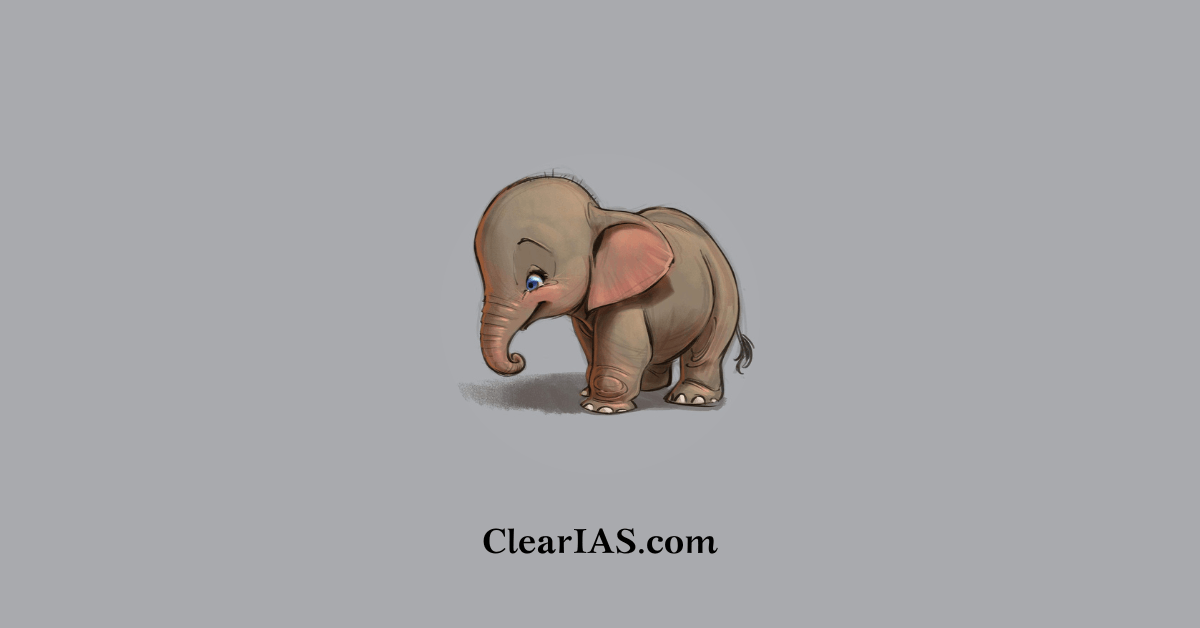 What are Elephant reserves? How is an elephant corridor different from an elephant reserve? What are the threats to elephant conservation? Read further to know.
World Elephant Day, marked annually on August 12th, aims to increase public awareness of the importance of preserving and protecting the largest land mammal.
The day was created in 2012 to draw attention to the grave plight of Asian and African elephants. They serve the ecosystem of the forest as "Keystone Species.
There are about 28,000 elephants in India, with Karnataka home to about 25% of them.
Also read: Project Elephant: All About Elephants
What are elephant reserves?
In order to protect elephants, their habitat, and migration routes, address issues relating to man-animal conflict and ensure the welfare of elephants kept in captivity, the Government of India established Project Elephant as a Centrally Sponsored Scheme in 1992.
Elephant reserves were established towards this end. In 16 of India's 28 states, the Indian Elephant is frequently sighted, with a concentration in the Southern Western Ghats, North-Eastern India, Eastern India, Central India, and Northern India.
There are 33 elephant reserves in India.
Elephant reserves in India
The major Elephant reserves in India are mentioned below.
Elephant Range
State
Elephant Reserve
North-Western Landscape
Uttrakhand
Shivalik Elephant Reserve
Uttar Pradesh
Uttar Pradesh Elephant Reserve
Terai elephant reserve
Kameng- Sonitpur Landscape
Arunachal Pradesh
Kameng Elephant Reserve
Assam
Sonitpur Elephant Reserve
Eastern-South Bank Landscape
Assam
Dihing-Patkai Elephant Reserve
Arunachal Pradesh
South Arunachal Elephant Reserve
East-Central Landscape
West Bengal
Mayurjharna Elephant Reserve
Jharkhand
Singhbhum Elephant Reserve
Chhattisgarh
Lemru Elephant Reserve
Badalkhol – Tamor Pingla Elephant Reserve
Odisha
Mayurbhanj Elephant Reserve
Mahanadi Elephant Reserve
Baitami Elephant Reserve
South Orissa Elephant Reserve
Kaziranga-Karbi Anglong-Intanki Landscape
Nagaland
Intanki Elephant Reserve
Assam
Kaziranga-Karbi Anglong Elephant Reserve
Dhansiri-Lungding Elephant Reserve
Meghalaya Landscape
Meghalaya
Garo Hills Elephant Reserve
Khasi-hills Elephant Reserve
North Bengal- Greater Manas Landscape
Assam
Chirang-Ripu Elephant Reserve
West Bengal
Eastern Dooars Elephant Reserve
Brahmagiri- Nilgiri-Eastern Ghats Landscape
Karnataka
Mysore Elephant Reserve
Andhra Pradesh
Rayala Elephant Reserve
Tamil Nadu
Coimbatore Elephant Reserve
Nilgiri Elephant Reserve
Kerala
Wayanad Elephant Reserve
Nilambur Elephant Reserve
Annamalai- Nelliyampathy- High Range Landscape
Tamil Nadu
Annamalai Elephant Reserve
Kerala
Anamudi Elephant Reserve
Periyar- Agasthyamalai Landscape
Tamil Nadu
Srivilliputhur Elephant Reserve
Kerala
Periyar Elephant Reserve
Elephants
Keystone species include elephants. Elephants in Asia and Africa are in danger of going extinct due to illicit poaching for the huge demand for ivory, tusks, and other body parts.
There are currently roughly 28,000 elephants residing in India, with Karnataka housing about 25% of them.
Asian elephants, African forest elephants, and African bush elephants are the three distinct species of elephants. The three subspecies that make up the Asian elephant are the Indian, Sumatran, and Sri Lankan species.
The Indian subspecies make up the majority of the remaining elephants on the continent and have the broadest range.
According to a 2017 census, India is home to the largest population of wild Asian elephants, with an estimated 27,312 elephants, or roughly 55% of the species' total global population.
They can be found in India's 32 elephant reserves, which are spread out over 65,270 square kilometres of wooded areas in northeast, central, northwest, and south India. Each reserve contains ten different elephant landscapes.
However, these reserve areas are not exclusively for elephants unless the elephant reserve is situated inside an already protected Reserve Forest or the Protected Area network.
In India, elephant reserves are not the only officially protected environments. Indian elephants are superb rovers and spend the majority of their day grazing.
They also leave a lot of faeces in their wake, which helps to germinate seeds spread out as they travel.
In addition to grasses and other plants, Indian elephants also eat a lot of tree bark, roots, leaves, and small branches. Indian elephants favour eating planted foods including rice, sugarcane, and bananas.
They always choose a route that is closer to a freshwater source because they need to drink at least once every day.
Asian Elephants vs African Elephants
Here is the explanation of Asian Elephants vs African Elephants
Asian Elephants
There are three subspecies of Asian elephants: the Indian, Sumatran, and Sri Lankan.
Global Population: Estimated 20,000 to 40,000.
The Indian subspecies have the widest range and account for the majority of the remaining elephants on the continent.
There are around 28,000 elephants in India with around 25% of them in Karnataka.
IUCN Red List Status: Endangered.
Wildlife (Protection) Act, 1972: Schedule I.
CITES status –  Appendix I.
African Elephants
There are two subspecies of African elephants, the Savanna (or bush) elephant, and the Forest elephant.
Global Population: Around 4,00,000.
IUCN Red List Status:
African Forest elephant: critically endangered
Savanna elephant: endangered
Earlier in July 2020, Botswana (Africa) witnessed the death of hundreds of elephants.
Difference between Asian and African elephants
Asian elephants are smaller than their African relatives, and they lack the huge, fan-like ears that the African type has.
While both male and female African elephants can acquire tusks, only some male Asian elephants do.
The savanna elephant and the forest elephant are two different types of elephants that may be found on the African continent, and they differ from one another in a number of ways.
Project Elephant
Project Elephant, an effort backed by the Central Government, was started in February 1992.
Under the Project Elephant strategy for the conservation and management of elephants, the government provides assistance to the states that have a population of wild elephants living in the wild.
It ensures the preservation of elephant corridors and habitats to ensure the survival of the elephant population in its natural state. The project aims to protect elephant migration routes and habitats to ensure the survival of the elephant population in the wild. Arunachal Pradesh, Assam, Andhra Pradesh, Chhattisgarh, Jharkhand, Kerala, Karnataka, Meghalaya, Maharashtra, Nagaland, Orissa, Tamil Nadu, Uttaranchal, Uttar Pradesh, and West Bengal are the 16 states or union territories that primarily adhere to this elephant conservation plan out of the 28 states or union territories in India.
The union government provides these states with the financial and technical support necessary to carry out and finish Project Elephant. Field supervisors receive training to prevent and minimise man-elephant conflict in addition to helping with the census.
The project has three main objectives: the preservation of the well-being of domesticated elephants through the protection of elephants, their habitats, and elephant corridors. minimising and avoiding conflict between people and elephants.
Also read: Wildlife Sanctuaries in India
National Heritage Animal
The Indian government selected the elephant as the country's national heritage animal in 2010 in accordance with the recommendations of the standing committee of the national board for wildlife. This was carried out to guarantee that elephants received proper protection prior to their numbers declining to alarming levels, as occurred to tigers. The Wildlife Protection Act of 1972 may need to be changed in order to establish a National Elephant Conservation Authority (NECA) that would be similar to the NTCA.
MIKE Program for Project Elephant
Following the adoption of a CITES resolution by the conference of parties, the Monitoring of Illegal Killing of Elephants (MIKE) programme was introduced in South Asia in 2003. The goal of MIKE was to deliver the knowledge required for the nations that make up the elephant range to manage their elephant populations effectively and long-term protect them. The objectives of the MIKE programme are to keep an eye on the levels and trends of illegal poaching and make sure that the strategies for conserving elephants change. to determine the reasons behind these changes and to assess how the CITES conference affected parties' choices.
Elephant Task Force
In a similar way to how the Tiger Task Force was established, the government created the Elephant Task Force in reaction to the mounting unrest brought on by the practice of murdering elephants as retaliation and the conflict between humans and elephants. The principal goal of the Elephant Task Force was to offer practical solutions for the long-term protection of elephants. In India, there are between 25,000 and 29, 000 wild elephants. However, India's tuskers (male) elephant population is barely around 1200, making them just as vulnerable as tigers. Threats to Asian elephants include poaching for ivory, habitat loss, and human-elephant conflicts
This problem is particularly serious in India, which is home to nearly 50% of all Asian elephants in the world. Since Project Elephant was able to keep the elephant population in India at a steady and sustainable level, many conservationists view it as a success.
Project RE-HAB
In order to lessen conflict between people and elephants, the Karnataka state government has launched a pilot initiative called RE-HAB (Reducing Elephant-Human Attacks Using Bees) that involves placing bee boxes along the edge of the forest and in the communities.
These areas are situated on the outskirts of the well-known conflict zone known as Nagarahole National Park and Tiger Reserve.
It aims to use beehive "bee fences" to prevent elephant attacks on human settlements.
The Khadi and Village Industries Commission is the organisation behind the scheme (KVIC).
It is a part of the National Honey Mission of KVIC.
Haathi Mere Saathi
The Ministry of Environment and Forest (MoEF) launched the campaign Haathi Mere Saathi in collaboration with the Wildlife Trust of India (WTI). At the 2011 "Elephant- 8" Ministerial meeting held in Delhi, the campaign was introduced.
India, Botswana, the Republic of the Congo, Indonesia, Kenya, Sri Lanka, Tanzania, and Thailand make up the E-8 nations.
This public campaign aims to raise awareness among the populace and foster compassion and friendship between people and elephants.
Elephant Corridor
A tract of land, whether it be forested or not, that connects bigger habitats with elephant populations and functions as a passageway for wildlife migration between the habitats is referred to as a "elephant corridor."
Increased species survival and birth rates are a result of this trend.
In India, 88 elephant pathways have been discovered.
There are 88 corridors in all, with 20 in the south, 12 in the northwest, 20 in the centre, 14 in northern West Bengal, and 22 in the northeast of the country.
Threats to Elephant Corridor
Habitat loss resulting in habitat fragmentation and destruction is a result of development activities like building new homes, roads, trains, and resorts and installing solar-powered electric fencing, among other things.
The two "single largest dangers" to elephant routes in central India are coal mining and iron ore mining.
The mineral-rich states of Orissa, Jharkhand, and Chhattisgarh also have the most elephant corridors in the nation, which makes them notorious for elephant-man clashes.
Due to the high value of elephant ivory from the tusks, there is also a significant poaching issue.
Elephants require large grazing areas, which are not available in most reserves. If the size of the protected areas is insufficient, elephants may look for food elsewhere. Conflicts with people happen frequently as a result of elephant raiding.
Conclusion
Measures are taken to reduce the number of wild elephant deaths by educating the local inhabitants. The Ministry of Environment and Forests of India established the Elephant Task Force, which delivered its report, titled "Gajah," to the Ministry in 2010. The National Elephant Conservation Authority (NECA) is now being created, in accordance with one of the Elephant Task Force's recommendations. To prevent the deaths of elephants by speeding trains, the Ministries of Environment Forests and Climate Change (MoEF&CC) and the Ministry of Railways have jointly issued recommendations to all the affected states.
Article Written By: Atheena Fathima Riyas