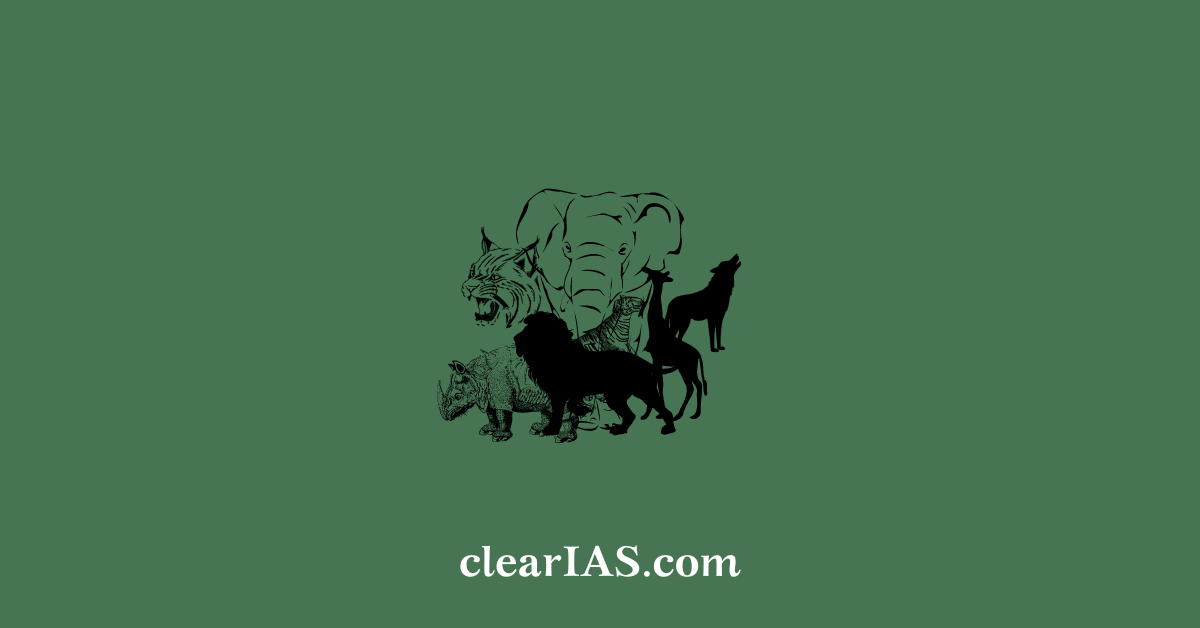 What are Wildlife Sanctuaries in India? What are the provisions for Wildlife Sanctuary? What is the importance of Wildlife Sanctuaries? State-wise list of Wildlife Sanctuaries of India. Read further to know more.
A wildlife sanctuary is a location where the habitats and surroundings of animals are protected from any type of disturbance.
Poaching, killing, and trapping of animals are openly prohibited in several places. They wish to provide the animals with a peaceful existence. India is home to lovely animal sanctuaries as well as tall, breathtaking mountains, large rivers, and dense forests. Only a few people from India are named in this.
What is a Wildlife Sanctuary?
Regions with enough ecology, biological variety, species diversity, geological value, morphological value, biological value, and zoological worth are considered wildlife sanctuaries.
These areas are used to protect, reproduce, or expand wildlife. Territorial waters and areas included in forest reserves are exempt from this rule.
It is a secure environment for animals with the primary objective of giving the animals a healthy life with ease because they are such an important component of our ecosystem.
Numerous wildlife sanctuaries are home to massive mountains, thickly forested areas, and lengthy rivers that provide animals with water.
The Sanctuary was created to conserve, enhance, or develop wildlife or its surroundings. People who reside in the Sanctuary may be awarded specific rights.
What are Wildlife Sanctuaries in India?
Geographically speaking, a wildlife sanctuary is a protected region where wildlife is safeguarded (preserved). Its objective is to safeguard various animal species from poaching, competition, hunting, and other threats.
The State Government may designate some areas as wildlife sanctuaries under the Wild Life (Protection) Act of 1972 if they are thought to be of significant ecological, geomorphological, and natural value.
IUCN Category IV protected areas, India's wildlife sanctuaries cover 122564.86 km2 or 3.73% of the country's total land area. There are 567 wildlife sanctuaries in the country.
India's wildlife sanctuaries enjoy a special position in the globe thanks to the country's second-largest biodiversity base. Numerous endangered animals and bird species can be found living in these serene wildlife areas.
The Collector may also permit the continuation of any person's entitlement to any land within the Sanctuary while the resolution of claims before officially notifying the Sanctuary after consulting with the Chief Wildlife Warden.
Manas National Park or Manas Wildlife Sanctuary in Assam, India, is the first sanctuary or national park to be established in the country. It serves as a national park, UNESCO Natural World Heritage site, Project Tiger reserve, elephant reserve, and biosphere reserve all in one.
The largest wildlife sanctuary in India is the Ranthambore National Park, which is situated in the state of Rajasthan. It serves as a tiger national reserve.
The smallest wildlife preserve in the world is called the "Bor Tiger reserve." It was founded in 1970 in Maharashtra. The Bor Tiger Reserve Sanctuary is spread out over a total area of 121.1 km2.
Provisions for Wildlife Sanctuary
There are some provisions concerning Wildlife sanctuaries in India as per the Wildlife (Protection) Act of 1972.
Declaration by the State Government
If the State Government determines that a particular area has sufficient ecological, faunal, floral, geomorphological, natural, or zoological significance for conserving, enhancing, or developing wildlife or its environment, it may notify the public of its intention to create a sanctuary there.
The State Government may issue a notification detailing the borders of the sanctuary and stating that the indicated region shall be a sanctuary as of the date mentioned in the notification after the original notification has been issued and the deadline for filing claims has passed.
Declaration by Central Government
If the Central Government determines that a particular region has sufficient ecological, faunal, floral, geomorphological, natural, or zoological significance to preserve, develop, or propagate wildlife or its habitat, it may notify the public that the place is a sanctuary.
Boundaries of the Wildlife Sanctuary
The notification must be as specific as feasible in describing the issue and the area's borders.
When territorial waters are involved, the limits must be decided in conjunction with the Chief Naval Hydrographer of the Central Government after sufficient steps have been made to safeguard the professional interests of nearby fishermen.
A sanctuary's limits cannot be altered without the National Board for Wild Life's approval.
Territorial seas in regions designated as sanctuaries for the preservation of offshore marine flora and fauna were included in the Amendment Act of 1991.
Settlement of Rights
The State Government shall make alternate arrangements for making fuel, fodder, and other forest produce available to persons affected by their rights.
According to the Act, the State Government chooses an individual to serve as a "Collector," who is tasked with investigating and establishing the existence, nature, and scope of any person's rights in or over the land included in the sanctuary that needs to be notified.
After the issuing of a notice for the declaration of the Protected Area, no right may be acquired in, on, or over the land included within the boundaries of the area designated in such notification, except through succession, testamentary or intestate.
Claim of Rights
The Collector must issue an order admitting or rejecting the claim in full or in part if there is a claim to a right in or over any of the aforementioned lands.
If such a claim is partially or fully accepted, the Collector has two options:

Exclude such land from the proposed sanctuary's boundaries or proceed to acquire such land or rights unless such owner or holder has agreed to surrender his rights in or over such land to the Government in exchange for such compensation as provided in the Land Acquisition Act, 1894, under an agreement between such owner or holder and the Government.
Enable the continuation of any person's right to any land inside the bounds of the sanctuary after consulting with the Chief Wild Life Warden.
Entry into a Protected Area
No one else except:

A public servant on the job
A person who has been granted permission to reside within the boundaries of the sanctuary by the Chief Wild Life Warden or an authorised officer.
A person who has any right to immovable property within the sanctuary's boundaries.
A person travelling on a public highway through the sanctuary.
The dependents of the person referred to in clauses (a), (b), or (c) above

Except as provided under and by the terms of the permission issued, no one is allowed to enter or live in the sanctuary.
Grant of Permit for Entry
The Chief Wild Life Warden may, upon request, authorise any individual to visit or stay in a sanctuary for all or all of the following purposes:

investigation or study of wildlife and related purposes
photography
scientific research
tourism
transaction of lawful business with any person residing in the sanctuary

All Protected Areas are under the direction, management, and maintenance of the Chief Wild Life Warden.
On issues relating to activity limits in certain regions, as well as on the creation and management of sanctuaries, the National Board for Wild Life may offer recommendations.
On the creation and administration of protected areas, the State Board for Wild Life shall provide advice to the State Government.
Importance of Wildlife Sanctuaries
Because they provide numerous benefits for both people and nature, sanctuaries serve as a natural resource that must be protected at all costs.
Help Preserve Wildlife
Since it takes time and money to relocate endangered species, they are preserved in their native habitat where they can be watched over, reproduce, and increase in population while still being under the close supervision of the sanctuary.
Biologists and other researchers can learn more about the traits and behaviours of the animals by visiting these sanctuaries.
Furthermore, because they are in their native environment, they are unrestricted in their movement and are free to roam.
Help with Landscape Protection
Forests are going extinct. Previously, we could only see trees in our immediate surroundings; currently, we only saw buildings. To create space for settlements, cities, and villages, these forests were removed.
The forests in these protected regions, however, are conserved and allowed to grow naturally rather than being cut down.
Additionally, this helps to preserve natural features like rivers, valleys, waterfalls, hills, and mountains.
Due to protection, they are shielded from exploitation, development, and pollution.
Contribute to the Preservation of Culture and History
Some tribes that have lived there for millennia also call the woodlands that these sanctuaries occupy home. Additionally, tribes that live in woods, like the Saara adivasis in Odisha, support the preservation of those forests.
Because they do not have to contend with developers who would otherwise destroy the forest, the tribes that reside in these sanctuaries are likewise protected. Additionally, this helps to preserve their customs and culture.
Endangered Species Protection
Many plant and animal species are on the edge of extinction as a result of our habits and wants.
Sanctuaries offer us a secure setting wherever human activities can not negatively impact nature and wherein nature can develop unhindered by humans.
Biodiversity Conservation
The number of habitats, ecosystems, and species diversity on Earth has been declining as a result of human activity.
Sanctuaries protect an area from humans and their activities that could damage the ecology, assisting in the conservation of all biodiversity there.
In-situ conservation, which maintains the ecosystem in its original state and configuration, is another term for this sort of conservation.
Ecotourism
Ecotourism is the practice of visiting environmentally significant locations with the goal of observing and contributing to the protection of animals.
Animals can be viewed by the general public in their natural habitat, cage-free, with their young, and without concern about their safety.
One of the main benefits of ecotourism is that admission fees can be utilised to raise money for conservation efforts. The refuge can then be developed using this money.
Education and Public Use
The benefits of sanctuaries are not commonly known to the general public.
But more and more individuals are learning about sanctuaries and joining the committees that support their implementation.
Celebrities who adopt animals and start charities in support of sanctuaries both in India and throughout the world also help to spread awareness.
Steps Taken for the Protection of Wildlife Sanctuaries
To save plant and animal species, the government created the  Wildlife Protection Act in 1972.
This law forbade the killing of animals for sport and prevented the legal preservation of their habitats.
The federal and state governments have created numerous wildlife sanctuaries and national parks to conserve forests and wildlife.
The government has started a variety of initiatives to protect threatened animals including the one-horned rhino and the tiger.
A collaborative management scheme has been implemented by the government. Local communities have been involved in forest management as a result.
To safeguard India's wetlands, the Wetland (Conservation and Management) 2010 Rules have been suggested. The initiative was started by the federal government to protect the aquatic ecosystem, which aids various states in protecting wetlands.
The creation of the Wildlife Crime Control Bureau was another key action taken by the Indian government to combat the illicit traffic of animal skins and organs on a global scale.
The Ministry of Environment, Forests, and Climate Change founded India's Wildlife Institute in 1982. With specialisations in Biodiversity, Wildlife Management, Eco-development, and Wildlife Forensics, to name a few, the institute is significant for wildlife research.
The 1883-founded Bombay Natural History Society is still actively engaged in the study of and preservation of wildlife.
An ornithological centre in Tamil Nadu with the same name as Dr Salim Ali carries out in-depth studies on bird habitats and migration.
Indian state governments have emphasised the value of bolstering field formations and patrolling the perimeter of animal preservation areas.
The National Tiger Conservation Authority was set up in December 2005 to revitalise the Tiger project in India and protect the species' declining population as well as its ecosystem.
State-wise list of Wildlife Sanctuaries of India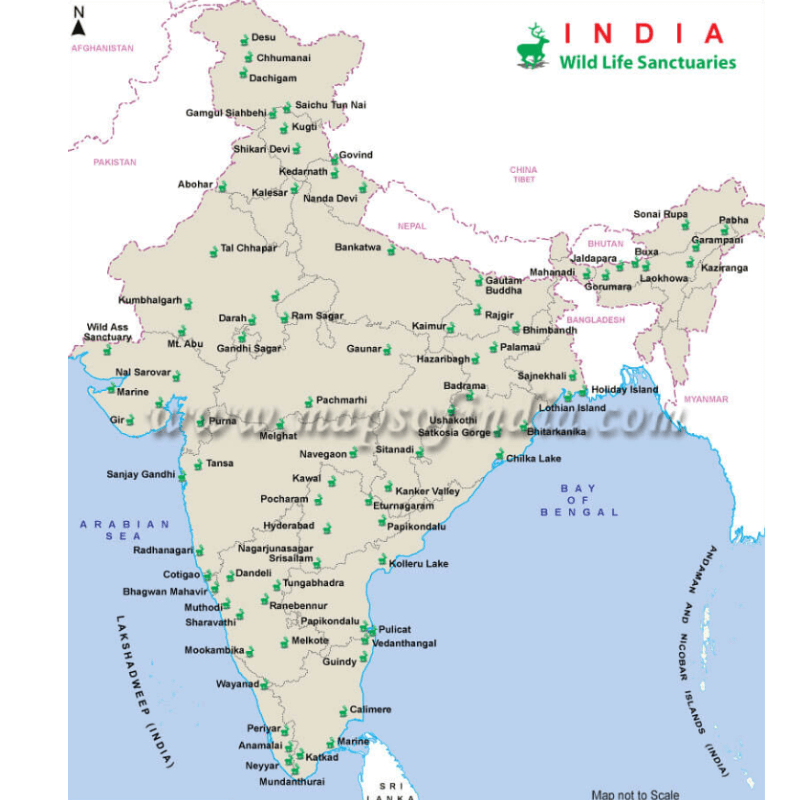 Here's the complete list of Wildlife Sanctuaries in India.
S No.
States
Wildlife Sanctuaries
1.
Assam
Nambour WLS
Dihing Patkai WLS
East Karbi Anglong WLS
Chakrashila WLS
Amchang WLS
2.
Bihar
Kaimur WLS
Gautam Budha WLS
Pant (Rajgir) WLS
Valmiki WLS
3.
Chhatisgarh
Bhairamgarh WLS
Badalkhol WLS
Bhoramdev WLS
Udanti Wild Buffalo WLS
4.
Goa
Bondla WLS
Madei WLS
5.
Gujarat
Kutch Desert WLS
Porbandar Lake WLS
Jambugodha WLS
Wild Ass WLS
Ratanmahal WLS
Thol Lake WLS
Sasan Gir Sanctuary
Mitiyala WLS
6.
Haryana
Bhindawas WLS
N Khaparwas WLS
Kalesar WLS
7.
Himachal Pradesh
Bandli WLS
Daranghati WLS
Dhauladhar WLS
Talra WLS
Pong Dam Lake WLS
Nargu WLS
9.
Jharkhand
Lawalong WLS
Parasnath WLS
Palkot WLS
10.
Karnataka
Someshwara WLS
Bhadra WLS
Bhimgad WLS
Brahmagiri WLS
Cauvery WLS
Pushpagiri WLS
Sharavathi Valley WLS
11.
Kerala
Periyar Wildlife Sanctuary
Chinnar Wildlife Sanctuary
Aralam WLS
Chimmony WLS
Idukki WLS
Malabar WLS
12.
Madhya Pradesh
Bori WLS
Gandhi Sagar WLS
Ken Gharial WLS
National Chambal WLS
Orcha WLS
13.
Maharashtra
Koyana WLS
Painganga WLS
Bhimashankar WLS
Tungareshwar WLS
Great Indian Bustard WLS
14.
Manipur
Yangoupokpi-Lokchao WLS
15.
Meghalaya
—
16.
Mizoram
Dampa WLS (TR)
Ngengpui WLS
Baghmara Pitcher Plant WLS
17.
Nagaland
Fakim WLS
Rangapahar WLS
18.
Odisha
Baisipalli WLS
Chilika (Nalaban) WLS
Hadgarh WLS
Satkosia Gorge WLS
19.
Punjab
Abohar WLS
Harike Lake WLS
Jhajjar Bacholi WLS
20.
Rajasthan
Keoladeo Bird Sanctuary
Jawahar Sagar WLS
Mount Abu WLS
Ramsagar WLS
Shergarh WLS
21.
Sikkim
Fambong Lho WLS
Kitam WLS (Bird)
Maenam WLS
22.
Tamil Nadu
Indira Gandhi (Annamalai) WLS
Karaivetti WLS
Pulicat Lake WLS
Vedanthangal WLS
Kalakad WLS
23.
Tripura
Gumti WLS
Rowa WLS
Trishna WLS
24.
Uttarakhand
Askot Musk Deer WLS
Binsar WLS
Govind Pashu Vihar WLS
Kedarnath WLS
Sonanadi WLS
25.
Uttar Pradesh
Hastinapur WLS
Ranipur WLS
Sohagibarwa WLS
Sur Sarovar WLS
Chandraprabha WLS
National Chambal WLS
26.
West Bengal
Sunderbans Wildlife Sanctuary
Chintamani Kar Bird SanctuaryHoliday
y Island WLS
Ballavpur WLS
Lothian Island WLS
Mahananda WLS
Here's a complete list of Wildlife Sanctuaries in the Union Territories of India.
S No.
UTs
Wildlife Sanctuary
1.
Andaman and Nicobar Islands
Bamboo Island WLS
Barren Island WLS
Chanel Island WLS
Peacock Island WLS
Turtle Islands WLS
2.
Jammu & Kashmir
Gulmarg WLS
Limber WLS
Nandini WLS
3.
Lakshadweep
Pitti WLS (Bird)
4.
Dadra Nagar Haveli and Daman and Diu
Dadra & Nagar Haveli WLS
Fudam WLS
Conclusion
Because they provide numerous benefits for both people and nature, sanctuaries serve as a natural resource that must be protected at all costs.
The sanctuaries are crucial for the survival of the animals because they act as a means of protection for both the animals and humans from one another. Wild animals can be dangerous to people if they are not kept at a safe distance because no one can easily control them, and human activity poses a serious threat to the habitat of wildlife.
More people should be informed about the existence of sanctuaries in India so they can appreciate their significance.
Previous Year UPSC Question on Wildlife Sanctuaries in India
1. Take a look at the following pairs
Dampa Tiger reserve Mizoram
Gumti wildlife sanctuary Sikkim
Saramathi peak Nagaland
Which of the above combinations is correct? (2014)
1 only
Two and three only
1 and 3 only
1, 2 and 3
Answer: (D) 1, 2 and 3
Article written by Aseem Muhammed