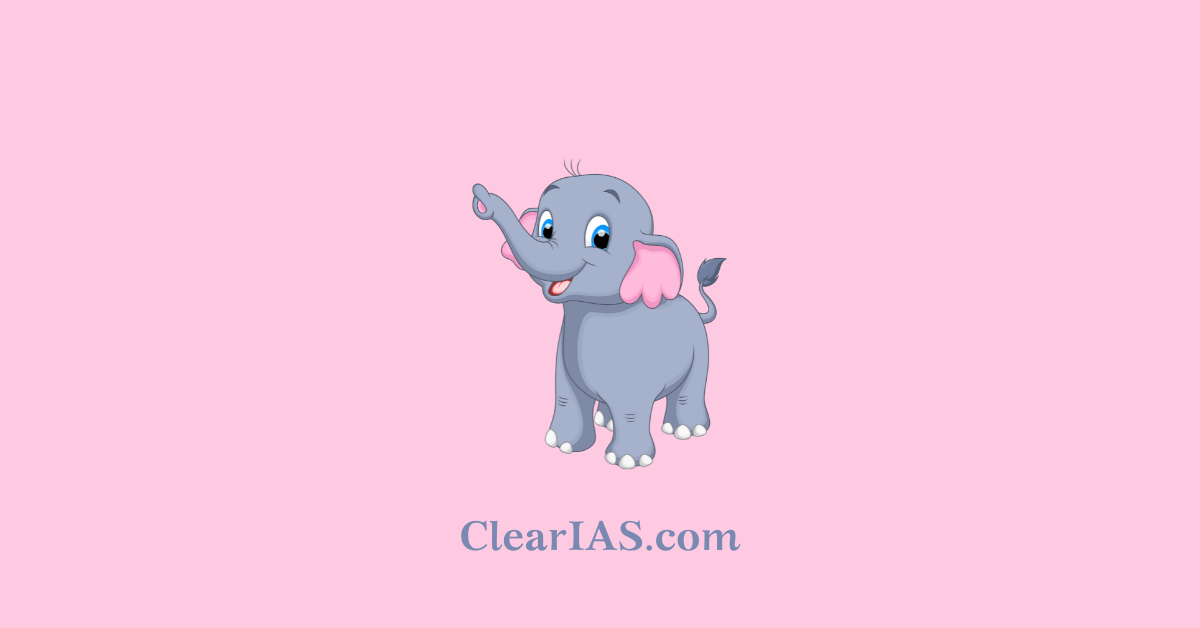 The Government of India's Ministry of Environment and Forests launched Project Elephant in February 1992.
It is a Central Sponsored Scheme, to offer financial and technical assistance to states' attempts to manage their free-ranging populations of wild Asian elephants.
World Elephant Day 2022 was celebrated on 12 August at Periyar, Kerala, where the Union Minister released "Elephant Reserves of India: An Atlas", "Elephant Reserves of India: Land Use Land Cover Classification", "Caring for elephants: Managing health and welfare in captivity" and the Special edition of "Trumpet".
Elephas maximus, the Indian elephant, can be found in portions of northern, eastern, and southern India as well as the central and southern Western Ghats. It is listed in Appendix I of the Convention on International Trade in Endangered Species (CITES) of Flora and Fauna and Schedule I of the Indian Wildlife (Protection) Act 1972.
About Project Elephant
The Government of India introduced Project Elephant in 1992 as a Centrally Sponsored Scheme with the following goals:
To safeguard elephants, their habitat, and migration routes
2. To address problems of animal-human conflict
3. Elephant welfare in captivity
The Project is primarily being carried out in 16 States / UTs. Major elephant range states in the country receive financial and technical assistance through Project Elephant from the Ministry of Environment, Forests, and Climate Change.
Status of Elephants in India
India has the largest and the most stable population of Asian elephants. In fact, India is home to more than 60% of all wild Asian elephants. The number of 29,964 elephants were registered in the most recent elephant census, which was conducted in 2017.
31 elephant reserves exist in India. Dandeli Elephant Reserve of Karnataka, Singphan Elephant Reserve of Nagaland, and Lemru Elephant Reserve of Chattishgarh have been established in the past three years by respective states.
As a result, there is now around 76,508 sq km of elephant reserves spread throughout 14 states in India.
As per Elephant Census conducted in 2017, Karnataka has the highest number of elephants (6,049), followed by Assam (5,719) and Kerala (3,054), respectively.
About Asian Elephants
Three subspecies of Asian elephants are found which are the Indian, Sumatran, and Sri Lankan.
The largest terrestrial mammal on the Asian continent is the Asian elephant. They live in grasslands and forests ranging from dry to wet in 13 range countries across South and Southeast Asia.
Elephant herd sizes in Asia are far smaller than those of African savannah elephants.
The largest and oldest female elephant herd member is in charge (known as the matriarch) of the herd.
Elephants' gestation (pregnancy) period, which can last up to 680 days (22 months), is the longest known gestational period among any mammals.
Females between the ages of 14 and 45 may give birth to calves every four years on average, increasing to five years by age 52 and six years by age 60.
Elephants have always been closely associated with humans throughout Asia, where they have evolved into significant cultural symbols.
Protection Status of Asian Elephants
IUCN Red List: Endangered.
Wildlife (Protection) Act, 1972: Schedule I.
CITES: Appendix I
Threats to Elephants
Tropical Asia's steadily increasing human population has encroached onto the elephant's once-vast but now-shrinking forest habitat. The Asian elephant's current range is home to about 20% of the world's population.
The biggest threats to Asian elephants include habitat loss, fragmentation, and degradation, unlawful killing (for example, in revenge for human-elephant conflicts or to obtain their ivory and other products), mistreatment in captivity, Rampant mining and Corridor destruction, genetic viability loss brought on by small populations, and isolation.
Habitat Loss
Due to human population growth, the habitat of Asian elephants is rapidly decreasing, and wild elephant populations are typically small, isolated, and unable to coexist since human settlements have cut off their traditional migration routes.
Fragmentation
What was previously a continuous elephant habitat has been broken up into small sections by large construction projects (such as dams, roads, mines, and industrial complexes), plantations, and expanding human settlements.
Unlawful Killing
Elephant incursions on farms and villages are becoming more frequent. Human lives and even physical goods are lost as a result of this. These elephants are frequently killed in retaliation by the locals.
Although capture has been outlawed in India, Vietnam, and Myanmar in order to protect their natural herds, elephants are nonetheless killed annually in Myanmar for the illegal wildlife trade.
Poaching
Since only male Asian elephants have tusks, only males are targeted for poaching. The proportion of males without tusks in the population may rise as a result of the selective removal of tuskers for their ivory.
Goal of Project Elephant
Need of the hour is to-
Protect elephants and their habitat.
Reduce human-elephant conflict.
Promote elephant-friendly policies.
Monitor elephant numbers, population trends, and threats to elephants and their habitat.
Build capacity in range States.
Conduct research on elephants to help inform conservation strategies.
Steps Taken for Elephant Conservation
To effectively manage the elephant population, the infrastructure needed to be improved in elephant reserves.
To conserve elephants, anti-depredation teams, anti-poaching teams, and trekkers are employed.
Barricading and fencing to avoid human-animal conflict in required areas are promoted.
Gaj Yatra, a national awareness program to honor elephants, emphasizes the importance of protecting elephant corridors.
Solar fences, trenches, and stonewalling are being installed in depredation-prone areas to reduce the threat of elephants to human habitations.
In order to assess the success of field conservation activities, the Monitoring the Illicit Killing of Elephants (MIKE) program, which was established in 2003, examines trends in information about the illegal killing of elephants from across Africa and Asia.
Research on a range of topics, including human-animal conflict and elephant habitat carrying capacity, is encouraged.
Measures are taken to reduce the number of wild elephant deaths by educating the local inhabitants.
The Ministry of Environment and Forests of India established the Elephant Task Force, which delivered its report, titled "Gajah," to the Ministry in 2010.
The National Elephant Conservation Authority (NECA) is now being created, in accordance with one of the Elephant Task Force's recommendations.
To prevent the deaths of elephants by speeding trains, the Ministries of Environment Forests and Climate Change (MoEF&CC) and the Ministry of Railways have jointly issued recommendations to all the affected states.
Previous Years Question
With reference to Indian elephants, consider the following statements: (2020)
The leader of an elephant group is a female.
The maximum gestation period can be 22 months.
An elephant can normally go on calving till the age of 40 years only.
Among the States in India, the highest elephant population is in Kerala.
Which of the statements given above is/are correct?
(a) 1 and 2 only
(b) 2 and 4 only
(c) 3 only
(d) 1, 3, and 4 only
Ans: (a)
Article Written By: Priti Raj