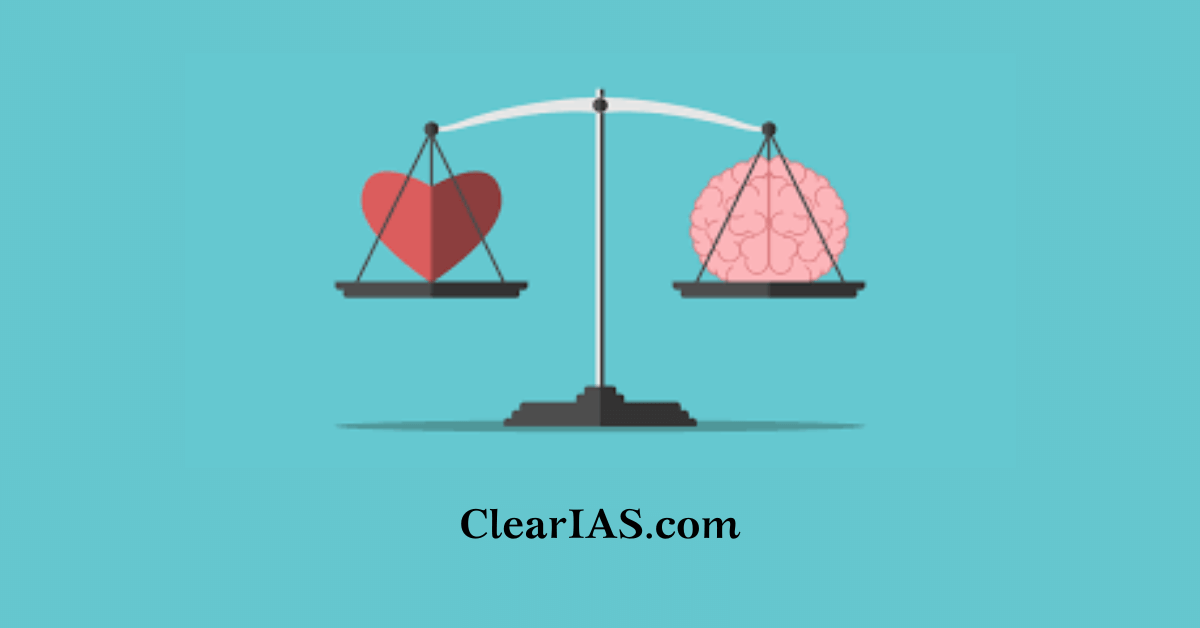 What are the utilities and applications of emotional intelligence in administration and governance? How can emotional intelligence be developed? Read further to know more.
Our capacity to experience emotions is one of the most significant and essential features of the human experience. Without it, our existence would have been one-dimensional and not nearly as full of life.
Emotional intelligence (EI) plays a crucial role in administration and governance, contributing to effective leadership, decision-making, and interpersonal relationships.
Emotional intelligence refers to the ability to recognize, understand, manage, and utilize one's own emotions and the emotions of others.
What is Emotional Intelligence?
Emotional intelligence is about the emotions of humans which should be regulated so that there is socially desirable behaviour.
Formally, it is about knowing one's own emotions, understanding others' emotions, and behaving in a socially desirable way by regulating emotions.
It is about emotional, social, and behavioral competency that a person is behaviourally competent in different social conditions.
 According to a study, those who consistently outperform their peers are the most successful and have more of the qualities associated with emotional intelligence.
Emotional intelligence is an important tool for administrators and managers in the public sector or any organization.
Application of Emotional Intelligence in Administration and Governance
Application of Emotional Intelligence in Administration and Governance dealing with multiple officers is exceptionally intelligent, cognitively smart, and intellectual. They are exceptional at math, science, and computers.
However, they struggle to form social connections. Many of them react to the outer world in a hostile and brutal manner. That affects the growth of their organization.
The need for emotional intelligence is made clear in this circumstance.
High emotional intelligence individuals are aware of how to listen to their emotions and manage their intensity to avoid being affected by others.
They know how to keep troublesome emotions in check.
They have the sense to use their strengths and compensate for their weaknesses. 
In order to effectively manage their relationships, administrators must overcome a number of obstacles. The following are areas where the application of emotional intelligence in administration and governance:
Administration and citizen interface
When providing public services ensure impartiality, effectiveness, compassion, and citizen friendliness, as well as involvement and association with the people.
Civil employees must be emotionally, socially, and ethically competent in addition to upholding their duty, responsibility, and commitment in accordance with conduct regulations.
for instance, In any welfare program, providing preference to women, senior citizens, and those with disabilities would provide administrative justice and good governance.
In order to construct an Education City in the Dantewada area of Chattisgarh, former IAS official Shri O P Chaudhary had to gain the trust of the local tribes is an example of how emotional intelligence works in public governance.
Solving societal problems
While addressing issues of a diverse society like casteism, communalism, regionalism, etc., it is necessary to exhibit leadership, creativity, and responsible behavior.
When handling circumstances like riots, maintaining law and order, using the criminal justice system, implementing jail reforms, etc., humanism, compassion, and rational decision-making should be prioritized.
As Inspector General of the Tihar jail, Rtd. IPS Ms. Kiran Bedi sought to transform the facility into a model jail where inmates acquire new life skills and eventually integrate into society.
Intra-organisation relations
Adopt appropriate behavior with both superiors and subordinates.
While handling transfers, promotions, prizes, and recognitions with due attention to merit and technical ability, taking into consideration the sincere concerns of the personnel.
For example, ISRO is known for more than just its technical ability; it is also a change- and outcome-driven organization that is regarded as the pride of the country.
It is also renowned for providing a welcoming workplace for pregnant female employees.
Better Decision-making
Administrators often face complex and emotionally charged decisions. Those with high emotional intelligence can navigate these situations more effectively. They are better able to consider the emotional impact of decisions on individuals and communities, leading to more informed and empathetic choices.
Emotional intelligence aids in identifying emotions that are unconnected to any particular issue and preventing them from having an impact on the outcome.
Therefore, where there are conflicts of interest, EI promotes neutrality and impartiality.
Execution of Policies
To better focus policies, bureaucrats must be aware of the motivations, emotions, and behaviors of the people that the government is trying to influence.
This will help them understand the nature of societal issues and how to approach finding solutions.
Motivating Subordinates
Emotional intelligence enables a person to understand other people's feelings, which enables an emotionally intelligent public servant to inspire subordinates to work toward a certain objective.
Emotional intelligence is crucial for building and leading effective teams. Leaders who understand the strengths, weaknesses, and dynamics of their team members can create an environment that promotes collaboration, innovation, and productivity.
Better Communication
Effective communication is a cornerstone of administration and governance. Leaders with high emotional intelligence are skilled communicators who can articulate their ideas clearly, listen actively to others, and adapt their communication styles to different audiences. This enhances transparency and fosters positive relationships with stakeholders.
The individual will be able to promote positive interactions with subordinates and can also implement policies in a better way.
When one is emotionally straightened out, empathy and integrity take precedence above personal prejudices.
Stress Management
Emotional intelligence enables one to control emotions in situations that trigger stress and so helps in maintaining one's physical and mental well-being.
In the realm of governance, conflicts can arise at various levels. Emotional intelligence is essential for effective conflict resolution. Leaders with high EI can understand the underlying emotions driving conflicts, manage their own emotions, and facilitate constructive dialogue to find mutually beneficial solutions.
Promotes Leadership Skills
Emotional intelligence is a key factor in effective leadership. Administrators and government officials with high emotional intelligence can inspire and motivate others, build trust, and create a positive work culture. They are adept at understanding the needs and concerns of their team members, fostering a sense of collaboration and commitment.
Emotional intelligent people have a high level of self-awareness. It covers the capacity to detect emotions and the impact they have on the performance of a public servant and their team, in addition to the capacity to analyze one's own strengths and shortcomings.
Effective leadership basically correlated with the ability of leaders to establish confidence among employees, respect, and intelligently build relationships with the employees
Build Trust with People
Developing trust with others requires the ability to sympathize with and listen to their emotions.
People with emotional intelligence behave morally and establish confidence by being trustworthy and reliable.
The public's perception of government and its leaders is influenced by their emotional intelligence. Leaders who demonstrate empathy, authenticity, and a genuine concern for the well-being of their constituents are more likely to build trust and credibility.
Better Governance
People are the focus of all public service. Relations are the foundation of governance. Public administration is government to the extent that it reflects the thoughts and feelings of the populace.
EI promotes better connection development and better execution of government initiatives.
Balancing Public life and Personal life
EI assists in managing both personal and professional lives, which helps to preserve balance in life.
It also improves one's flexibility, empathy, and clarity of expression on a personal level.
Emotional Intelligence At Workplace
Emotional intelligence has been discovered to be helpful in both daily life and the workplace. 
The office environment is the ideal location for evaluating and enhancing employee competencies and emotional intelligence.
Utilities of emotional intelligence at the workplace:
Hiring talented and desirable candidates.

Performance evaluation.

Motivating coworkers and completing projects.

Business connections.

Upholding positive relationships with coworkers to foster a friendly workplace.

Conflict settlement and negotiation

Being aware of and responding to the needs of various stakeholders.

A constructive attitude and conduct at work.

Consistently feeling positive and joyful, leads to increased levels of satisfaction and well-being.

Strong dedication to the organization.

Better management of professional life and personal life.

Enhances the flexibility of the job
Administrators and government officials are often faced with ethical dilemmas. Emotional intelligence contributes to ethical decision-making by helping leaders recognize the moral implications of their choices, consider the impact on various stakeholders, and act with integrity.
How to Develop Emotional Intelligence
Feedback is an effective tool for promoting self-awareness since it helps the person learn how others view and react to their behaviors.
Yoga, mindfulness meditation, etc. Compassion, forgiveness, and improved interactions between Staff are all promoted in meditation.
Act in a way that you would like others to act toward you.
Through self-help books, training programs, and workshops, broaden your emotional vocabulary and understanding of emotional intelligence.
Develop empathy by attempting to see things from the perspective of others.
Try to always look at the positive side of things.

Self-talk and positive imagination.

Putting a positive perspective on a negative situation
Try to be conscious of your emotions, as well as the sentiments and physical sensations they generate in your body and mind. Recognize how it affects your thoughts and behavior. Additionally, make an effort to comprehend them using reason.
Participate in charitable events to be socially responsible. Donate to a charity or other deserving cause.
Conclusion
The field of administration and governance often involves navigating challenges, crises, and uncertainties. Leaders with emotional intelligence are more resilient in the face of adversity. They can manage stress, maintain focus, and inspire confidence in their teams during difficult times.
Officers in today's dynamic public administration must possess soft skills including innovation, leadership, and empathy. The only type of bureaucracy that can ensure effective government is one that is "pro-people, pro-active."
Therefore, employees in the public sector with emotional intelligence are aware of their obligations, responsibilities, and commitments.
Article Written By: Aryadevi E S