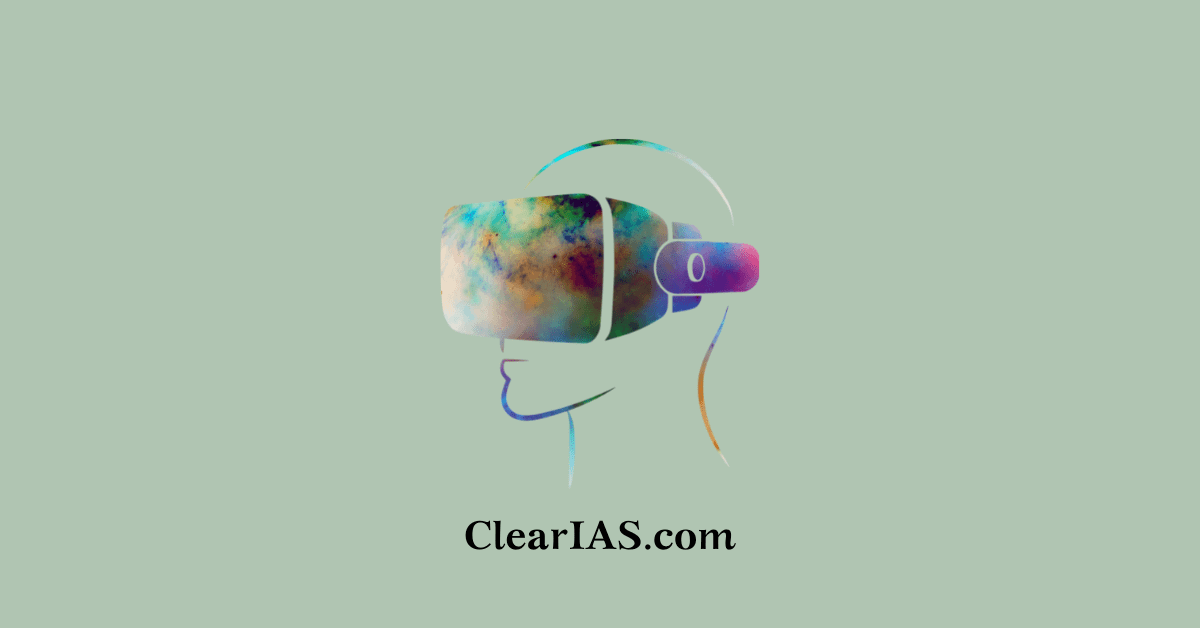 What do you understand by Extended Reality (XR)? What are the applications of XR? What are the challenges associated with XR? What is the Extended Reality Startup program?
Extended Reality (XR) is an umbrella term that encompasses various technologies that merge the physical and digital worlds to create immersive and interactive experiences.
It includes Virtual Reality (VR), Augmented Reality (AR), and Mixed Reality (MR).
XR has gained momentum in recent years, with many industries adopting it to enhance their operations, products, and services.
Subsets of Extended Reality
Important technologies that fall under extended reality are:
Virtual Reality (VR)
Virtual Reality (VR) is a subset of Extended Reality (XR) that involves creating a fully immersive, digital environment that replaces the physical world. VR uses a headset to block out the real world and replace it with a virtual one, providing users with a sense of presence and immersion in a new, artificial environment.
One of the primary advantages of VR is its ability to create realistic, immersive simulations of real-world environments and experiences. For example, medical students can use VR to practice surgical procedures in a safe, controlled environment, without risking the safety of real patients. Architects and designers can use VR to visualize and test new buildings or products before they are built, allowing them to make more informed decisions and avoid costly mistakes.
VR can also be used to create unique, immersive experiences that would be impossible to replicate in the real world. For example, VR can transport users to distant planets or undersea environments, or allow them to interact with fantastical creatures or characters.
Augmented Reality (AR)
Augmented Reality (AR) is another technology that falls under the umbrella of Extended Reality (XR). AR overlays digital information, such as images, videos, or 3D models, onto the real world, creating a composite view that enhances the user's perception of reality.
One of the primary advantages of AR is its ability to blend the digital and physical worlds in a way that feels natural and intuitive. AR can provide users with real-time, contextual information that is directly relevant to their current location or situation, such as providing directions or identifying points of interest.
Mixed Reality (MR)
Mixed Reality (MR) is another technology that falls under the Extended Reality (XR) umbrella. MR combines elements of both Virtual Reality (VR) and Augmented Reality (AR) to create a hybrid experience that blends the real world with virtual content.
In MR, virtual objects are placed into the real world in a way that allows users to interact with them as if they were physically present. This is achieved through the use of specialized hardware, such as Microsoft's HoloLens, which uses sensors and cameras to map the user's physical environment and overlay virtual content onto it.
Application of Extended Reality
Extended Reality (XR) has a wide range of potential applications across many industries and use cases. Here are some examples:
Gaming and Entertainment: XR is already being used extensively in the gaming and entertainment industries, allowing players to immerse themselves in virtual environments and interact with digital characters in new and exciting ways.
Education and Training: XR can be used to create immersive, interactive educational and training experiences, such as allowing medical students to practice surgical procedures in a safe, virtual environment or allowing construction workers to simulate dangerous scenarios in a controlled setting.
Retail and Marketing: XR can be used to create unique, interactive experiences for customers, such as allowing them to try on virtual clothing or see how furniture would look in their homes.
Healthcare: XR has many potential applications in healthcare, such as allowing doctors to visualize and plan surgical procedures or allowing patients to undergo virtual therapy sessions.
Industrial Design and Manufacturing: XR can be used to create virtual prototypes and simulate manufacturing processes, allowing designers and engineers to test and refine their designs before physical production.
Architecture and Real Estate: XR can be used to create interactive, 3D representations of buildings and environments, allowing architects and real estate agents to showcase their designs and properties in a more immersive way.
Tourism and Hospitality: XR can be used to create virtual tours of destinations or hotels, allowing potential guests to experience a location or accommodation before booking.
Challenges Associated with Extended Reality
Extended Reality (XR) is a relatively new technology, and as with any emerging technology, there are several challenges associated with its development, adoption, and use. Here are some of the main challenges associated with XR:
Hardware and Infrastructure: Specialized hardware and infrastructure are required for XR, which can be costly and limit accessibility.
User Experience and Interaction Design: A seamless and intuitive user experience is crucial for the success of XR, but creating effective and engaging experiences requires expertise in human-computer interaction and spatial design principles.
Content Creation and Distribution: Creating high-quality XR content is challenging and time-consuming, and there is a lack of standardized tools and workflows for creating and distributing XR content.
Privacy and Security: XR involves sensitive data about the user's physical environment and actions, so ensuring privacy and security is critical to prevent potential breaches and protect users.
Ethical and Social Implications: XR has the potential to transform various aspects of our lives, but raises ethical and social questions about the implications of creating hyper-realistic experiences and ensuring accessibility and equity for all.
Extended Reality (XR) startup Program
MeitY Startup Hub (MSH), an initiative of the Ministry of Electronics & Information Technology (MeitY), and Meta have launched an accelerator program to support and accelerate XR technology startups across India.
The XR Startup Program aims to shape the ecosystem for emerging technologies, including Augmented Reality (AR) and Virtual Reality (VR) in the country. The program will support 40 early-stage startups working in XR technologies with a grant of Rs 20 lakhs each.
Also, a Grand Challenge will encourage early-stage innovators in sectors like Education, Learning and Skills, Healthcare, Gaming and Entertainment, Agritech & Climate Action, and Tourism & Sustainability.
The initiative is aligned with the Digital India Programme launched in 2015, and aims to transform citizens' lives, governance & democracy, catalyze India's Digital economy & create significant capabilities in emerging technologies. The program is aimed at encouraging young Indian startups, especially from tier 2,3 cities, to shape the future of Technology and the internet for India and the world.
Way Forward
The future of Extended Reality (XR) looks promising, with the potential to transform many aspects of our lives. Here are some ways forward for XR:
Innovation and Investment: Continued innovation and investment in XR technology is critical for its development and adoption.
Standards and Best Practices: Developing standards and best practices for XR hardware, software, and content creation will be essential for ensuring interoperability, quality, and accessibility of XR experiences.
Collaboration and Community Building: Collaboration and community building will be key to advancing XR technology. Stakeholders should work together to share knowledge, tools, and best practices, and to address common challenges and opportunities.
User Education and Training: Educating users about the potential of XR and providing them with training to use XR technology effectively and safely will be critical for its widespread adoption.
Ethical and Social Considerations: As XR technology becomes more widespread, it will be important to consider its ethical and social implications. This includes issues around privacy, security, accessibility, and social impact.
Integration with Other Technologies: Integrating XR with other emerging technologies, such as artificial intelligence, robotics, and the Internet of Things, could open up new possibilities for XR and enable new use cases.