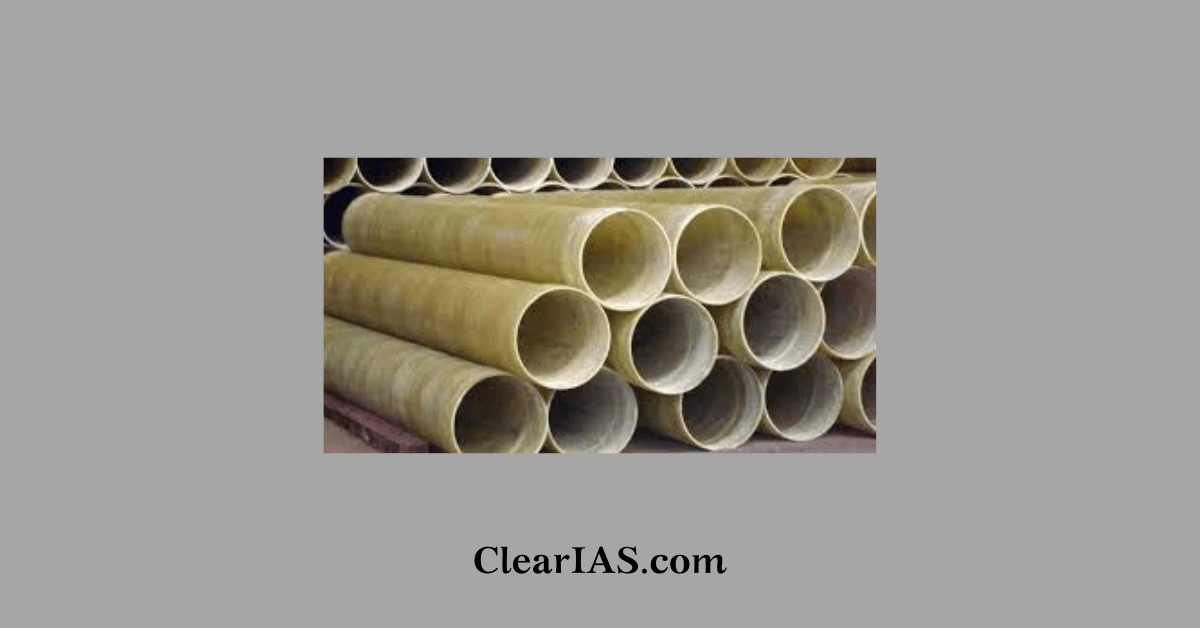 What is fibre-reinforced plastic (FRP)? What are the materials used as fibre and polymer in FRP? Read further to know more.
Fibre-reinforced plastic (FRP) (also known as a fibre-reinforced polymer) is a composite material made of a polymer matrix reinforced with fibres.
Composites are established as an alternative material system to traditional materials such as steel, wood, aluminium and concrete.
Bakelite was the first fibre-reinforced plastic.
Materials used as Fibre in FRP composites
Glass, carbon, basalt or aramid and at times fibres such as paper, wood or asbestos are also used.
Materials used as Polymers in FRP composites
The polymer used is usually an epoxy, vinylester or polyester thermosetting plastic or phenol formaldehyde resin.
Manufacturing of FRP Composite Material
FRP involves two distinct processes, the first is the process whereby the fibrous material is manufactured and formed, the second is the process whereby fibrous materials are bonded with the matrix during moulding.
The following procedures are used to create FRP composite material, depending on the type of component being created:
The process of pultrusion is used to create FRP composites with a regular and uniform shape, such as bars, beams, and rods. The fibres are pulled through a heated steel die to mould it into the required shape after being saturated with resin and drawn through.
Filament winding: This method is mostly used to make parts for tanks and pipes. To create the appropriate shape, long filaments of fibre that have been wet with resin are twisted around a mould.
Hand Lamination: Hand lamination is a low-cost technology used to create complex forms like the hull of a boat and an airplane's fuselage. Over a mould, the fibres are arranged in a fabric, which is then wet with resin.
Vacuum Infusion: Vacuum infusion is used to create FRP components that are incredibly light. To increase resin penetration into the fibre cloth, FRP components with resin and fibre are placed within vacuum bags.
Properties of FRP Composites
The fibre component of a FRP composite typically contributes the majority of the material's strength. The matrix's job is to contain the fibres and distribute forces among them. For instance, glass fibre, which often comes in the form of woven cloth or fibre mats, is stronger than steel for its weight. When mixed with epoxy resin, the resulting glass fibre composite is light, stiff, and robust.
The following are some of the most crucial characteristics of FRP composites:
exceptionally light
a strong tensile capacity
resistance to corrosion and water
Electrical conductivity resistance
Chemical compound resistance
enduring under UV
Applications of FRP in aviation and automobile industry
Fibre-reinforced plastics are best suited for any design program that demands weight savings, precision engineering, finite tolerances, and the simplification of parts in both production and operation.
A moulded polymer artefact is cheaper, faster, and easier to manufacture than cast aluminium or steel artefact, and maintains similar and sometimes better tolerances and material strengths.
UPSC Mains 2013 Question related to FRP
What is an FRP composite material? How are they manufactured? Discuss their applications in aviation and automobile industry: