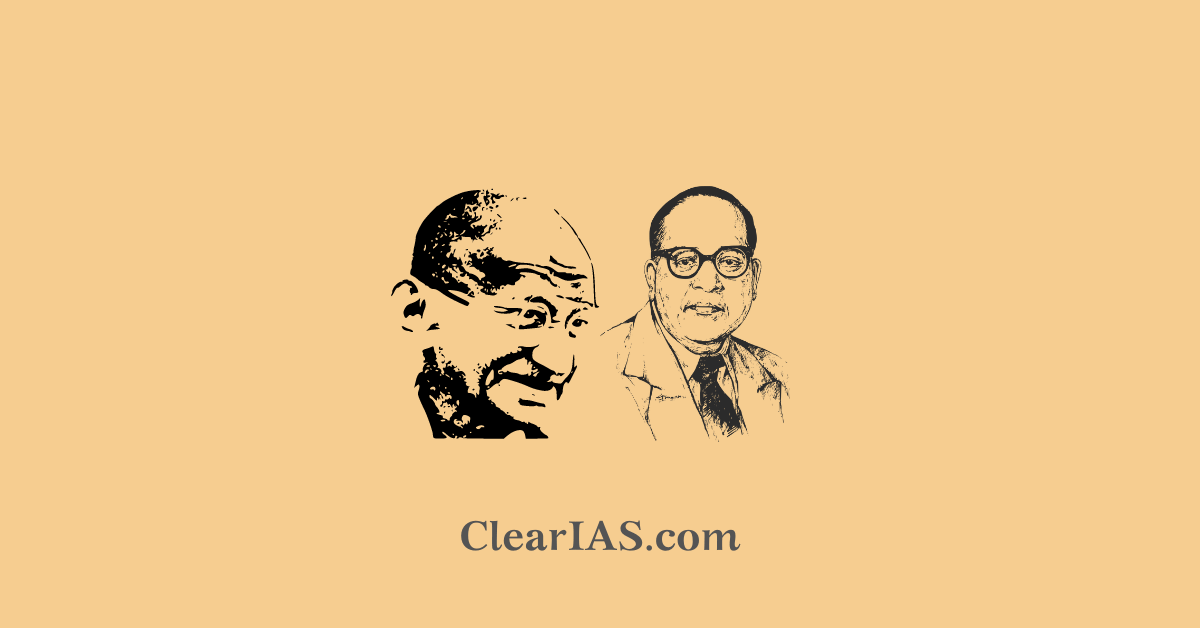 What are the ideological similarities and differences between Gandhi and Ambedkar?
Mohandas Karamchand Gandhi also known as the 'Father of the Nation', was the main architect of the Indian freedom struggle, and B.R. Ambedkar was the main architect of the Constitution of independent India.
Both leaders had played a prominent part in the making of India. Both of them had many concepts in common, despite having different convictions in many areas.
Ideological Differences between Gandhi and Ambedkar
Both Gandhi and Ambedkar believed in democracy as a method of government but their ideology differs on the nature and scope of democracy. As Ambedkar believed in the parliamentary form of government as a system for independent India. Whereas, Gandhi had little respect for the parliamentary form of government.
Because of his social activist nature, Ambedkar had very rigid principles whereas Gandhi had no rigidity to ideology except the uncompromising principle of non-violence.
Example: Ambedkar, in his early age also believed in reform and reconstruction of the evil practices that prevail in Hinduism but in the later phase, he left Hinduism, denounced it, and wanted to destroy it fully as he started believing that there is no scene of reform.
There is no doubt that Ambedkar was vocal for lower caste people and was not ready to compromise on their rights but Ambedkar's politics highlighted the aspect of Indian disunity, on the other hand, Gandhian politics was more inclined toward Indian unity.
Example: Under Communal Award 1932- a separate electorate provision for SC/STs in the state legislature and parliament was agreed by Ambedkar but Gandhi went on fast unto Death for this provision.
Gandhi always believed that even prior to imperial rule, India has always been a nation and it was the British who distorted the cultural unity of India. On the other hand, Ambedkar believed that this notion of Indian unity is a byproduct of Imperial rule over India which wasn't consciously done by the Britishers but their legal system, suppressive policies, white man's supremacy, oppression, and destruction had created a sense of unity and oneness among the people of India that helped them unite.
Gandhi believed in 'Ramraj' and 'Gramraj' as the real independence for India. But for Ambedkar, untouchability, casteism, etc is the real nature of a village at that time that denies equality, fraternity, and also liberty to most individuals. Ambedkar believed that 'Gramraj' would continue the social hierarchy based on inequality and discrimination.
Gandhi and Ambedkar highly disagreed on the concept of mechanization of production and the use of heavy machinery. Ambedkar believed that machinery and modern civilization will benefit all but Gandhi blamed mechanization for the exploitative socio-economic order in the world.
Ambedkar held that man and man should be the center of religion and everyone should be treated equally whereas Gandhi believed that the center of religion must be between man and God alone.
Ambedkar did not believe in the varna system or caste hierarchy whereas Gandhi said there is nothing wrong with caste hierarchy its just those evil practices that needed reform.
Ambedkar denounced Vedas and scriptures and believed that the caste system and untouchability were the manifestations of the Hindu religious scriptures. On the contrary, Gandhi believed that the caste system has nothing to do with religious spirituality.
Ambedkar believed in freedom of religion, free citizenship, and separation of state and religion. Gandhi also is a firm believer in freedom of religion but never believed in the idea of separation of politics and religion.
Gandhi believed in the principle of satyagraha, non-cooperation, hartal, and civil disobedience as a weapon to make a change. On the contrary, Ambedkar believed in constitutional agitation as a means of change.
For Ambedkar, the untouchable was not a part of the Hindu community and regarded them as a religious minority. He preferred to call them a 'minority by force' or 'religious minority'. On the contrary, For Gandhi, untouchables were an integral part of India and untouchability was a social evil prevailing in the society.
Ambedkar wanted to solve untouchability through laws and constitutional ways, whereas Gandhi sees untouchability as a moral stigma.
Similarities between Gandhi and Ambedkar
The symbolism included in some of both people's activities bears a remarkable resemblance. Gandhi's burning of foreign clothing and Ambedkar's burning of Manusmriti should not be viewed as sentimental actions. Manusmriti and foreign clothing instead stood in for India's enslavement and confinement.
Gandhi and Ambedkar, both leaders believed in the idea of education to make the individual's desire for change, integration, and reform.
Both prominent leaders of India believed in freedom of religion, free citizenship, etc. Both believed in religion as an agent of social improvement and change.
Ambedkar and Gandhi both believed in the limited sovereign power of the state and limited authority of the government. They believed that people should be the ultimate sovereign. Gandhi in fact believed that the least governance is the best governance.
Both Gandhi and Ambedkar believed in non-violence but for Ambedkar, the application of non-violence is different than Gandhi's concept of non-violence. For Gandhi, it's remaining non-violent in every situation, but Ambedkar believed in relative violence if necessary.
They never believed in violent overthrow of any kind. Both Gandhi and Ambedkar believed in the idea of social transformation through peaceful and democratic means. Both of them wanted to solve the problem of disintegration and disharmony prevailing in society through the peaceful rehabilitation of the oppressed/depressed classes.
Conclusion
Many people around the world have tremendous regard for these two guys and have also voiced criticism. In addition to aiding in India's independence, they worked to solve the social issues of the day. The issues that the lower castes were recognized by both of them, and they assisted in their empowerment.
They made an effort to alter the existing systems and guide India's development. They had different strategies for getting rid of untouchability, despite agreeing that it was the main problem facing the social order. Additionally, they cleared the ground for India's independence.
Article Written By: Priti Raj