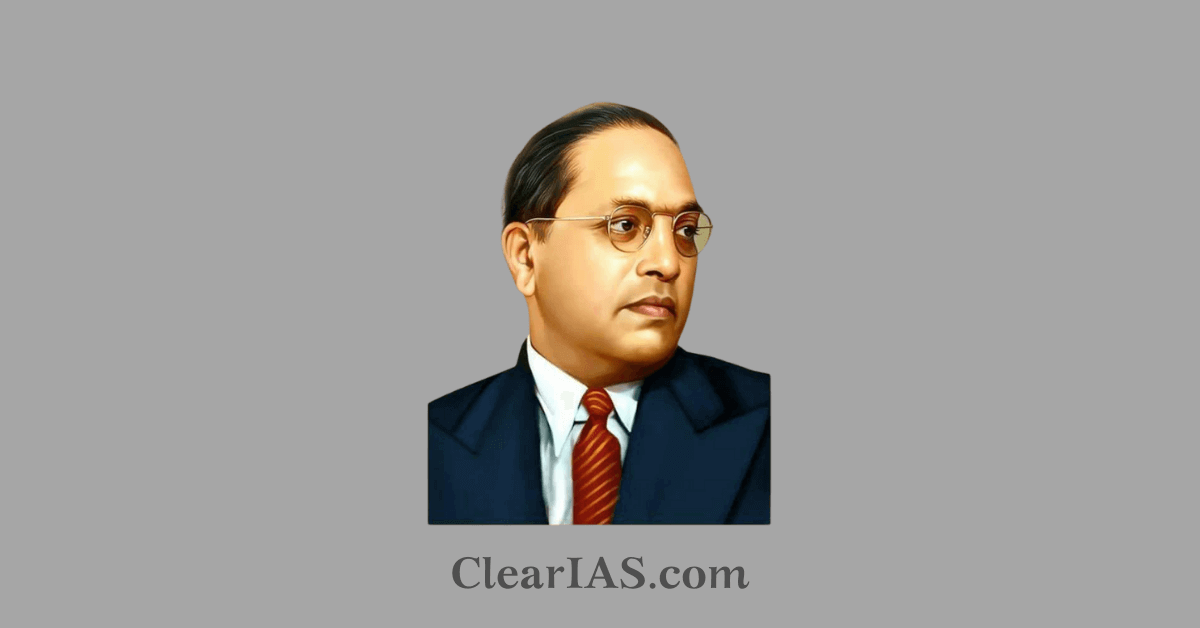 Nation pays homage to Baba Saheb Dr. B. R Ambedkar on his 132nd Birth Anniversary. Read here to know more about his life.
Bhimrao Ramji Ambedkar (14 April 1891 – 6 December 1956), popularly known as Babasaheb, was an Indian jurist, economist, politician, and social reformer who Chaired the Drafting Committee of the Constituent Assembly and was India's First Minister for Law and Justice.
He is known as the maker and conscience keeper of modern India. He was also the chairman of the drafting committee of the constitution of India.
A pioneering social reformer, jurist, economist, author, polyglot orator, a scholar of comparative religions, and thinker Dr Bhimrao Ramji Ambedkar, the principal architect of the Indian Constitution and independent India's first law minister, was a multi-faceted man who remapped the frontiers of human achievement by his sheer tenacity, perseverance and the will to excel against all odds.
The early life of B.R Ambedkar
Born into the Hindu Mahar caste, which was scorned as "untouchable" by the upper class of the time, Babasaheb did not allow the limitations of his background to come in the way of acquiring first-rate education and pushing the bar for academic excellence. He earned a law degree from Lincoln's Inn and doctorates from Columbia University in the US and the London School of Economics, carving a place of eminence as a scholar extraordinaire for his research in law, economics, and political science. His early career saw him donning many hats: economist, professor, and lawyer.
Ambedkar was born on 14 April 1891 in the town and military cantonment of Mhow (now officially known as Dr Ambedkar Nagar) (now in Madhya Pradesh).
Ambedkar's ancestors had long worked for the army of the British East India Company, and his father served in the British Indian Army at the Mhow cantonment.
He faced casteism as a child during his school years- he and other such children weren't allowed to sit inside the class.
Ambedkar was a bright child and excelled in his studies. In 1907, he passed his matriculation examination and in the following year, he entered Elphinstone College, which was affiliated with the University of Bombay, becoming, according to him, the first from his Mahar caste to do so.
By 1912, he obtained his degree in economics and political science from Bombay University and was prepared to take up employment with the Baroda state government.
In 1913, at the age of 22, Ambedkar was awarded a Baroda State Scholarship for three years under a scheme established by Sayajirao Gaekwad III (Gaekwad of Baroda) that was designed to provide opportunities for postgraduate education at Columbia University in New York City.
In 1916, he passed his second M.A and later completed his Ph.D. in economics from Columbia in 1927.
Even after being highly educated, the issue of untouchability issues his life in India after his return. He was unsuccessful at various jobs, even as a professor due to others objecting to his lower caste.
Ambedkar's fight against untouchability
In the next stage, he emerged as a national leader with a pan-India vision of modernity underpinned by the ideals of social justice and equality. As India's freedom movement gained traction, he harnessed his formidable intellectual energies to script an anthem of an inclusive India and strove tirelessly for political rights and social freedom for Dalits and marginalized groups.
In 1923, he set up the'Bahishkrit Hitkarini Sabha (Outcastes Welfare Association)', which was devoted to spreading education and culture amongst the downtrodden.
By 1927, Ambedkar had decided to launch active movements against untouchability. He began with public movements and marches to open up public drinking water resources.
He also began a struggle for the right to enter Hindu temples.
In a conference in late 1927, Ambedkar publicly condemned the classic Hindu text, the Manusmriti (Laws of Manu), for ideologically justifying caste discrimination and "untouchability", and he ceremonially burned copies of the ancient text.
Poona Pact, 1932:
In 1932, the British colonial government announced the formation of a separate electorate for "Depressed Classes" in the Communal Award. Mahatma Gandhi fiercely opposed a separate electorate for untouchables, saying he feared that such an arrangement would divide the Hindu community.
Gandhi protested by fasting while imprisoned in the Yerwada Central Jail of Poona. Following the fast, congressional politicians organized joint meetings with Ambedkar and his supporters at Yerwada.
On 25 September 1932, the agreement, known as the Poona Pact was signed between Ambedkar (on behalf of the depressed classes among Hindus) and Madan Mohan Malaviya (on behalf of the other Hindus).
The agreement gave reserved seats for the depressed classes in the Provisional legislatures within the general electorate.
The text used the term "Depressed Classes" to denote Untouchables among Hindus who were later called Scheduled Castes and Scheduled Tribes under the India Act 1935 and the later Indian Constitution of 1950.
Ambedkar's political journey
In 1936, Ambedkar founded the Independent Labour Party, which contested the 1937 Bombay election to the Central Legislative Assembly for the 13 reserved and 4 general seats, and secured 11 and 3 seats respectively.
Ambedkar published his book Annihilation of Caste on 15 May 1936. It strongly criticized Hindu orthodox religious leaders and the caste system in general and included "a rebuke of Gandhi" on the subject.
In 1937, Ambedkar tabled a bill in the Bombay Legislative Assembly aimed at abolishing the khoti system by creating a direct relationship between government and farmers.
Ambedkar served on the Defence Advisory Committee and the Viceroy's Executive Council as minister for labour.
After the Lahore resolution (1940) of the Muslim League demanding Pakistan, Ambedkar wrote a 400-page tract titled Thoughts on Pakistan, which analyzed the concept of "Pakistan" in all its aspects.
Ambedkar argued that the Hindus should concede Pakistan to the Muslims. Ambedkar also criticized Islamic practice in South Asia. While justifying the Partition of India, he condemned child marriage and the mistreatment of women in Muslim society.
Maker and conscience-keeper of modern India
Babasaheb, as he was fondly called by friends, admirers, and followers, braved the walls of prejudice and caste discrimination in early 20th century India to emerge as an exemplar and an unflinching crusader against the inequities of the caste system and socio-economic deprivation that afflicted millions of Indians.
His life is an inspirational story of achievements despite trying circumstances and the indomitable will to move beyond individual strife for the larger cause of social justice and national renaissance.
The drafting of India's constitution:
India's tryst with destiny, as India's first Prime Minister Jawaharlal Nehru spoke eloquently about at the fateful hour of India's independence, saw Dr. Ambedkar being entrusted with a monumental responsibility: he was appointed Chairman of the Constitution Drafting Committee on August 29, 1947.
He fashioned a pluralistic and inclusive Constitution that guides and animates India to this day, guaranteeing equal opportunity and freedom of expression and faith for all citizens in a secular democracy.
Famous scholar Granville Austin has evoked the revolutionary spirit of Dr. Ambdekar that is reflected in the Indian Constitution. "The majority of India's constitutional provisions are either directly arrived at furthering the aim of social revolution or attempt to foster this revolution by establishing conditions necessary for its achievement," wrote Austin.
The Constitution, drafted under Dr. Ambedkar's leadership, abolished untouchability and outlawed all forms of discrimination.
An ardent proponent of the rights of women, minorities, and the socially underprivileged, he argued eloquently and won the Constituent Assembly's support for introducing a system of reservations of jobs in the civil services, schools, and colleges for members of Scheduled Castes, Scheduled Tribes, and Other Backward Class.
This was later reflected in the policies of affirmative action adopted by the Indian government.
An erudite economist and institution-builder, Dr. Ambedkar authored many scholarly treatises on economics and was the driving force behind the establishment of the Finance Commission of India. His ideas also laid the foundation for the setting up of India's central bank, the Reserve Bank of India.
While Dr. Ambedkar's achievements were manifold and straddled a wide spectrum, his inner life was richer and marked by spiritual vitality. In 1956, he converted to Buddhism.
Death:
He died in 1956 in New Delhi while working on "The Buddha and his Dhamma", which was published posthumously.
The popularity and esteem he enjoyed among all lovers of social justice were seen at his funeral at Dadar Chowpatty beach on December 7, 1956, which was thronged by at least half a million mourners.
Legacy of Babasaheb Ambedkar
Babasaheb's myriad contributions to the forging of a modern inclusive India were recognized posthumously through the Bharat Ratna in 1990.
Dr. Ambedkar's ideals of social inequality redesigned the contours of Indian politics. His surging popularity was reflected in scholarly biographies, numerous statues, and memorials across the country.
Today, Ambedkar is revered nationally, and figures in the national pantheon as one of the makers of modern India, along with Gandhi, Nehru, and Tagore.
His birthday, April 14, has been christened 'Ambedkar Jayanti' or 'Bhim Jayanti' and is celebrated as a public holiday.
As India celebrates the birth anniversary of this national icon, Babasaheb remains an inspiration for millions of Indians and proponents of equality and social justice across the globe.
Fittingly, although it's a matter of coincidence, one can see the trace of Babasaheb's radiant vision in the "Sustainable Development Goals" that are set to be formally adopted by the UN General Assembly to eliminate poverty, hunger, and socio-economic inequality by 2030.
Books by Ambedkar
The Problem of the Rupee – Its origin and its solution
The Untouchables, Who are they?
Who were the Shudra?
States and Minorities
Emancipation of the Untouchables