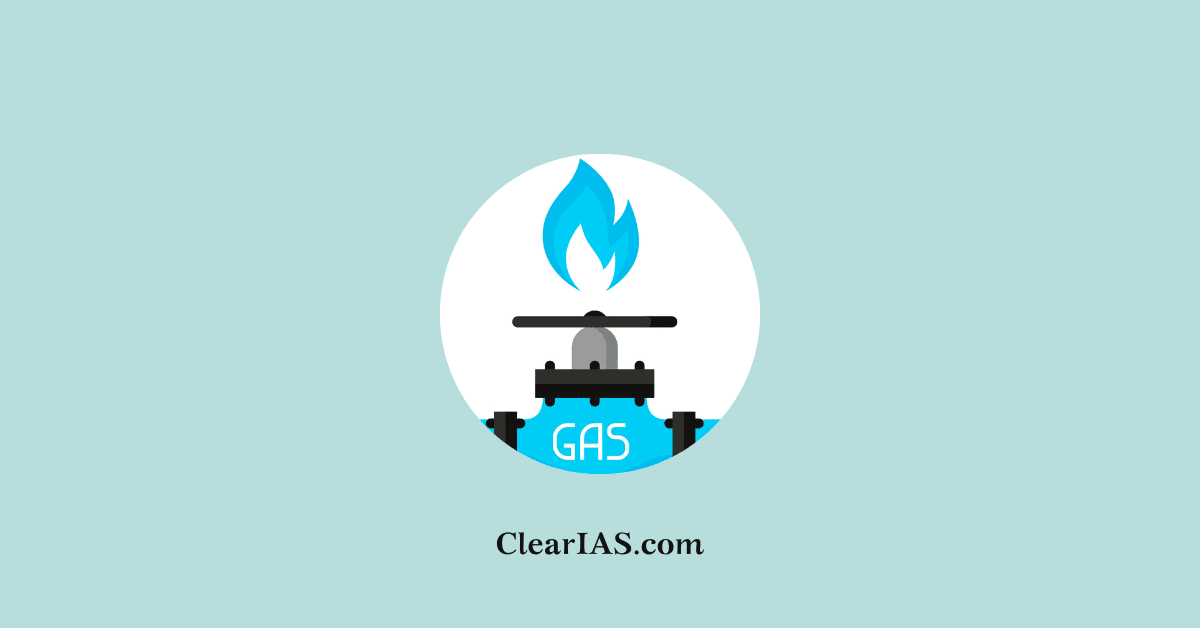 India's gas-based economy can be a bridge to a transition or a gateway to energy insecurity. What do you mean by the  Gas based economy? What are the major initiatives taken by our government to promote a Gas-based economy?  Scroll down the page to know all about the Gas based economy.
Gas-based economies reflect that gas is the primary source of commercial energy in the energy mix. Natural gas forms a major part of this type of economy. First, let us explore what is natural gas.
Natural Gas
Natural gas, often known as fossil gas, is a naturally occurring mixture of hydrocarbon gases made mainly of the gas methane, with minor amounts of nitrogen, carbon dioxide, and hydrogen sulphide.
It develops over millions of years as layers of rotting plant and animal debris are subjected to extreme heat and pressure beneath the Earth's surface.
Natural gas can be found as methane hydrates, in coal beds, or in association with other hydrocarbon reservoirs in deep underground rock formations. Another resource that can be found near and with natural gas is petroleum.
It is used as a fuel for automobiles, a source of energy for heating, cooking, and the production of electricity, as well as a chemical feedstock in the production of plastics and a number of organic chemicals.
Gas provides an economic resolution to the conflict between growth and the environment. Gas would assist India to achieve its goal of reducing greenhouse gas emissions under the Paris Climate Agreement by taking the place of conventional fuels.
Importance of Natural Gas
Natural has a certain importance which are enlisted below:
Easy accessibility is there. Through pipes, gas may be efficiently delivered over large distances. This can aid in the construction of national gas infrastructure and ensure that locations like Ladakh, North-east India, and LWE-affected areas have access to energy.
Inexpensive Sustainable energy. A key objective of the SDGs is to provide everyone with access to basic energy services. Gas can meet India's needs for clean energy, diversify its energy mix, and lower import costs because it is substantially less expensive.
According to the IEA's India Energy Outlook, India will overtake the US and China as the world's third-largest energy consumers by 2030. Despite this development, India experiences persistent energy poverty. As a result, a steady supply of gas is anticipated to play a significant role in the development of the steel, electricity, and fertiliser industries in the years to come.
They maintain social development. Indians cook with biomass, including firewood, agricultural waste, and dung. These fuels pollute the home and put more of a burden on women's health. Gas energy can help address these problems.
Natural gas is less prone to geopolitical unrest. Natural gas reserves are more varied than petroleum reserves. They are therefore more protected against geopolitical conflicts like wars, economic sanctions, and energy blockades.
They line with Indian foreign policy. Trading in natural gas can provide India with more flexibility in international geopolitics. For instance, India has recently purchased LNG from Russia in order to allay Moscow's worries about India's increasing ties to the US in terms of energy and the acquisition of military equipment.
Government actions
The government proposed a proposal in 2018 to increase natural gas's primary energy mix contribution from its current level of 6% to 15% by 2030. India has implemented the following steps to achieve this:
Policy for Hydrocarbon Exploration and Licensing (HELP): HELP calls for a standard licencing scheme that will apply to all hydrocarbons, including coal bed methane, gas, and oil. It uses the revenue-sharing concept and allows for flexible marketing and pricing. In this case, the government will not be concerned with the costs spent and will instead get a portion of the gross revenue from the sale of oil and gas.
Natural gas Marketing Reforms: The goal of the policy is to provide a uniform process for determining the market price of gas through an open and competitive process while allowing for marketing flexibility. India has also made plans to establish an independent gas transportation firm that will grant gas carriers unrestricted access and lessen the monopoly of established gas players like GAIL.
SATAT Plan: A sustainable Alternative Towards Affordable Transportation is known as SATAT. This initiative invites expressions of interest from potential entrepreneurs with the goal of establishing compressed bio-gas production facilities and making them available on the market for use in vehicle fuels. In collaboration with the PSUs Indian Oil Corporation Ltd., Bharat Petroleum Corporation Ltd., and Hindustan Petroleum Corporation Ltd., the Ministry of Petroleum & Natural Gas launched the programme in October 2018.
India has diversified imports. Up until 2016, India only purchased LNG from Qatar, but that source has now expanded to include the US, Australia, and Russia. For instance, India and Russia had reached an agreement for India to purchase LNG worth approximately USD 25 billion over a 20-year period
The Petroleum and Natural Gas Regulatory Board (PNGRB) has authorised about a 33,500 km natural gas pipeline network throughout the nation in an effort to establish a national gas grid.
Additionally, India is spending money to build LNG import facilities. For instance, Petronet wants to build a floating LNG import facility at Gopalpur in Odisha within three years.
The Indian Gas Exchange (IGX), India's first gas exchange, was established in June 2020. The exchange is anticipated to make natural gas price discovery more transparent.
Networks for City Gas Distribution (CGD) are being developed to deliver Piped Natural Gas (PNG) to homes and businesses, as well as Compressed Natural Gas (CNG) for use in vehicles.
Pradhan Mantri Ujjwala Yojana for giving the country's underserved residents access to clean cooking gas hookups.
Challenges faced by Gas-Based Economy
The gas-based economy of India faces many challenges. Let us discuss what are they.
India, the world's third-largest energy consumer and fourth-largest importer of LNG, depends on imports to cover 45% of its gas demands.
India has two pricing regimes: one for domestic gas and one for imported gas. India also adjusts the price of domestically produced gas once every six months in accordance with market conditions outside. This continues to make new investments undesirable and makes precise demand forecasting challenging.
 GAIL once controlled 70% of the nation's gas transportation system. This has made the private sector less inclined to contribute to the creation of supply and distribution systems.
Competition from other sources is a challenge. Low-cost coal and renewable energy, particularly in the power industry, continue to be a significant barriers.
 According to the report of the Parliamentary Standing Committee on Energy, there are 14.3 GW of stranded gas-based plants with a total investment of more than Rs. 650 billion, the majority of which was lent by banks. Another issue is the capacity utilisation of LNG facilities, such as Ennore and Kochi's cases.
Customer costs rise as a result of low utilisation, which also damages profitability and results in non-performing assets.
The cost of natural gas costs is skyrocketing. The crisis between Russia and Ukraine has caused a sharp rise in gas prices on the global market. As a result, imports are now expensive. In 2021, Russia was the major natural gas exporter. The equations were altered by its invasion of Ukraine, which sent Europe into an energy crisis.
Way forward
Private gas purchasers and sellers must be given non-discretionary access to pipelines.
Public-private partnerships (PPPs) must be initiated to pave the way for raising finances, government financing through private partnerships and other creative concepts for supporting pipeline projects are required.
The NITI Aayog has prepared a proposal to grant total marketing and pricing independence to domestic natural gas production.
Natural gas is subject to state VAT but is not covered by the GST. As a result, its price exhibits significant regional variation. Consumption is discouraged by cascading taxes, which must be covered by the GST.
India needs to increase its present consumption by more than three times to reach its aim of 15% gas share. This route can be taken by promoting natural gas at the expense of other fuels, particularly coal.
Article Written By: Atheena Fathima Riyas