Do you know the term "greenwashing"? What makes it unique from green marketing?  Read on to learn more.
The United Nations Framework Convention on Climate  Change (UNFCCC) Conference of Parties 27's (CoP 27) Egyptian presidency named Coca-Cola Company, one of the biggest plastic polluters in the world as the official provider and supporter of the year's biggest climate change conference.
Activists and commentators have called Coca-Cola's sponsorship of the world's biggest climate summit a 'greenwashing exercise'!
Just read the tweets that are below… 🙂
We'll discuss about the prevalent practice of "greenwashing" in this context.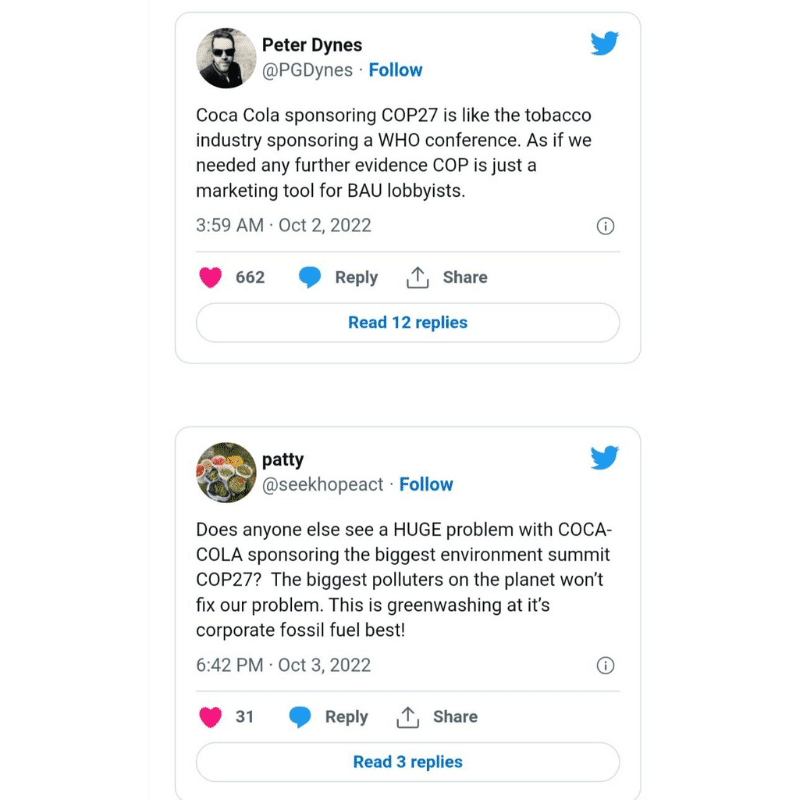 What is Greenwashing?
The act of giving the impression that a company's products are ecologically friendly is known as "greenwashing." Greenwashing is the practice of making unfounded claims that lead consumers to believe that a company's products are more environmentally friendly or have a bigger positive influence on the environment than they actually do.
Greenwashing can also happen when a business tries to hide its involvement in ecologically harmful actions by emphasising the sustainable qualities of a product. Greenwashing is a play on the term "whitewashing," which refers to using anything as deceptive words or actions, used to cover up or gloss over faults, errors, or wrongdoings, or to absolve a wrongdoer from blame. It is carried out through the use of environmental imagery, misleading labels, and hiding tradeoffs
How does Greenwashing work?
Greenwashing also referred to as "green sheen," is an effort to profit from the rising demand for environmentally sound products, whether that means they are more natural, healthier, chemical-free, recyclable, or less resource-intensive.

The phrase first appeared in the 1960s, when one of the most overt instances of greenwashing was created by the hotel business. In order to conserve the environment, they posted signs in hotel rooms requesting that guests reuse their towels. The hotels benefited from cheaper laundry expenses.

Some of the greatest carbon polluters in the world, including conventional energy firms, have recently tried to reinvent themselves as environmental champions. By changing their names, brands, or packaging, products can be "greenwashed." Products that have been "greenwashed" may give consumers the impression that they are healthier, more natural, or chemical-free than rival brands.

Through press releases and advertisements praising their clean energy or pollution reduction initiatives, businesses have engaged in "greenwashing." In actuality, it's possible that the corporation isn't really committing to green activities. Simply said, corporations that assert frivolously that their goods are safe for the environment or offer some other form of environmental benefit are engaging in greenwashing.
What is Green marketing?
The promotion of ecologically friendly goods, services, and projects is known as green marketing or environmental marketing. A wide range of techniques and strategies that are friendly to the environment is more particularly referred to as green marketing. Examples of green marketing include:
Making environmentally friendly goods

Utilizing environmentally friendly, recycled-materials-based packaging for goods

Lowering industrial process emissions of greenhouse gases

Implementing sustainable business methods

Marketing initiatives describing a product's environmental advantages

Putting the money earned into carbon-offset projects or renewable energy
Green marketing, which emphasises the environmental advantages of the product and the firm producing it, can help products that are really environmentally friendly. However, if a business's green marketing initiatives are shown to be fraudulent, the business may be charged with greenwashing and suffer penalties, negative news, and reputational harm.
Also Read: Climate financing ,COP 26 
Examples of Greenwashing
1. Volkswagen
Greenwashing is evident in Volkswagen's admission that it cheated on emissions testing by fitting a variety of cars with a "defect" device that incorporated software that could detect when an emissions test was being conducted and adjust the performance to reduce the emissions level.

The company's public marketing initiatives during this time emphasised the low emissions and environmentally beneficial features of their vehicles. In reality, these engines were emitting up to 40 times the permitted level of nitrogen oxide.
2. Innocent Drinks
Innocent Drinks has come under fire from environmental organisations for "greenwashing" after releasing an advertisement that implies buying its smoothies could help save the earth.

According to Plastics Rebellion, Innocent has been warned to stop making future advertising that they have dubbed "greenwashing.

"

Innocent Drinks does the greatest job of illustrating the unlikely tactic. The company is owned by Coca-Cola, which is the worst polluter of plastic in the world. Additionally, the company uses single-use plastic, which is harmful to the environment.
3. IKEA
IKEA, the company that uses the most wood worldwide, has expanded its usage of wood over the past ten years. IKEA has been making beechwood chairs out of wood that has been illegally taken from the Carpathian Mountains in Ukraine, which are home to creatures on the endangered species list like bears, lynxes, wolves, and bison. This is according to a study by Earthsight.
4. Windex
SC Johnson's glass cleaner made the claim that all of its bottles were made of "ocean plastic." Actually, the plastic used to make the bottles had never been in the water. It was taken from plastic banks in Haiti, the Philippines, and Indonesia.

This particular type of plastic is known as ocean-bound plastic since it would have otherwise ended up in the ocean.

But the poor advertising doesn't end there. Despite Windex's claims that its products are non-toxic, SC Johnson was sued in 2020 on the basis that certain of Windex's ingredients are harmful to people, pets, and the environment.
5. Nestle
Nestlé declared that by 2025, it "ambitions" that all of its packagings will be recyclable or reusable. Environmental organisations and other critics condemned the company for failing to establish clear targets, offer a timetable for attaining them, or take additional steps to promote customer recycling.
Greenpeace responded by issuing a statement of its own, claiming that Nestlé's announcement on plastic packaging was just another example of the company "greenwashing" its way out of a problem that it had helped create.
Conclusion
Of course, not every business engages in greenwashing. There are some goods that are truly green. These items typically have packaging that clearly states how they vary from equivalent versions from competitors. Genuinely green product marketers are more than eager to provide specifics regarding the positive features of their goods.
Article Written by: Archana