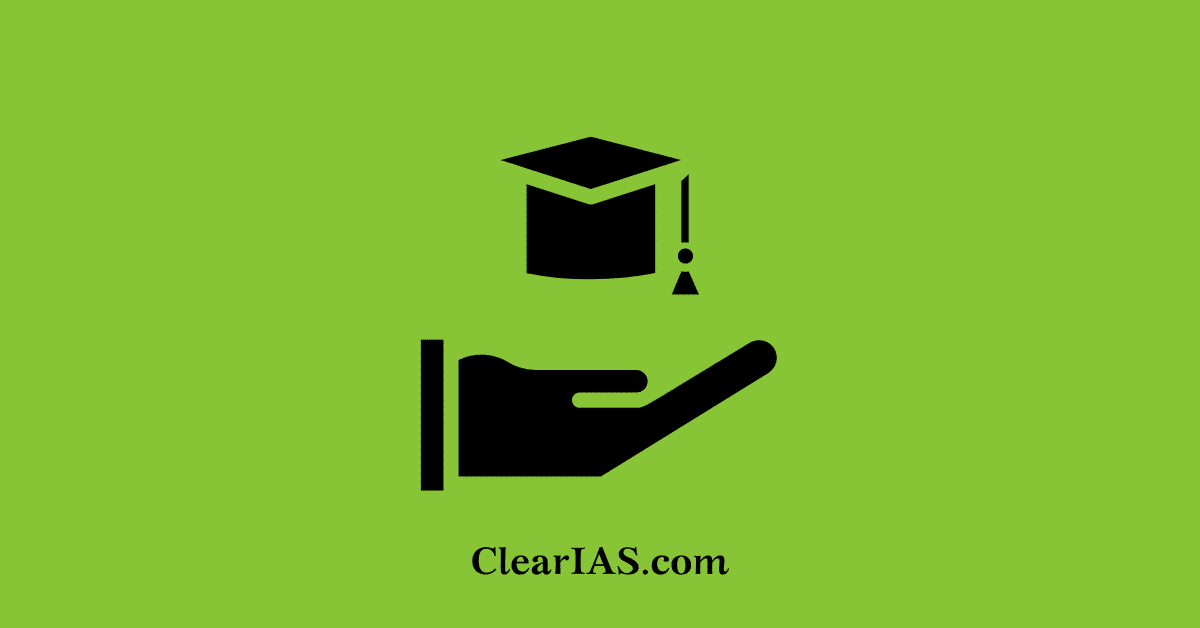 Harikrishna Pai (CSE 2013 Rank 218) in the previous post in this interview series with www.clearias.com, has shared his detailed book list and preparation strategies for Prelims and Mains. In this post (Part 4), he shares his interview preparation and UPSC interview experience. We hope this post to provide valuable insights to all readers of Clear IAS. Enjoy reading!
UPSC Interview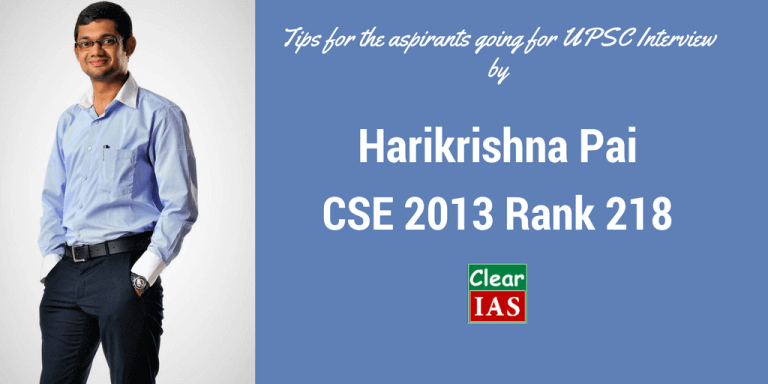 ClearIAS.com: Can you elaborate on your approach and preparation for Interview? Did you attend any mock interviews?
I tried to chalk out some probable areas of questions from my Detailed Application Form and got some general idea. (State, district, degree, PG, name etc). Made Newspaper reading more detailed.
I got some interview classes and mock interviews from Pala and Kerala State Civil Service Academy. We friends also helped each other in preparation. 
ClearIAS.com : Can you elaborate a bit about things mentioned in your DAF (Detailed Application Form) like your hobbies, extracurricular activities or prizes won:
(Copying the things as in DAF)
(a) Particulars of prizes, medals scholarships, etc.
GATE scholarship, University Topper in M.Tech, State Topper in B.Tech from NSS Technical Unit Kerala, Published Conference Paper with IEEE, Best Outgoing Boy from JNV Palakkad.
(b) Team/Games/Sports/N.C.C. /Hitchhiking/Mountaineering etc.
Member of Debate Team and Quiz Team of JNV Palakkad and LBS College of Engineering Kasaragod
(c) Position(s) of distinction Leadership held in School/College
House Vice Captain, Secretary of Philately Club and Member of Mess Committee at JNV Palakkad. Coordinator of Debate and Literary Club and Quiz Club at LBS College of Engineering. NSS Executive Committee Member at LBS College of Engineering.
(d) Other extracurricular activities and interests (Such as hobbies etc.)
Philately
ClearIAS.com : Interview Dress :
Light blue shirt, Navy blue blazer and a matching tie; Navy blue trousers, Black Shoes
ClearIAS.com: Who was the Chairman of the board you faced? How long was the interview?
A.P Singh (IPS Retd.), former CBI director. Interview lasted for about 25 minutes.
ClearIAS.com: Can you share with our readers your UPSC Interview experience? Our readers would be really happy to hear those questions and replies in the UPSC Topper's Interview.
Overall, the interview was a friendly and pleasant experience. Chairman initially asked me what I did after completing my M.Tech, and when I replied that I was preparing for the exams, he asked me didn't I wanted to go for a job, having such high qualifications. I replied that this is the job I aspire for…
Now the questions were on my hobby (philately) –rare stamps etc
Remaining questions were mostly related to economy- India's potential as a young country, China's population policy, issues, their foreign exchange reserve, India's industrialization-way ahead, small scale industries, skill development, 1991 reforms, future of reforms, labour reforms, PPP model etc…
Even the questions with the prologue- related to your option (history) were 'economic' in its form- china's growth since world war to reforms period, comparing middle East with East Asia etc (Don't ask me why so much economics…J somehow it happened so).
There were questions on greenhouse gases, their impacts, and also on red corridor.
I also got some Kerala questions like shining example for PPP from your state (Cochin International Airport Limited). One board member asked me whose statue is there in Kanyakumari. As I was yet to visit this place, I said I'm not sure.. he helped me by saying that it is of Thiruvalluvar and further asked a couple of questions on Thiruvalluvar, which I could answer.
Another member asked me just two questions, which were a bit difficult to me (social entrepreneurship, banking Vs financial institution etc)
Thus most of the questions were opinion based, which I could answer confidently. Personal questions were less, so were factual ones..(Of course, all these vary from one case to another)
ClearIAS.com: Any tips for aspirants going for UPSC Interview?
UPSC interview in most cases is a friendly exercise. So there is nothing to fear about. But be truthful to yourself and answer confidently. But never underestimate the persons in the board. They have vast experience and knowledge.
ClearIAS.com: Do you think that there is relation between profile of the candidate and interview marks? At a time when lot many candidates from top institutes like IIT, IIM or AIIMs appearing this exam, is there any matter of worry for other candidates from state colleges or those without work experience?
It is very difficult to answer such a question with my present level of awareness. But, I can say one thing – there are people even from outside these premier institutes who have scored well in the interview. So there is no need for such apprehensions.
Click to read Harikrishna Pai (CSE 2013 Rank 218) UPSC Topper's Interview – Part 5.