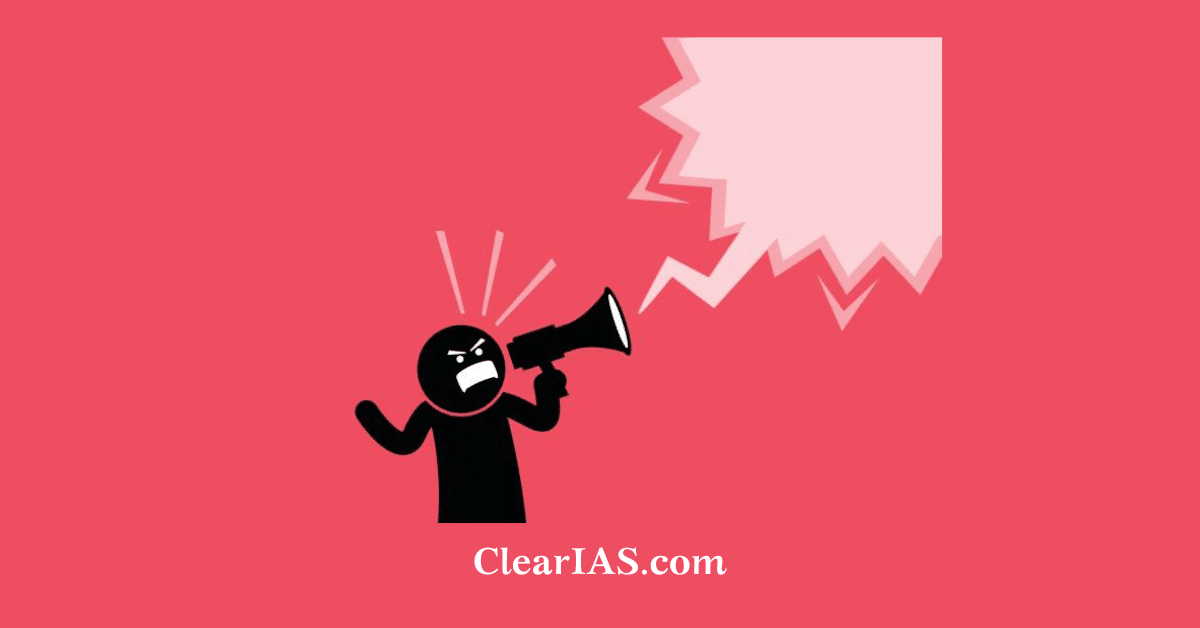 Numerous events, including ones that occurred in a religious setting and on online forums, have targeted minority communities. This has brought attention to problems with the implementation of legislation to curb hate speech. What are the laws related to hate speech in India? Are there any new legal precedents on this menace? To know more, read further. 
In Pravasi Bhalai Sangathan v. Union of India (2014), the Supreme Court of India outlined its definition of hate speech as "an effort to marginalize individuals based on their membership in a group which seeks to delegitimize group members in the eyes of the majority, reducing their social standing and acceptance within society."
Hate speech, according to the European Commission against Racism and Intolerance (ECRI), encompasses a wide range of expressions that encourage, incite, promote, or otherwise justify hatred, violence, or discrimination against an individual or a group of individuals for a number of different reasons.
The Law Commission of India's 267th Report defines hate speech as an incitement to hatred directed principally towards a group of people who are identified by their race, ethnicity, gender, sexual orientation, or other characteristics.
What are the legal provisions related to Hate Speech in India?
Article 19(2)

of the Constitution of India

puts reasonable restrictions on the Freedom of Speech

including public order, decency or morality, defamation, or incitement to an offense.


Section 153(a)

of the

Indian Penal Code (IPC)

punishes the

promotion of enmity between different groups

on grounds of religion, race, place of birth, residence, language, etc. with imprisonment up to 3 years.

Section 153(b) of IPC

punishes

assertions prejudicial to national integration

(e.g., asserting that a class of persons cannot bear true faith and allegiance to the Constitution of India) with imprisonment of up to 3 years.

Section 295(a) of IPC

punishes deliberate and malicious acts,

intended to outrage the religious feelings

of any class by insulting its religion or religious beliefs with imprisonment for up to 3 years.

Section 505(2) of IPC

punishes statements creating or promoting enmity, hatred, or ill will between classes with imprisonment for up to 3 years.

Section 8 of the Representation of People's Act, 1951 (RPA) prevents a person convicted of the illegal use of the freedom of speech from contesting an election.
Sections 123(3A) and 125 of the RPA bar the promotion of animosity on the grounds of race, religion, community, caste, or language in reference to elections and include it under corrupt electoral practices.
Suggestions made by Law Commission
In its 267th report, the Law Commission of India proposed including the following two provisions:
Section 153C covers crimes committed when someone threatens someone with remarks meant to incite fear, hatred, or violence based on someone's race, caste, religion, sex, gender identity, or other characteristics.
Section 505A should be included and have provisions that make inciting fear, alarm, or violence a crime.
Interpretation of the Supreme Court related to Hate Speech
Following are the case laws wherein the Supreme court cleared its stand.
Ramji Lal Modi Case( 1957)
A five-judge Supreme Court bench upheld the validity of Section 295(A) in this case.
While Article 19(2) permits reasonable restrictions on freedom of speech and expression for the sake of public order, the Supreme Court reasoned, a more severe type of blasphemy that is done with the intent to outrage the religious sensibilities of any group is punishable under Section 295(A).
Superintendent, Central Prison, Fatehgarh Vs Ram Manohar Lohia case (1960)
It was claimed that in order to invoke Section 295(A) of the IPC, a strong linkage must exist between the speech that was spoken and any public disorder that was brought about as a result of it.
In addition, it came to the conclusion in 2011 that only speech that amounted to "incitement to impending unlawful conduct" is punishable.
That is to say, a very high standard must be met before the state can use public disturbance as an excuse to censor expression.
S. Rangarajan Etc vs P. Jagjivan Ram
In this decision, the Court ruled that the right to free speech cannot be restricted unless the situation it creates is one that endangers the community or the public interest, and that threat cannot be imagined, remote, or improbable.
If the expression is taken, there must be a close connection.
Amish Devgan v. Union of India (2020)
According to the Supreme Court, "hate speech has no valid or redeeming motive other than hostility for a specific group."
The Problem of over-criminalization of Hate Speech
In a dramatic and very personal turn of events in 2015, Indian novelist Perumal Murugan declared his creative "death," pulled the entirety of his published works from circulation, and vowed never to write again.
This resulted from the violent backlash he received from religious and caste-based groups who claimed that his fifth book, "Madhorubagan" in Tamil, or "One Part Woman," offended religious sensibilities, insulted the Kailasanathar temple, Lord Shiva, and female worshippers, among other allegations.
They also claimed that it appealed to prurient interest, among other things.
A Forward Approach
Many of the legal restrictions on hate speech that are in place today date back to the days before the Internet. Specialized law to control hate speech spread on the Internet and, notably, social media, is urgently needed.
It is possible to make reference to the Australian federal law known as the Criminal Code Amendment Act, 2019, which holds Internet service providers accountable if they know that any obscene or violent content—which is defined to include content that a reasonable man would find offensive—is accessible through the service they provide.
In the context of a "digital single market," the European Union has also adopted a code of conduct to prevent the spread of hate speech. It calls for cooperative, autonomous, inclusive regulation that adheres to global best practices for content filtering and privacy rights while being tailored to local and cultural norms.
Conclusion
Actions usually performed in response to contemporary hate speech have a whack-a-mole effect, whereby the underlying desire to sow division or hatred among communities endures through digital or social media platforms irrespective arrest of the offenders.
By modifying the IPC and the Information Technology Act, it is crucial to implement precise and long-lasting legislative rules that prevent hate speech, especially that which is spread online and through social media.
In the end, only when hate speech is acknowledged as a justifiable limitation on free expression would this be feasible.
Click here to read more about the 100 Must-Know Acts Enacted by the Indian Parliament.
Article Written By: Jis John Sebastian