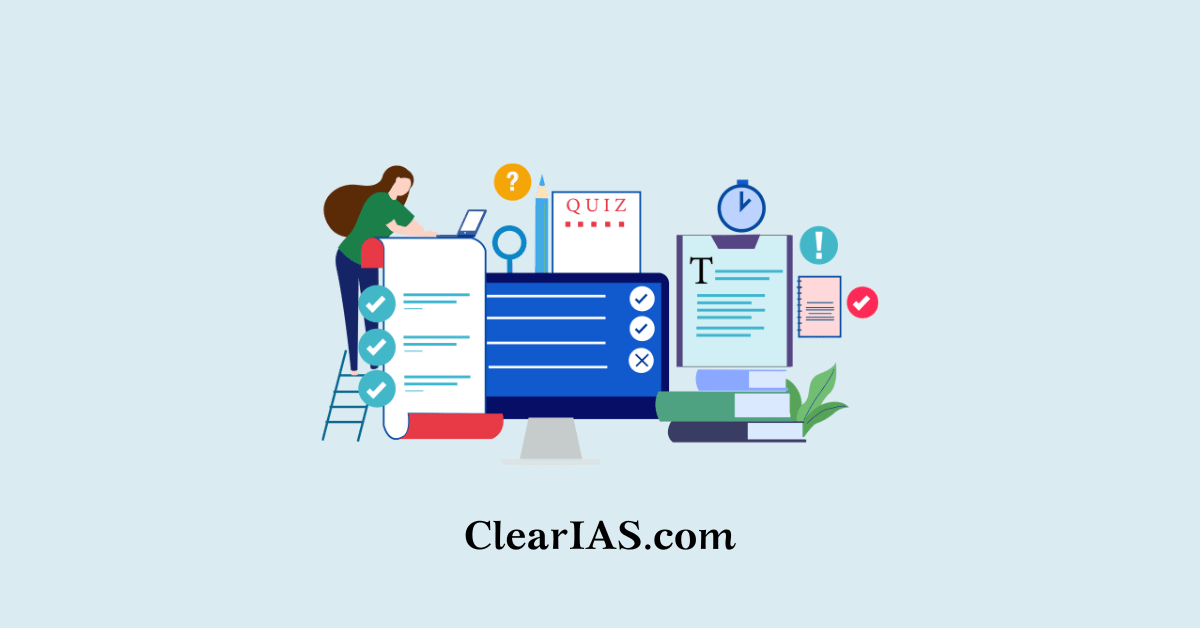 Are you in a dilemma that how to choose the best test series for the UPSC IAS exam and what points are needed to be considered before choosing a test series? Let's understand it in detail here.
The UPSC Civil Services Exam, popularly known as the UPSC IAS exam, is one of the most challenging exams in India, conducted by UPSC.
UPSC CSE serves as a gateway to a career in the Indian Administrative Service (IAS), Indian Police Service (IPS), and other esteemed civil services.
To successfully clear this exam, it is very important to have a strong strategy for this exam, and an important part of that strategy is choosing the right test series or mock test for practice.
In this article, let's understand how to select the best test series for the UPSC IAS exam.
How to Choose the Best Test Series for UPSC IAS Exam
An aspirant has to consider a few points before choosing or buying any prelims or mains test series for this exam.
First, Understand the Importance of Test Series
UPSC exams are not just about knowledge gain; they also test your time management, question-solving skills, and ability to handle exam pressure as well.
A good test series provides you with a real-time exam environment, that will help you in managing the pressure during the exam, and also helps in time management.
Check the Credibility of the Test Series Provider
While choosing a test series, it is important to consider the credibility of the test series provider.
Ensure that the test series you are looking for must have a well-known track record of helping aspirants succeed in the UPSC IAS exam.
Detailed Coverage in the Test Paper
Make sure the test series you are looking for has covered the entire syllabus thoroughly, focusing on the most probable question types.
It is also important to consider the relevance of the question with the trending pattern of UPSC. Always go for the test series that provides updated questions with extensive coverage.
Also, do not forget to consider that the package should have a good number of questions in the test papers based on NCERT.
If you think that is it necessary to read NCERT and solve test papers based on NCERT, then it's a personal choice but NCERT plays a significant role in creating a foundation.
So, if you have a very strong foundation, it's okay to skip the NCERT and directly jump to the standard books, and in case of no background, one must rely on NCERT to create their base for knowledge.
Make sure it also includes tests for Preliminary GS Paper-II (CSAT) as well.
Detailed Solutions and Analysis
Each test in the series should come with detailed solutions and analysis. This is important for your improvement.
After taking a test, review your mistakes and learn from them. A detailed analysis will help you identify your strengths and weaknesses, and allow you to focus on your weak areas.
Difficulty Level of Questions
The test series should offer a mix of easy, moderate, and difficult questions. This variety prepares you for the diverse range of questions that may appear in the actual exam.
A series with only easy questions won't challenge you adequately, while one with only difficult questions might demotivate you.
Current Affairs Integration
The UPSC CSE question paper places a significant emphasis on current affairs.
Make sure the test series includes questions related to current events and issues as well. This will help you stay up-to-date with important news, relevant to your exam.
Provides Exam Like Environment
A test series should provide you with the actual exam conditions as closely as possible. This means that there should be time-bound tests.
It's important because getting comfortable with this environment will be helpful in reducing your anxiety on the actual exam day.
Cost Considerations
While quality is important, it's also important to consider your budget. Test series come at various price points. Evaluate the cost-effectiveness of the series you're considering, factoring in all the features it offers.
Which Test Series is Best for UPSC CSE?
There are plenty of options available in the market. However, a mock test that fits into all the criteria discussed above is provided by ClearIAS.
It not only provides a mock test series for Prelims Paper 1 but also provides a mock test for Paper 2 which is CSAT, as well. It will help an aspirant in wholesome preparation.
ClearIAS provides an online mock test facility so that any aspirants do not feel constrained because of its geographical limits.
The mock test series provided here stimulates a real-time exam environment and has a time limit to complete it. This is designed in this way to ensure that the aspirants get used to the exam environment and become able to handle the pressure of the exam.
Another interesting feature of the ClearIAS test series is that not only it's designed under an expert's supervision but also it is cost-effective and does not make a hole in the pocket of aspirants.
This step is to ensure that not a single aspirant is deprived of quality material.
Importance of the Right Test Series in the UPSC CSE Journey
Selecting the right test series for the UPSC IAS exam is an important step in your preparation journey. Here are several key points explaining why this choice is so important:
Sense of Confidence: When an aspirant starts performing and seeing improvement through the mock tests, it helps in boosting the confidence of aspirants, such confidence is important for the actual exam day.
Helps in Finding the Weak Areas: Test series act as a barometer of your preparation progress. They provide an objective assessment of your strengths and weaknesses in different subjects and provide you with important areas to work on.
Time Management: The UPSC Civil Services Exam is known for its strict time limits. The right test series helps you with time management skills.
Revision Tool: Test series serve as an excellent revision tool. Going through a series of questions helps reinforce your knowledge and helps you remember important concepts and facts.
Adaptation to Changing Patterns: The UPSC IAS exam pattern is changing from year to year. An updated test series with the latest trends of questions ensures you're well-prepared for any surprises in the actual exam.
Benchmarking: A good test series allows you to benchmark your performance against other aspirants. This helps you understand where you stand in the competition.
Stay Updated with Current Affairs: Many test series incorporate current affairs questions, keeping you updated on the latest events and issues, which is an important component of the UPSC exam.
Conclusion
Choosing the best test series for the UPSC IAS exam is a critical decision that can significantly impact your chances of success.
By considering factors like credibility, coverage, solutions, difficulty level, flexibility, current affairs integration, simulated environment, cost, and support, you can make an informed choice that aligns with your needs and goals.
Remember, every aspirant's preparation journey is different, and the right test series can be a valuable companion on the road to success in the UPSC IAS exam.
Article Written By: Priti Raj