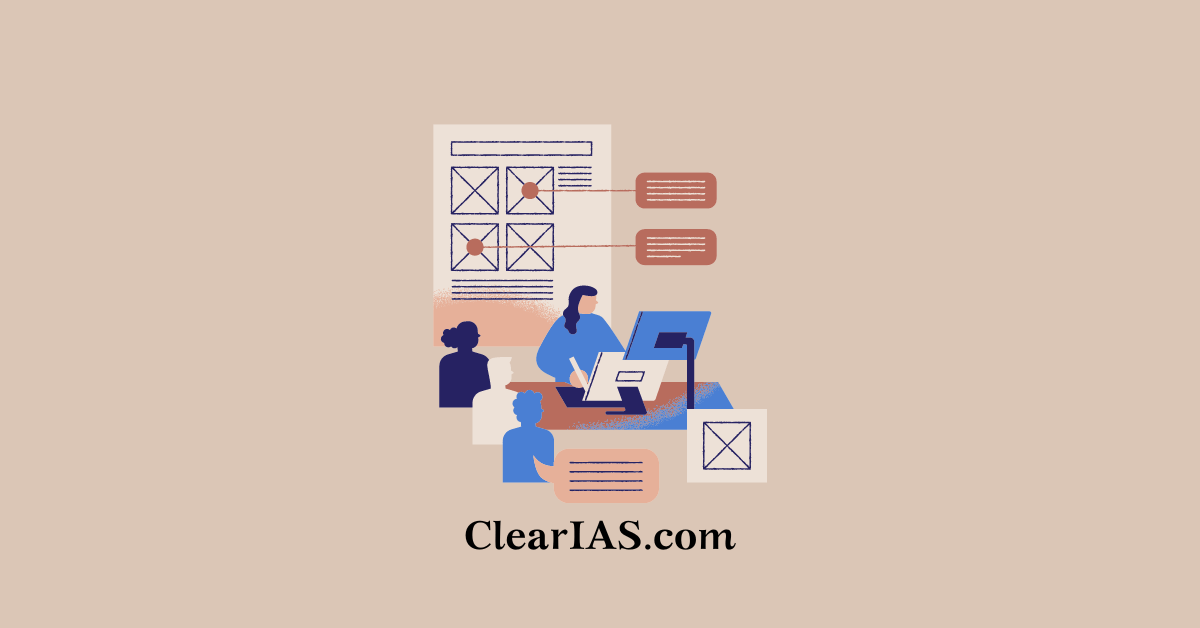 Let's learn how to revise effectively for the UPSC Civil Services Examination. This information will help you succeed in this exam. Also, about the importance of the revision.
The UPSC Civil Services Examination (CSE) is one of the most competitive examinations in India.
People willing the serve the country and work as an administrator, appear in this examination as this examination serves as a gateway to a career in the Indian Administrative Service (IAS), Indian Police Service (IPS), and other civil services.
But just dreaming about this job will not gain you any success. This exam requires hard work and dedication for a long time.
In this journey, there are a few things that an aspirant cannot ignore as they are the most important part of this preparation duration and serve as the ladder to their success.
One such important thing for this exam is effective preparation and effective revision strategy. Here in this article, we are going to discuss how to revise effectively for the UPSC IAS exam to come another step closer to your success.
Before understanding how to revise, let's focus on why is it important.
Understanding the Importance of Revision
Here we have discussed the importance of revision during the UPSC CSE preparation journey:
Consolidation of Knowledge: Revising the self-made notes helps solidify your understanding. It helps you retain the information for a long time.
Identification of Weak Areas: Revision helps you identify the areas where you need more practice and understanding. This allows you to focus your efforts efficiently.
Improved Recall: Frequent revision improves your ability to recall information during the exam, reducing the chances of forgetting important details.
Building Confidence: Revising regularly boosts your confidence, making you feel more comfortable with the vast syllabus.
Now that we understand the importance of revision, let's learn about how to revise effectively for the UPSC IAS exam.
How to Revise Effectively for the UPSC IAS Exam
This revision part of the exam cannot be ignored. In this journey, an aspirant gains loads of knowledge every day. If they do not revise well, they will definitely lose information and waste the time and effort put in earlier.
It is advised to not take the importance of revision lightly. In this journey, it is an important factor of success.
Organize Your Study Material
Before getting into the revision process, ensure your study material is well-organized. It is important to categorize your notes, textbooks, and reference materials by subject and topic. This organization will save you precious time during revision.
Create a Revision Schedule
Create a well-planned revision schedule. Allocate specific time slots for each subject and topic. Ensure a balance between subjects to avoid neglecting any area. Stick to your schedule because consistency is the key to this exam.
Regularly Update Notes
As you revise, update your notes with new information, facts, and insights. This ensures that your study materials are up-to-date and reflect the latest developments.
Learn here how to make notes for the UPSC IAS exam.
Practice with Mock Tests
Incorporate regular mock tests into your revision plan. Mock tests are mainly designed to test your knowledge and understanding of topics. The learning zone or answer key of the test will help you reinforce your knowledge. This will also help you manage your time effectively during the actual exam.
Coordination with Like-Minded People
Interaction with like-minded people will help you push ahead. Discussing topics and quizzing each other can reinforce your understanding and fill gaps in your knowledge.
Mindful Revision
While revising, pay close attention to important details. Focus on the main concepts, keywords, and facts. Don't get lost in the details, but ensure you have a strong understanding of the fundamentals.
Active Recall
Rather than passively reading through your notes, practice active recall. Try to recall information from memory, and then check your notes for accuracy. This technique enhances memory retention.
Breaks and Relaxation
Don't forget to take short breaks during your study and revision sessions. Overloading your brain with information can lead to burnout. Use breaks to relax, meditate, or engage in a physical activity to recharge.
Revision of Current Affairs
Stay updated with current affairs through newspapers, magazines, and online sources. Regularly revise this information, as it's a crucial part of the UPSC CSE.
Seek Guidance
If you have doubts or need clarification on certain topics, don't hesitate to seek guidance from mentors, or teachers.
Learn from Your Mistakes
After taking mock tests or practicing questions, review your mistakes carefully. Understand the area of your weakness and improve it further.
Conclusion
Effective revision is the backbone of your UPSC CSE preparation. It transforms your hard work into success. Remember, there is no one-size-fits-all approach to revision; tailor your strategy to suit your learning style and preferences.
Lastly, stay persistent, patient, determined, and consistent. The journey to clear the UPSC CSE is challenging, but with effective preparation strategy and revision, you can achieve your dream of serving your country.
Article Written By: Priti Raj