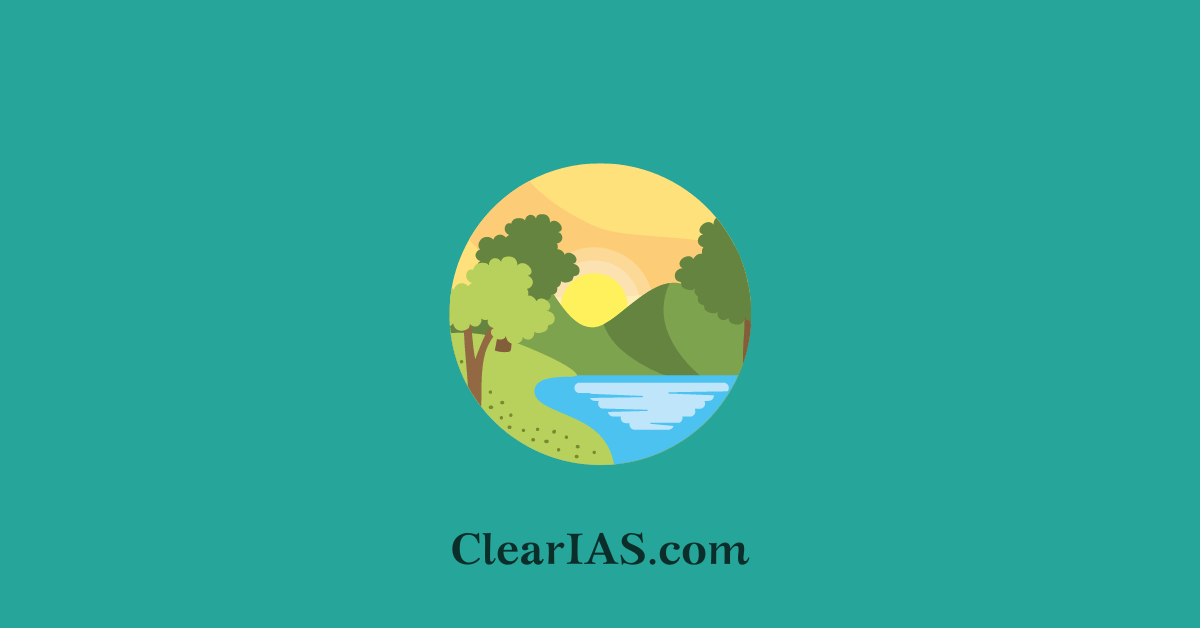 This article lists the world's important lakes and their features. There are numerous important lakes around the world, each with its unique features, ecological significance, and cultural importance. Read here to learn more.
There are many remarkable lakes around the world, each with its unique features, ecological importance, and cultural significance.
With climate change playing havoc on all levels of the environment, the lake ecosystems are also largely affected.
Recently, it was reported that the water levels in Lake Titicaca have fallen to historic lows due to climate change.
This article will list down the important lakes of the world continent-wise along with their features.
Important lakes and their features
A lake is a large body of water that is surrounded by land. It is a type of inland waterway and can be natural or man-made. Lakes can be found all over the world, and they can vary in size, depth, and water chemistry.
They can be formed by a variety of processes, including tectonic activity, glacial melting, volcanic activity, and human activity.
Here are some of the significant lakes from various regions of the world and their distinctive characteristics:
North America
Great Lakes (Superior, Michigan, Huron, Erie, Ontario)
Location: North America, shared by the United States and Canada.
Feature: The Great Lakes form the largest group of freshwater lakes in the world by total area. They are important for transportation, recreation, and as a water source for the surrounding regions.
Great Slave Lake
Location: Located in Canada's Northwest Territories.
Features: Great Slave Lake is the deepest lake in North America and the second-largest in Canada. It is surrounded by boreal forests and is important for fishing and traditional Indigenous cultures.
Great Bear Lake
Location: Located in Canada's Northwest Territories.
Features: Great Bear Lake is the largest lake entirely within Canada. It is known for its clear waters and is ecologically significant for various fish species.
Lake Winnipeg
Location: Located in the province of Manitoba in Canada.
Features: Lake Winnipeg is one of the largest freshwater lakes in North America and is known for its diverse aquatic life. It is a vital resource for fishing and water supply.
South America
Lake Titicaca
Location: Andes Mountains, bordering Peru and Bolivia.
Feature: Lake Titicaca is the world's highest navigable lake and the largest lake in South America by volume. It is known for its cultural significance to indigenous communities.
Lake Maracaibo
Location: Venezuela
Features: Lake Maracaibo is one of the largest and oldest lakes in South America. It is connected to the Gulf of Venezuela by a narrow strait. The lake is renowned for its frequent lightning storms known as "Catatumbo lightning," which is considered one of the highest rates of lightning occurrence in the world.
Lake Poopó
Location: Bolivia
Features: Lake Poopó was once the second-largest lake in Bolivia but has experienced significant shrinkage due to climate change and water diversion. It is a saline lake located in the highlands of the Altiplano. The lake is an important habitat for migratory birds.
Lake General Carrera
Location: Chile and Argentina
Features: Also known as Lake Buenos Aires, this lake straddles the border between Chile and Argentina. It is famous for its striking turquoise color and the marble caves found along its shores. These unique natural formations have been carved by the waves over centuries.
Lake Llanquihue
Location: Chile
Features: Lake Llanquihue is one of the largest lakes in Chile and is surrounded by picturesque landscapes, including the Osorno and Calbuco volcanoes. It is a popular tourist destination known for its scenic beauty.
Lake Puelo
Location: Argentina and Chile
Features: This lake is located in the Andes Mountains and is shared by Argentina and Chile. It is known for its clear waters, lush surroundings, and opportunities for outdoor activities like fishing and hiking.
Europe
Lake Geneva (Lac Léman)
Location: Switzerland and France.
Feature: Lake Geneva is one of the largest lakes in Western Europe. It is surrounded by picturesque landscapes and is a popular tourist destination.
Lake Como
Location: Northern Italy.
Feature: Lake Como is renowned for its scenic beauty and has been a popular retreat for artists, writers, and celebrities for centuries.
Loch Ness
Location: Scotland, United Kingdom
Features: Loch Ness is known for its association with the legendary Loch Ness Monster, "Nessie." The lake is deep and surrounded by rugged landscapes. It is one of the largest and deepest lakes in the British Isles. The ruins of Urquhart Castle overlook the loch.
Lake Balaton
Location: Hungary
Features: Lake Balaton is the largest lake in Central Europe and is often referred to as the "Hungarian Sea."
Lake Plitvice
Location: Croatia
Features: Lake Plitvice is part of the Plitvice Lakes National Park, a UNESCO World Heritage site.
Eurasia
Caspian Sea
Location: Borders several countries in Central Asia and Eastern Europe.
Feature: The Caspian Sea is the largest enclosed body of water on Earth. It is technically a lake, although it is often referred to as a sea due to its size.
Lake Baikal
Location: Siberia, Russia.
Feature: Lake Baikal is the world's deepest and oldest freshwater lake. It contains about 20% of the Earth's unfrozen freshwater and is home to numerous unique species, including the Baikal seal.
Africa
Lake Victoria
Location: Eastern Africa, bordered by Tanzania, Kenya, and Uganda.
Feature: Lake Victoria is the largest lake in Africa and the world's second-largest freshwater lake by surface area. Nile River begins in the rivers that flow into Lake Victoria.
Lake Tanganyika
Location: Eastern Africa, bordered by Burundi, Tanzania, Zambia, and the Democratic Republic of Congo.
Feature: Lake Tanganyika is the world's second-deepest lake and the longest freshwater lake. It is known for its biodiversity and the unique species that inhabit its waters.
Lake Malawi (Lake Nyasa)
Location: Shared by Malawi, Mozambique, and Tanzania.
Features: Lake Malawi is one of the African Great Lakes and is known for its clear waters and diverse fish species, including the colorful cichlids. It is a UNESCO World Heritage Site and plays an important role in supporting local fisheries.
Lake Turkana
Location: Located in Kenya.
Features: Lake Turkana is the largest desert lake in the world and is known for its unique greenish-blue color. It supports local communities through fishing and is also a site of archaeological significance, with fossil finds indicating early human habitation.
Lake Nasser
Location: Located in Egypt and Sudan.
Features: Lake Nasser is a reservoir created by the construction of the Aswan High Dam. It is one of the largest man-made lakes in the world and plays a role in regulating the flow of the Nile River and providing hydroelectric power.
Asia
Aral lake
Location: Kazakhstan and Uzbekistan
Features: The Aral Sea was once one of the world's largest inland lakes, but due to excessive water diversion for irrigation projects, it has significantly shrunk in size, leading to ecological and environmental challenges. The Aral Sea is now divided into the Small Aral Sea (North Aral) and the Large Aral Sea (South Aral).
Dead Sea
Location: Bordering Israel, Jordan, and Palestine.
Features: The Dead Sea is one of the saltiest bodies of water on Earth. It has high salinity due to its unique geography and high evaporation rate. The mineral-rich mud and water are believed to have therapeutic properties.
Lake Van
Location: Eastern Anatolia, Turkey.
Features: Lake Van is the largest lake in Turkey and one of the largest endorheic (closed basin) lakes in the world.
Issyk-Kul
Location:
Features: Issyk-Kul is one of the largest alpine lakes in the world. Despite its location in the mountains, the lake never freezes due to its salinity.
Tonle Sap Lake
Location:
Features: Tonle Sap is the largest freshwater lake in Southeast Asia. It's unique in that its flow changes direction during the monsoon season, leading to seasonal expansion and contraction. The lake is an important fishery and biodiversity hotspot.
Lake Poyang
Location: China
Feature: Lake Poyang is the largest freshwater lake in China and serves as an important habitat for migratory birds and several endangered species.
Important lakes and their features in India
Dal Lake
Location: Srinagar, Jammu, and Kashmir, in the Himalayan region.
Features: Known for its stunning beauty and houseboats, Dal Lake is a major tourist attraction. It is surrounded by picturesque mountains and offers shikara (traditional wooden boat) rides. The lake is also important for local livelihoods, supporting fishing and agriculture.
Wular Lake
Location: Bandipora district, Jammu and Kashmir.
Features: Wular Lake is one of the largest freshwater lakes in Asia. It plays a crucial role in maintaining the hydrological balance of the region and supports diverse bird species. The lake's catchment area is used for agriculture and horticulture.
Chilika Lake
Location: Coastal Odisha, near the Bay of Bengal
Features: Chilika Lake is the largest coastal lagoon in India and a haven for migratory birds. It is a designated Ramsar site and home to various aquatic species, including the Irrawaddy dolphin. The lake is separated from the sea by a sandbar, making it a unique ecosystem.
Vembanad Lake
Location: Kerala, between Alappuzha and Kochi
Features: Vembanad is the longest lake in India and the largest in the state of Kerala. It is known for its intricate network of backwaters, houseboat tourism, and vibrant ecosystem. The lake is a vital part of Kerala's culture and economy.
Loktak Lake
Location: Manipur
Features: Loktak Lake is the largest freshwater lake in northeastern India and the only floating lake in the world due to the presence of phumdis (floating mats of vegetation). The lake's Keibul Lamjao National Park is a refuge for the endangered Manipur brow-antlered deer.
Cholamu lake
Location: Sikkim
Features: It is the largest high-altitude lake in India. It is very near to the Indo-China border.
Pangong Lake
Location: Ladakh region
Features: Pangong Lake is a high-altitude lake known for its breathtaking blue waters and stunning surroundings. It extends into Tibet (China) as well. The lake freezes during winter, making it accessible by road.
Harike lake
Location: Tarntaran, Ferozpur, and Kapurthala districts of Punjab
Features: Harike is one of the largest man-made wetlands in northern India. It came into existence in 1952 after the construction of a barrage near the confluence of rivers Sutlej and Beas. Harike is a significant abode for the birds migrating from across the international frontiers. It is a Ramsar site as well.
Pushkar Lake
Location: Pushkar, Rajasthan.
Features: Pushkar Lake is a sacred lake and a prominent pilgrimage site for Hindus. It is believed to have been created by Lord Brahma and is surrounded by ghats and temples. The annual Pushkar Fair is a major event held near the lake.
Sambhar Lake
Location: Rajasthan, near Jaipur.
Features: Sambhar Lake is India's largest saline lake and a significant source of salt production. It is also a crucial habitat for migratory birds during winter.
Lonar lake
Location: Buldhana district, Maharashtra
Features: Lonar crater is formed due to the meteorite collision in Pleistocene Epoch. It is a notified Geo-heritage Monument with saline and alkaline water. It is one of only four known hyper-velocity impact craters in basaltic rock anywhere on Earth. The other three basaltic impact structures are in southern Brazil.
Hussain Sagar Lake
Location: Hyderabad, Telangana.
Features: Hussain Sagar Lake is an artificial lake built during the reign of Ibrahim Quli Qutub Shah. It is known for the iconic Buddha statue located on an island in the lake.
Pulicat Lake
Location: Bordering Andhra Pradesh and Tamil Nadu.
Features: Pulicat Lake is the second-largest brackish-water lake in India. It serves as an important habitat for migratory birds and supports local fishing communities.
These lakes play diverse roles in the ecological balance, cultural heritage, and economic activities of their respective regions. They are important not only for their natural beauty but also for their ecological significance and the livelihoods they support.
Previous year questions
Q. Which one of the lakes of West Africa has become dry and turned into a desert? (2022)
Lake Victoria
Lake Faguibine
Lake Oguta
Lake Volta
Q. With references to India, Didwana, Kuchaman, Sargol, and khatu are the names of? (2022)
Glaciers
Mangrove areas
Ramsar sites
Saline lakes
Q. Which of the following has/have shrunk immensely/dried up in the recent past due to human activities? (2018)
Aral Sea
Black Sea
Lake Baikal
Select the correct answer using the code given below :
(a) 1 only
(b) 2 and 3
(c) 2 only
(d) 1 and 3
­-Article by Swathi Satish