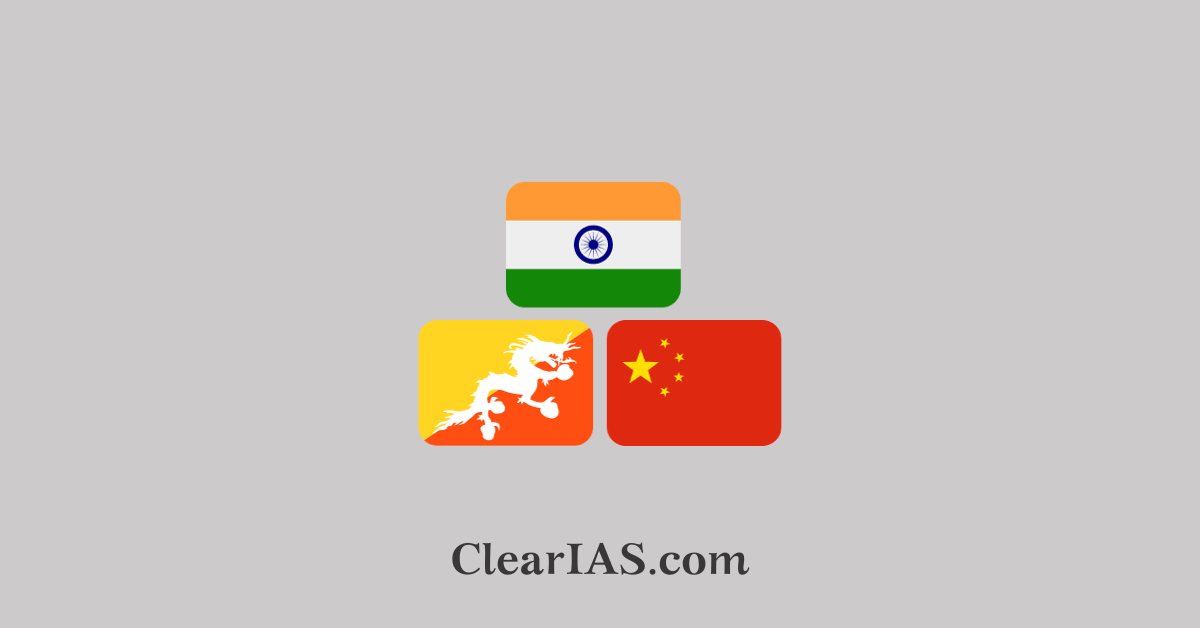 India-Bhutan-China relations have been historically characterized by their complex geopolitical dynamics and Bhutan's desire to maintain its sovereignty and independence. Read here to learn about the current developments in Bhutan-China relations and their implications for India.
Recently, the Bhutanese foreign minister visited China, which was the first-ever Bhutanese Foreign Minister. The main purpose was the holding of boundary talks that had not taken place in more than seven years.
China and Bhutan held their 25th round of boundary talks in Beijing and signed a Cooperation Agreement on the "Responsibilities and Functions of the Joint Technical Team (JTT) on the Delimitation and Demarcation of the Bhutan-China Boundary."
Given Bhutan's unique dependence on India, Bhutan's relations with China, out the perspective of guaranteeing India's security interests and red lines imminent as well. The geopolitical implications of the changing dynamics of India-Bhutan-China relations are also important to keep track of.
History of Bhutan-China relations
The history of their interactions is characterized by territorial disputes, border tensions, diplomatic efforts, and evolving relations.
Bhutan and Tibet (which was under Chinese suzerainty) historically had overlapping territorial claims in border regions. Some areas were under the influence of both Bhutan and Tibet, which led to disputes.
In the 18th century, Bhutan and Tibet engaged in several conflicts over territorial control. During this time, China also intervened in Tibet's affairs. The Bhutanese-Tibetan conflicts led to Bhutan's military expedition against the Tibetans.
The British, who controlled India, mediated in the Bhutanese-Tibetan conflicts and the Sino-Tibetan disputes. The Treaty of Sinchula (1865) between the British and Bhutan established new borders for Bhutan, but these agreements did not involve China directly.
In the 1950s, China invaded Tibet and asserted its authority over the region. This event had implications for Bhutan, as China began to claim Bhutanese territories in the border regions, particularly in the Chumbi Valley.
Bhutan's approach to its relationship with China has been cautious, given its geographical location and the influence of neighboring India. Bhutan's king, Jigme Singye Wangchuck, introduced a policy of "One Nation, Two Systems," similar to China's "One Country, Two Systems" approach, to maintain its unique cultural and political identity while fostering relations with both India and China.
Bhutan-China relations
The boundary between Bhutan and China has been disputed for decades. The two countries have engaged in several rounds of talks to resolve their border issues, with no final resolution to date.
The main point of contention is the Doklam plateau, a strategically important region near the India-Bhutan-China trijunction.
Sino-Bhutan Border Talks: Bhutan and China engaged in border negotiations in the 1980s and 1990s to address their territorial disputes. These discussions included the boundary in the Chumbi Valley and the northern Bhutanese regions of Doklam and Jakarlung. However, no final resolution was reached.
Doklam Standoff (2017): The Doklam Plateau, a region claimed by both Bhutan and China, became the center of international attention in 2017. A military standoff occurred between Indian and Chinese troops in the region, as India supported Bhutan's claim. The standoff eventually led to a diplomatic resolution, with both sides agreeing to withdraw their forces.
Bhutan-China have continued to engage in diplomacy and border discussions to resolve their disputes and improve bilateral relations.
Bhutan has historically pursued a policy of maintaining good relations with both China and India. India has played a significant role in Bhutan's security and foreign policy.
While border disputes and territorial claims have been points of contention, Bhutan and China have also engaged in trade and diplomatic exchanges. China is one of Bhutan's major trading partners.
Bhutan has maintained a cautious and moral stance in its dealings with China to safeguard its territorial sovereignty. It has sought to maintain its independence and autonomy in the face of its much larger neighbor.
Bhutan's "Two Neighbors" Policy:
Bhutan follows a "two neighbors" policy, emphasizing friendly relations with both India and China. While its ties with India are deep-rooted and multilayered, Bhutan also recognizes the importance of having a working relationship with China.
Bhutan has not recognized Tibet as part of China. This has been a sensitive issue in Sino-Bhutanese relations as China considers Tibet to be an integral part of its territory.
Cultural and people-to-people exchanges have taken place between Bhutan and China, particularly in the fields of art, culture, and Buddhism. Bhutan has hosted delegations from China and has encouraged dialogue on cultural exchanges.
Bhutan and China have explored the potential for cooperation in the field of hydropower. China has expressed interest in investing in Bhutan's hydropower sector, which is a significant source of revenue for the Bhutanese economy.
India-Bhutan Relations
Diplomatic relations between India and Bhutan were established in 1968 with the establishment of a special office of India in Thimphu. The basic framework of India-Bhutan bilateral relations is the Treaty of Friendship and Cooperation signed in 1949 between the two countries and revised in February 2007.
India has been extending economic assistance to Bhutan's socio-economic development since the early 1960s when Bhutan launched its Five Year Plans.
The key areas of focus of India's assistance include agriculture and irrigation development, ICT, health, industrial development, road transport, energy, civil aviation, urban development, human resource development, capacity building, scholarship, education and culture.
Mutually beneficial hydro-power cooperation with Bhutan forms the core of bilateral economic cooperation. For Bhutan, hydro-power development continues to be a vital catalyst for socio-economic development.
India is Bhutan's largest trading partner. Major exports from India to Bhutan are mineral products, machinery and mechanical appliances, electrical equipment, base metals, vehicles, vegetable products, plastics, and articles.
The major items of export from Bhutan to India are electricity, ferrosilicon, portland cement, dolomite, carbides of calcium carbides of silicon, cement clinkers, timber and wood products, potatoes, cardamom and fruit products.
India-Bhutan-China: The trijunction
Bhutan's relationship with India is historically strong, and India plays a significant role in Bhutan's security and foreign policy. India and Bhutan have a close strategic partnership, and India has supported Bhutan in its border negotiations with China.
Bhutan and China have engaged in trade relations, particularly in the form of border trade. Bhutan exports products like cardamom, oranges, and other goods to China. However, trade is relatively limited compared to Bhutan's trade with India.
Bhutan practices cautious and pragmatic diplomacy with China. It has sought to avoid getting embroiled in broader geopolitical tensions, such as the India-China border dispute, by focusing on its specific border issues and maintaining a neutral stance.
Bhutan is uniquely dependent on India; thus, India has been supportive of Bhutan's attempts to normalize relations with China in exchange for India's red lines and security concerns.
One such red line will be keeping China away from the ridges in southern Doklam that overlook India's "Siliguri corridor.
Beijing and Thimphu are contemplating a swap between areas in the northern valleys, where Bhutan is facing significant Chinese pressure, and on the western Doklam plateau.
Meanwhile, border negotiations will probably continue, with Thimphu taking its time normalizing relations and allowing China to have a permanent diplomatic representation.
India now has to decide how best to safeguard its interests. India would be better serving its interests by coordinating with Bhutan.
India's interests won't necessarily be jeopardized by a border agreement that preserves India's red lines in the west while attending to Bhutanese concerns in the north.
India should approach the border discussions with a better knowledge of Bhutan's logic and confidence that its long-trusted neighbor will take into account both India's and its interests before reaching a final deal, instead of reacting in haste.
India has strategic interests in Bhutan due to its location, and Bhutan has been a key ally for India in the region. A closer Bhutan-China relationship may lead to concerns about security and influence in the Himalayan region.
Bhutan's relationship with China could be seen as part of the broader geopolitical competition in Asia. India, China, and other major powers are vying for influence in the region, and Bhutan's alignment can be viewed in this context.
Historically, India has had a significant influence on Bhutan's foreign policy. A more independent Bhutan could reduce India's leverage in the region and limit its ability to shape Bhutan's strategic decisions.
As Bhutan develops economic ties with China, there may be concerns about the extent of economic dependence and potential strings attached to Chinese investments. India's economic interests in Bhutan may be affected.
Conclusion
The India-Bhutan-China relationship is complex and influenced by various geopolitical and territorial factors. India's close ties with Bhutan, coupled with its border issues with China, make this tripartite relationship significant in the context of South Asian and Himalayan geopolitics.
Diplomatic efforts and peaceful negotiations are essential to resolving the outstanding territorial issues and maintaining regional stability.
Overall, Bhutan-China relations are influenced by Bhutan's strategic considerations, including its need to balance its relationships with India and China. The border dispute remains a prominent issue, and the resolution of this dispute will be a crucial aspect of the relationship between the two countries. Bhutan's approach to its neighbors is driven by its commitment to safeguarding its sovereignty and promoting its national interests while maintaining diplomatic relations with both India and China.
The India-Bhutan-China relationship is complex and influenced by various geopolitical and territorial factors. India's close ties with Bhutan, coupled with its border issues with China, make this tripartite relationship significant in the context of South Asian and Himalayan geopolitics. Diplomatic efforts and peaceful negotiations are essential to resolving the outstanding territorial issues and maintaining regional stability.
-Article by Swathi Satish