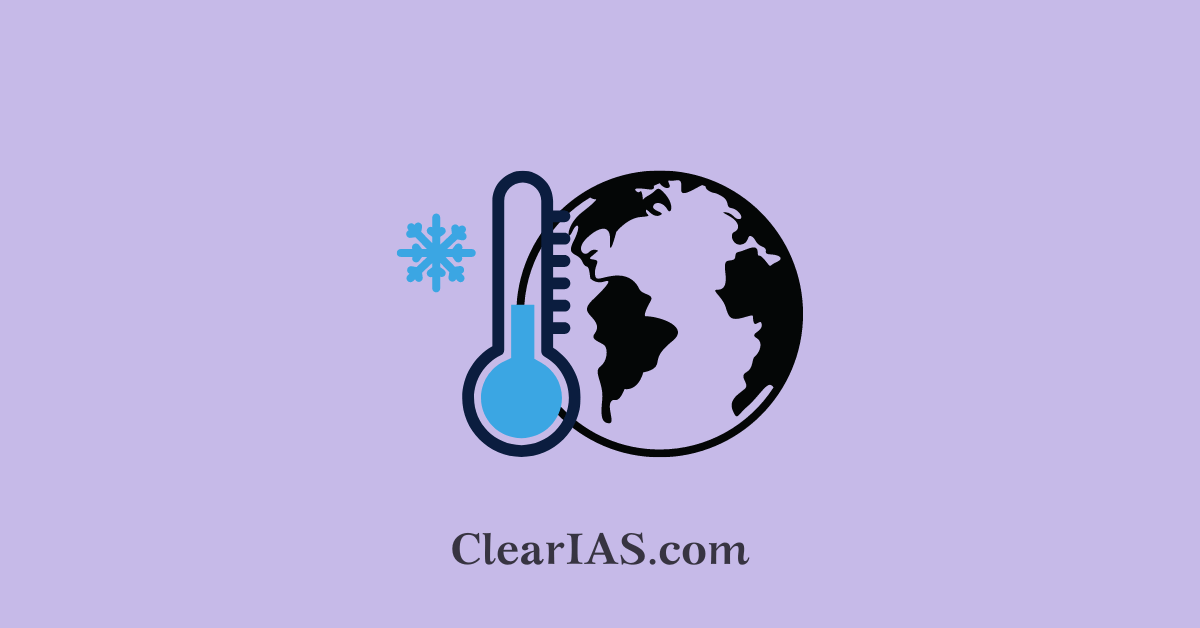 The India Cooling Action Plan (ICAP) is a comprehensive strategy launched by the Government of India in 2019. It provides an integrated vision towards cooling across sectors helping in the reduction of cooling demand, refrigerant transition, enhancing energy efficiency, and better technology options. Read here to learn more about it.
NITI Aayog has estimated that almost 65% of the energy demand in India is utilized for space cooling and heating. This usage is projected to rise eleven-fold by 2037-38.
For this reason, India became the first country in the world to bring out a Cooling Action Plan in 2019.
The India Cooling Action Plan (ICAP) is a comprehensive strategy launched by the Government of India in 2019 to address the challenges posed by the growing demand for cooling solutions in the country.
India Cooling Action Plan
India Cooling Action Plan (ICAP) provides an integrated vision towards cooling across sectors encompassing, inter alia, reduction of cooling demand, refrigerant transition, enhancing energy efficiency, and better technology options by 2037-38 through forging synergies with ongoing programs/ schemes of the Government.
The plan aims to reduce cooling-related energy consumption and greenhouse gas emissions while promoting sustainable and climate-friendly cooling technologies and practices.
Key objectives of the India Cooling Action Plan are:
Reduce Cooling Demand: ICAP focuses on reducing the overall cooling demand in India by promoting energy-efficient building designs, better insulation, and the adoption of cool roofs and walls. The plan aims to mitigate the increasing energy consumption associated with cooling needs.
Promote Sustainable Cooling Technologies: The plan emphasizes the use of environmentally friendly and energy-efficient cooling technologies, such as natural cooling methods, energy-efficient air conditioners, and low-GWP (Global Warming Potential) refrigerants.
Strengthen Policy and Regulatory Framework: ICAP aims to strengthen the policy and regulatory framework related to cooling technologies and practices. It includes developing and implementing standards and labels for energy-efficient appliances and phasing out high GWP refrigerants.
Other elements of ICAP are:
The plan focuses on skill development and training programs for technicians and professionals in the cooling sector to promote the adoption and maintenance of sustainable cooling technologies.
ICAP encourages research and development efforts to promote innovative and sustainable cooling solutions, including the development of climate-friendly refrigerants and cooling technologies.
The plan aims to raise awareness among the public about sustainable cooling practices and the importance of energy efficiency.
It seeks to engage stakeholders, including industry, consumers, and policymakers, in promoting climate-friendly cooling.
ICAP recognizes the importance of international collaboration and cooperation in addressing cooling-related challenges. India aims to learn from and contribute to global efforts in promoting sustainable cooling technologies and practices.
Implementation strategy
Towards promoting passive cooling in buildings, the Bureau of Energy Efficiency (BEE) has brought out the Energy Conservation Building Code (ECBC) for all large commercial (non-residential) buildings and Eco-Niwas Samhita (ECBC-R) for residential buildings.
Studies on promoting non-Ozone Depleting Substances (ODSs) and low Global Warming Potential based technologies in Cold Chain, building sector, and Public Procurement have been undertaken.
Up-skilling and certification of 43,450 Refrigeration and Air-conditioning (RAC) service technicians have been undertaken under the national skill qualification framework (NSQF) of the Pradhan Mantri Kaushal Vikas Yojana (PMKVY) of the Ministry of Skill Development and Entrepreneurship (MSDE).
Cooling solutions under ICAP
Recently, the Centre for Science and Environment published a guidance document that cites a range of sustainable cooling solutions that do not rely on conventional practices.
Evaporative cooling
Evaporative cooling is an extremely effective way of cooling that has been used extensively in hot and dry conditions for centuries.
One simple device that employs this form of cooling is the desert cooler. The process involves hot air passing through a medium that is saturated with water.
The hot air then transfers heat to the water, causing it to evaporate and turn into vapor. As a result, the air is cooled and becomes more humid, providing thermal comfort for occupants.
Geothermal properties of earth
A few meters below Earth's surface, the temperature remains constant at around 24 degrees Celsius.
Buildings can have earth air tunnels constructed through which filtered ambient air is made to pass, exchanging heat with the earth in the process.
By the time this air is introduced to indoor spaces, the air is cooler, hence providing thermal comfort to occupants while eliminating the requirement for an air conditioner to a large extent.
Architectural design
Passive principles of architectural design refer to design strategies that use natural elements and features to improve the energy efficiency, comfort, and sustainability of buildings, and eliminate or reduce their reliance on active or mechanical systems.
Microclimate enhancement with the help of trees and vertical gardens has also been used to bring down the ambient temperature
District cooling system
District cooling system employs one central chilled water source for several buildings.
This is in contrast with conventional heating, ventilation, and air-conditioning (HVAC) systems that utilize either window units in each room in small buildings, or centralized air-conditioning in large buildings.
District cooling systems are more energy efficient and require lesser installed capacity than conventional air conditioning.
Having a centralized chilled water production and heat rejection mechanism opens up several other doors toward low-carbon cooling.
District cooling offers the possibility of converting excess heat into chilled water with the help of vapor absorption machines (VAM).
Dehumidification
This renewable source of fuel/heating can be used in various other forms to provide occupant thermal comfort.
A desiccant-based evaporative cooler (DEVAP) system has been proposed that dehumidifies the air with help from excess/renewable heat and then uses evaporative cooling to bring the air to a comfortable level.
Significantly more energy is required to achieve the same results as traditional air-conditioning.
Radiant Cooling technology
Radiant cooling is a type of cooling system that works by absorbing heat from indoor spaces through radiation.
Unlike traditional air-conditioning systems that use air to transfer heat, radiant cooling uses chilled water or other fluids circulating through pipes embedded in the ceilings, walls, or floors of a building to remove heat.
This cools down the surfaces which then use radiation to absorb heat from sources such as humans and equipment.
As a result, the temperature of the room drops, creating a comfortable and consistent cooling effect.
Relevance of the Indian Cooling Action Plan
The India Cooling Action Plan is aligned with India's commitments under the Kigali Amendment to the Montreal Protocol, which aims to phase down the use of high GWP refrigerants to mitigate climate change.
India is a signatory to major global environmental conventions and treaties including:
United Nations Framework Convention on Climate Change
United Nations Convention to Combat Desertification
Convention on Biological Diversity
Montreal Protocol on Substances that Deplete the Ozone Layer
Stockholm Convention on Persistent Organic Pollutants
India has taken ambitious targets in support of global environmental goals as evidenced in its-
Nationally Determined Contributions for Combating Climate Change under the Paris Agreement
Ratification of the Kigali Amendment to the Montreal Protocol for the phase-down of Hydrofluorocarbons
Restoration of 26 million hectares of degraded land by 2030 under the United Nations Convention to Combat Desertification and conserving 30% of land and oceans by 2030.
India engaged constructively with all member states in the fifth United Nations Environment Assembly (UNEA 5.2) in 2022 to develop a consensus on the resolution for driving global action on plastic pollution.
Conclusion
Issues relating to climate change and environmental protection are discussed in the various international environmental conventions and treaties comprising representatives from both developed and developing countries.
Commitments including decisions in such conventions and treaties are arrived at after extensive discussions and following a process of consensus.
India has raised the issue of disproportionate usage of the global carbon budget by developed countries that have led to global warming; their high levels of current emissions and their need to reach net zero much ahead of 2050.
By promoting sustainable cooling solutions and reducing greenhouse gas emissions, the plan contributes to India's broader efforts to combat climate change and achieve its climate goals.
-Article by Swathi Satish