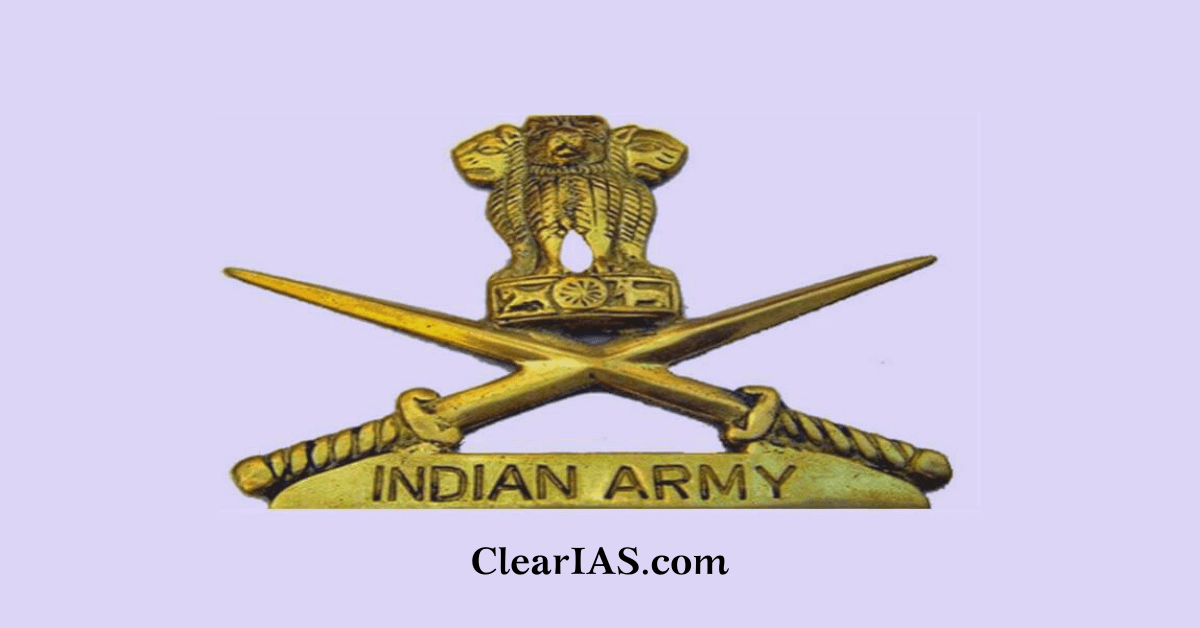 The Indian Army forms the backbone of Indian defence system. From the very onset, the institution has been one that inspires discipline and moral uprightness.
Cultivating an environment of peace and security so that the nation grows to its fullest potential makes the Indian army a noble profession. Enrolling into the service is naturally seen as a matter of pride by the citizens.
However, the recent past has seen the institution catching headlines for some not so good reasons. This is particularly true in the context of the recent video blogs which shows mistreatment of soldiers by higher officers. Here we analyse some of the major points of concern with respect to Indian Army and attempt to resolve them through amicable solutions.
Indian Army – An Overview
Indian Army has its roots in the East Indian Company army.
Indian army was developed by integrating the pre-independence forces of British India and princely states – under the supreme command of the Indian President.
It is entrusted with the responsibility of ensuring national security by defending against external as well as internal threats.
It forms the land-based branch of the Indian Armed Forces complementing the other two branches – Indian Navy and Indian Air Force.
Structure of Indian Army
Organizationally the Indian army structure is divided into seven geographical commands – 6 operational and 1 training command viz.
Northern Command (Udhampur, Jammu and Kashmir),
Central Command (Lucknow, UP)
Western Command (Chandigarh)
South Western Command (Jaipur, Rajasthan)
Eastern Command (Kolkata, West Bengal),
Southern Command (Pune, Maharashtra) and
Army Training Command (Shimla, Himachal Pradesh).
Functional Divisions of the Indian Army
The Army is divided into the following functional divisions:
Armored Corps
Artillery
Corps for Air Defense
Aviation Corps
Corps of Engineers
Corps of Signals
Infantry
Ordnance Corps
Indian army: Issues and Grievances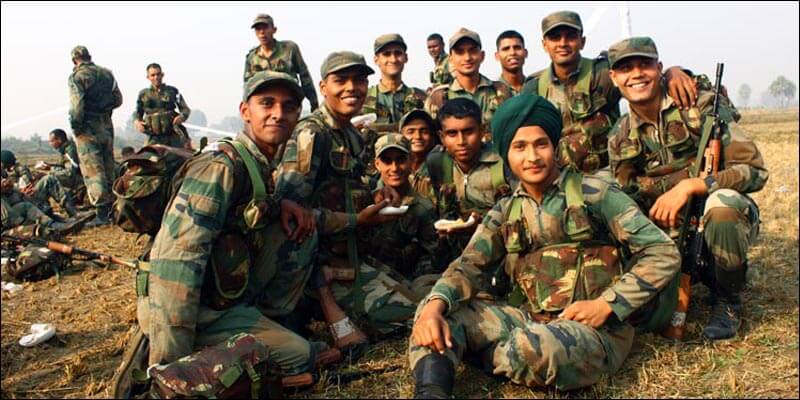 Recent media reports had highlighted some issues/grievances connected with Indian Army.
Skewed Promotions Trends – Bypassing seniority
The new Army Chief, General Rawat, was third in line according to the convention of seniority. However, he was made the Chief, bypassing protocol/convention. Although there is no legal basis to challenge the same, the move has raised eyebrows both within and outside the Army circles. Those unhappy with the decision put forth a host of arguments.
Merit and experience in combat as deciding parameters in the appointment is inconclusive. Army is not meant to be only a counter-insurgency force. Hence a greater experience in that domain shouldn't put a candidate at an advantage.
It would set a bad precedent for future appointments in the Army and other institutions. The increased politicization might lead to a politico-army nexus which might see the army officials play to the gallery rather than be objective with their policies.
A Muslim officer was second in line. Given the anti-minority attitude allegations against the government, this move only adds fuel to the fire.
Service related bias – Favour towards one service wing
The claim that there exists intra-Army bias lopsided in favour of certain services is another worry.
It is evidenced by the fact that the last four Army chiefs have all been from the same service wing-Infantry.
A clear preference for Infantry over Artillery, which in-turn supersedes Engineers and Signals have also been observed in promotions. This preference is observable in the time-frame for promotion in different services – Infantry – 2 years, Artillery – 2.5 years and Engineers and Signals – 3 years.
This differential promotion criterion was established by the Ajai Vijay Singh Committee recommendations, which were upheld by the Supreme Court in Feb 2016.
Regiment bias
To add to the misery, a preference for personnel from own regiment has also been observed
Nutritional Issues – Quality and Quantity concerns
It was Napoleon who quoted the right words – an army marches on its stomach.
In this light, the video blogs highlighting poor and unhealthy diet being served to the army personnel is disheartening.
The claimants have pointed out that rations that reach them are merely 40% of that mandated on paper.
Leave policy  – Discrimination
There have been instances of discrimination in allowing leaves as well.
Reluctant leave policies that are rooted in mistrust and corruption do no good to the institution either.
There have been alarming reports like that of leave being denied for 10 months to an army personnel. This clearly reflects the apathetic attitude that our heroes are challenged with
Continuation of certain colonial practices
Although we have left behind our dark colonial past, the past seems to have been ingrained into our societies so deeply that cultural colonialism of those days still persists. This was manifested in revelations about the existence of certain practices within the Army that were aimed at mistreating the Indian soldiers during the colonial era.
1. Sahayak system
As the name suggests, soldiers in this system are forced to do domestic chores for senior officers, acting as their 'sahayaks'.
This includes petty chores like washing clothes, polishing shoes, walking the officer's dogs etc.
2. Buddy system
Although the intent of this approach, which is also being emulated in corporates, is easy integration of new joiners, the system has been exploited by higher officials for selfish interests.
Soldiers are deputed to senior officers to learn better, but they end up serving them, doing their personal chores instead.
Rising suicides and fratricides
It is no secret that cases of suicides and fratricides are common in the Army.
Statistics revealed by Parliamentary Standing Committee on Defence, 2003-2013, for instance, point out disturbing numbers: 1666 suicides and 109 fratricides (killing/shooting comrades)
No proper grievance redress mechanism
There have also been complaints of court martial being used as a tool to harass complainants.
Victimization of the accused rather than bringing him to justice seems to be the undertone.
Existential crisis
While the Indian Army, the Navy and the Air Force are under the Defence Ministry, the 7 paramilitary forces are under the Home Ministry.
This has resulted in certain peculiar distinctions where paramilitary personnel seem to be given step-motherly treatment.
For instance, there is no grievance redress mechanism for the paramilitary. The Armed Forces Tribunal (2007) comes under the Defence Ministry and hence, excludes the 7 paramilitary forces.
Instead, paramilitaries follow Security Force Court (a court martial like system). This court can also pronounce death sentences, although no appellate mechanism is supported except a petition.
Besides, constitutional limitations like those enlisted in Article 33 impose limitations on usage of writ petitions as well.
Reform reports kept out of public
It isn't that the need for reforming the Indian Army wasn't evident earlier, many studies and reports have been focused in this direction. However, despite multiple studies for reforms, the reports have not been made public. This has given leeway to the slow progress in this regard as the identified issues are kept out of public domain.
Shekatkar Committee Recommendations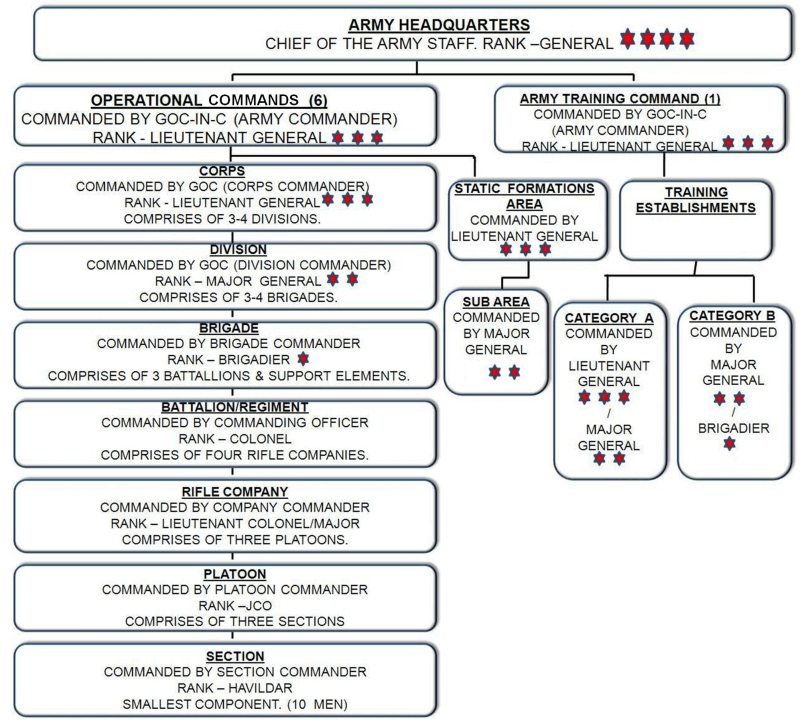 The military reforms committee – under Lt General (retired) DB Shekatkar – was set up by then defence minister Manohar Parrikar in 2015.
The 11-member committee was established with a mandate for "Enhancing Combat Capability and Rebalancing Defence Expenditure".
The committee submitted its report on December 21, 2016.
Shekatkar committee had made recommendations on enhancing the combat potential of India's three armed forces, rationalising the defence budget, and improving the teeth-to-tail ratio.
Though the Shekatkar committee recommendations do not connect with all the grievances we discussed before, the committee had apparently exceeded its brief with some 200 recommendations.
The defence ministry whittled it down to 120, of which some 90 were approved by Defence Minister Arun Jaitley. The ministry expects all the proposals to be implemented in the next two years. (Reference: Hindustan Times)
The panel wants the military to move out of non-core areas such as the National Cadet Corps (NCC), remove duplicity among the three services, and make institutions such as the Defence Research and Development Organisation (DRDO) and ordnance factory boards more accountable through project audits and by shelving outdated concepts.
A major recommendation is that the defence budget should be 2.5% to 3% of the GDP.
Way Forward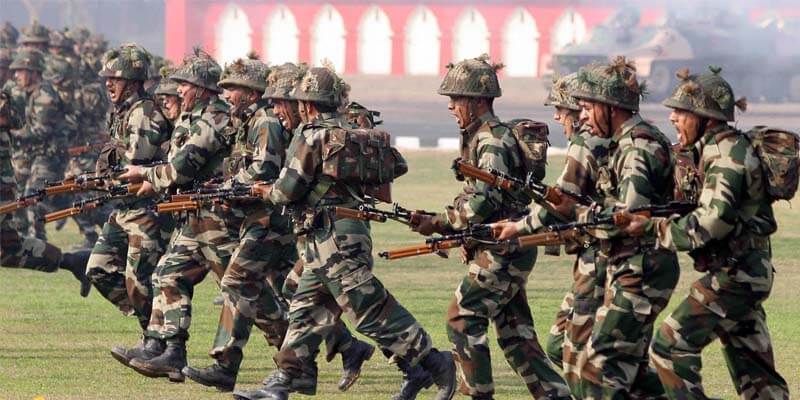 Political oversight without politicization must be the approach that the governments should adopt. This would check the adverse threat of politicization of the armed forces.
Intra-service victimhood would only deteriorate the institution from within and snowball into a National Security concern. Therefore, a balanced approach rather than the Ajai Vikram Singh Committee based differential promotion parameters must be adopted. A feeling of equality amongst the services is essential for cohesion to thrive.
Grievance redress mechanisms must be strengthened. Steps like keeping feedback/complaint boxes without victimizing complainants and access to appellate mechanisms is a must.
Leave policy must be synchronized on the lines of other organizations with a clear casual/earned leave split-up and guidelines for filing the same. Moreover, it must be ensured that timely approvals are mandated for the leaves with written reasons for denial whenever the case be so.
Policy on social media usage to counter the threat to national security must be rolled out. This, to cater to concerns that video blogs have compromised sensitive locations like borders, camps. In the era of twitter governance, it is hard to keep people outside the folds of social media. Better regulation rather than a blanket ban, therefore, could be a rational course of action.
Better sensitization within the establishment is required to address genuine concerns related to nutrition, hygiene, leave, compensation etc.
Acting against acts like Sahayak System could help regain the confidence of enrolled as well as aspiring soldiers.
Boosting troop morale by acting on reports from reform related studies and not keeping them under the table in the name of secrecy is another must-do in this case.
The paramilitary forces must be brought at par with the other armed forces. Achieving this transition, however, may or may not need the transfer of loyalties from Home Ministry to Defence Ministry. A positive step in this regard was the recently launched app for grievance redress that provides a direct line of contact with Home Ministry bypassing the officers in command, for complaints by jawans.
Bureaucratic intervention (at the administrative level) may continue but must be overhauled to be on the lines of bipartisan selection committees like the ones for CVC and CBI chief selections. This could help settle the friction with the civilian administration.
Moreover, it isn't the time to shoot the messengers, rather bringing them on board is the viable way ahead. The people who bring to light inherent issues must be seen as whistle-blowers rather than rebels. Nevertheless, it would be a wise step to direct such grievances by developing efficient internal grievance redress mechanisms that also provide for internal whistle-blowing avenues, without bringing bad name to either the complainant or the institution as a whole
Conclusion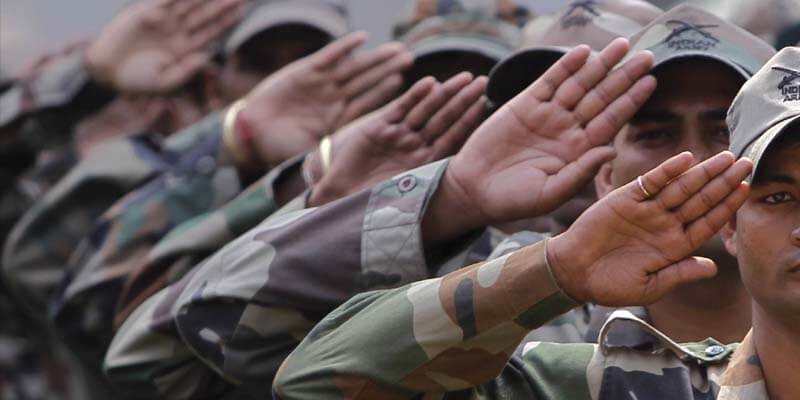 At a time when the geopolitical challenges, especially with escalations along the border by Pakistan and China combined (To know about India-China border dispute, click here), are already a worry, a weakly bound army is the last thing we would want on our plate.
Weakness from within withers even the strongest of forces. A weak army, therefore, would only add to our vulnerabilities and be a threat to National Security. Our history is a testimony to how petty internal fights and grievances left us unguarded against the colonial powers. To let this mighty force that unites India fall prey to similar follies would be unfortunate. It is the cohesion within the force and the will to defend the nation by standing shoulder-to-shoulder that inspires might.
By letting issues, such as the ones discussed above, permeate, we are letting a slow poison eat into our strengths. It is, therefore, the moral responsibility of all the stakeholders to ensure that corrective measures are taken immediately and the army reformed from within. For it may be a molehill now, but if let go unchecked there is no stopping it from snowballing into a mountain that would be hard to dispel.
Article by: Shuja Shabir