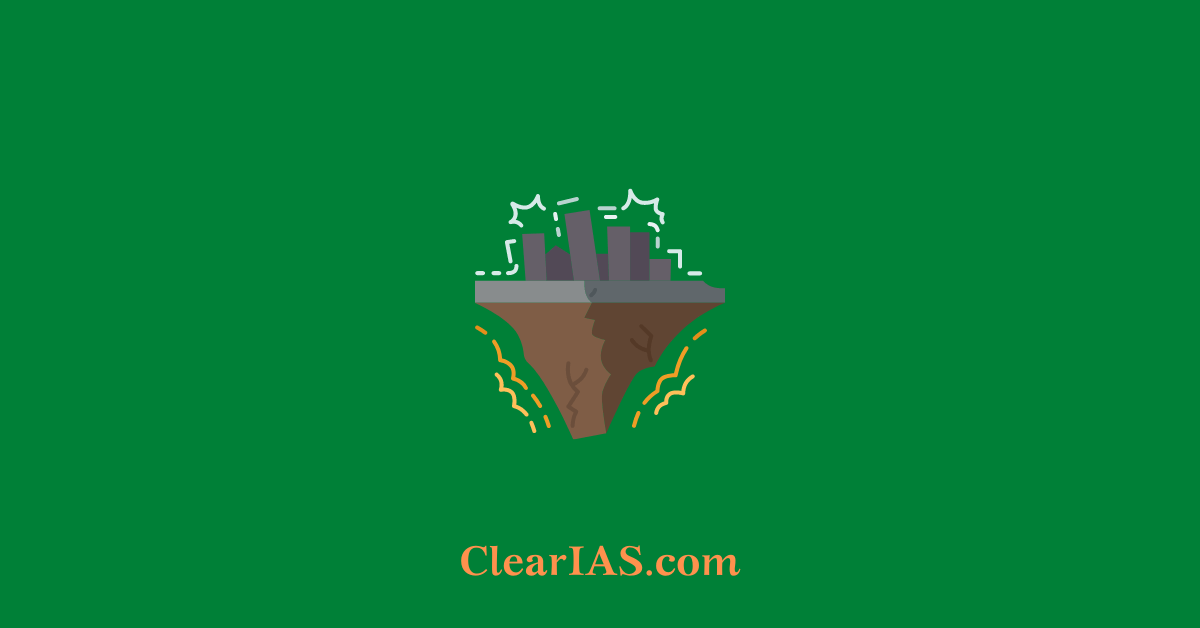 What are Earthquakes? What Makes India Susceptible to Earthquakes? Why some parts of India are more prone to earthquakes? What Steps can be Taken for India's Earthquake preparedness? What are the challenges in Earthquake management in India? Read further to know more.
On February 6, 2023, a powerful earthquake and a nearly identical aftershock struck southeast Turkey and Syria, resulting in extensive damage and fatalities.
The Turkey-Syria earthquake should spur a review of India's earthquake preparedness because the nation generally has lax enforcement of zoning and construction regulations.
What are Earthquakes?
An earthquake is the shaking of the earth as a result of the interior of the earth's crust releasing energy, which creates waves that move in all directions. Small tremors to big buildings collapsing are all possible during an earthquake.
Every few minutes, there are small vibrations that create minor tremors, but larger earthquakes brought on by faulting (normal, reverse, and strike-slip) cause a lot of interruptions.
What Makes India Susceptible to Earthquakes?
The Himalayan plate border, which has the potential for massive quakes, is particularly vulnerable to earthquakes in India because of its geography (magnitude 7 and above).
The Indian Plate colliding with the Eurasian Plate is the main reason for earthquakes in India.
The Himalayas were created as a result of this collision, and the area experiences frequent earthquakes as well.
There are observable seismic gaps along the Himalayan axis where the previous release of geological stress doesn't completely account for the strain that has built up, according to scientists.
For instance, compared to other regions, the Central Himalayas has historically experienced fewer earthquakes. So, it's one area where a major earthquake can be projected to occur in the future.
The term "Seismic Gap" refers to a section of an active fault that has had little to no seismic activity for an extended period, suggesting the building of tensions that are helpful in earthquake prediction.
Why some parts of India are more prone to earthquakes?
The Indian Plate colliding with the Eurasian Plate is the main reason for earthquakes in India.
Himalayan belt:
The collision between the Java Sumatra and the Burma plates, as well as the Indo-Austral and Eurasian plates. The energy of the underlying rocks is greatly strained by this contact, and some of that energy is released as earthquakes.
Subsurface rocks are under a great deal of stress as a result of the collision of two continental plates. The result of this stress is earthquakes.
Andaman and Nicobar Islands:
Underwater volcanoes and seafloor movement alter the equilibrium of the earth's surface
Deccan Plateau:
Some geologists have proposed a theory explaining the origin of a fault line and energy buildup along the river Bhima (Krishna) fault line near Latur and Osmanabad (Maharashtra).
India is a country with a significant earthquake risk due to its growing population and irrational land use for construction.
What Steps can be Taken for India's Earthquake preparedness?
Since it is impossible to prevent earthquakes, the best course of action is to prioritise disaster preparedness and mitigation over curative interventions like:
Building Codes and Standards:
India has set building regulations and requirements for construction that are quake-resistant.
To guarantee that new structures are constructed to withstand earthquakes, it is crucial to properly follow these laws and standards.
Regular inspections and enforcement of current building codes are also necessary for this.
Modifying the types of homes and building designs in the most vulnerable locations, and discouraging the development of high-rise structures, huge industrial facilities, and sprawling urban centres there.
Lastly, requiring big construction projects in susceptible areas to utilise light materials and earthquake-resistant designs.
Retrofitting and Reinforcement:
Many older structures can be modified or reinforced to improve their seismic performance even though they may not currently fulfil earthquake-resistant criteria.
Emergency Response Planning for India's Earthquake preparedness:
Making emergency response plans is essential for reducing the effects of earthquakes. This includes creating emergency shelters, creating evacuation plans, and instructing staff members on how to handle earthquakes.
Research and Monitoring:
It is possible to develop better techniques for forecasting and reducing the effects of earthquakes by investing in research and monitoring. This will help us understand earthquakes and their causes.
The establishment of earthquake monitoring centres (seismological centres) for ongoing observation and rapid information distribution among the public
Land-Use Planning:
When creating land-use policies, it's crucial to take earthquakes' possible effects into account.
This involves limiting construction in earthquake-prone locations and making sure that new construction is designed and built in a way that reduces the risk of damage.
Vulnerability map for India's Earthquake preparedness:
creating a map of the nation's vulnerabilities, informing the public about vulnerability risks, and teaching them how to minimise the negative effects of disasters.
Some Important institutional measures to prevent and mitigate earthquake loss
Earthquake preparedness, rather a disaster management, and preparedness was an evolutionary road.
The National Center for Seismology for India's Earthquake preparedness
An office under the Earth Sciences Ministry. Governmental organisations receive reports on seismic surveillance and hazards from it.
Earthquake Monitoring & Services, Earthquake Hazard & Risk Assessment, and Geophysical Observation System are its three departments.
National Earthquake Risk Mitigation Project (NERMP)
Enhancing earthquake mitigation programmes' non-structural and structural components.
Lowering the degree of vulnerability in high-risk areas.
In areas with strong seismic activity, necessary risk reduction measures are put in place.
The project's assigned agency, NDMA, has created a detailed project report (DPR).
National Building Code (NBC) for India's Earthquake preparedness
Detailed building regulations and a national instrument offering standards for governing building construction operations nationwide.
The Planning Commission ordered its first 1970 publication, which was later updated in 1983. Following that, three significant amendments—two in 1987 and the third in 1997—were published.
The National Building Code of India 2005 replaces the updated NBC (NBC 2005).
Meeting the problems presented by natural disasters and adopting current, applicable international best practices are the key characteristics.
Building Materials & Technology Promotion Council (BMTPC)
Carries out initiatives for life-line structure retrofitting to raise awareness among the public and various governmental organisations.
Intended to assist the general public and governments in their efforts to lessen the vulnerability of lakhs of existing public and private structures.
Initiatives by the Ministry of Panchayati Raj
It makes available money from the Backward Regions Grant Fund (BRGF) to fill important infrastructure gaps and other development needs.
Construction of panchayat buildings, Anganwadi centres, school buildings, classrooms, roads, bridges, culverts, etc. has been funded by the ministry under several district plans under the BRGF, as well as the restructuring of State Institutes for
Rural Development (SIRD) buildings, block resource centres, panchayat training centres, etc.
National Retrofit Program for India's Earthquake preparedness
The NDMA released guidelines on "seismic retrofitting" along with specialists from several IITs and the necessary ministries.
Following these standards, the National Retrofitting Program was introduced by the Home Ministry in 2014.
The RBI had instructed the banks to refuse loans to any construction that does not adhere to the regulations for earthquake-resistant structures.
The government launched two Mobile apps for India's Earthquake preparedness
'India Quake'– The mobile app, which was created by the National Center for Seismology, disseminates information about earthquakes in real-time.
'Sagar Vani'-The smartphone app, designed to assist coastal communities, promptly notifies the user community of ocean-related information and alerts (such as high waves and Tsunami early warnings) for their protection.
The National Disaster Response Force (NDRF)
In India, where heritage sites are susceptible to natural catastrophes including earthquakes, floods, cyclones, and tsunami, the National Disaster Response Force (NDRF) works to be the first responder.
National Disaster Management Authority (NDMA)
The Disaster Management Act was passed in December 2005.
The Disaster Management Act called for the establishment of State Disaster Management Authorities (SDMAs) led by the respective Chief Ministers to carry out similar functions at the state level and the National Disaster Management Authority (NDMA) to oversee disaster management efforts in India.
International cooperation in India's Earthquake preparedness
The Sendai Framework for Disaster Risk Reduction, which approaches disaster management in a highly holistic manner, has India as a signatory.
India actively participates in the UN's International Strategy for Disaster Reduction (UNISDR).
SCOJtEx-2019, a joint exercise of the Shanghai Cooperation Organization on urban earthquake search and rescue, took place in New Delhi.
In Odisha, the BIMSTEC Disaster Management Exercise was held for the second time.
Challenges in India's Earthquake preparedness
The majority of the earthquake-prone zone is a hilly and mountainous area. Retrofitting is challenging and expensive in these areas.
There is a shortage of skilled labour for designing and constructing earthquake-resistant structures.
The licencing of structural engineers based on competency is not formally implemented.
Building codes are not strictly enforced, and safety requirements are not closely maintained.
According to NDMA, Ahmedabad's nearly 4,000 multi-story buildings won't withstand a high-magnitude earthquake because of poor design.
The process of raising money during calamities is still not standardised. There is not enough awareness of the national disaster relief fund.
The difficulties in coordinating the response to the floods in Uttarakhand indicate that the disaster response system has shortcomings.
The regime for generating awareness is not effective enough. The local populace was not sufficiently trained for post-disaster operations.
Way forward
The NDMA earthquake recommendations must be followed exactly.
In seismic zones with a very high risk of earthquakes, a specific department for earthquake management must be established.
In the hilly area, it is important to encourage the traditional Khasi house design.
Granting tax breaks to those who construct structures with earthquake resistance.
It is necessary to establish a single point of contact for all response divisions to improve coordination.
It is necessary to enhance the skills and capabilities of the local community.
The empowerment of panchayats and municipal corporations in earthquake management and the response would be an efficient method to do that.
To minimise the effects of earthquakes, coordination with other departments like the fire and irrigation departments is necessary.
The fund and technological know-how must be added to the state governments.
To localise research and programming, research and development centres must be established in states like Uttarakhand and other high-risk regions.
For high-risk states, paradiplomacy in disaster aid can be a useful tool for cooperation.
UPSC Civil Services Examination Previous Year Question (PYQ)
Q. The frequency of earthquakes appears to have increased in the Indian subcontinent. However, India's preparedness for mitigating their impact has significant gaps. Discuss various aspects. (2015)
Q. Discuss about the vulnerability of India to earthquake related hazards. Give examples including the salient features of major disasters caused by earthquakes in different parts of India during the last three decades. (2021)
Article written by Aseem Muhammed