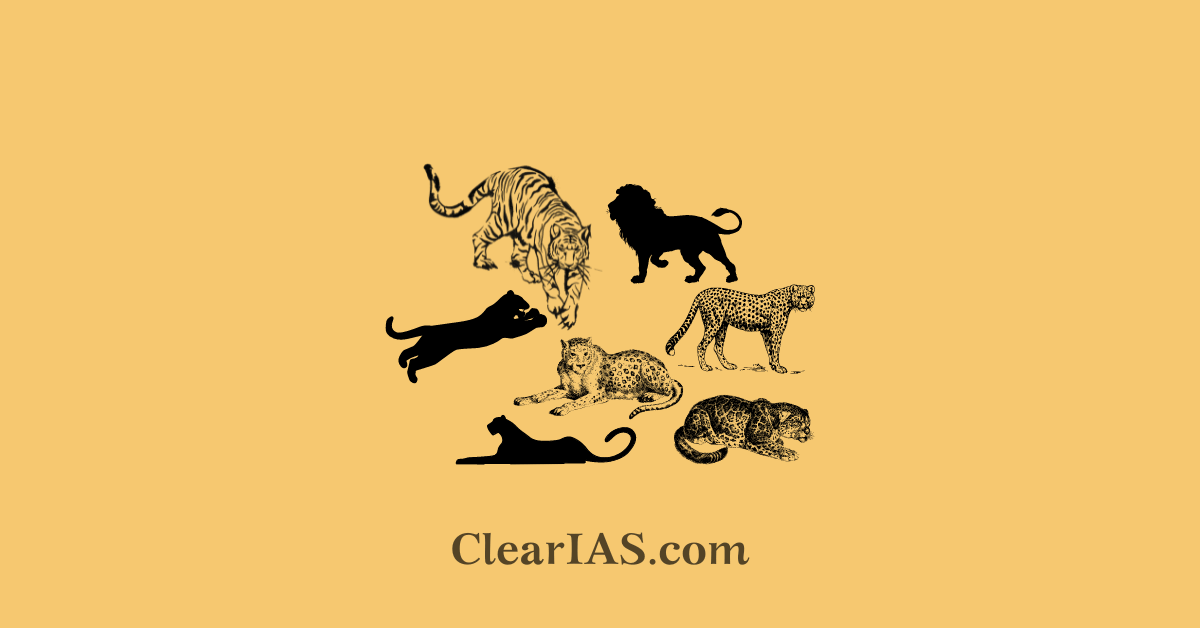 India unveiled a global alliance, the International Big Cat Alliance (IBCA), that will work towards the protection and conservation of six species in addition to the tiger, including the cheetah, jaguar, leopard, lion, puma, and snow leopard. Read here to learn more about the big cats and their conservation.
The International Big Cat Alliance (IBCA) comes five decades after India launched "Project Tiger" to control the declining population of big cats and protect their natural habitat.
According to the Ministry of Environment, Forest, and Climate Change (MoEF&CC), the International Big Cat Alliance (IBCA) will make contact with the "range" nations that are home to the seven big cats to increase efforts to protect these apex predators in the wild.
Notably, the alliance would give the member countries a forum to exchange information and skills and to lend assistance to recovery initiatives in possible habitats.
According to the Ministry, the IBCA will also support current intergovernmental forums that focus on certain species to further conservation efforts.
International Big Cat Alliance (IBCA)
To commemorate 50 years of Project Tiger, the Prime Minister of India launched the International Big Cat Alliance (IBCA) for the conservation of seven big cats namely the Tiger, Lion, Leopard, Snow Leopard, Cheetah, Jaguar, and Puma harboring our planet.
India has a long-standing experience on the tiger agenda and conservation of other big cats like lions, snow leopards, and leopards.
And, now the translocation of the Cheetah to bring an extinct big cat back to its natural habitat has added to the efforts.
The alliance aims to reach out to 97 range countries covering the natural habitats of Tiger, Lion, Snow Leopard, Puma, Jaguar, and Cheetah.
The countries include Africa, such as Suriname, Armenia, Tanzania, Nigeria, Kenya, Ethiopia, etc.
Parts of the Middle East
Asia, including India, Nepal, Bhutan, Bangladesh, and China.
Parts of southeast Asia, including, Cambodia, Malaysia, Vietnam, Thailand, and Lao.
The Americas
IBCA would further strengthen global cooperation and efforts to conserve the wild denizens, especially the big cats.
Significance of the International Big Cat Alliance
Conserving big cats and their habitats can secure some of the most important natural ecosystems on Earth.
This will lead to natural climate change adaptation, water, and food security for millions of people, and provide livelihood and sustenance to forest communities.
With big cats as mascots for sustainable development and livelihood security in India and the big cat range countries can usher in major efforts on environmental resilience and climate change mitigation.
It will pave a future where natural ecosystems continue to thrive, and gain centrality in economic and development policies in the present era.
The Big Cats of International Big Cat Alliance
The five surviving species of the genus Panthera—the tiger, lion, jaguar, leopard, and snow leopard, as well as the non-pantherine cheetah and cougar, are collectively referred to as "big cats".
The IBCA focuses on the big seven- Tiger, Lion, Leopard, Snow Leopard, Puma, Jaguar, and Cheetah.
Here is a briefing about the seven big cats, their IUCN status, habitat, and important features.
Tiger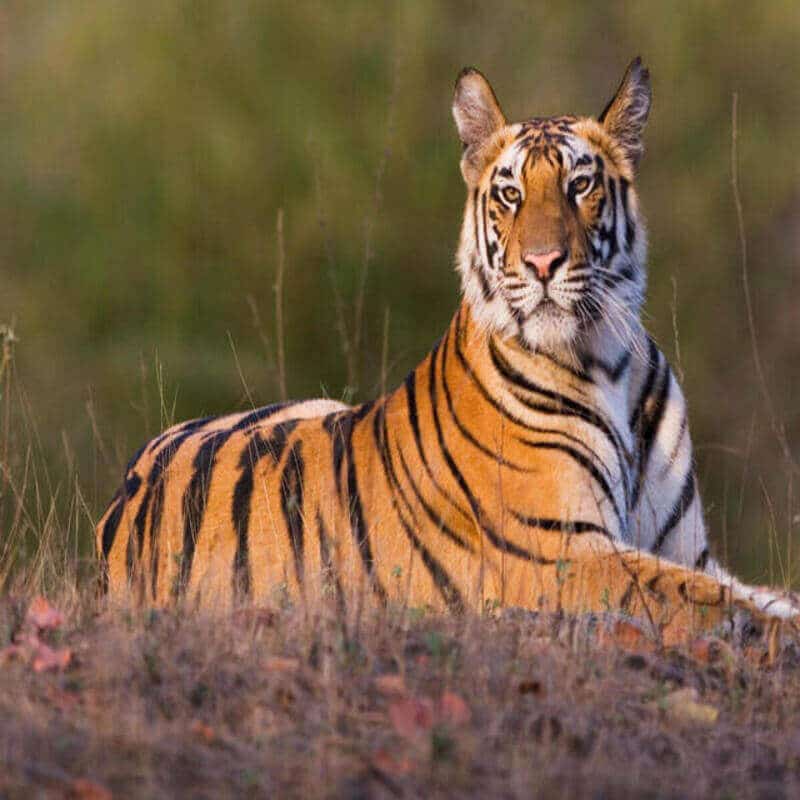 After a century of decline, overall wild tiger numbers are starting to tick upward.
Based on the best available information, tiger populations are stable or increasing in India, Nepal, Bhutan, Russia, and China.
About 4,500 tigers remain in the wild, but much more work is needed to protect this species if we are to secure its future in the wild.
In some areas, including much of Southeast Asia, tigers are still in crisis and declining in number.
There are two recognized subspecies of tiger:
the continental (Panthera tigris tigris)
the Sunda (Panthera tigris sondaica)
Habitat: Tropical rainforests, evergreen forests, temperate forests, mangrove swamps, grasslands, and savannas.
The tiger historically ranged from eastern Turkey and Transcaucasia to the coast of the Sea of Japan, and from South Asia across Southeast Asia to the Indonesian islands of Sumatra, Java, and Bali.
IUCN status: Endangered
Features:
The largest of all the Asian big cats, tigers rely primarily on sight and sound rather than smell for hunting.
They typically hunt alone and stalk prey.
Tigers are mostly solitary, apart from associations between mother and offspring.
Tigers have been known to reach up to 20 years of age in the wild.
Lion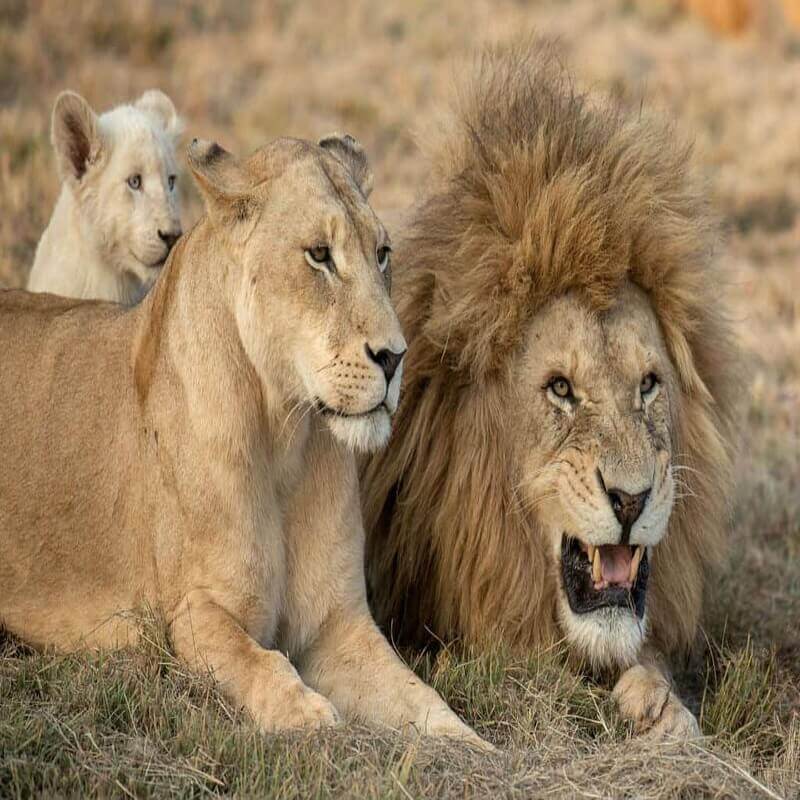 Only slightly smaller than the Siberian tiger, the lion (Panthera Leo) is the second-largest big cat.
Lions are not currently endangered in Africa. However, three-quarters of their population is in decline.
The main threats to African lions are human-wildlife conflict and natural prey decline, as well as habitat loss, climate change, and wildlife trade.
There are two broad types of lions:
the African lion
the endangered Asiatic lion, which occurs only in the Gir Forest National Park in the Indian state of Gujarat.
Habitat: Semi-arid desert areas and even dry habitats such as the Kalahari Desert.
They prefer open woodland and thick bush, as well as scrub and grasslands, to help them stalk their prey and also find shade to rest during the hottest part of the day.
African lions used to be spread across most of the continent, but now are only found in sub-Saharan Africa, with 80% in eastern or southern Africa.
Three of the five largest populations are in Tanzania. Lions have disappeared from 12 sub-Saharan countries in recent decades.
IUCN status: African lion- Vulnerable; Asiatic Lion- Endangered
Features:
Unlike all other big cats that are solitary hunters, lions are social animals and live in groups, known as pride.
Hunting as a group allows the lions to take down larger prey and share the kill among the pride.
Leopard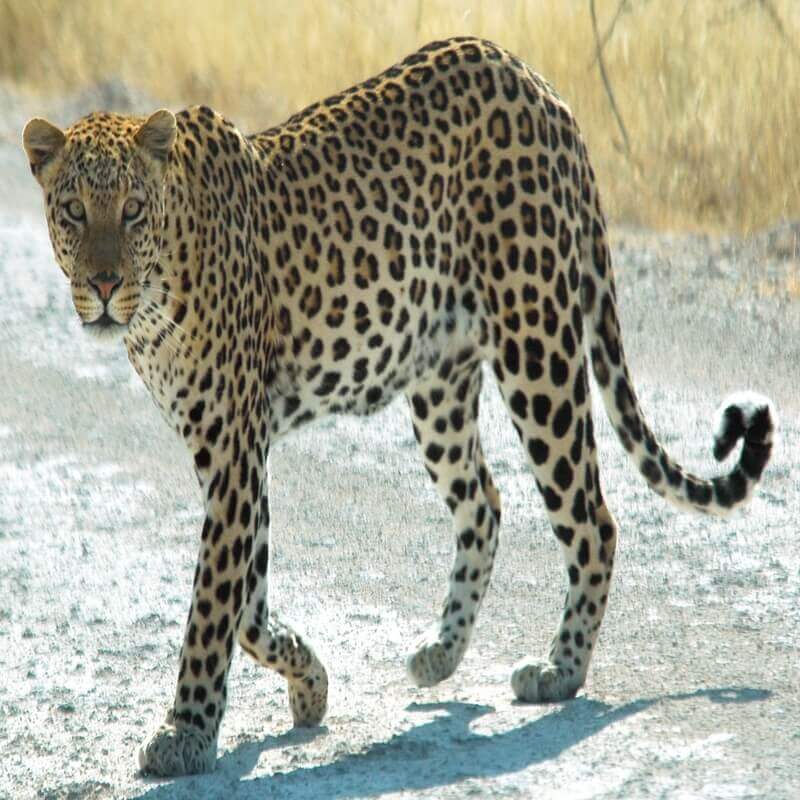 Leopards (Panthera pardus) are graceful and powerful big cats closely related to lions, tigers, and jaguars. They are ex[ert tree climbers and often drag their kill up to the trees.
There are seven different sub-species of leopard that differ in their appearance and geographic location, with the African leopard being the most common and widespread.
African leopards (variety of African habitats)
Amur Leopard (southeastern Russia and northern China). This critically endangered animal is considered one of the rarest cats on earth.
Anatolian Leopard (Iran, Turkey, the Caucasus, Azerbaijan, Georgia, Armenia, Iraq, Iran, Afghanistan, and Pakistan).
Barbary Leopard/North African leopard (Atlas Mountains of North Africa).
Sinai Leopard (Arabian Peninsula).
South Arabian Leopard (Arabian Peninsula)
Zanzibar Leopard ( Unguja Island in Zanzibar, Tanzania)
Habitat: Deserts, Arid regions, savannah grasslands, rainforests
They live in sub-Saharan Africa, northeast Africa, Central Asia, India, and China.
IUCN status: Vulnerable
Features:
Most leopards can be identified by their light color and distinctive dark spots. Those spots are called rosettes because they resemble the shape of a rose.
These patterns camouflage their bodies as they move through the grass and trees.
Black leopards, which appear to be almost solid in color because their spots are hard to distinguish, are commonly called black panthers.
Leopards are solitary creatures. Males are almost entirely solitary and females only break their solitude when they are raising cubs.
Snow leopard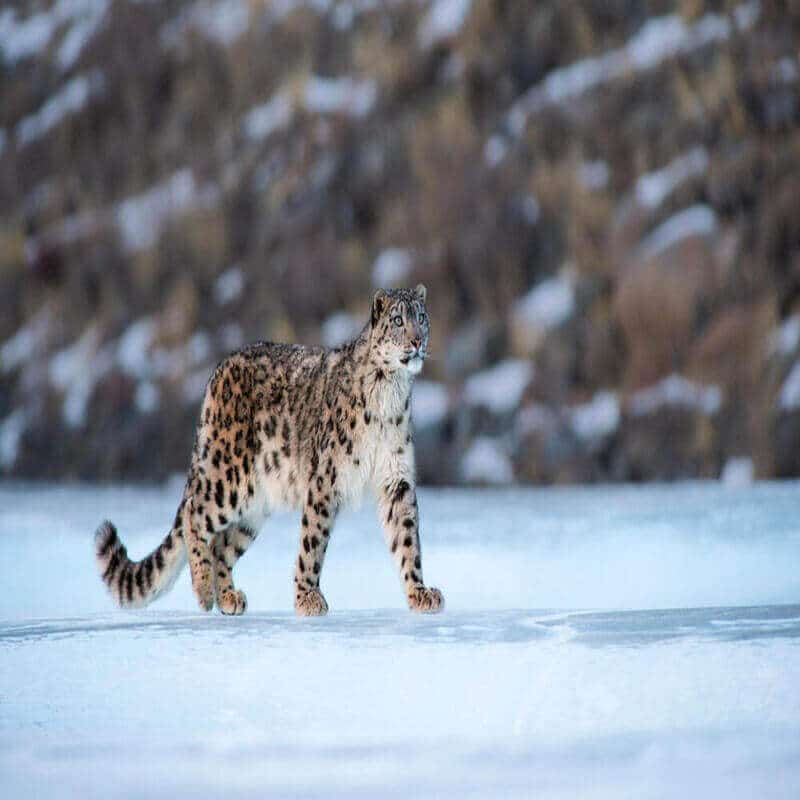 Snow leopards (Panthera uncia) have evolved to live in some of the harshest conditions on Earth.
Their thick white-gray coat spotted with large black rosettes blends in perfectly with Asia's steep and rocky, high mountains.
Because of their incredible natural camouflage, rendering them almost invisible in their surroundings, snow leopards are often referred to as the "ghost of the mountains."
The population is total estimated at 4,000-6,500.
Habitat: High mountains
The snow leopard's habitat range extends across the mountainous regions of 12 countries across Asia: Afghanistan, Bhutan, China, India, Kazakhstan, Kyrgyz Republic, Mongolia, Nepal, Pakistan, Russia, Tajikistan, and Uzbekistan.
IUCN status: Vulnerable
Features:
The snow leopard's powerful build allows it to scale great steep slopes with ease.
Its hind legs give the snow leopard the ability to leap six times the length of its body.
A long tail enables agility, provides balance, and wraps around the resting snow leopard as protection from the cold.
They hunt in the mountains which are rich with their prey such as blue sheep, Argali wild sheep, ibex, marmots, pikas, and hares.
Puma/Cougar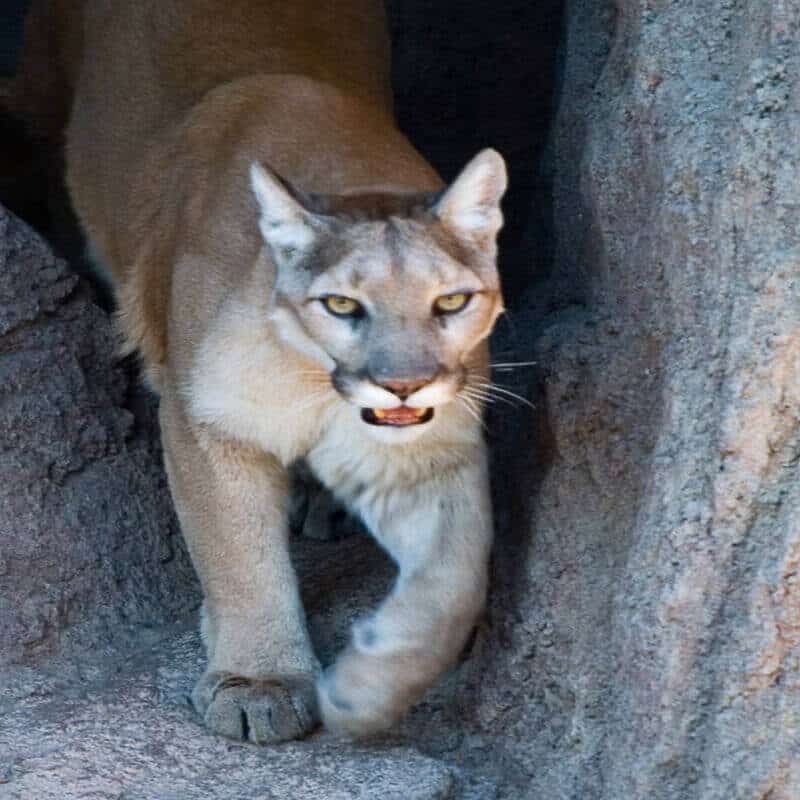 Puma (Puma concolor) also known as Cougar, are large, secretive cats. They are also known as mountain lions.
Habitat: mountain slopes
They are primarily found in the mountains of North and South America, where a majority of individuals can be found in rocky crags and pastures lower than the slopes grazing herbivores inhabit.
Though they choose to inhabit those areas, they are highly adaptive and can be found in a large variety of habitats, including forests, tropical jungles, grasslands, and even arid desert regions.
IUCN status: Least concern
Features:
Pumas are solitary animals and stay together only during breeding seasons.
Pumas are nocturnal and have been described to be more similar to smaller domestic cats than big ones such as lions.
The sounds that they make are also more similar to those of small felines than the roars of big cats. They communicate through growls, chirps, and whistles.
Jaguar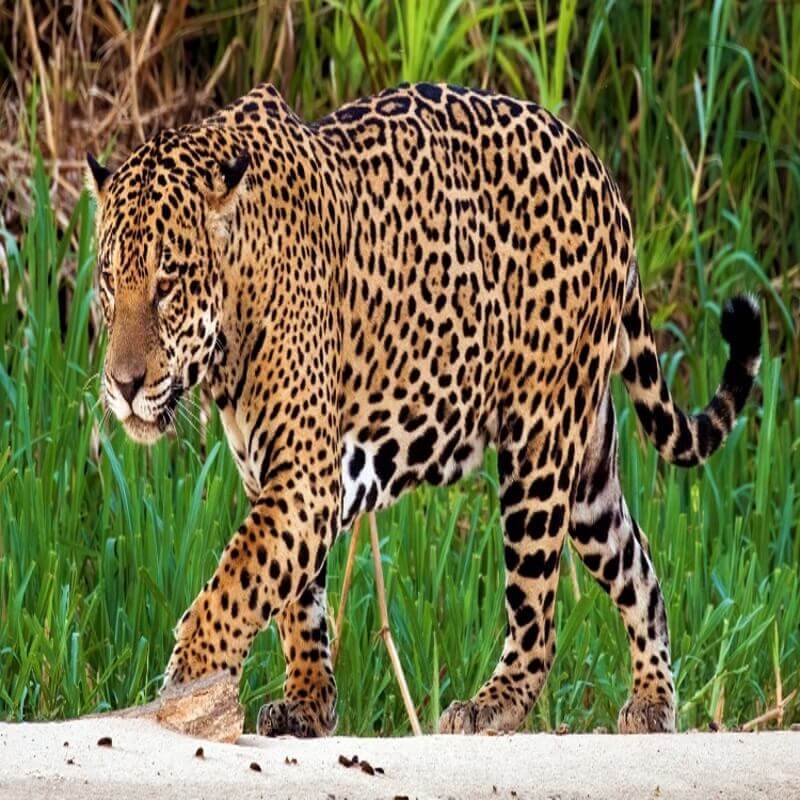 Jaguars (Panthera onca) are a symbol of Amazons and the largest cat in the Americas.
Habitat: Tropical low-lying habitats close to lakes, rivers and inland wetlands, savannahs, and shrublands.
In the past, jaguars could be found from the southwestern USA to the scrub grasslands of Argentina.
Today, this majestic animal is mostly restricted to the tropical rainforests of the Amazon, and in the nearby Pantanal wetlands.
Around 50% of jaguars are found in Brazil alone, and the rest of the jaguar populations live in the remaining 8 countries that share the Amazon rainforest: Peru, Bolivia, Ecuador, Colombia, Guyana, Suriname, Venezuela, and the oversea territory of French Guiana.
IUCN status: Near threatened
Features:
Jaguars have unusually large, round heads, short legs, and stunning coats dotted with dark rosettes and spots.
They often live near water and are good swimmers.
A jaguar's ultra-strong jaws and teeth can bite through a crocodile skull or turtle shell, but they'll prey on almost any wild animal they come across including deer, armadillos, monkeys, and lizards.
Jaguars are not endangered at present. However, with its forest home increasingly being destroyed, and conflict growing between farmers and ranchers, the remaining jaguar population is under serious pressure.
Jaguars now occupy less than half of their historical range. They're so elusive that we don't know exactly how many are left in the wild.
Cheetah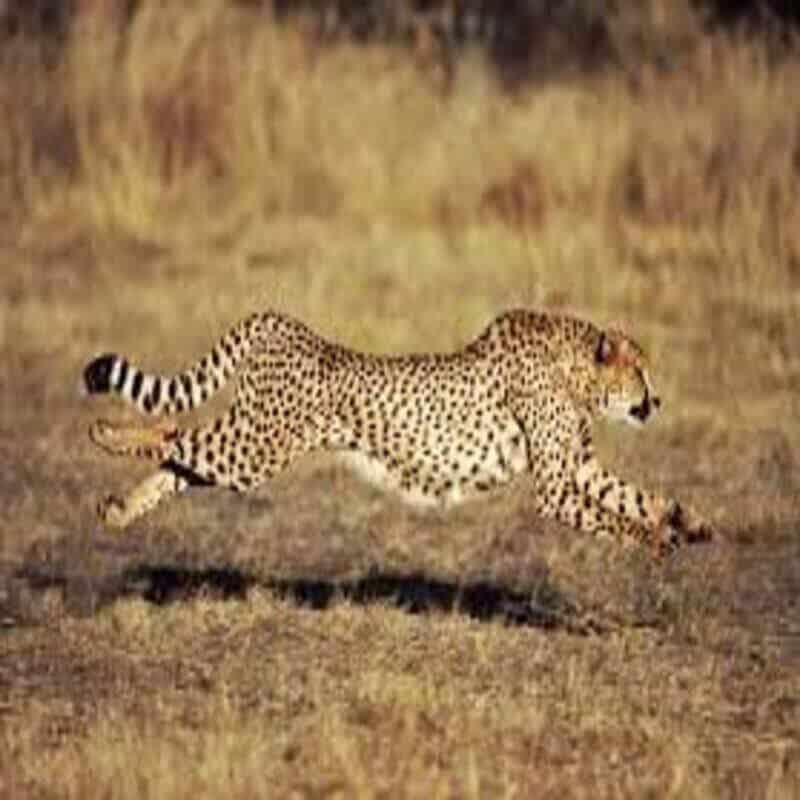 Cheetah (Acinonyx jubatus) is the world's fastest land animal. Cheetahs are commonly misidentified as leopards, and vice versa since both big cats have prominent yet similar dark spots on their bodies.
Cheetahs boast a pair of dark-colored curved lines running between their nose and cheeks, while leopards don't have any unique facial markings.
The spots on their bodies also differ: the cheetah's fur is covered with round or oval-shaped spots, whereas the leopard has distinctive spots on its fur called 'rosettes', resembling the shape of a rose.
There are five subspecies of this big cat.
Northwest African cheetah
East African cheetah
South African cheetah
Northeast African cheetah
Asiatic cheetah
Habitat: From dry forests and thick scrubs through grasslands and Sahara deserts.
The largest single population of cheetahs occupies a six-country polygon that spans Namibia, Botswana, South Africa, Angola, Mozambique, and Zambia.
Southwest Asia (restricted to Iran today).
IUCN status: Vulnerable; Northwest African and Asiatic cheetahs are critically endangered at present.
Features:
Uniquely adapted for speed, the cheetah is capable of reaching speeds greater than 110 kilometers per hour in just over three seconds.
At top speed, their stride is seven meters long.
The cheetah's unique body structure: flexible spine, semi-retractable claws, long legs, and tail allow it to achieve the unbelievable top speed of 110 km/hr (70 mph).
As the female siblings become sexually mature, they will split from the group to lead a largely independent life.
Females lead solitary lives unless they are accompanied by their cubs.
Male siblings remain together for the rest of their lives, forming a group known as a coalition.
In September 2022, they were reintroduced to India after being extinct in the country for 70 years.
Conclusion
The International Big Cat Alliance will strengthen global efforts and partnerships on big cat conservation, while evolving a platform for the convergence of knowledge and best practices, supporting existing species-specific inter-governmental platforms, while also providing direct support to recovery efforts in potential range habitats.
All of the big cats are under threat from habitat loss, poaching, and human-wildlife conflict. The alliance will help mitigate these threats to a great extent.
­-Article written by Swathi Satish