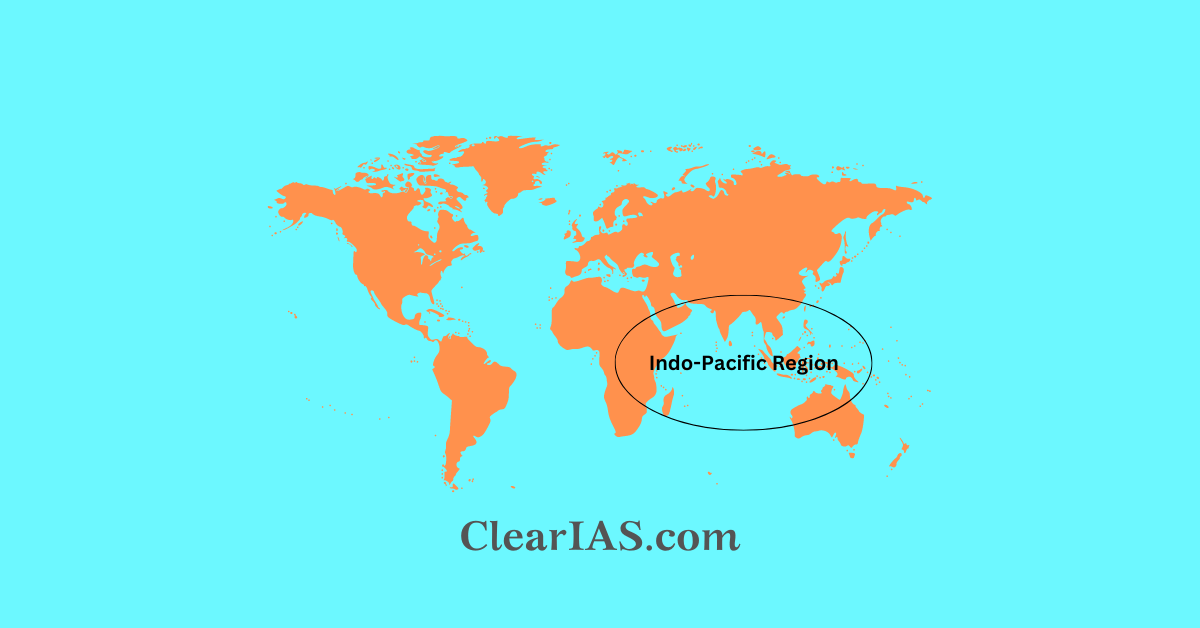 Indo-Pacific Economic Framework (IPEF) has been launched by US President and Joined by 12 other countries including India.
The IPEF is a significant step toward establishing free and fair trade with nations that share the same values of a rule-based international order and a transparent economic system.
The Indo-Pacific Economic Framework (IPEF) is the collaboration of participating countries to strengthen economic partnerships amongst themselves with the objective of enhancing resilience, economic growth, fairness, sustainability, inclusiveness, and competitiveness in the Indo-Pacific region.
Aim of IPEF
The aim of the initiative is to contribute to cooperation, stability, prosperity, development, and peace within the region.
India is dedicated to a free, open, and inclusive Indo-Pacific region and believes that growing economic cooperation among allies is essential for maintaining progress, peace, and prosperity. India is eager to cooperate with partner countries under the IPEF and advance regional economic integration and connectivity while fostering trade and investment within the region.
The Four Pillars of IPEF
Indo-Pacific Economic Corridor's (IPEF) framework broadly rests on four pillars: trade, supply chain resilience, clean energy and decarbonization, and taxes and anti-corruption measures. But India decided to stay away from the "Trade Pillar".
India was satisfied with the conclusion and text on three of the four pillars pertaining to supply chains, tax and anti-corruption, and clean energy and has joined the declaration.
The framework's contours are still developing for one pillar, which focuses mostly on trade, in particular for the commitments needed in the areas of environment, labour, digital trade, and public procurement.
1. Trade Pillar
Trade that will take into account emerging technology, the digital economy, labour commitments, the environment, trade facilitation, regulatory transparency, corporate responsibility, and standards for cross-border data flows and data localisations.
2. Supply Chain Resilience Pillar
Supply chain resiliency is to develop "a first-of-its-kind supply chain agreement" that would anticipate and prevent disruptions of any kind.
Important commitment and features under this include-
Establishing criteria for critical sectors and goods.
Increase resiliency and investment in critical sectors.
Establishing a crisis response and information sharing mechanism.
Strengthening of supply chain logistics.
Enhancing the role of workers.
Improvement in supply chain transparency.
3. Clean Energy and Decarbonisation Pillar
That will contain "high ambition pledges" such as renewable energy objectives, carbon removal purchasing commitments, energy efficiency standards, and new methane emission control measures.
Clean energy transition offers massive market, industrialisation, investment, and quality job opportunities. Working together can unlock abundant clean energy resources. While keeping this in mind, IPEF's corridor comprises-
Energy security and transition
to accelerate climate action, and greenhouse gas emissions reduction in priority sectors.
Recognition of sustainable land, water and ocean solutions and use.
Provision and initiative related to innovative technologies for greenhouse gas removal.
Incentives to enable the clean economy transition.
4. Taxes and Anti-Corruption Pillar
It is a commitment to enact and enforce "effective tax, anti-money laundering, anti-bribery schemes in line with [American] values.
It intends to focus on-
Intend to effectively implement anti-corruption laws and conventions like the United Nations Convention against Corruption (UNCAC), Standards of Financial Action Task Force (FATF), OECD anti-Bribery convention, etc.
Supporting global and regional efforts to improve tax administration along with domestic resource mobilization through technical assistance, capacity building and more.
Focus on Cooperation, inclusive collaboration, and transparency.
IPEF Member Countries
At present, there are a total of 13 member countries. Together, these countries account for 40 per cent of the global GDP.
USA
Australia
Brunei
India
Indonesia
Japan
South Korea
Malaysia
New Zealand
the Philippines
Singapore
Thailand
Vietnam
Why this Framework
The pandemic has emphasized the importance of working together to ensure economic recovery. It also emphasized strengthening economic competitiveness and cooperation and securing critical supply chains, while stimulating job growth. The framework is important for improving economic opportunities, including for our workers, women, medium- and small enterprises, etc.
China's increasing influence in the indo-pacific region is also a region as China's FTA is spreading all around the globe so as its influence. The framework will be helpful in reclaiming economic leadership in East Asia and the ASEAN region.
The framework marks a key turning point in the restoration of US economic leadership in the area and offers Indo-Pacific nations an alternative to China's approach to these crucial concerns.
Improving standards for transparency, equitable taxation, and anti-corruption, as well as ensuring safe and robust supply chains, massive investments in sustainable energy infrastructure, and creating rules of the road for the digital economy. "The truth is that prior models either didn't handle these difficulties at all or didn't completely address them and tackle them.
India and IPEF
Data localization is the key issue that worries India.
A bill that the government submitted in Lok Sabha in 2019 calls for the creation of a data protection authority as well as a framework for localising Indian data. In its National Trade Estimate Report on Foreign Trade Barriers published just last month, the US stated that India's proposed data localisation requirements, which would require enterprises to store data within India, "will serve as significant barriers to digital trade" between the two countries and act as "market access barriers, especially for smaller firms."
Conclusion
IPEF is a statement of the Indo-Pacific region's ambition to become a worldwide economic growth centre. Due to its possession of the oldest commercial port in the world, located at Lohtal, Gujarat, India has historically been at the centre of trade movements in the Indo-Pacific area. For the Indo-Pacific region's economic issues, the prime minister urged the development of cooperative and innovative solutions.
India is now the fifth largest economy in the world because of its transformational efforts. In evaluating the effects of the structural transformation and foundational changes that have taken place over the past several years, Shri Goyal noted that the CII projects that India's economy will reach USD 35–45 trillion in 2047, placing India among the developed nations.
He emphasised that India is a land of chances and a potential market for the US business community. He also pointed out that India has a demographic dividend and that the country's aspiring youthful population offers tremendous economic potential.
Article Written By: Priti Raj