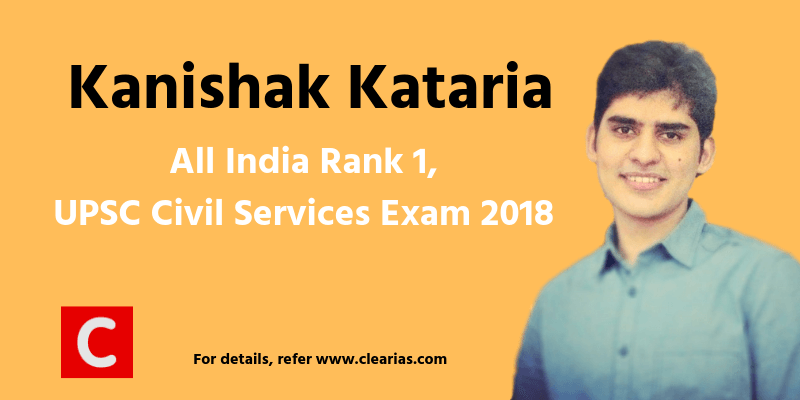 Kanishak Kataria secured all-India rank 1 in UPSC Civil Services Examination (CSE) 2018.
Around 10,00,000 candidates had applied for UPSC CSE 2018, out of which 4,50,000 candidates appeared on the exam day.
Kanishak is an IIT Bombay graduate who actually hails from Jaipur, Rajastan.
What makes his achievement special?
About 10 lakh aspirants apply for the prestigious UPSC Civil Services Exam (CSE) every year. The exam is conducted to recruit candidates for services like IAS, IPS, IFS etc. Any graduate in the age group 21-32 can apply for UPSC Civil Services Exam.
Kanishak's monumental success in UPSC CSE is an inspiration to many.
Kanishak Kataria – Background, Graduation, and Optional Subject
Kataria belongs to SC category.
He is a B.Tech in Computer Science and Engineering.
He qualified UPSC Civil Services Examination examination with mathematics as his optional subject.
What does Kanishak think of himself?
I am an enthusiastic person looking for opportunities to solve challenging real life problems. I have an aptitude of working with numbers with particular interests in the fields of Machine learning and Data analysis. Apart from this I am an avid sports follower and like to travel around the world.
Kanishak Kataria –  Schooling and College
Kanishak completed his schooling from St. Paul's Sr. Sec. School, Kota, Rajasthan in 2010.
After that, he joined Indian Institute of Technology, Bombay where he pursued B.Tech Honors in Computer Science and Minors in Applied Statistics. (2010-2014).