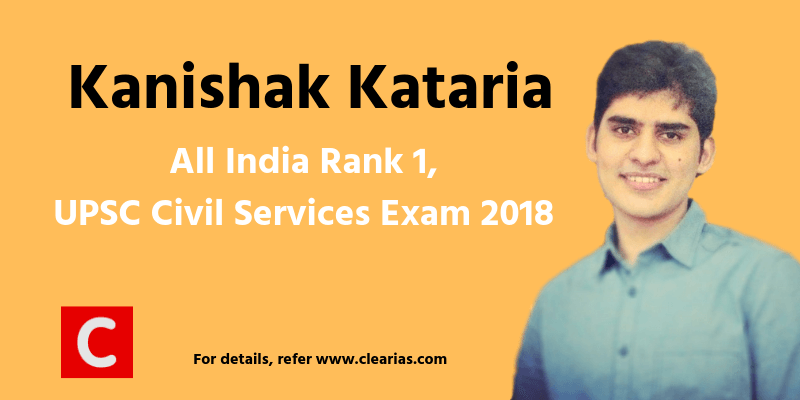 Kanishak Kataria secured all-India rank 1 in UPSC Civil Services Examination (CSE) 2018.
Around 10,00,000 candidates had applied for UPSC CSE 2018, out of which 4,50,000 candidates appeared on the exam day.
Kanishak is an IIT Bombay graduate who actually hails from Jaipur, Rajastan.
What makes his achievement special?
About 10 lakh aspirants apply for the prestigious UPSC Civil Services Exam (CSE) every year. The exam is conducted to recruit candidates for services like IAS, IPS, IFS etc. Any graduate in the age group 21-32 can apply for UPSC Civil Services Exam.
Kanishak's monumental success in UPSC CSE is an inspiration to many.
Kanishak Kataria – Background, Graduation, and Optional Subject
Kataria belongs to SC category.
He is a B.Tech in Computer Science and Engineering.
He qualified UPSC Civil Services Examination examination with mathematics as his optional subject.
What does Kanishak think of himself?
I am an enthusiastic person looking for opportunities to solve challenging real life problems. I have an aptitude of working with numbers with particular interests in the fields of Machine learning and Data analysis. Apart from this I am an avid sports follower and like to travel around the world.
Kanishak Kataria –  Schooling and College
Kanishak completed his schooling from St. Paul's Sr. Sec. School, Kota, Rajasthan in 2010.
After that, he joined Indian Institute of Technology, Bombay where he pursued B.Tech Honors in Computer Science and Minors in Applied Statistics. (2010-2014).
Work Experience
Kanishak has about 5 years of work experience.
He had previously worked as a Software Engineer with Samsung Electronics (2014-2016). As of now, he is working in qplm as a Data Scientist (2016-2019).
Academic Achievements
All India Rank – 44 in IIT-Joint Entrance Examination (IIT JEE) – 2010.
All India Rank – 24 and State Rank – 3 (Rajasthan) in AIEEE Examination – 2010.
CBSE Merit Certificate for Mathematics in AISSE 2008 and AISSCE 2010 for being in top 0.1% students across the country after scoring 100% marks.
Merit Certificate for being placed in National Top 1% in National Standard Examination in Physics and State wise Top 1% in National Standard Examination in Chemistry 1+ 2009-10.
All India Rank 1 in 11th National Science Olympiad and 2ro International Mathematics Olympiad in 2009.
Recipient of KVPY (Kishore Vaigyanik Protsahan Yojana) Scholarship 2009.
Recipient of NTSE (National Talent Search Examination) Scholarship 10 2008.
Kanishak Kataria Age
Kanishak is just 26.
Did Kanishak expect the first rank?
I never expected to get the first rank.

I thank my parents, sister, and girlfriend.

People will expect me to be a good administrator and that's exactly my intention.
Family Background of Kanishak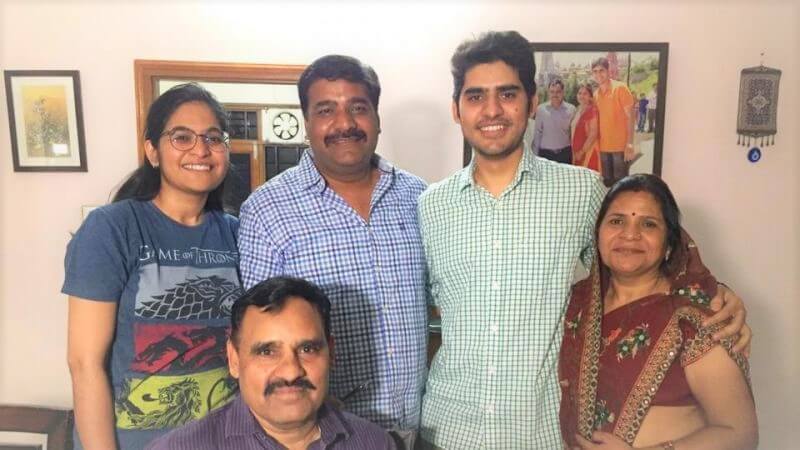 Kanishak's father, Sanwarmal Verma is also an IAS Officer of Rajastan Cadre. He is posted as Director cum Joint Secretary at Social Justice and Empowerment Department.
My father has always been my role model. He has always inspired me but he never pushed me into civil services. It was a decision which I made on my own. I consulted him and my family. They were fully supportive of this decision.
The UPSC topper's uncle, KC Verma, is also an IAS and is divisional commissioner of Jaipur. His maternal grandfather, SL Bunkar, was in the state administrative service.
Kanishak Kataria – The boy who loves Artificial Intelligence, Machine Learning, and Sports
The future civil servant is a sports lover and an expert in artificial intelligence and machine learning.
He had scored a cumulative GPA of 9.07 out of 10 while at IIT Bombay!
I worked outside India for some time and realised India also needs good quality development. If I can help in inclusive growth and infrastructure development, it will be much more satisfying than earning big amount of money outside India.
Hearty congrats to this brilliant young man, Kanishak Kataria, from ClearIAS Team! Way to go!