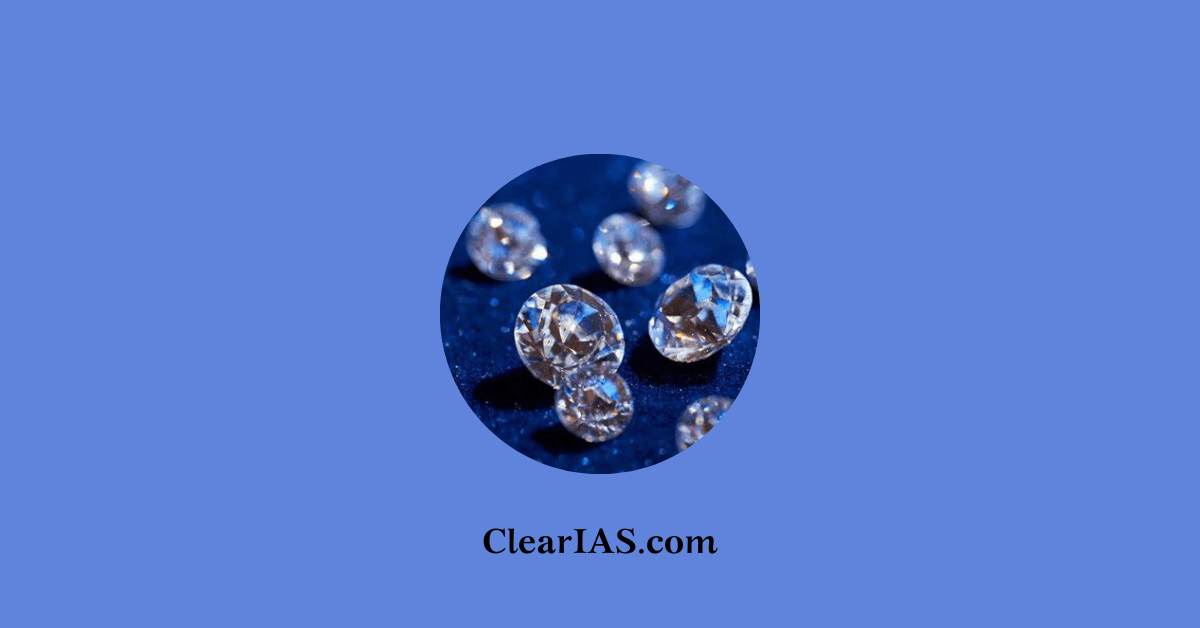 What are Lab Grown Diamonds (LGD)? How is it different from naturally-occurring diamonds? What is the procedure for creating LGDs? What are its uses? What are the environmental impacts of Lab Grown Diamonds? Read further to know more.
The Union Budget 2023–24 placed a strong emphasis on Research and Development (R&D) in order to make the Lab Grown Diamond (LGD) or synthetic diamond segment competitive in global markets and to fully realise its potential.LGD is a developing industry with significant job potential that is fueled by technology and innovation.
The optical and chemical characteristics of these eco-friendly diamonds are identical to those of natural diamonds. One of the IITs will get five-year research and development funding to promote local production of LGD seeds and equipment and lessen reliance on imports.
India dominates the world market for natural diamond cutting and polishing, making up over 75 per cent of the total value of sales. The industry is converting to lab-grown diamonds (LGDs), which offer immense promise as natural diamond deposits are depleted.
Lab-Grown Diamonds (LGD)
Diamonds produced in a laboratory using technology that resembles the natural processes that give rise to diamonds are known as lab-grown diamonds.
They differ from "diamond simulants." Since LGDs resemble diamonds chemically, physically, and visually, it is challenging to identify them as "lab-grown."While "diamond simulants" like Moissanite, Cubic Zirconia (CZ), White Sapphire, YAG, and others try to "appear" like diamonds, their lack of sparkle and durability makes them obvious.
However, it is challenging and requires sophisticated equipment to discern between an LGD and an Earth-Mined Diamond.
Comparison of Naturally-Occurring Diamonds and LGD
Chemically and visually, they are identical, but they have some differences.
However, compared to naturally occurring diamonds, lab-grown diamonds have a significantly smaller environmental impact.
A natural diamond must be extracted from the soil with 10 times more energy than it is produced above ground. One of the most popular techniques for extracting naturally-occurring diamonds includes transporting tonnes of rock and dirt into an open pit.
It is difficult to distinguish between an LGD and an Earth Mined Diamond, and specialised equipment is needed for the task.
Although most mined diamonds contain tiny amounts of other compounds, most notably nitrogen, which gives them a yellow tint, or (rarely) boron, which gives them a blue colour, despite the fact that diamonds are fundamentally pure carbon.
Additionally, they frequently have inclusions, which are microscopic foreign objects that were imprisoned in the diamond millions of years ago while it was still forming. As a result, lab-grown diamonds frequently have even greater colour and purity (i.e., quality).
Because of better "compression," lab-grown diamonds are even harder than naturally-occurring ones. However, lab diamonds can also have inclusions.
Similar cutting and polishing procedures on LGDs and genuine diamonds are used to give them the shine that distinguishes them.
They are less expensive; a one-carat diamond extracted from the earth could cost up to 5 lakh rupees, whereas a lab-created diamond might cost between 1 and 2 lakhs.
Diamond Simulants Vs Lab-Grown Diamonds
"Diamond simulants" are not the same as lab-grown diamonds.
While "diamond simulants" like Moissanite, Cubic Zirconia (CZ), White Sapphire, YAG, etc. are made to "appear" like diamonds, they don't have the shine or longevity of real diamonds, making them obvious.
Scientists employ spectroscopy, density, and the stone's refractive index to distinguish LGDs from synthetic diamonds rather than genuine diamonds (for which many advanced techniques are used).
In order to distinguish laboratory-grown diamonds from natural diamonds, they frequently exhibit distinguishing characteristics that may be observed under magnification, such as graphitic or metallic inclusions (depending on the growth method), colour zoning, or graining patterns.
Procedure for creating LGDs
Different processes can be used to produce LGDs.
The "high pressure, high temperature" (HPHT) approach is the most often used and least expensive technique.
This process requires very large presses that can exert pressures of up to 730,000 psi at very high temperatures (at least 1500 Celsius).
Graphite is frequently employed as the "diamond seed," and under these extreme circumstances, it changes from being a reasonably cheap form of carbon to one of the most expensive carbon forms.
Other methods include "Chemical Vapor Deposition" (CVD) and explosive creation, which produces "detonation nanodiamonds," as they are known.
Also Read: Cultured Meat – ClearIAS
Uses of  LGDs
Because of their optical dispersion, which gives them their distinctive diamond sheen, LGDs share many fundamental characteristics with genuine diamonds.
They may, however, have many of their features improved for a number of uses because they are produced in controlled conditions.
The most typical industrial uses for LGDs include tools and equipment. They are perfect for use as cutters due to their extreme hardness and added strength.
Additionally, whereas pure synthetic diamonds have a low electrical conductivity, they have a high thermal conductivity. The ability to employ such diamonds as a heat dissipator for high-power laser diodes, laser arrays, and high-power transistors makes this combination extremely beneficial in the field of electronics.
Additionally, lab-grown diamonds perform crucial technical and medical tasks, such as assisting with the detection of cancer during MRI scans, degrading dangerous contaminants in water sources, and acting as precise, sharp scalpels for eye surgery.
Significance of LGDs
Natural diamonds are gradually being replaced by LGDs in the jewellery industry as the world's natural diamond reserves run out.
It is a developing industry with significant job potential that is driven by technology and innovation.
The optical and chemical characteristics of these eco-friendly diamonds are identical to those of natural diamonds.
Similar to natural diamonds, LGDs undergo the same cutting and polishing procedures that give diamonds their distinctive shine.
Therefore, it is doubtful that additional LGD production will have an influence on India's current diamond sector, which handles these functions.
India's global leadership in the production of lab-grown diamonds and jewellery from raw to finished would be ensured by the LGD industry.
Diamond Industry In India
Diamond is found in two different types of deposits, principally in alluvial deposits that are derivations from the primary sources and in igneous rocks of basic or ultrabasic composition.
India's diamond fields are divided into four regions: The southern Indian state of Andhra Pradesh includes parts of the Anantapur, Kadapa, Guntur, Krishna, Mahabubnagar, and Kurnool districts; the central Indian state of Madhya Pradesh includes the Panna belt; the Behradin-Kodawali area is in the Raipur district; the Tokapal, Dugapal, etc., areas are in the Bastar district of Chhattisgarh; and the eastern Indian state,
India is the greatest diamond cutting and polishing hub in the world, producing more than 90% of the world's polished diamonds.
More than 75% of the polished diamond, gems, and jewellery exported worldwide comes from India.
With the exception of one producer in Madhya Pradesh, India's cutting and polishing industry is largely dependent on imports of rough gem diamonds.
One of the industries with the greatest rate of growth is diamond cutting and polishing, which employs more than 5 million people, is primarily export-oriented and accounts for 15% of India's total exports of goods. It contributes around 7% to the GDP of the nation.
Factors contributing to success include government laws that favour it because it generates foreign currency, the accessibility of highly skilled labour, cutting-edge technology, and lower costs.
 Uncertainty in raw material supply, a family-owned firm-dominated unorganised market, an anticipated rise in diamond prices, declining international demand, and competition from China are some of the issues affecting the sector.
Environmental Impacts Of  Mined Diamonds
The environmental impacts of Mined Diamonds are more than Lab-grown diamonds.
Waste and Water Use: According to a Frost & Sullivan study comparing lab-grown and mined diamonds, mining diamonds generates 4,383 times more waste than growing diamonds. The same study showed that water is used 6.8 times more often in the mining of diamonds.
Water Quality: Mining impacts the region's water resources' accessibility and quality. There is a chance for acid mine drainage and contaminant leaching, and soil erosion and mine waste seepage into surface waters can also be serious problems.For instance, hundreds of cattle in Zimbabwe perished after ingesting water from the Odzi River, which is close to a facility that processes diamonds.
Destroying biodiversity: For every carat of diamonds produced, mining companies shift 250 tonnes of dirt.Even when the mining operations are ended, land disturbance caused by excavation and mining operations frequently results in the extinction of biodiversity and renders the area useless for other purposes.
Destroying the seabed and marine life: When diamond reserves are mined offshore, the seabed material must be removed in order to reach the diamonds underneath. It may take two to 10 years to fully recover.
Also Read : E-Waste: Causes, Concerns and Management – ClearIAS
Conclusion
The government's decision to eliminate the customs levy on the import of seeds used to produce rough lab-grown diamonds would undoubtedly assist to make the industry profitable in the years to come.
It was suggested that the basic customs charge on the seeds used in their creation be decreased to lessen production expenses. Accepting the advice would guarantee India's global supremacy in the production of jewellery and lab-grown diamonds from rough to finished.
Article Written By: Atheena Fathima Riyas