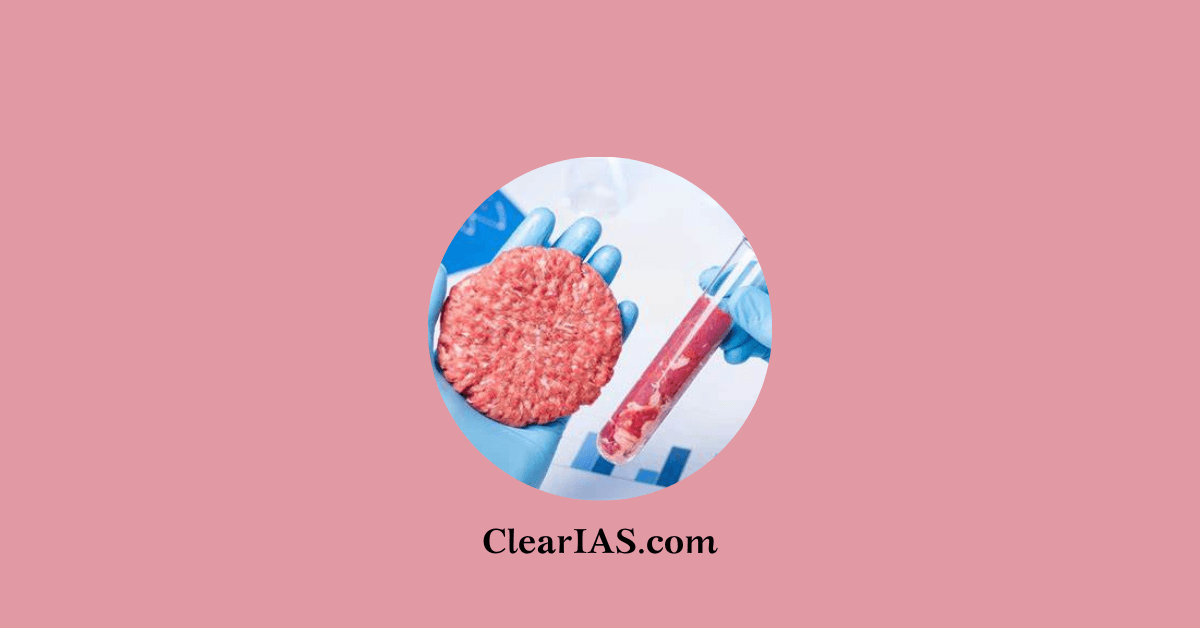 Cultured meat is a biotechnologically and genetically created product. But is it healthier than meat from livestock? How is it different from plant-based meat? How is meat produced in a lab? Read the article to know more about cultured meat.
For the first time, lab-grown meat has received safety clearance from the US Food and Drug Administration. Singapore was the only nation up until this point to permit the sale of items made from domesticated meat.
The UN Food and Agriculture Organization (FAO) predicted that the global meat output would decline to 333 million tonnes in 2020, 1.7% less than in 2019, in its June 2020 Food Outlook Report.
Covid-19 is mostly to blame for the disruption, but it has also increased broad concerns about zoonotic infections, mainly African swine fever and highly dangerous avian influenza. The market for substitute meat will benefit from this.
Cultured  Meat
Cultured  Meat is actual meat that is produced from animal cells. It is also known as cultivated meat, cell-based meat or  Lab-grown meat. Without the need to raise and kill animals, this meat can be produced. Instead of using meat from dead animals, cultured meat is created by growing animal cells in a lab. Instead of being raised inside the body of an animal, this meat is generated in cell culture. It tastes, smells, looks, and feels the same as traditional animal flesh and is nutritionally similar.
Global Scenario
Government funding for cultured meat businesses is considerable worldwide. The governments of Israel, Japan, and the Netherlands, among others, have invested in clean meat businesses. Furthermore, the regulatory bodies in nations like the US are deciding how to promote these products. These initiatives highlight how the clean meat industry has the ability to sustainably feed future generations.
Background of Cultured meat
Jason Matheny, who co-authored a groundbreaking article on cultured meat production and founded New Harvest, the first non-profit organisation in the world devoted to advancing in vitro meat research, is credited with popularising the idea of cultured meat in the early 2000s.
Also Read: Virus – Definition, Structure, and Types – ClearIAS
Difference between plant-based meat and Cultured meat
The plant-based meat is created using plant sources like soy or pea protein, whereas cultured meat is created by growing cells in a lab.
The goal of both is to provide meat substitutes that could feed a lot more people, lessen the risk of zoonotic illnesses, and lessen the environmental impact of meat consumption.
Also Read:Genetically Modified Crops and Regulations in India – Clear IAS
Distinction between traditional beef and cultured meat
Cultured or cultivated meat is identical to traditional meat in terms of cellular structure, with the exception that cultured meat is not derived directly from animals.
Cultivated beef might cut land use by more than 95%, emissions that contribute to climate change by 74–87%, and nutrient pollution by 94% compared to traditional beef.
The likelihood of cultured meat being contaminated by pathogens like salmonella and E Coli is greatly decreased because it is produced in sanitary facilities.
It doesn't need antibiotics either, unlike animals grown for meat, lessening the threat that rising antibiotic resistance poses to public health.
How is meat produced in a lab?
The more than the 100-year-old method of in vitro muscle tissue growth is used to produce lab-grown beef.
The first step in the procedure is to isolate a few cells from premium livestock animals, such as a cow or chicken, and determine which of those cells have the capacity to proliferate and produce mouthwatering meat food products.
After that, we place the cells in a sterile, controlled environment and provide them with the vital nutrients they require to develop normally.
In essence, the conditions that naturally occur inside an animal's body can be recreated to allow for cell growth.
When the meat is ready, we harvest it, go through the normal meat processing steps, and then package, cook, or otherwise make the meat suitable for consumption.
Benefits of Cultured meat
Sustainability, environmental friendliness, animal welfare, food safety, and innovative cuisine are a few advantages of clean meat that could be realised. Additionally, cell-based beef asserts that it is better for the environment.
It might eliminate the need for contemporary factory farming and problems like animal abuse, e. Coli and salmonella illnesses, and meat tainted with antibiotics.
Salmonella: A group of bacteria by the name of Salmonella. It is the most typical source of foodborne illness in the US. Salmonella can be found on unwashed fruit and vegetables, raw beef, raw eggs, and raw poultry.
E.coli (Escherichia coli): E. coli is typically not harmful. E. coli infections can be acquired through consumption of the bacteria-containing foods. Handle food carefully to help prevent infection and food poisoning. Avoid unpasteurized milk and juices, thoroughly prepare meat, wash produce before eating or preparing it, and wash fruits and vegetables.
Advantages of Cultured meat
Less contamination: Proponents of cultured meat claim that it has a significantly lower risk of contracting the E. coli bacteria, which is found in animal faeces, and other contaminants that you could encounter at a meat processing facility.
Less use of antibiotics: In the past, animals were frequently treated with antibiotics to keep them healthy. Antibiotic resistance is a condition where the medications no longer effectively treat infections.
Less environmental impact: More wooded land is being turned into ranches and crop fields as the demand for meat increases worldwide. Meat that has been cultured requires substantially less land, water, and pollutants.
No animal slaughter is necessary for cultured meat, even though a small amount of tissue is needed.
Issues with Cultured meat
Lab-grown meat is not regarded as a vegan because it contains animal cells.
The cost is very high. In 2012, researchers created the first hamburger made from cultured meat. Its creation cost $325,000. However, the price of cultured meat should decrease as technology develops. However, the cost will remain high.
Challenges
The market is still dominated by conventional meat, and industry lobby groups have been working to maintain their market share, including by opposing the entire concept of alternative meats.
Agriculture and husbandry organisations are leading the battle against lab-grown meat, arguing that since it didn't come from an animal, it isn't actually meat.
For instance, the US Cattlemen's Association was successful in persuading Missouri to establish a law declaring that cultured meat and plant-based meats cannot be considered meats.
Since 2018, the Cattle Council of Australia has been applying similar pressure on the government of the nation.
Conclusion
Before cultured meat becomes generally accessible, there are still several obstacles to be addressed including affordability, addressing consumer mistrust and conventional meat producers' opposition. When meat produced in laboratories hits the market, it might be better for you than meat raised from animals. "This is due to the power of the technology to adjust the profile of important amino acids and lipids and to be richer in vitamins, minerals, and bioactive substances," write researchers in the Journal of Scientific Research.
Article Written By : Atheena Fathima Riyas