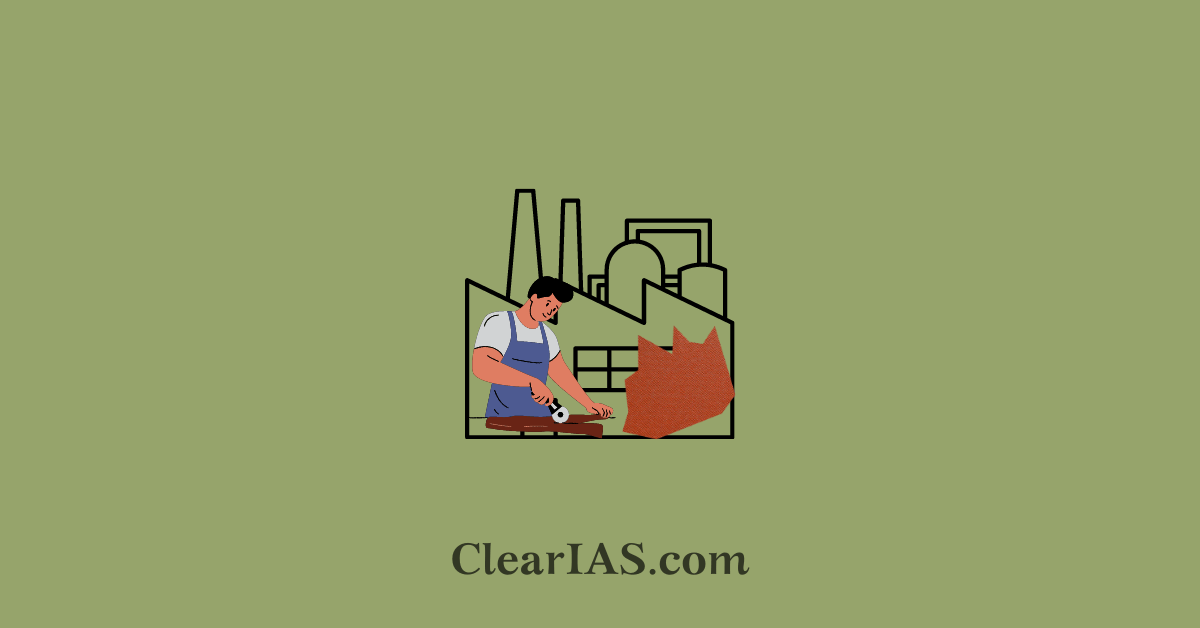 The Leather industry, Leather Products, and Footwear Industry of India hold a prominent place in the Indian economy. This industry is among the top ten foreign exchange earners for the nation and is renowned for its constancy in producing significant export revenues. Read here to learn more about the leather industry.
The Leather industry in India accounts for around 13% of the world's leather production of hides/skins and handles a robust annual production of about 3 bn sq. ft. of leather.
India is the second-largest exporter of leather garments, third-largest exporter of Saddlery and harnesses, and 4th largest exporter of Leather Goods in the world. The export of footwear, leather and leather products from India was to the tune of US $ 3.68 billion during 2020-21.
The industry is bestowed with an affluence of raw materials as India is endowed with 20% of the world's cattle & buffalo and 11% of the world's goat & sheep population. Added to this are the strengths of skilled manpower, innovative technology, increasing industry compliance with international environmental standards, and the dedicated support of the allied industries.
Also read: Industrial Regions of India
Leather industry in India
The leather industry is an employment-intensive sector, providing jobs to about 4.42 million people, mostly from the weaker sections of society. Women's employment is predominant in the leather products sector with about 30% share.
India has four main leather sectors:
Tanning
Footwear
Leather Garments
Leather garments and Accessories.
The country accounts for 13% of the world's total leather production. It is also the second-largest producer and consumer of leather footwear.
The major production centers for footwear, leather, and leather products in India are located in the States:
Tamil Nadu-Chennai, Ambur, Ranipet, Vaniyambadi, Vellore, Pernambut, Trichy, Dindigul and Erode;
West Bengal-Kolkata;
Uttar Pradesh-Kanpur, Agra, Noida, Saharanpur;
Maharashtra-Mumbai;
Punjab-Jalandhar;
Karnataka-Bengaluru;
Telangana- Hyderabad;
Haryana-Ambala, Gurgaon, Panchkula, Karnal, and Faridabad;
Delhi;
Madhya Pradesh-Dewas;
Kerala-Kozhikode and Ernakulam / Cochin;
Rajasthan-Jaipur;
Jammu & Kashmir-Srinagar.
India is the second-largest exporter of leather garments, the third-largest exporter of saddlery & harnesses, and the fourth-largest exporter of leather goods in the world.
The garments sector accounted for 7.03% of the country's total leather export in 2021-22.
Out of the total leather and leather products exported out of India, the footwear segment accounts for the majority of exports
India exports leather to more than 50 countries.
USA, Germany, the UK, Italy, France, Spain, Netherlands, China, Belgium, UAE, Australia, Poland, Hong Kong, Denmark, Canada, Vietnam, and Portugal are among the top importers of leather and leather products from India.
The USA is the largest importer of leather and leather products from India.
Council for Leather Exports (CLE)
Formed in 1984, the CLE is the largest and apex body for trade promotion of the leather and leather industry of India.
The objectives of the council are to develop and strengthen the leather industry, undertake promotion and market development activities, assist importers, provide guidance and act as a liaison between the government and industry.
India as Footwear hub
The country accounts for 9% of the world's footwear production and is the second largest footwear producer and consumer in the world.
India is the Second largest footwear producer after China, with Annual Production of 2.58 billion pairs (2018). India is also the second largest consumer of footwear after China, with a consumption of 2.60 billion pairs.
For every 1,000 pairs produced and sold in India per day, the sector has the potential to create 425 jobs spanning manufacturing, allied industries, and retail.
In terms of volume, India is expected to produce almost 3 bn units by 2024 growing at more than 10% annually.
Strengths of the Indian leather industry
Own raw material source – About 3 billion sq ft of leather are produced annually
Some varieties of goat/calf/sheep skins command premium position
Strong and eco-sustainable tanning base
Modernized manufacturing units
Trained / skilled manpower at competitive wage levels
World-class institutional support for Design & Product Development, HRD, and R & D.
Presence of support industries like leather chemicals and finishing auxiliaries
Presence in major markets – Long Europe experience
Strategic location in the Asian landmass
Government initiatives for the leather industry
Indian Footwear and Leather Development Programme (IFLDP)
The IFLDP scheme was launched to develop the infrastructure, increase production, facilitate investments and generate employment in the leather industry of India.
Under this scheme, Rs. 1,700 crores (US$ 220 million) has been allocated till 2026.
It is a central sector scheme.
Following are the six sub-schemes under IFLDP:
Sustainable Technology and Environmental Protection (STEP) – The STEP initiative is aimed at sustainable and environment-friendly industrial and tanning activities which are particularly linked to environmental concerns. Considering these issues, zero liquid and wastewater discharge is made mandatory in some states. Assistance for the upgradation of Common Effluent Treatment Plants (CETPs) and vision document preparation is provided under the scheme.
Integrated Development of Leather Sector (IDLS) – The main objective of this scheme is to encourage entrepreneurs to diversify and set up new units leading to better productivity.
Establishment of Institutional Facilities – The scheme aims to provide infrastructure upgradation of campuses of the Footwear Design and Development Institute (FDDI)
Mega Leather Footwear and Accessories Cluster Development (MLFACD) – The scheme is launched to assist entrepreneurs by providing modern infrastructure, technology, training and skill development, and human resource development inputs.
Brand Promotion of Indian Brands in Leather – The scheme aims to provide Indian footwear and leather manufacturers international branding support to provide better product visibility.
Footwear Sector and Development of Design Studios – This scheme will provide design support, technical assistance, and opportunities for employment and business.
Way forward
The Government of India had identified the Leather & Footwear Sector as one of the 12 Focus Sectors where India can be a Global Supplier.
The Indian leather industry seeks to increase production, improve export, and ultimately create more jobs through the implementation of various industrial development programs and export promotion initiatives.
The current focus is to enhance the industry's inherent strengths of skilled manpower, innovative technology, increasing industry compliance with international environmental standards, and dedicated support from allied industries.
-Article written by Swathi Satish