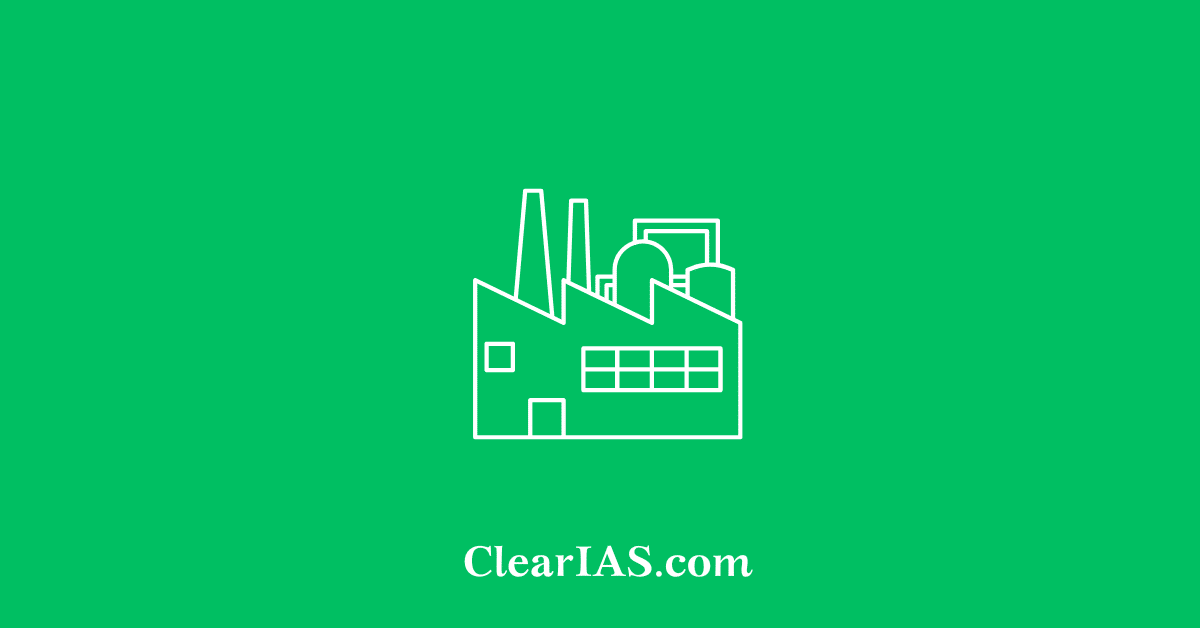 What are Industrial Regions? Which are the major industrial regions in India? How many minor Industrial Zones are there in India? Read further to know more.
When several businesses congregate and reap the benefits of their proximity, industrial regions are created. Due to advantageous topographical factors, they prefer to concentrate on particular locations.
A natural resource, like coal or iron rock, or a water source is frequently the focus of industrial zones. It may not be homogeneous, meaning that there may be several unrelated kinds of products in the same area, and is typically well-serviced by transportation arteries like rail.
What are Industrial Regions?
Industrial regions are those places where industries have concentrated as a result of favorable geo-economic circumstances. These are places where a sizable portion of the populace works in the manufacturing sector, which operates on a sizable scale.
An industrial area is typically much larger, like the Ruhr in Germany, or even makes up a sizeable portion of the entire nation, like the Midlands in the UK.
It is frequently built around a natural resource, most frequently coal, iron ore, or a water source. It is typically well-served by transportation routes, such as rail, and may not be homogenous, meaning that there may be a variety of unrelated manufacturing kinds in a single location. So, in an industrial region, you might find service sectors like education, primary food processing, steel manufacturing, and power generation.
This is so that you can understand why residential areas are close or even mixed in. Such areas require more labor than a complex does.
Several geographers have tried to experimentally delineate industrial regions. However, the criteria each of them uses are different.
Also read: Leather Industry in India
The early history of Industrial Areas
India's industrial regions were first separated by Trewartha and Burner in 1944. P.P. Karan and W.M. Jenkrins (1959) subsequently defined India's industrial areas.
Spencer and Thomas (1968), R.L. Singh (1971), B.N. Sinha (1972), M.R. Chaudhry (1976), and the Centre for Monitoring Indian Economy (CMIE) also identified the industrial areas of India (1971, 1982).
Alfred Marshall first used the term "industrial district" to refer to a few features of the industrial organisation of countries. An industrial district (ID) is a location where people who work and reside in the primary industry and related industries do so.
By the end of the 1990s, industrial districts in both developed and developing nations had attracted widespread interest in discussions about industrialization and regional development strategies.
Indices are used to identify the clustering of industries
When several industries locate close to one another and profit from their proximity, industrial regions are created. Because of the advantageous locational variables, they frequently concentrate on particular areas.
The following key indices are used to determine where industries cluster.
The number of industrial units
A number of industrial workers.
The population engaged in secondary activities.
Percentage of industrial workers to the total workers.
Quantum of power used for industrial purposes.
Total industrial output (Gross industrial output).
Value added by manufacturing, etc.
The Kollam Thiruvananthapuram industrial cluster, the Mumbai-Pune cluster, the Bangalore-Tamil Nadu region, the Hugli region, the Ahmedabad-Baroda region, the Chottanagpur industrial belt, the Vishakhapatnam-Guntur belt, the Gurgaon-Delhi-Meerut region, and so on are some of the industrial regions in India.
Industrial Regions can be demarcated into two types:

Major Industrial Regions
Minor Industrial Regions
Also read: Distribution of Major Industries: Location Factors
Industrial Areas of India
Most experts divided India into eight main industrial regions when defining its boundaries. The industrial areas of India, as defined by Prof. R.L. Singh, are briefly described as follows:
The Mumbai-Pune Industrial Region
The nation's most significant manufacturing area is located here. Following the arrival of the British in India, who created the Mumbai seaport, the area began to grow.
The sea path between India and Europe was significantly condensed after the Suez Canal's opening in 1869.
This industrial area's growth is closely related to India's history of progress in the cotton textile industry.
The growth of this industrial area was primarily influenced by the humid climate, natural port facilities, availability of hydropower, skilled labour, and a vast hinterland producing cotton.
Only the larger Mumbai area has more than 8000 registered factories, 350 of which are cotton textile factories.
The region's other industries include those that produce engineering products, chemicals, food processing, leather goods, pharmaceuticals, and films. The majority of the manufacturing in Mumbai is of light-textured, fine, and ultrafine cotton fabrics. In this region, the industrial industry employs over 15 lakh people.
Pune is the second-largest manufacturing hub in the area. More than 1200 recognised factories are there. Metallurgical, chemical, engineering, and automotive products are produced by its industries. Two companies in Pune build scooters and mopeds.
Ambarnath, Andheri, Bhandup, Ghatkopar, Hadapsar, Jogeshwari, Kalyan, Kirkee, Kolhapur, Kurla, Nashik, Sholapur, Thane, Trombay, Ulhasnagar, and Vikroli are some of the other manufacturing hubs in this area in addition to Mumbai and Pune.
This industrial region has almost reached the saturation level. Some of the important problems of this industrial region are:

Inadequate supply of power
Obsolete and outdated machinery
High cost of land and high rent of commercial space
Labor unrest
Increasing regionalism
High rate of crime
Increasing environment pollution

This area was negatively impacted by the country's 1947 division because 81% of the total irrigated cotton area used to produce long-staple cotton was given to Pakistan. Mumbai, the hub of this industrial area, is currently constrained by a lack of room for industry growth. To reduce congestion, businesses must be spread out.
The Kolkata-Hugli Industrial Region
The Hugh River runs alongside the manufacturing area of Kolkata-Hugli.
In the western Midnapur region, industries have also grown. The Hugli River provided the ideal location for the construction of an inland river port as the centre of the Hugli industrial area.
The proximity of coal mines (Raniganj and Jharia), the availability of agro-raw materials (jute, indigo, and tea), an abundance of water, affordable labor, and export facilities were the primary determinants of this industrial region's rapid expansion.
In addition, Calcutta served as British India's capital from 1773 to 1911. Since Kolkata is the country's capital, many industrialists chose to base their businesses here.
In this area, more than 10,000 registered industrial factories are employing more than 20 lakh people.
Jute, silk, cotton textiles, engineering, electrical products, automobiles, chemicals, pharmaceuticals, transport equipment, leather footwear, iron and steel and food processing, light machinery, locomotives, iron and steel, and spare parts for various types of machines are all produced by this belt.
Naihati, Bhatpara, Shamnagar, Krishnanagar, Serampore, Titagarh, Rishra, Kolkata, Haora, and Budge are the major industrial cities and towns in this area.
The main problems of this industrial region are:

The paucity of space and traffic jams
Shortage of drinking water, insanitation, and lack of infrastructural amenities.
Silting of the Hugli river resulting in the silting of Kolkata port
Obsolete machinery
Naxalites movement and political unrest
Strikes and lockouts
Shortage of power supply

The West Bengali government is following a liberalization policy and asking both domestic and foreign business owners to invest in the area to address these issues. In recent years, some advancements have been achieved in this direction.
The Ahmadabad -Vadodara Industrial Region
The third-largest industrial area in the nation is located here.
The proximity of petroleum, thermal, hydel (Ukai project), and nuclear power plants, as well as the availability of cheap land, cheap skilled and unskilled labor, and port facilities, all contributed to the growth of this industrial area (Kakrapara).
In this area, over 11 thousand registered factories are employing over 15 lakh people.
It is the country's second-largest center for the manufacturing of cotton textiles.
It specializes in engineering products, pharmaceuticals, and chemical sectors.
Vadodara is a significant hub for petroleum and woolen textile products.
The cutting of diamonds and silk textiles is well-known in Surat. Anand, Ankleshwar Bhavnagar, Bharuch, Godhra,
Jamnagar, Kalol, Kheda, Rajkot, and Surendernagar are some of the area's other significant manufacturing hubs.
Some of the major issues in the area include a lack of decent cotton and a lack of water. The investment in businesses in this area has suffered recently as a result of racial tension.
The Madurai-Coimbatore-Bangalore Industrial Region
It is a significant industrial center that spans the states of Tamil Nadu and the southern regions of Karnataka, and it made significant strides after freedom.
The majority of the nation's cotton is produced in this location.
The favorable climate, well-behaved skilled and unskilled labor, consistent power supply (from the Mettur, Papanasam, Pykara, Savitri, and Sivasamudram power plants), and proximity to the seaports of Chennai, Kochi, Mangalore, and Tuticorin have all contributed to the industrial region's rapid growth.
The textile industry employs about 60% of all employees, followed by engineering (18%) and food processing (about 12%).
The Chotanagpur Industrial Region
Jharkhand, Odisha, Southern Bihar, and western West Bengal make up this industrial area.
It is frequently referred to as the "Ruhr of India" due to the significant concentration of the iron and steel sector.
Minerals, both solid and non-metallic, and fossil fuels are abundant in this area. The Damodar Valley Company provides power. The provinces of Bihar, Jharkhand, Odisha, Uttar Pradesh, and West Bengal are huge sources of cheap labour.
Asansol, Bokaro, Burnpur, Durgapur, Kulti, Jamshedpur, and Raurkela are the principal Iron and Steel-producing cities in the area. Other significant manufacturing hubs in the area include Ramgarh and Bhurkunda for the glass industry, Ranchi for HMT, Chittranjan for locomotives, Sindri for fertilizer, and Chittranjan for locomotives.
The region's major issues are a lack of power supply and political unrest like that brought on by Naxalites. Many of the investors in this area have shied away due to labor strife.
The Agra-Delhi-Kalka-Saharanpur Industrial Region
The principal industrial hubs are located in Agra (textiles, tourism), Ambala (scientific instruments), Chandigarh (electronic and strategic goods), Delhi (textile, chemical, drugs, pharmaceutical, light machine, electronic goods, food processing), Faridabad (engineering), Ghaziabad (synthetic fiber, chemicals, electronics, pharmaceuticals, agricultural equipment, iron & steel, cycle tyre, and tubes), Gurgaon (automobiles), Kalka (paper, wood-work, sugar, textile, and food-processing).
The major issues in this area are the high cost of land, the traffic, and the high crime rate.
Vishakhapatnam-Guntur Region
This industrial region extends from the Vishakhapatnam district to Kurnool and Prakasam districts in the south. The industrial development of this region hinges upon Vishakhapatnam and Machilipatnam ports and developed agriculture and rich reserves of minerals in their hinterlands.
Coalfields of the Godavari basin provide energy. The shipbuilding industry was started at Vishakhapatnam in 1941. Petroleum refineries based on imported petroleum facilitated the growth of several petrochemical industries.
Sugar, textile, jute, paper, fertilizer, cement, aluminum, and light engineering are the principal industries of this region. Important industrial centres are Vishakhapatnam, Vijayawada, Vijaynagar, Rajahmundry, Guntur, Eluru and Kurnool
Kollam-Thiruvananthapuram Region
This industrial region is spread over Thiruvananthapuram, Kollam, Alwaye, Ernakulam, and Alappuzha districts. Plantation agriculture and hydropower provide an industrial base to this region.
Located far away from the mineral belt of the country, agricultural products processing and market-oriented light industries predominate the region.
Among them, cotton textile, sugar, rubber, matchbox, glass, chemical fertilizer and fish-based industries are important. Food processing, paper, coconut coir products, aluminium, and cement industries are also significant.
The main industries of this region are coconut oil extraction, rice milling, fish packing, paper, coir-matting, ship-building (Kochi), petroleum refining (Kochi), and chemical and electronic goods.
Important industrial centres are Kollam, Tiruvanantapuram, Alluva, Kocchi, Alappuzha, and Punalur.
The Minor Industrial Areas of India
Apart from the industrial regions described there are 13 minor emerging industrial regions in the country.
Ambala- Amritsar
Jaipur- Ajmer
Indore- Dewas- Ujjain
Saharampur-Muzaffarnagar- Bijnor
Kolhapur- South Kannada
Northern Malabar
Middle Malabar
Adilabad – Nizamabad
Prayag- Varanasi- Mirzapur
Bhojpur- Munger
Durga- Raipur
Bilaspur- Korba
Brahmaputra valley
Apart from the above Minor Industrial areas, Some other famous Industrial areas in India are listed below.
Kanpur-Lucknow Industrial Areas: This Industrial Region is known for cotton, woolen, and jute textiles, leather goods, fertilizers, chemicals, drugs, pharmaceuticals, electric goods, and light machinery.
Assam valley Industrial Areas: This region has the industries of petrochemical, jute and silk textiles, tea-processing industry, paper, plywood, match, and food processing industries. Important industrial centres are Bongaigaon, Dlbrygarh, Digboi, Guwahati, Noonmati and Tipsukia.
Darjeeling-Siliguri Industrial Areas: This region is known for the production of the tea processing industry and tourism.
North Bihar and Eastern Uttar Pradesh Industrial Areas: This Industrial Region is known for sugar, cement, glass, jute, fertilizers, locomotive, paper, and food processing are main industries. The main industrial centers are Allahabad, Dalmianagar (Bihar), Gorakhpur, Patna, Sultanpur, and Varanasi.
Indore-Ujjain Industrial Region: The main industries are cotton textile, chemicals, drugs, electronic and engineering goods, and food processing.
Amritsar Jalandhar-Ludhiana Industrial Regi Industrial Areas: This Industrial Region is known for sports goods, cotton and woolen, textiles, hosiery, food processing, and tourism.
Nagpur-Wardha Industrial Areas: Textiles, engineering, chemicals, and food processing are the main industries of this region. The main industries are Iron and Steel, ship-building, fertilizer, rice-milling, cotton textile, sugar, fish processing, engineering, and chemicals. The main industrial centers are Guntur, Machlipatnam, Rajamundry, and Vishakhapatnam.
Dharwar-Belgaum Industrial Areas: Cotton textile, chemicals, spices packing, and food processing are the main industries.
Conclusion
Industrial areas are places where businesses have consolidated due to favorable geo-economic conditions. In these areas, a sizable amount of industrial production is carried out, and a sizable number of people are worked.
Industrial areas develop once a sufficient number of business owners congregate there and recognize the value of their closeness. They prefer to concentrate on particular areas because of the advantageous locational elements.
The classification of industries is determined using a variety of indicators, including the number of comparable businesses, the number of industrial workers, and the benefits provided by producers.
Related posts
Article written by: Aseem Muhammed