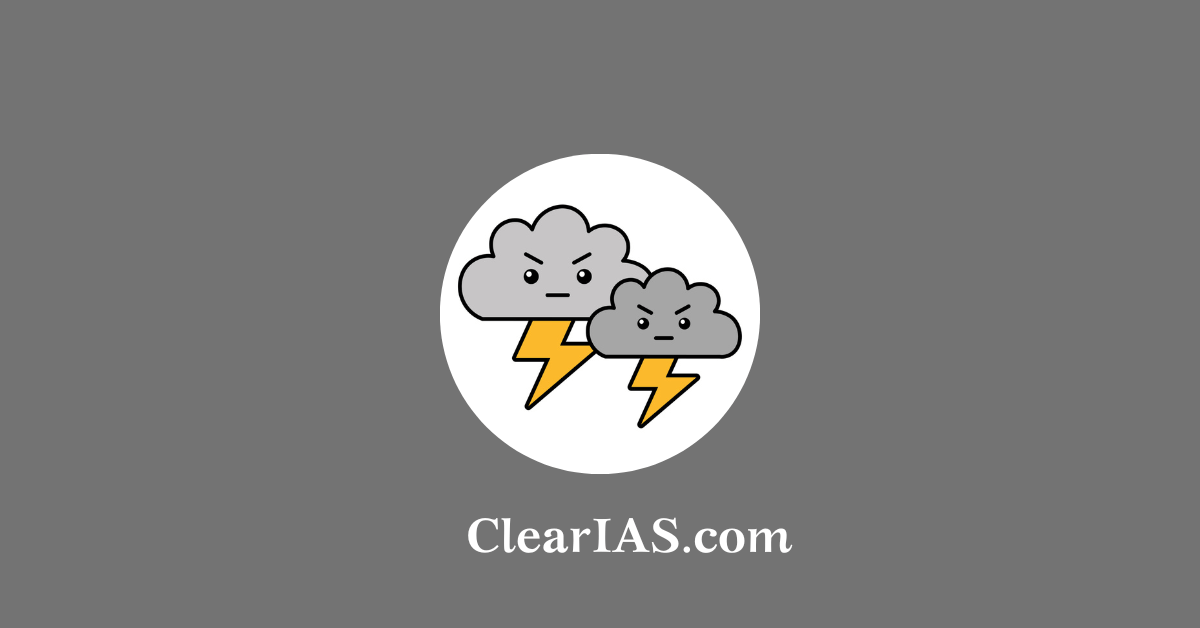 Lightning deaths have always been a concern for mankind. Read here to know more about the causes of lightning, types of lightning and the hotspots of lightning.
In 2019–20, there were about 1.4 crore lightning strikes reported in India.
In 2020–21, there were 1.85 crore incidents.
Approximately 1.49 crore strikes were reported nationwide in 2021–2022.
Lightning is unpredictable, making it difficult to give alerts in a timely manner.
Further, it is not generally considered a natural disaster, even though it can result in causalities.
What is lightning?
Lightning is an electrical discharge that occurs when there is an imbalance between the storm clouds and the earth or even within the clouds.
Clouds are where lightning typically occurs.
Types of lightning
Intercloud or intra-cloud (IC):  Harmless
Cloud to Ground (CG) lightning: Harmful as the 'high electric voltage and electric current' can lead to electrocution.
What causes lightning?
The rising temperature causes water vapour to condense as it rises in the cloud. The water droplets become minute ice crystals as their temperature falls below zero degrees Celsius.
They keep expanding until they are so heavy that they start to tumble to the ground. This results in a system where smaller ice crystals are travelling up and larger crystals are coming down simultaneously.
After a collision, electrons are released and triggered in a manner akin to the creation of electric sparks. A chain reaction happens as more collisions and electrons are produced as a result of the free electrons' movement.
The upper layer of the cloud becomes positively charged as a result of this process, whilst the middle layer becomes negatively charged. Between one billion and ten billion volts separate the two layers' electric potentials, which is a very significant difference.
A massive current, between 100,000 and one million amperes, starts to flow between the layers in a matter of seconds.
Earth is electrically neutral and a good conductor of electricity. It becomes positively charged in contrast to the cloud's centre layer, though. Because of this, 15% to 20% of the current is also directed toward the earth.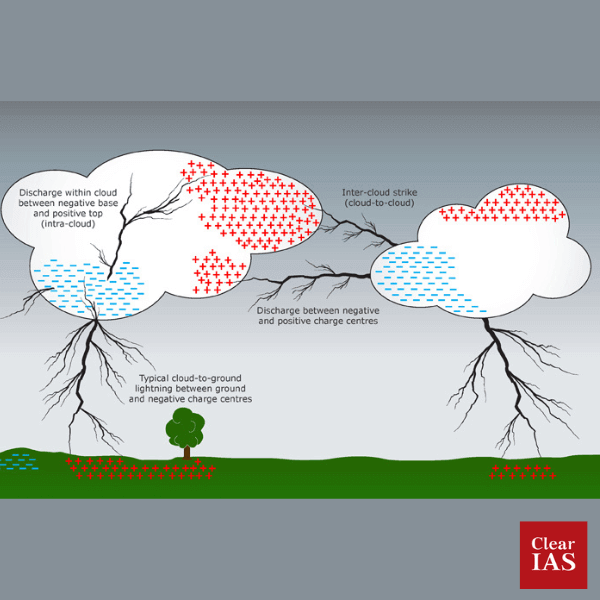 Why it is a matter of concern?
Data from the National Crime Records Bureau show that since 2005, lightning has been responsible for at least 2,000 fatalities annually.
Rural areas account for more than 96% of lightning-related fatalities.
It is not considered a natural calamity, thus unlike in the case of floods or earthquakes, the afflicted people are not entitled to government compensation.
How lightning causes deaths among people?
According to the Annual Lightning Report 2020-2021, it has been noticed that deaths occur more frequently for farmers during the pre-monsoon to the first monsoon since they are out in the agricultural fields or in orchards.
The bulk of people passed away in their huts or while standing beneath big trees in the later portion of the year, from September on. In relation to 71% of lightning-related fatalities, people were huddled beneath trees.
However, in Bihar, where there are no trees and large agricultural fields, lateral strikes account for more fatalities than direct hits (more than 50%).
Where are the lightning hotspots around the world?
It has been discovered by scientists at the Smithsonian Tropical Research Institute (STRI) in Panama that lightning strikes the tropics more than 100 million times a year.
Asia, South America, North America, Australia, and Africa are the other continents having the highest concentration of lightning hotspots. According to experts, lightning strikes are expected to rise by 25–50% as a result of climate change.
What are the government initiatives to tackle this problem?
The national disaster management authority has published comprehensive instructions that outline dos and don'ts as well as actions that the general people should take during lighting.
The Common Alert Protocol (CAP) system has been released by the National Disaster Management Authority (NDMA) to alert citizens to imminent thunderstorms and lightning.
Lightning Alert System provides a location-specific forecast of thunder, lightning, strong winds, high winds, and hailstorm occurrences for up to 48 hours.
From the INSAT-3DR satellite, which uploads data every 15 minutes, ISRO provides information about convective clouds. A GPS notification from the Damini app, which was created by the Indian Institute of Tropical Meteorology and Earth System Science Organization, alerts users when lightning is nearby and is between 20 and 40 kilometres away.
By 2022, the Lightning Resilient India programme hopes to reduce lightning-related fatalities to 1,200 annually. The Climate Resilient Observing-Systems Promotion Council (CROPC), the NDMA, the IMD, the Union Ministry of Earth Science, World Vision India, and UNICEF are all involved in the joint endeavour.
Article written by: Jis John Sebastian