UPSC published the Mark Sheet of UPSC Civil Services Exam 2018. All candidates who took Civil Services Preliminary Exam, Main Exam or Interview, last year, can download their mark sheet now.
The mark sheet will be available on the 'UPSC Online Website' until 15th May 2019.
Note: If you are fine with sharing your marks to get an idea about all-India relative performance, please feel free to post your marks in the comment section at the bottom.
How to download the Mark Sheet of UPSC Civil Services Exam 2018 (Prelims)?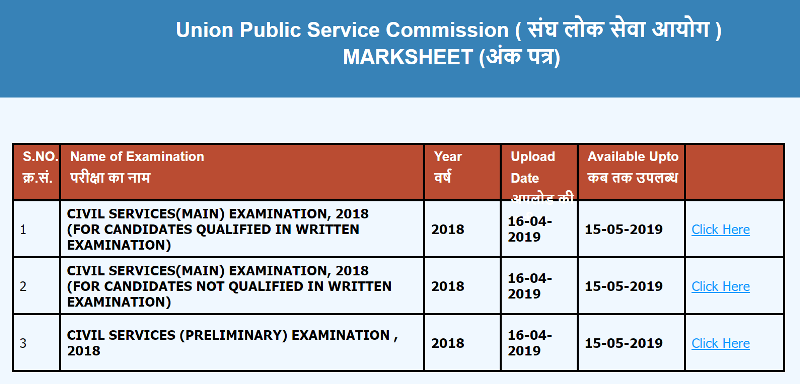 Step 1: Check the upsconline.nic.in marksheet link.
Step 2: Enter Your UPSC Civil Services Preliminary Exam 2018 Roll Number.
Step 3: Select your Date Of Birth.
Step 4: Select if you're applied for CSE(P), IFoS or both.
Step 5: Confirm random image and submit.
Are you near the cut-off marks of UPSC Prelims 2018?
A General Category candidate should have scored 98 out of 200 in GS Paper 1 (49%) to get selection into the Main Exam (written) in 2018. UPSC Prelims 2018 Cut off score for different categories is given in 'bold'.
Note: In addition to the minimum qualifying marks stated above for GS Paper 1 (marks out of 200), the candidate has to score above 33% marks for GS Paper 2.
Download the Mark Sheet of UPSC Civil Services Exam 2018 (Mains) – Those who didn't qualify the mains (written) exam
Download the Marksheet of UPSC Civil Services Mains + Interview 2018 – Those who qualified mains (written) exam
Note: UPSC would not have indicated the marks of compulsory papers in the mark-sheet of those who qualified the written exam.
Those who didn't clear – just realise how close you are!
You did a great job.
You are very close to success.
Last year, only 49% marks were needed to get selected in the final rank list!
What you should do now is to analyse your mistakes.
Find out areas where you can improve.
Don't blame UPSC for the unpredictable nature. That's the way competitive exams should be. Be sure that, if you put consistent hard work and keep on improving, you will make it.
Adopt new strategies – Change your preparation style!
Rather than sticking to old ways of preparation, adopt new strategies. Don't blindly trust any coaching institutes or mentors.
Go through the techniques discussed in ClearIAS and see if these will work for works for you.
And most importantly, it's time to put your best effort.
Prelims 2019 is less than 50 days away.
If not yet enrolled in  ClearIAS Prelims Online Test Series, it's not yet late to adopt the best strategy to boost your exam skills and knowledge. Enroll now!