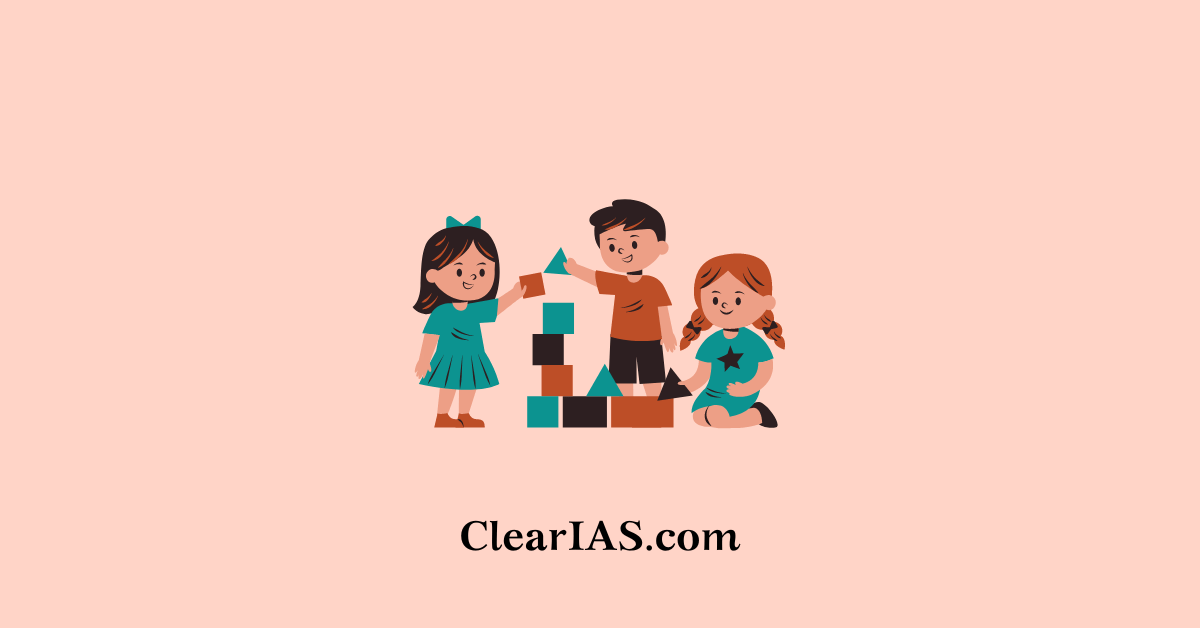 Mission Vatsalya, a centrally sponsored scheme, is a plan for achieving the objectives of development and child protection that are in line with the Sustainable Development Goals (SDGs).
Mission emphasises children's rights, advocacy, and awareness while also developing the juvenile justice care and protection system under the guiding principle of "leave no child behind."
The provisions of the Protection of Children from Sexual Offences Act of 2012 and the Juvenile Justice (Care and Protection of Children) Act of 2015 provide the fundamental framework for carrying out the Mission.
Background
Earlier, there were three schemes being implemented under the Ministry of Women & Child Development namely,
Programme for Juvenile Justice for Children in need of care and protection, and Children in conflict with the Law;
Integrated Programme for street children; and
Scheme for assistance to homes for children (Shishu Greh).
In 2009-2010, all three schemes were combined into a single, centrally sponsored scheme known as the Integrated Child Protection Scheme (ICPS).
In 2017, the program's name was changed to the "Child Protection Services" Scheme. From 2021-22 onwards, the CPS Scheme has been now subsumed under Mission Vatsalya.
Vision of Mission Vatsalya
Mission Vatsalya advocates for the family-based, non-institutional care of children in difficult situations and institutionalised care as a measure of last resort only.
The vision of the mission is to ensure a healthy and happy childhood for every child in India and create opportunities for them to realise their full potential in a sustainable manner.
Aim of the Mission
The Mission aims to:
Support and sustain Children in difficult circumstances;
Develop context-based solutions for the holistic development of children from varied backgrounds;
Provide scope for encouraging
Objective of Mission Vatsalya
The key objective of the mission is:
The child's best interests should be considered when creating or implementing initiatives and programmes
The right of children to survival, development, protection, and participation is ensured.
To develop fundamental services and improve emergency outreach, community and family-based noninstitutional care, and counselling and support services for institutional care at the national, regional, state, and district levels.
Coordinate and network with all allied systems to support convergent efforts for seamless service delivery to children in order to ensure appropriate inter-sector response at all levels.
To promote family and community-level child protection, empower families and communities to recognise risks and vulnerabilities impacting children, and develop and spread preventive methods to shield children from danger, risk, and abuse.
To promote private sector partnerships to support children within the framework of the law.
Ensure the best interests of children through increasing public awareness, educating the public about child rights, vulnerabilities, and protective measures sponsored by the government, and involving the community at all levels.
Track the development of objective parameters in relation to outputs and outcomes.
The involvement of Panchayats and Municipal Local Bodies at the village, ward, and urban cluster levels, and regular monitoring to develop a strong social safety net for children.
Mission Vatsalya: Funding Pattern
Mission Vatsalya is a centrally sponsored scheme, implemented in partnership with State Governments and UT.
The fund-sharing pattern between Centre and State & Union Territories is in the ratio of 60:40 respectively.
In the North-Eastern States viz. Arunachal Pradesh, Assam, Manipur, Meghalaya, Mizoram, Nagaland, Sikkim and Tripura and two Himalayan States viz. Himachal Pradesh and Uttarakhand, and UT of Jammu and Kashmir, the fund-sharing pattern between Centre and State is in the ratio of 90:10 respectively.
Fund sharing pattern for Union Territories without Legislature is 100% central share.
Key Features of New Guideline
Mission Vatsalya scheme is implemented by the Ministry of Women and Child Development.
Under the scheme, a monthly grant of Rs. 4000/- per child is provided for family-based non-institutional care which also includes Sponsorship (kinship) or Foster Care or After Care.
Mission Vatsalya provides support to a 24×7 helpline service for children in partnership with States and Districts, as defined under the JJ Act, 2015.
Under the Mission, Cradle Baby Reception Centres in at least one Specialized Adoption Agency (SAA) are envisaged to be set up in each district to save abandoned children.
The mission envisaged that the States/UTs need to focus on special needs children in Child Care Institutions (CCIs), who are physically/mentally disabled and not able to go to school.
According to the guidelines, Mission Vatsalya would assist State Adoption Resource Agencies (SARA), which in turn will aid the Central Adoption Resource Authority (CARA) in promoting adoption.
As per the mission, for children who require care, as well as for children with special needs, separate children's homes based on gender (including separate homes for transgender children) and age will be established.
The establishment of open shelters by the state government will be encouraged in order to provide care for children who are homeless, missing, being trafficked, working, living on the streets, beggars, substance abusers, etc.
Mission Vatsalya Portal
The four different portals are integrated under one single portal named Mission Vatsalya Portal, namely,
TrackChild, for Missing/Found Children;
CARINGS, for the adoption of Children;
ICPS portal, for monitoring the scheme and;
Khoya-Paya, Citizen centric application for Missing and Sighted Children
The Mission Vatsalya portal will offer a single Digital Platform for children in challenging situations, such as missing, orphaned, abandoned, and surrendered children.
In order to assure their care and development, these vulnerable children need to be identified and mapped with the government's institutions and services.
Other Government Initiatives
The government has taken several initiatives for the welfare and protection of children. A few important of them are:
SAMVAD: The Ministry has launched the project SAMVAD (Support, Advocacy and Mental health Interventions for children in Vulnerable circumstances And Distress) in collaboration with NIMHANS.
It mainly focuses on the mental health of all children, especially those in distressed conditions. It provides counselling to the children as well as to the caregiver.
Child Protection Awards: The prize recognizes the commitment and effort of personnel working in all aspects of the child protection programmes in States and UTs by recognizing their efforts, dedication, and quality in leadership.
The Awards shall be presented on the recommendation of the State Government and UTs.
Conclusion
These recommendations are legitimate because there are many children in our country who have physical and mental disabilities, and all of these initiatives would make life easier for them. The intention behind socially beneficial programmes is wonderful, but their success depends on whether they work within structures of accountability and are built on principles of sustainability.
Article Written By: Priti Raj