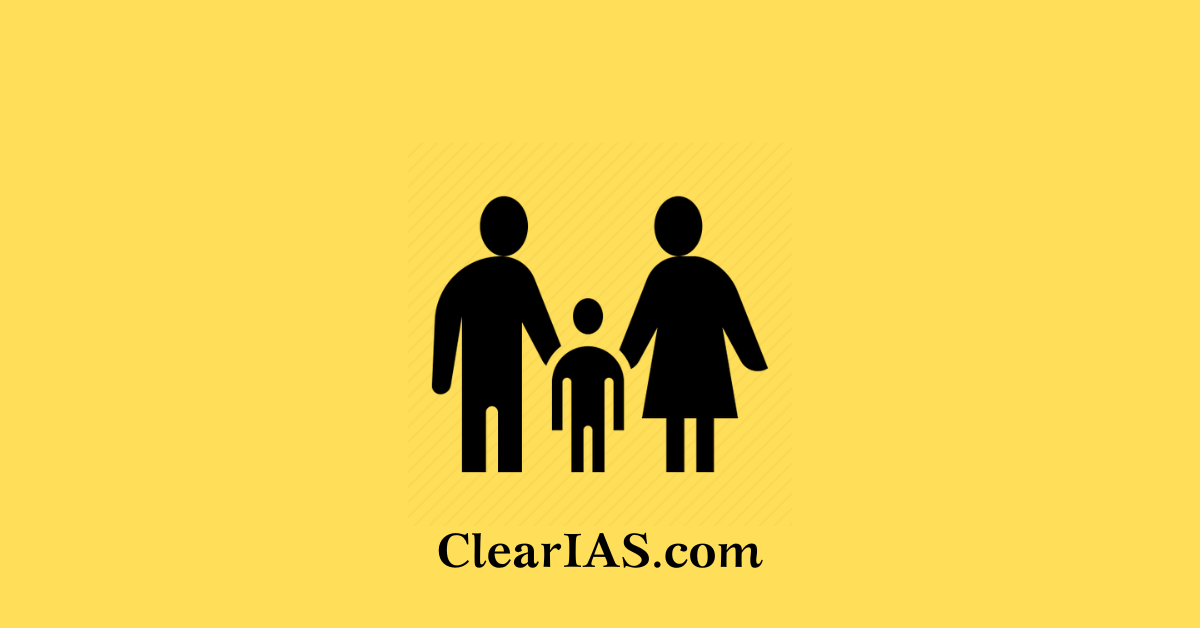 A report has been recently tabled on "Review of Guardianship and Adoption Laws" in Parliament by the Parliamentary Standing Committee on Personnel, Public Grievances and Law and Justice. Are you aware of the legal processes behind adoption in India? Who is eligible for adoption in our country? Read the article to know more about Adoption in India.
The United Nations Children's Fund (UNICEF) estimates that 2.96 crore children in India are orphaned or abandoned.
The Ministry of Women and Child Development said in its annual report for 2020-21 that 2.56 lakh children were residing in the country's 7,164 childcare institutions (CCIs). All these data prove the parity in the number of adoptions taking place in India and the number of abandoned children.
Foremostly what is the meaning of adoption? Let us discuss more on it.
Meaning of Adoption
Adoption is the process through which a person assumes parental responsibility for a child who is not biologically his/her kid, and the child so becomes the legitimate child of his adoptive parents, with all of the rights, privileges, and duties that come with being a biological child.
Adoption Motivations
In order to overcome infertility.
To become parents
To assist a needy child.
To avoid difficulties during pregnancy.
To avoid the transmission of genetic abnormalities or diseases.
Concern about children.
To keep population increase in check.
The Adoption process in India
Adoption legislation in India
Adoption in the country is governed by three laws:
The Hindu Adoption and Maintenance Act(HAMA), enacted in 1956, applies to Hindus, Buddhists, Jains, and Sikhs. The adoption is irrevocable under this statute, and it grants the child complete status as a natural child born to the family, it also gives the right to inherit the property.
The Guardian and Wards Act of 1890, governs adoption for Muslims, Parsis, Christians, and Jews. According to the GAWA, the connection formed upon adoption is merely that of guardian and ward. Adoption under GAWA does not bestow child status on the adopted child; this differs from HAMA.
The 2015 Juvenile Justice (Care and Protection of Children) Act was enacted to replace the Juvenile Justice (Care and Protection of Children) Act of 2000. It is applicable to all Indian citizens. It makes it possible to adopt two children of the same gender. It bestows the status of parents and kids rather than guardians and wards. It also grants the adopted child the same rights as the biological child. It, in particular, offers a complete framework for domestic and international adoption of orphans, abandoned children, and surrendered children.
Other major legislations are:
In India, the Central Adoption Resource Authority (CARA) is a statutory entity of the WCD (Women and Child Development) ministry that serves as the nodal agency and is responsible for monitoring and regulating in-country and inter-country adoptions.
CARA regulates the adoption of orphaned (parents have died), abandoned (parents have deserted), and surrendered (parents have legally given up custody) children through its affiliated or recognised agencies.
2021 Adoption (First Amendment) Regulations: It modifies the 2017 Adoption Regulations. The revision was notified in accordance with relevant provisions of the Juvenile Justice (Care and Protection of Children) Act, 2015 (2 of 2016), and it modifies the Adoption Regulations, 2017.
The recently passed Juvenile Justice (Care and Protection of Children) Amendment Act, 2021, aims to tighten and streamline rules for child protection. It specifies that, rather than the court, such adoption orders shall be issued by the District Magistrate (including the Additional District Magistrate).
Additionally, India adopted the UNCRC (United Nations Convention on the Rights of the Child) in 1992, and the Hague Convention on Inter-country Adoption in 1993, in 2003.
CARA maintains a database of children and registration of prospective parents on a centralised Child Adoption Resource Information and Guidance System (CARINGS).
Who is eligible for adoption?
Under the provisions of the JJ Act 2015, an orphan, abandoned, or surrendered child who has been certified legally free for adoption by the Child Welfare Committee (CWC) may be adopted.
A relative's child (paternal uncle or aunt, a maternal uncle or aunt or paternal and maternal grandparents) is defined under sub-section 52 of Section 2 of the Juvenile Justice Act, 2015.
Children from a previous marriage surrendered by the biological parent (s).
Who can adopt
As per the Adoption Regulations 2017 and as per the Juvenile Justice (Care and Protection of Children) Act, 2015, issued by the Ministry of Women and Child Development:
Physically, intellectually, and financially stable, with no life-threatening physical conditions
Married couple- 2 years of solid marital connection with the consent of both spouses, married couple's composite age shall not exceed 110 years
A single woman can adopt a child of any gender, but a single guy cannot adopt a girl child. A single parent's age cannot surpass 55 years.
The minimum age difference between the kid and either prospective adoptive parent should be 25 years.
In the case of related or step-parent adoptions, age criteria do not apply.
Couples with three or more children are not considered unless they are adopting children with special needs or who are difficult to place.
Apart from resident and non-resident Indians, even overseas citizens of India and foreign parents can adopt children from the country.
To adopt a child less than four years old, the maximum composite age is 90 in the case of a couple and 45 in the case of a single parent.
For adopting a child above four years old, the maximum composite age for a couple is 100 while the maximum age for a single parent is 50 years.
For adopting a child between eight and 18 years, the maximum age is 110 and 55 years for a couple and a single PAP respectively.
Observations of the parliament panel
Issues
Adoption waiting times have climbed from one year to three years in the last five years.
Because of their own experiences with their original family, some children in foster care may not want to be adopted.
When children are adopted but then returned to their birth families, there are complications.
There have been reports of widespread fraud and inter-country adoption rackets.
Mother Teresa's Missionaries of Charity in Ranchi came under fire in 2018 for its "baby-selling racket" after a nun from the shelter confessed to selling four children.
There is a big disparity between the number of persons who desire to adopt children and the number of legally accessible children for adoption.
As of 2021, there were 27,939 potential parents registered with CARA, but only 2,430 children were legally free for adoption by Child Welfare Committees.
Recommendations by the panel
The panel has stated that issuing adoption orders by an administrative authority (District Magistrate) rather than a judicial body is not suitable.
There is a need to develop consistent and comprehensive law that is more transparent, responsible, verifiable, less bureaucratic, and applies to everyone, regardless of faith.
The new legislation should include protections for the LGBTQ community.
The term "illegitimate" should be avoided in new legislation, and adoption laws should be the same for all children, whether born within or out of wedlock.
A monthly meeting led by the DM should be arranged to guarantee that orphaned and abandoned children are brought before the Child Welfare Committee as soon as possible and made available for adoption.
Adoption will become more common in India as the number of abandoned children and cases of infertility increase. Given this problem, India has implemented various preventative measures, however, several bottlenecks are impeding the adoption process and the comfort of a child after adoption.
To overcome these concerns, India must develop new policies and revise old ones. A multifaceted approach involving discussions with all parties is required.
Adoption procedures should be streamlined by carefully reviewing the different regulations that regulate the adoption procedure. The ministry can consult with appropriate specialists in this field to gain insight into the challenges that prospective parents encounter.
Article Written By: Atheena Fathima Riyas