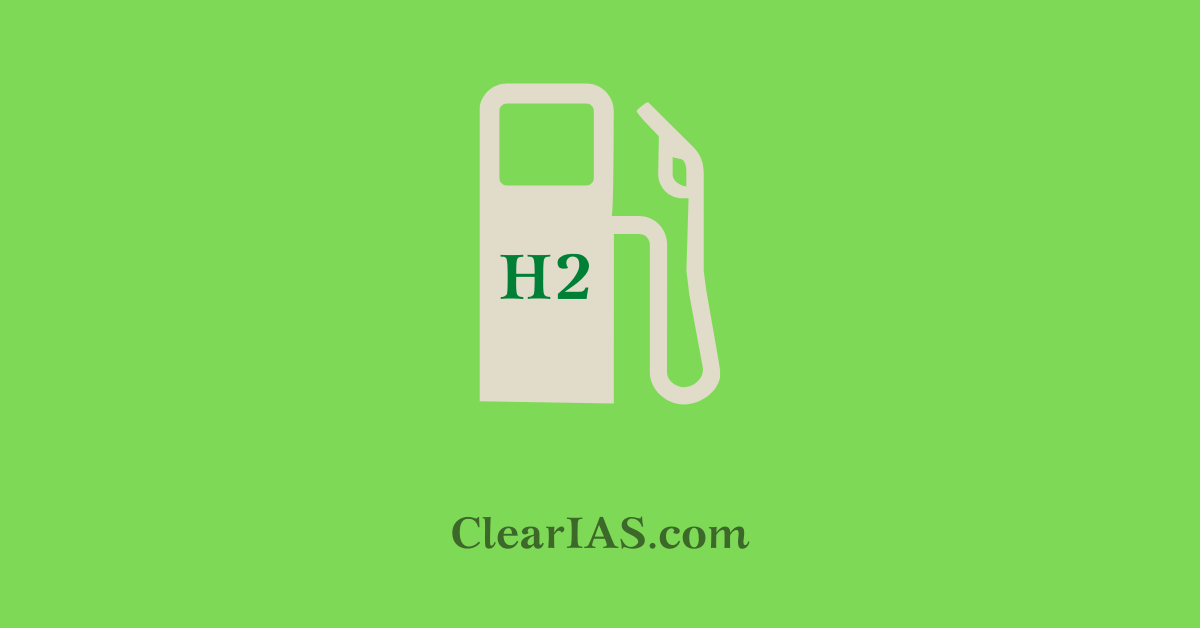 What is National Hydrogen Mission? What are the objectives of NHM? How is it advantageous? Read to know more.
On 15 August 2021, the Prime Minister of India announced the launch of the National Hydrogen Mission (NHM) while commemorating the 75 years of independence with an aim to cut down carbon emissions and increase the use of renewable sources of energy.
National Hydrogen Mission aims to cut down carbon emissions and increase the use of renewable sources of energy while aligning India's efforts with global best practices in technology, policy, and regulation.
The Government of India has allotted Rs 25 crore in the Union Budget 2021–22 for the research and development in hydrogen energy and intends to produce three-fourths of its hydrogen from renewable resources by 2050.
What is National Hydrogen Mission?
The objective of the National Hydrogen Mission is to scale up Green Hydrogen production and utilization and to align India's efforts with global best practices in technology, policy, and regulation.
The NHM, according to the Ministry of New and Renewable Energy (MNRE), has identified pilot projects, infrastructure, and supply chain, research and development, regulations, and public outreach as broad activities for investment with a proposed financial outlay of Rs 800 crores for the next three years.
It aims to leverage the country's landmass and low solar and wind tariffs to produce low-cost green hydrogen and ammonia for export to Japan, South Korea, and Europe.
How is Hydrogen energy better?
Hydrogen is emerging as an important source of energy since it has zero carbon content and is a non-polluting source of energy whereas hydrocarbons have a net carbon content in the range of 75–85 percent.
Hydrogen energy is expected to reduce carbon emissions that are set to jump by 1.5 billion tons in 2021. It has the highest energy content by weight and lowest energy content by volume.
It is the most abundantly available element on earth, but commercially viable Hydrogen can be produced from hydrocarbons including natural gas, oil, and coal through processes like steam methane reforming, partial oxidation, and coal gasification; as well as from renewables like water, sunlight, and wind through electrolysis and photolysis and other thermo-chemical processes.
Present status and potential of Hydrogen usage:
Hydrogen can be stored in cryo-compressed tanks in gaseous form apart from being kept in the liquefied and solid-state.
At present, Hydrogen is mostly used in the industry sector including those dealing with oil refining, ammonia production, methanol production, and steel production.
It has huge potential in the transportation sector as a direct replacement for fossil fuels. Shipping and aviation have limited low-carbon fuel options available and represent an opportunity for hydrogen-based fuels.
Hydrogen has been colour-coded based on the source of production, and the emphasis is on the use of Green Hydrogen as it helps in reducing the emissions of greenhouse gases and increases the share of renewables in total energy consumption.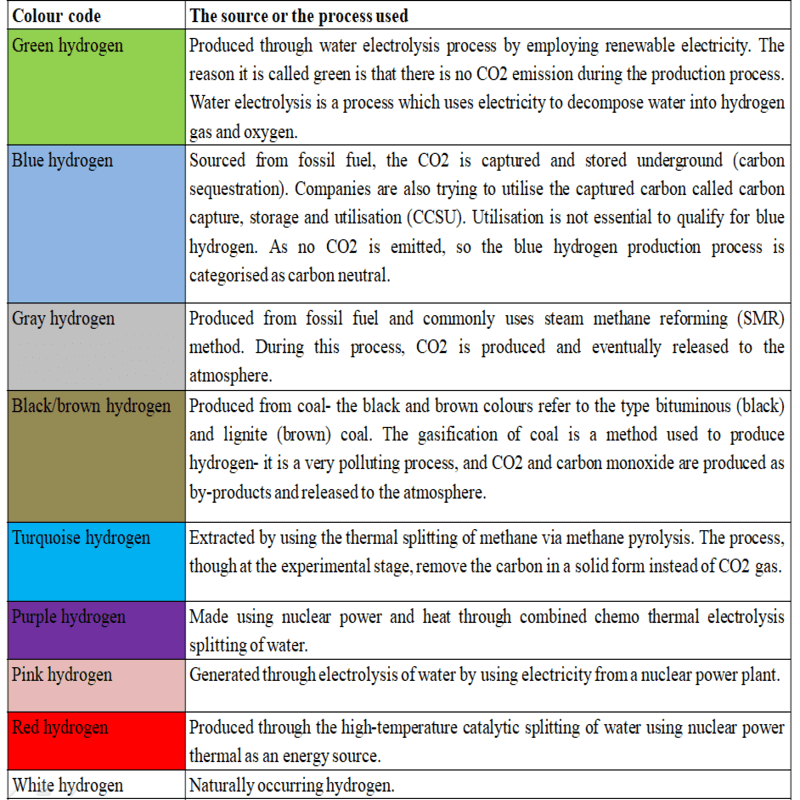 Currently, the production of green hydrogen is two or three times more expensive than blue hydrogen, but with advancements in science and technology, it is expected to become a cheap fuel in the future.
Hydrogen energy in India:
Currently, the bulk of the global energy consumption comes from hydrocarbons as Hydrogen is still at an early stage of entering the energy sector in India.
Government, as well as non-government funding agencies, are engaged in R&D projects pertaining to hydrogen production, storage, utilization, power generation, and transport applications. In 2003, National Hydrogen Energy Board was formed and in 2006 the Ministry of New and Renewable Energy laid out the National Hydrogen Energy Road Map identifying transport and power generation as two major green energy initiatives.
India is participating in Mission Innovation Challenge for clean hydrogen to accelerate the development of a global hydrogen market by identifying and overcoming key technology barriers to the production, distribution, storage, and use of hydrogen at a gigawatt scale. By 2050 India intends to produce three-fourths of its hydrogen from renewable resources.
R&D projects in India focus on improving the efficiency of the water-splitting reactions and finding newer materials, catalysts, and electrodes to accelerate the reaction.
Now more than 100 research groups are focusing on fuel cell technology. There are a number of foreign and Indian companies that are involved in hydrogen production, storage, or delivery in India.
Way forward:
India's National Hydrogen Mission is a futuristic vision that can help the country not only cut down its carbon emissions but also diversify its energy basket and reduce external reliance. But India needs a better road map for achieving the goals set, for which the working of GCC (Gulf cooperation council) countries should be analyzed.
The GCC countries have invested heavily in hydrogen energy and are looking at it for a cleaner future. This is an opportunity for India and the GCC countries to strengthen partnerships in R&D, production, storage, and transportation of hydrogen energy.
India should look at enhancing hydrogen cooperation with GCC countries, especially the front runners, like Saudi Arabia, the UAE, and Oman. India and the GCC share ideas, interests, and the political will to collaborate; they need to provide impetus to the public and private partnerships in the hydrogen energy sector that has a strong potential for growth in the future.
Probable questions for UPSC Mains from this topic:
What are the key features of the National Hydrogen Mission (NHM) initiated by the Government of India? What are the challenges of NHM? Discuss. (Answer in 250 words)
India's National Hydrogen Mission is a futuristic vision that can help the country not only cut down its carbon emissions but also diversify its energy basket and reduce external reliance. Discuss (Answer in 250 words)